Did you have a good year? Has 2022 been quite an adventure? Then, you would certainly want to be able to create a summary with the most outstanding photos. Now, you can do it on Instagram thanks to Recap 2022, a new feature that we will show you how to use in this guide.
What is Instagram Recap and how it works
Recap, is the name of the template for reels that Instagram currently offers to create a summary of the best moments of the year. Thanks to it, you can easily create a slideshow of up to 21 slides with the most outstanding photos and upload it to the platform.
If you have already been using Instagram reel templates, then creating your Recap 2022 is going to be super easy for you. Best of all, you will be able to add additional content to what you have already uploaded to your profile because the editing tool lets you browse your phone's gallery.
Now that you know what Recap 2022 is and how it works, it is time to learn the steps to create your annual summary.
How to create an Instagram reel with your year in review
To create an Instagram reel with your year summary, it is best to take advantage of the four templates offered within the application. All of them include an exclusive theme song by several renowned artists. It has been composed especially for Recap 2022.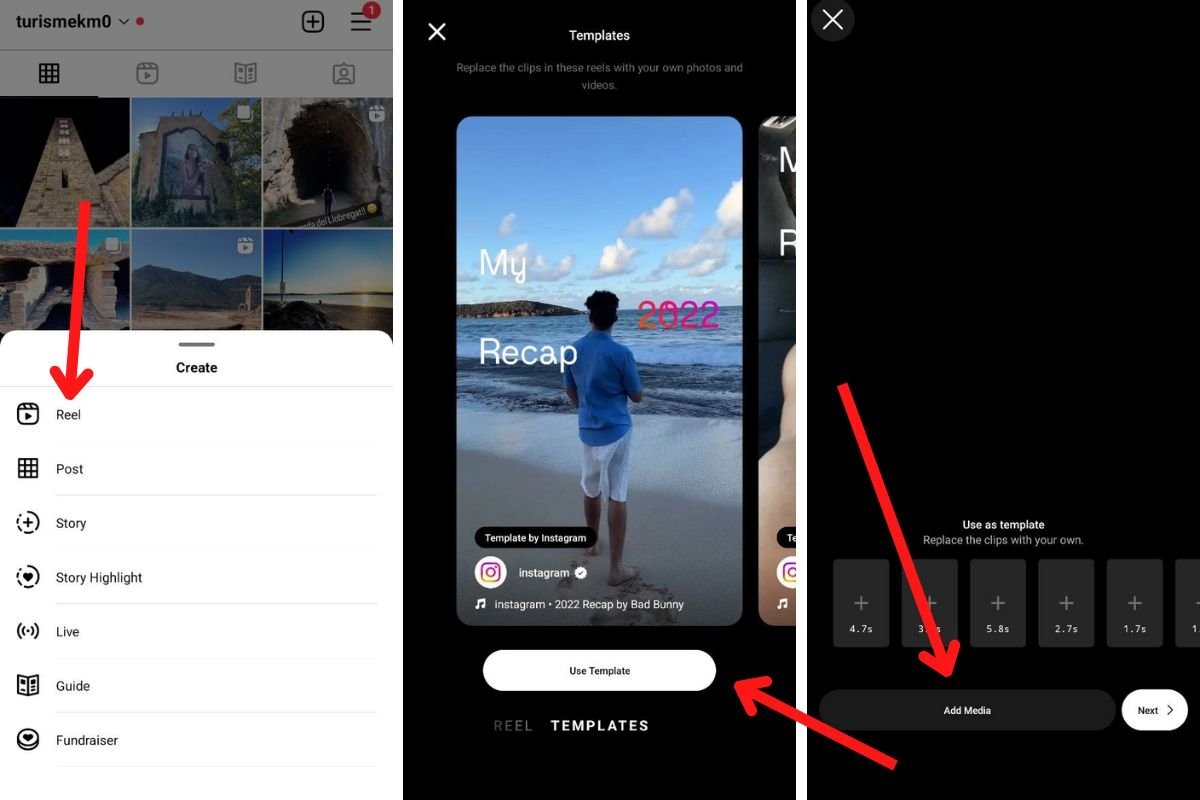 Create a summary of your year thanks to the Recap 2022 templates
The steps to create a reel with the annual summary are as follows:
Enter your profile and tap on the Plus (+)
In the context menu, select Reel.
Slide the bottom selector to Templates.
Turn up the volume to listen to the music of each Recap 2022 template.
Tap on Use Template.
Once inside the editor, tap on Add Media.
Select the photos and videos you want and tap Next.
Add effects and text if you want. When you finish the post-editing, tap Next.
Publish the reel in your profile by filling in the usual fields.
How to use templates to create your Instagram Recap
Recap 2022 templates are extremely easy to use. Here are some tips to make the result more attractive:
Prioritize videos. Overusing photos makes the reels more boring, like another slideshow. Combining videos and photos will make your Recap 2022 more attractive.
Take a look at the examples. In the template selector, you will be able to see how the Recap 2022 of the artists who have participated in the creation of tunings have turned out. It will help you get inspired.
Add your own effects. To make your annual summary stand out from others, add your own effects, as well as text and other elements.