For quite some time now, Instagram has become one of the most popular social media. It is used daily by millions of people around the world, not only to post what they are doing in their free time but also by businesses to make it easier for potential customers to find their products. Its great success is because this platform has not stopped growing and including new features, which makes it possible to have interesting new functions to use every so often. One of the latest to arrive in the app has been the possibility of simultaneously displaying a regular profile photo and an avatar, allowing our followers to see both at the same time. If you want to know how to switch between a profile picture and an avatar, just keep reading.
How to show your profile picture and avatar simultaneously on Instagram
As we said before, this new feature is great since we can give a different touch to our profile without too much effort. Instagram avatars are a lot of fun, but it never hurts to have our profile picture at the same time to help people who have not added us on this social media recognize us. The process to show your photo and avatar simultaneously is really simple, and for this, we will only have to do the following:
Log in to the Instagram app and tap your profile icon. You will see it at the bottom right corner (with your profile photo as the icon).
In the new screen, tap on the Edit Profile button.
If you do not have an avatar, the first thing you should do is create one. Tap the button with the animated avatar icon and select the Create avatar option.
The avatar creation process is very comprehensive, but at the same time, it is very intuitive. We can choose different parameters such as the avatar's face, shape, and, of course, clothes.
Once you have finished creating your avatar, you will return to the Edit Profile tab, and you will only need to tap the verify button at the top right.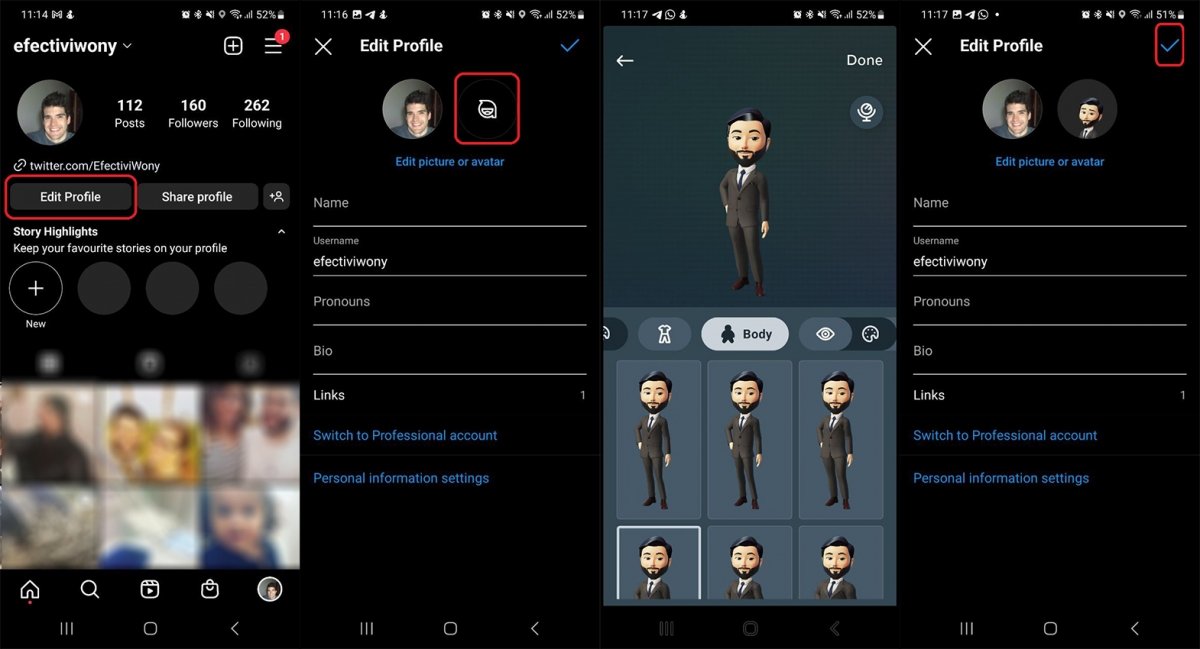 This is how we can create our avatar and use it together with our profile picture
Once this is done, we will have our profile picture and our avatar at the same time. We can access the Edit Profile tab whenever we want to delete one or the other so that our profile will show the one we leave. Our followers will be able to interact with them by simply sliding over the image in our profile, allowing them to see one or the other at will.