Spotify offers its users an interactive summary that collects account information, listening time, and most played content. This is a very curious feature that almost always appears at the end of the year. Do you want to know how to access it? In this article, we tell you all the details.
What is Spotify Wrapped and when is it released?
Spotify Wrapped is the name of the annual summary that the company offers its users to know the activity of their profile. The format is much like Instagram stories, including colorful slides that report total listening time, most-listened-to artists, new discoveries made during the year, and more. These are some of the statistics shown in Spotify Wrapped:
List of most listened artists.
List of most played songs.
Number of different songs played.
Number of times you have listened to your favorite song.
Total number of minutes listened.
Number of minutes listening to your favorite artist.
Number of different artists listened.
List of most listened-to music genres.
Number of different musical genres listened.
This interactive summary appears at the end of the year, more precisely, at the end of November or beginning of December.
How to see your year in Spotify with Spotify Wrapped
Viewing the annual summary of your profile is very simple. In fact, the company makes sure that Spotify Wrapped is visible and quickly accessible to the user.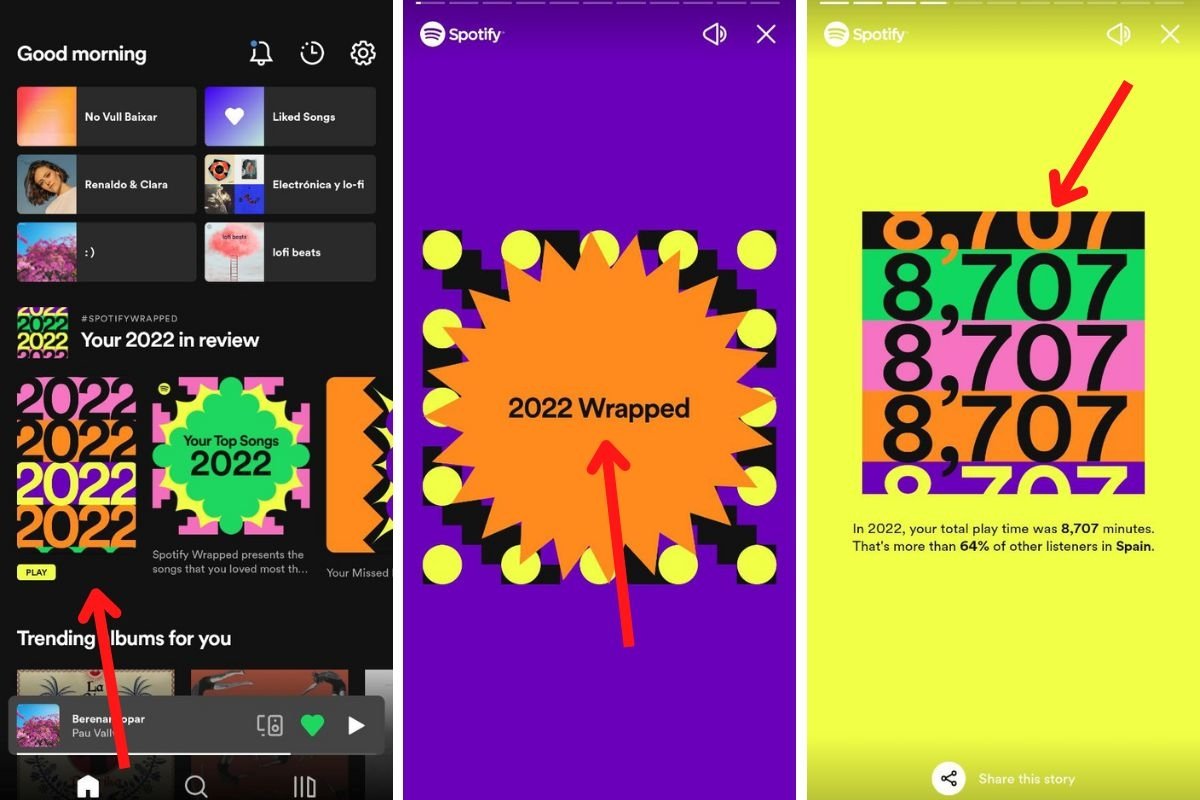 Spotify Wrapped and its different stats
To access Spotify Wrapped just do this:
Find Spotify on your device and tap on its icon to open the application.
On the home screen, tap on the Spotify Wrapped banner.
Enjoy the presentation with your account data and statistics. Remember to turn up the volume, as each slide has background music.
Why your year does not appear on Spotify: possible problems and solutions
Sometimes Spotify Wrapped does not load correctly. Here are some suggestions to solve this problem:
Wait for it to be activated in your account. Although some profiles already have it enabled, you may have to be patient for it to reach your profile.
Check the Internet connection. Spotify will not update and display the annual summary if you are not connected to the network.
Update the application. Just in case, make sure you have the latest version of Spotify installed on your device.
Uninstall the application and log back in with your account. Watch out! This will delete the content you have synchronized offline.