Although Netflix is the on-demand content platform with the most users, Disney+ has managed to take the second place. On top of this, the gap between them is narrowing thanks to Disney+'s catalog with titles from Disney, Pixar, Marvel, Star Wars, and National Geographic, among many others. This catalog keeps on growing, and you will hardly ever be able to watch everything it has to offer.
Unfortunately, competition and other business dynamics have caused the price of a Disney+ subscription to increase, making its catalog increasingly expensive. At the same time, all platforms offer simultaneous playback and the possibility of sharing your account. So, you may have considered this option at some point. But, as always, everything has its fine print.
Can I share my Disney+ account?
The question is simple; the answer not so much. Officially, it is possible to share your Disney+ subscription or account because you can watch Disney+ content on up to four screens at once on multiple compatible devices. However, their official statement clearly says that "you will not be able to share your subscription outside your household."
To avoid loopholes, the company defines "household" as "the collection of devices associated with your primary personal residence, to the extent used by persons residing therein." Up until now, many of us have shared our Disney+ account with friends and family no matter where they lived, and that is unlikely to change. After all, if your subscription allows you to play content on two or four screens, why not?
But the official policy is that you can only share your Disney+ account with people who live at the same address as you. So, if you want to share your Disney+ account with strangers or friends living elsewhere, you can do it without any impediments at the time of writing this article. But you do so at your own risk.
How much is Disney Plus worth: prices and plans
Let's take Spain as an example (different countries may have different rates). Disney+ arrived in Spain in 2020 with a monthly price of 6,99€ and an annual price of 69,99€. One year later, in 2021, the subscription cost would rise to 8,99€ per month and 89,90€ per year without considering offers and discounts from phone operators. In 2023, its price remains at 8,99€ per month and 89,90€ per year.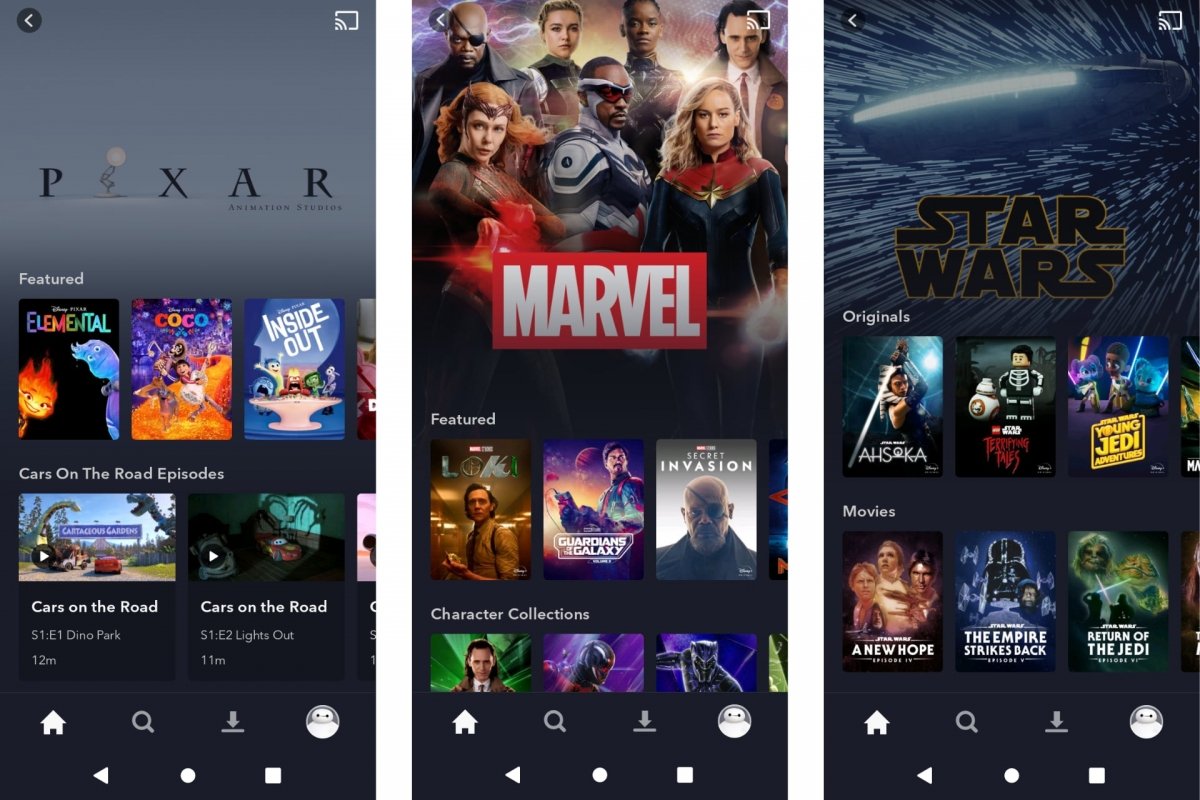 Disney Plus content catalog
But as of November 1, 2023, Disney Plus pricing and plans in Spain are as follows:
Standard (Full HD 1080p, two simultaneous playbacks, downloads on ten devices, and 5.1 audio quality): 8,99€/month or 89,90€/year.
Standard with ads (Full HD 1080p, two simultaneous playbacks, no downloads, and 5.1 audio quality): 5,99€/month.
Premium (4k UHD and HDR, four simultaneous playbacks, downloads on ten devices, and Dolby Atmos audio quality): 11,99€/month or 119,90€/year.
To encourage the public to sign up for Disney+ despite the price increase, Disney launched a three-month offer for 1,99€/month after the fateful announcement (a 75% discount). But that offer ended on September 20. Until October 31, one day before the price hike, there is another offer: 12 months of Disney+ for the price of almost 8. That is 89,90€ instead of 119,90€.
How to register and create a Disney+ profile
You can sign up for Disney+ in three different ways: From a web browser, your smartphone, or a device connected to the TV. In all three cases, all you have to do is click or tap on the Subscribe Now button and enter an email address and a password. Then, you must choose the plan or subscription you want and enter your payment information.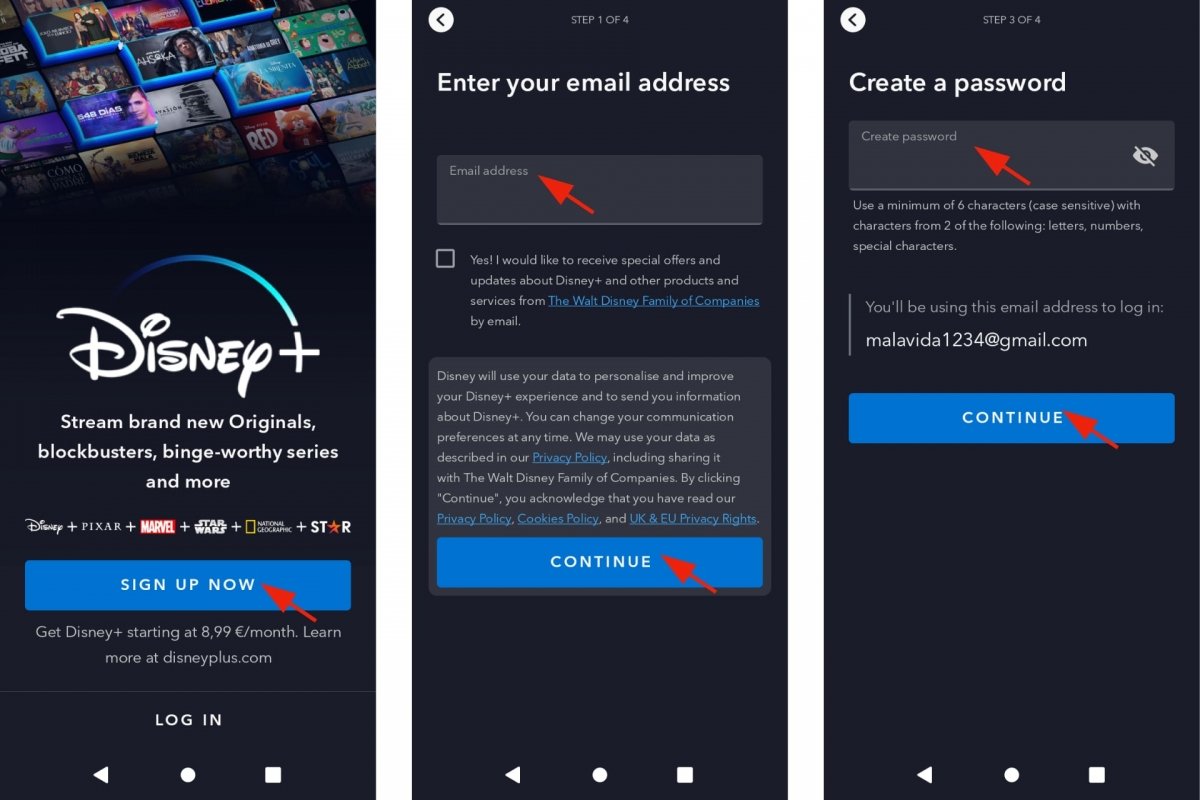 Subscribing to Disney Plus
If you choose to sign up for Disney+ from an Android device, the steps to follow are:
Install Disney+ on your smartphone.
Launch the app.
Tap on Subscribe now.
Enter your email address.
Type a password.
Choose the subscription or plan.
Enter your payment information.
Or make an in-app purchase if it gives you no other option.
When the process is finished, you will be able to create your main profile.
To create a Disney+ profile:
Launch the app.
Select your profile in the lower right corner.
Tap on Add profile or the + symbol.
Choose a character icon to represent your profile.
Enter a name for your profile. Maximum 30 characters.
Finally, tap on Save.
How to share your Disney+ account
As we saw before, it is possible to share a Disney+ account. Hence the possibility of creating multiple profiles, viewing content simultaneously on two or more devices, etc. However, the company's official policy on account sharing must be considered. However, for the time being, there are no technical impediments in this regard.
To share your Disney+ account or subscription with others, all you must do is create an account and share your email address and password. Doing this will help you split the cost of the subscription. Thanks to the apps' profiles, users can see the content they want independently of others.
How many profiles can you have in Disney+?
Disney+ "lets you create up to six additional profiles (seven in total) per subscription." In other words, there can be up to seven different people sharing the same account or subscription.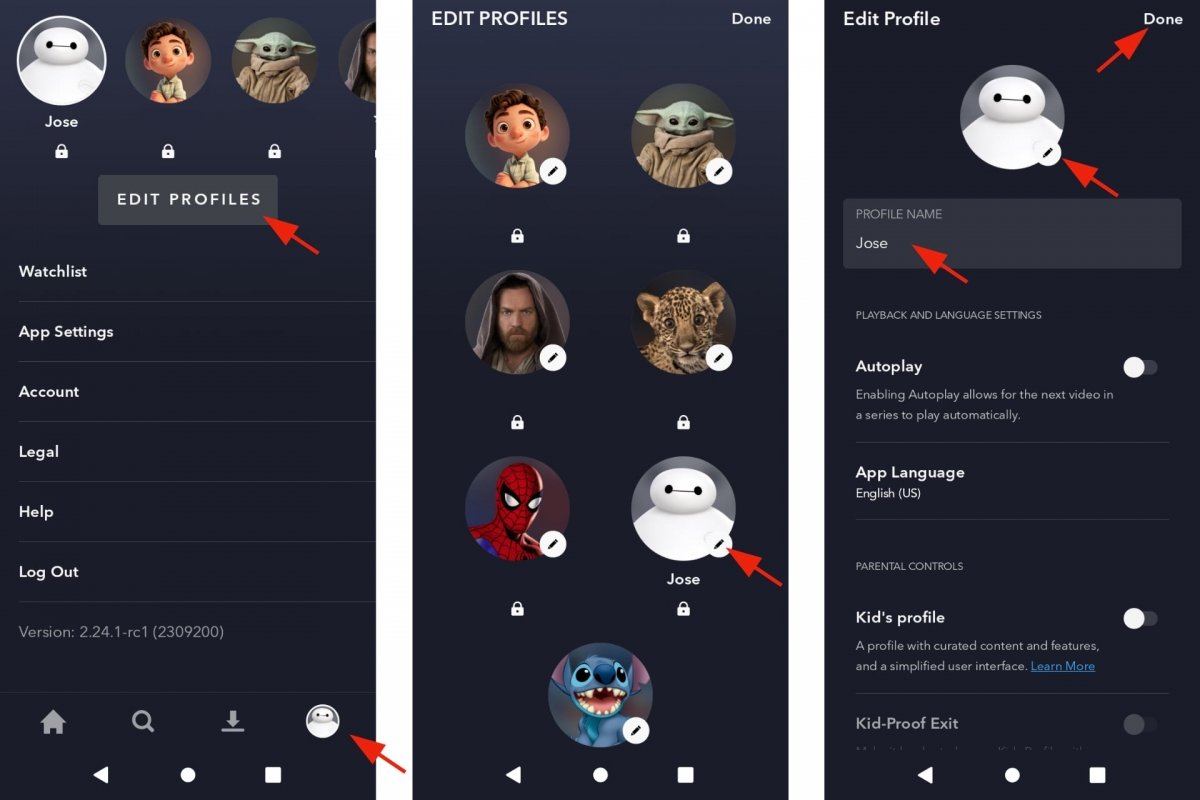 Disney Plus Profiles
Profiles are used to separate content playback. For example, if two people watch the same series separately and at a different pace, each profile will show a different viewing history. In addition, the recommendations and the settings you make regarding languages and subtitles will be different for each profile.
How many registered devices can I have in my Disney+ account?
We have already seen that one Disney+ account can have up to seven different profiles. Nevertheless, there are more details to consider, such as the devices registered with that account or subscription and the simultaneous playbacks. You can have your Disney+ account set up on multiple devices at the same time, but you will not be able to use them all at the same time.
As of November 1, 2023, Disney+ Premium and Standard plans allow downloads on up to 10 devices. This gives us a clue as to how many devices you can register under one Disney+ account. Once you reach that limit, you will need to unlink devices.
Please note that Disney+ is compatible with most devices and browsers: Chrome, Edge, Firefox, and Safari browsers, Chromebook, iPhone, iPad, Android phones and tablets, Amazon Fire tablets, Windows 10 and 11 tablets and computers, Amazon Fire TV devices, Apple TV, Chromecast, PlayStation, Xbox, Android TV, Movistar set-top box, Vodafone set-top box and Smart TVs from Hisense, LG with WebOS, Panasonic and Samsung with Tizen.
How many simultaneous playbacks can there be in a Disney+ account?
Simultaneous playback is possibly the most important information you need if you will share your Disney+ account. We have already seen that you can create up to seven profiles and link your account with up to ten devices. But when it comes down to it, if you want to enjoy Disney+'s catalog of movies, series, and documentaries, the key is how many simultaneous playbacks your account supports.
As we saw before, it will depend on the plan you subscribe to.
Premium Plan: up to 4 simultaneous playbacks.
Standard and Standard plan with ads: up to 2 simultaneous playbacks.
Disney+ downloads: does offline content count as simultaneous playback?
A useful Disney+ feature for when you are traveling is the option to download content for offline viewing. Once downloaded, you can watch it as many times as you want as long as the subscription is active and the content is still in the Disney+ catalog. As we saw earlier, you can "download content on up to 10 compatible devices with enough available storage space."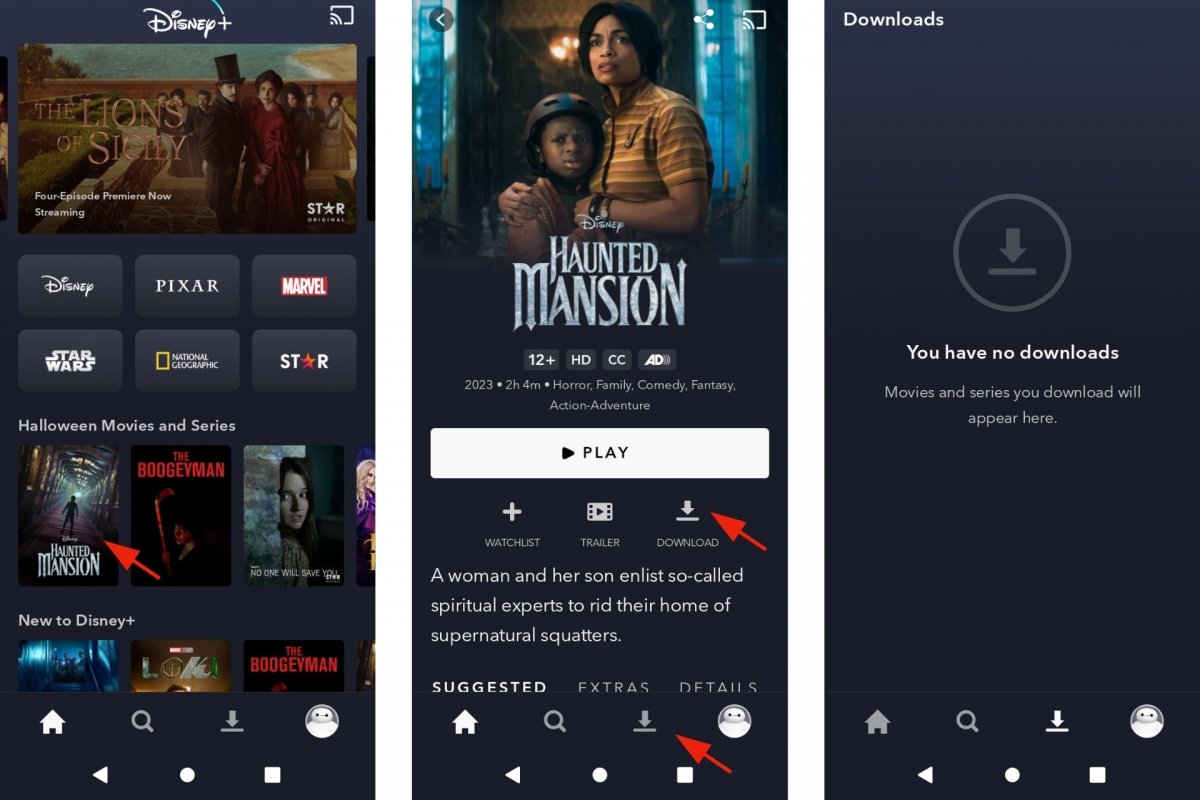 Downloading content from Disney Plus
Downloaded content will be deleted if you log out of your Disney+ account, do not let the app connect to the Internet at least once every 30 days, or the content disappears from the Disney+ catalog. You can also delete it yourself from the Downloads section.
Officially, Disney+ is silent on whether downloaded content counts as simultaneous playback. But we can assume not for several reasons. The main one is that Disney+ downloaded content is intended for offline playback, meaning there is no way to account for or limit those plays as there is no contact with the Disney+ servers. However, you can download content on up to ten devices. And, as mentioned before, the simultaneous playbacks are kept at two or four depending on the contracted plan.
Advantages and disadvantages of sharing a Disney+ account
Everything has its ups and downs, so it is worth mentioning the pros and cons of sharing a Disney+ account. If you are considering doing so, it is advisable to weigh up to what extent it will benefit you and whether the disadvantages are acceptable or whether it is better to stay as you are or to look for other alternatives before doing so.
Pros of sharing a Disney Plus account
The main benefit of sharing a Disney Plus account is obviously the economic one. If you split the price of a Disney+ subscription between two or more people, you will pay less each month. This is the number one reason to share an account.
Other reasons may be practical or sentimental, such as your whole family having access to the Disney+ catalog and thus contributing to household expenses or being able to discuss with friends and family the same movies and series by giving them access to the same content. In addition, sharing an account can create or maintain emotional bonds.
Cons of sharing a Disney Plus account
However, we must always keep in mind the cons or disadvantages of sharing a Disney Plus subscription, which are risks you may or may not suffer in certain situations. In principle, if you share an account with those you live with at your home address, you should not worry unless someone skips out on contributing their share of the subscription.
If you share an account with other people, things change. We do not know for how long it will be possible to share a Disney+ account among devices that do not use the same internet connection. Netflix introduced restrictions in this area not too long ago.
Another drawback is the trust or familiarity you have with the other people with whom you share the account. Problems can arise, such as not everyone paying on time or the subscription administrator deciding to change the password without prior notice.
What is GroupWatch and how to use it when sharing a Disney+ account
At the end of 2020, on September 29, Disney+ announced a new feature for its streaming platform. Its name was GroupWatch, and it was used to view the same content from different devices. In other words, if you could not hang out with someone at home, you could agree to watch a series or movie at the same time each one from their home. The requirement was to have a profile for each user associated with the same account, up to a maximum of four, and up to seven people could join the playback room. The GroupWatch badge was an icon that would appear on the content compatible with this feature.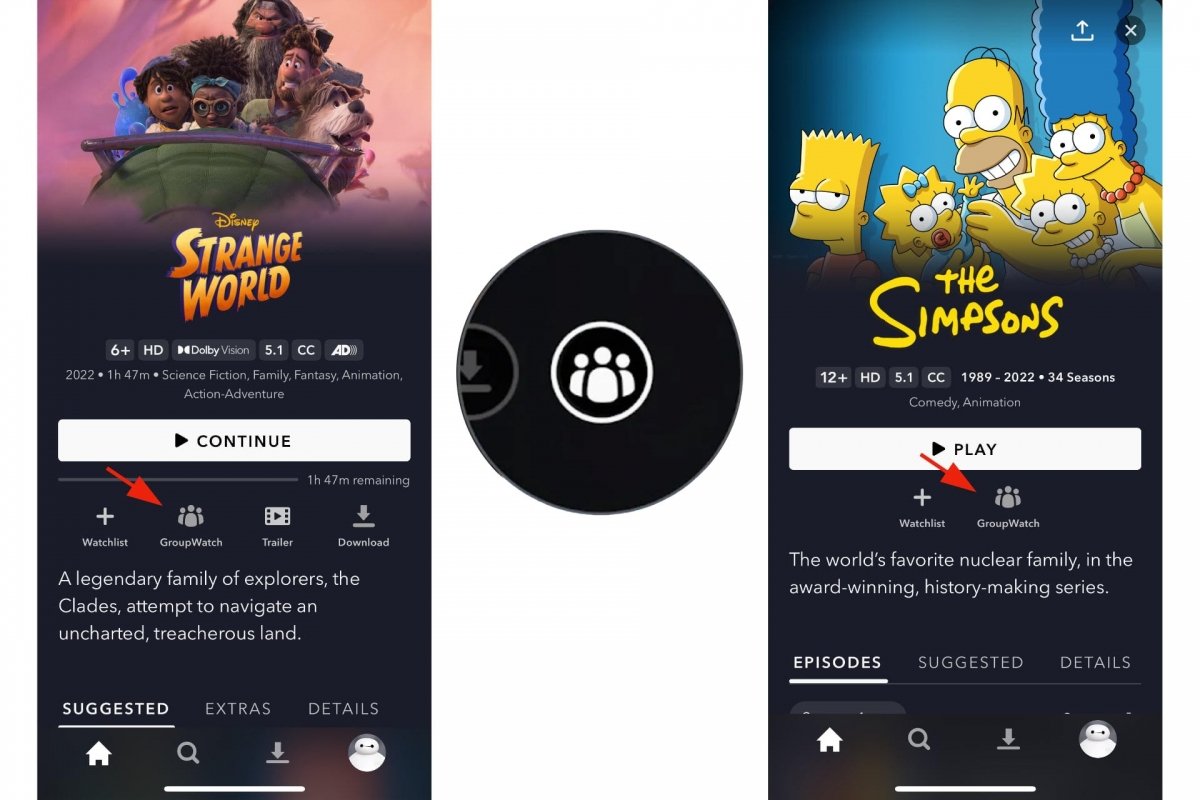 Using GroupWatch in Disney Plus
I write in the past tense because GroupWatch no longer exists. Without officially announcing it, several media outlets reported that as of September 18, 2023, this Disney+ feature would no longer be available. Or so said the platform's customer service team. If you look for its icon on any Disney+ content in the official app, you won't find it. The reason for removing this feature is related to Disney's policy on account sharing. As explained in this article, with the November 2023 plan change, Disney+ officially expresses its disagreement with sharing subscriptions outside your home address. Meaning, GroupWatch clashed with this policy.