Aptoide is one of the most popular alternative application stores. It has a huge catalog of applications and is easy to use. However, other good alternatives are worth mentioning. Many people use this type of platform to download applications that are not in Google Play, to get the latest versions before anyone else or for their user experience. In this article, we show you a compilation of 6 Android software stores alternatives to Aptoide and Google Play.
Malavida
Malavida is a platform that offers fast, reliable, and direct downloads. Also, its catalog is kept up to date, providing the latest updates at all times. It has its own store for Android, from where you can download both popular applications and specific tools, not available in other stores. It is worth noting that the team prioritizes security, scanning each file hosted on its servers with various anti-virus software.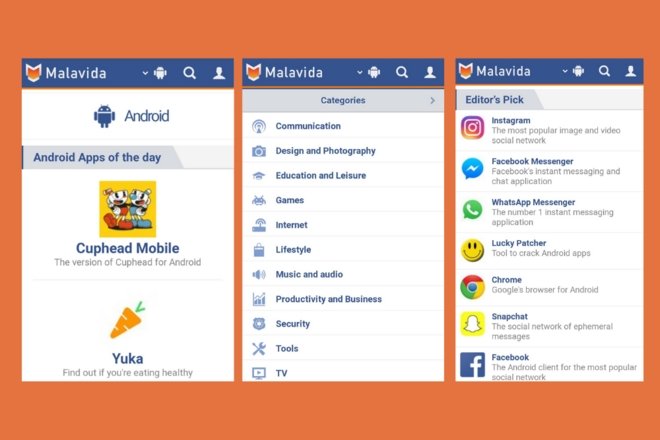 Malavida
Besides the downloads, on its official website, you will find articles, guides, and answers to the frequently asked questions. So, in addition to the download and installation, Malavida offers you full support to take your first steps with almost any application.
APKPure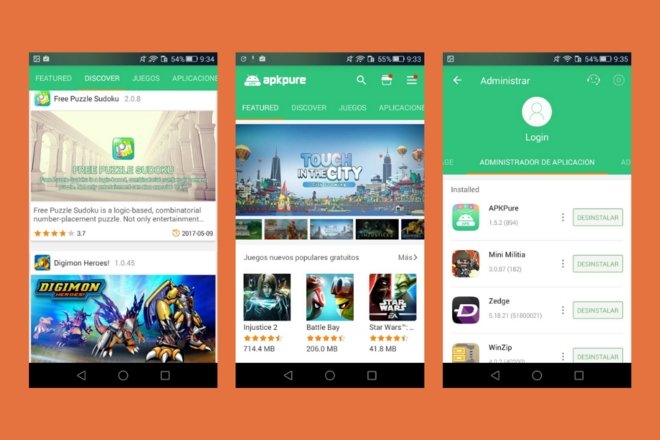 APKPure
This repository acts as a mirror, hosting all the APKs of the applications that you can find in Google Play, and providing the download to the user in an easy way. In addition to a simple and easy to use website, it has available an official application for Android. One of its greatest advantages is the ability to keep your applications up to date. Also, APKPure lets you check what is new in each version.
SlideMe
SlideMe is an easy alternative to Aptoide, and therefore to Google Play. There, you can find both free and premium applications. It is worth mentioning that this service is not intended to be a nest of pirated applications, but a useful distribution network for digital content that recognizes the right of developers to be paid for their work.
SlideMe
Keep in mind that registration is required to use it. In return, you will enjoy a neat interface, a detailed selection of editors, and an advanced search bar that will let you find exactly the application you need.
Aurora Store
This is one of the most popular names lately in the media and specialized forums in the world of development. Aurora Store is the perfect copy of Google Play. It is based on the famous store's API, also, it lets us access our account and download the applications that we bought in the Google store. It even automatically updates our apps.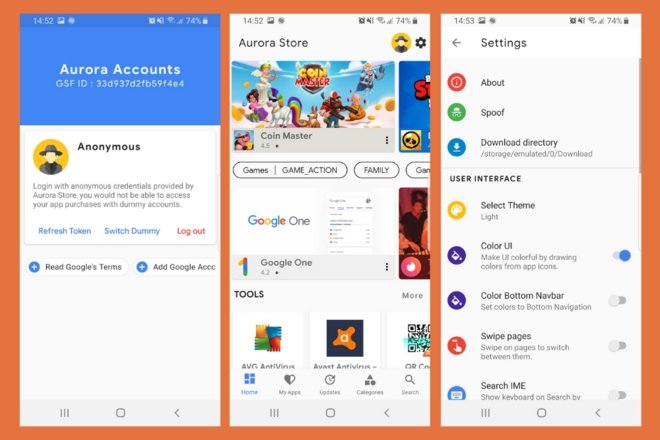 AuroraStore
As you may have guessed, its popularity has skyrocketed due to Google's vetting of Huawei. If you want a nice design, good performance, and functionality comparable to the official apps, this is your alternative for Aptoide, Google Play, and, of course, for the Huawei App Gallery.
F-Droid
This is one of the most interesting alternative apps with a clear objective: to easily offer free software to Android users. Therefore, in F-Droid, only those applications that have released their code and can be audited by the community are hosted. The fact that it is open-source software does not mean that it is low-quality or that it has other purposes.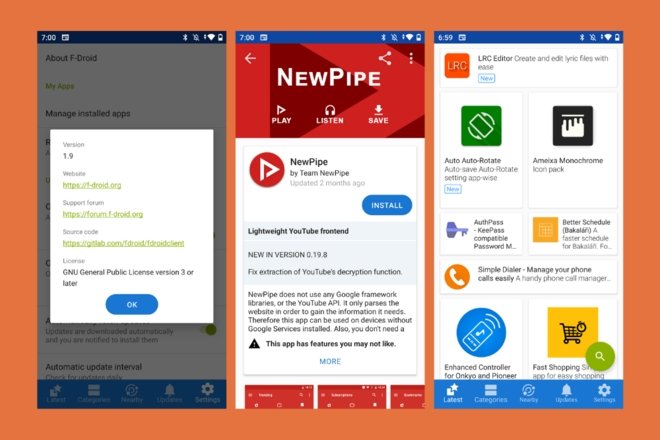 F-Droid
In F-Droid, you can find YouTube apps, such as NewPipe, web browsers, music players, and other useful tools. If you are a free software fan and want to leave aside, once and for all, the big corporations, F-Droid is for you.
Amazon App Store
For years, Amazon has had a complete range of devices under its own brand. In addition to the smart speakers and displays, this e-commerce company has its own tablets. There, you will find no trace of Google, and therefore, they have their own application store.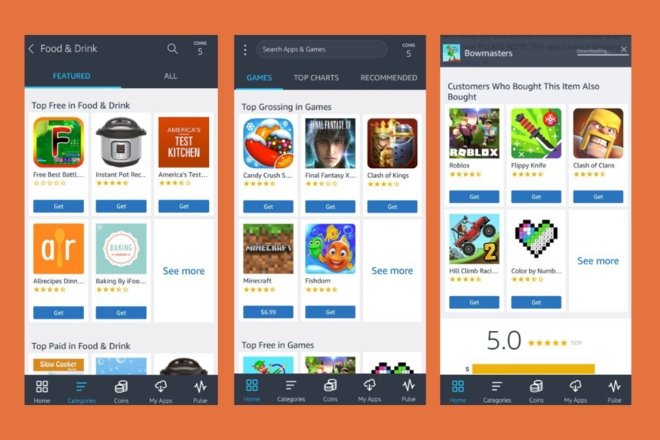 Amazon App Store
The Amazon App Store and its Fire products are available to any user. One of its great strengths is that its catalog is very similar to Google Play, and you can find the most popular applications, such as Spotify or Netflix. Of course, this store is managed by Amazon, a company that often releases special offers. Enjoy them whether you have a Fire or Kindle device or not.