Released in late 2019 at first, the Disney+ streaming platform has expanded its catalog in a big way to bring series and movies from such well-known sagas as Star Wars, Marvel, and so on. Since the subscription prices are somewhat high, it is very probable that you are looking for a way to reduce what you spend per month to be a subscriber, and here, we tell you how you can share an account and everything you need to know about it.
How to share your Disney+ account with others
If you are looking to save on your Disney+ subscription and share your account with up to 7 friends, family members, or any other person you know, all you have to do is simply purchase a subscription and share the account passwords with those people with whom you have a prior agreement to split the total subscription fee. It is necessary to consider the limitations of account sharing, detailed in the following sections.
How many simultaneous devices can use Disney+
The total number of registered devices that Disney+ lets you have on the same account is 10, so you can connect your smartphone, TV, tablet, or even console and log in on all of them. In case you reach the limit of ten, you can disconnect your session from the device you use the least to get back within the limit.
As for simultaneous users using the account, the limit set by the company is 4 people at a time. Therefore, it is advisable to limit the number of profiles to four so there are no problems and we do not have to wait for another user to stop using Disney+ before we can log in.
How many profiles can you have in Disney+?
Another detail to take into account is the profiles. We recommend creating one for each person using the account, as you will not have the same preferences as your account partner, and thus, you will not overlap each other in the viewing and monitoring of several series. The limit of profiles is up to 7 in the same account, but due to the fact that it can only be used in four simultaneous accounts, we recommend limiting the creation of profiles to this number.
When creating them, you can choose between normal and child profiles in order to limit the content and have individual parental control for each of the users who have access to the shared account.
Group watch to share Disney+ account
An interesting option that not all users know about is to use Groupwatch to watch movies or series with friends or anyone you know simultaneously and online. To use it, it is necessary that both have a profile in the same account, but in this case, up to 7 people can join the Groupwatch and the limit of profiles is 4 (always adults, children's profiles are not allowed to use Groupwatch).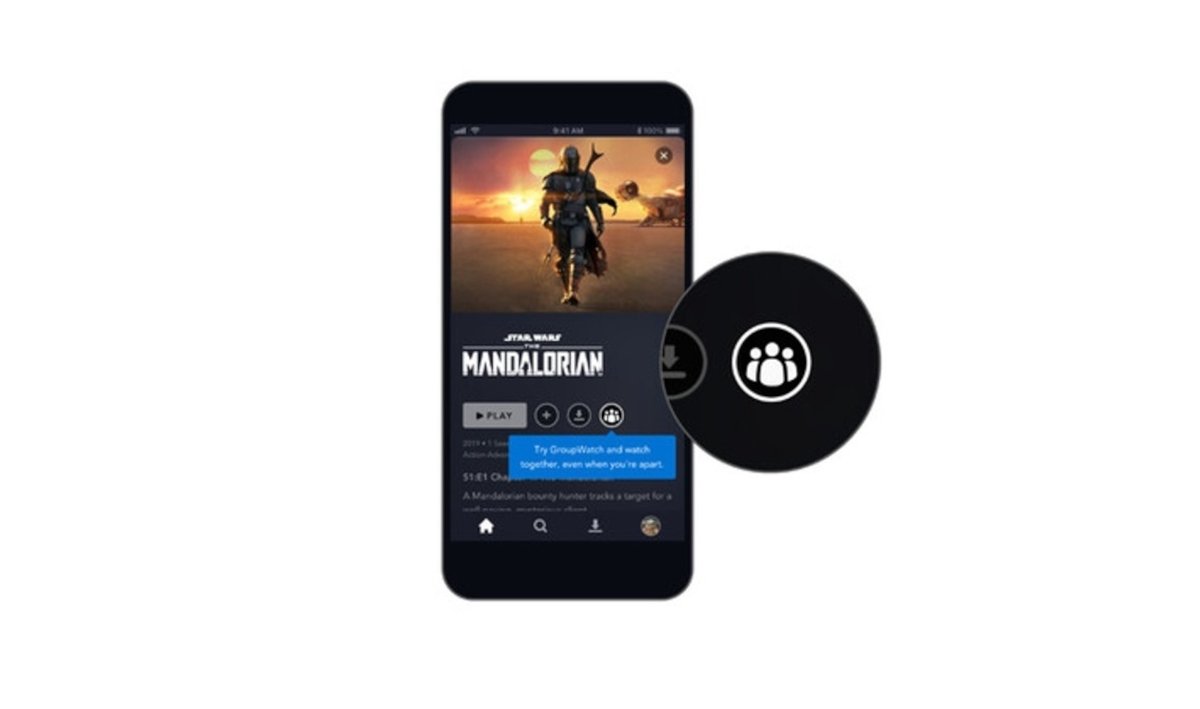 Use the Groupwatch function to watch Disney+ movies and series at the same time
How to create and delete Disney+ sharing profiles
Let us explain how to create profiles to be able to share your account and how you can delete or eliminate them when you no longer need them. Disney+ makes it pretty easy in both cases.
How to create profiles in Disney+
Below we show you, step by step, how to create a new profile in your Disney+ account so that you can share it with other users and so everyone can have their own recommendations and viewing of content. This is the process you must follow:
Go to the Disney+ website
Enter your account information by filling in the fields that appear with your username and password.
Once inside, click on the top right corner of the website to access your profile settings.
There, click on "Add profile".
Once in this section, you will see several icons with characters from Disney, Pixar, Star Wars, Marvel, and other sagas. Choose the one you like the most and when you click on it, an option will appear to add the profile name, also choose if it will be a child or an adult profile with free access to all content. After entering the profile name and choosing your profile type, you can click the Save button to confirm it and create the desired new profile. This process can be repeated until there are 7 accounts in total.
How to delete profiles in Disney+
On the other hand, if someone in your group has stopped paying you or for any other reason you want to delete their profile from your Disney+ account, here are the steps you need to follow to do it successfully:
From the bottom right corner of your profile (when viewing from a mobile device), select "Edit profiles".
Choose the profile you want to delete
Select the "Delete profile" option that will appear when you select the avatar.
Select Confirm, and that's it
As simple as this, you will be able to delete any profile you no longer need in your Disney+ account so you can add another person to join your plan (and save money) or for any other reason.
How to find people to share your Disney+ account with
You probably want to share your account with other users to make it cheaper, but you may not have anyone interested in doing so. If that is your case, and you still want to look for someone you do not know and trust to share a Disney+ account with, it is possible to do so thanks to online platforms such as Together Price.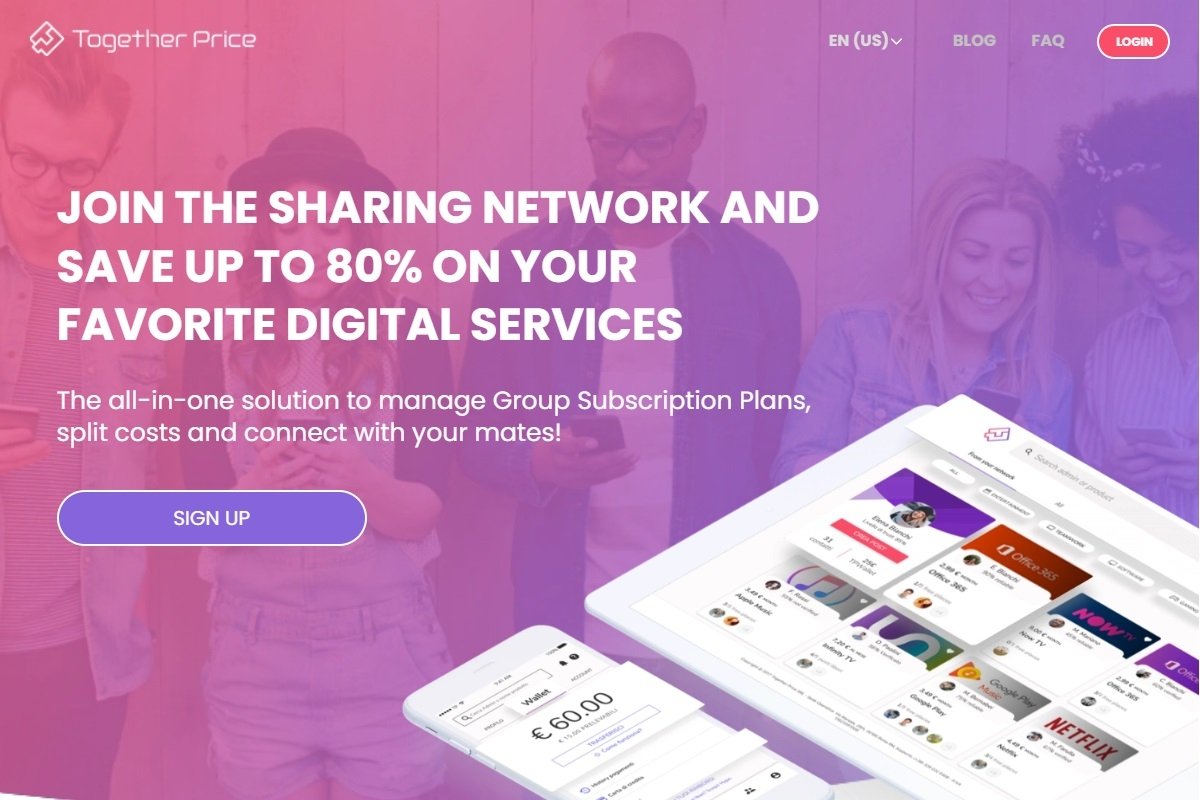 Use platforms such as Together Price to search for people to share your Disney+ account with
It is easy to use, as all you have to do is log in and register with your details to join a group that has an available subscription for the service you are interested in. You also have the option to click the "Become an Admin" button and select Disney+ as your preference. This will enable up to 3 users to join the account and pay you on a month-to-month or annual basis. Sharing an account with people you know will always be the best option, but since this option is not always available, these types of apps are useful to connect with people and reduce the price of your monthly or annual subscription to Disney+.
How to sign up for Disney+
In order to subscribe to the Disney+ platform, you just have to go to the official website and click on Subscribe now, enter your data, choose the plan you prefer from the two previously mentioned, and add your payment information (credit card or PayPal), and finally, confirm that everything is correct. Below, you will find a summary of what you need to do:
Go to the Disney+ website
Choose between Subscribe Now (monthly plan) or Subscribe and Save (annual plan) and click on the option you prefer
On the next screen, enter an email address and password
Now, it is time to pay, so fill in the requested fields with your credit card or PayPal information
Finally, confirm your data and you will be able to start using Disney+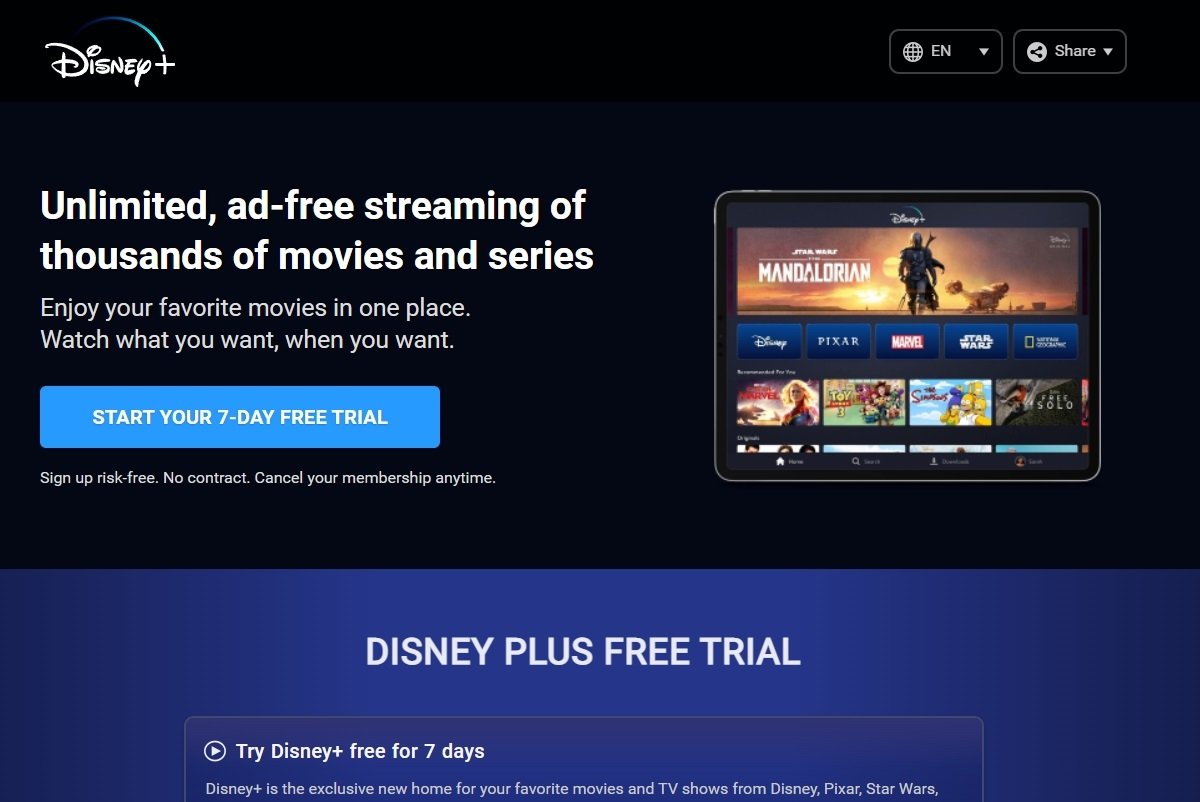 Choose your Disney+ monthly subscription pan and get a 7-day free trial
If you are looking for the 7-day free trial, you will still have to enter your card details for security reasons, so if you want to create a new account to enjoy another free week, you will have to use a different card to link it.
Pricing and subscription plans
8,99€ per month
89,90€ per year (save 2 months with the annual subscription)
Although at the beginning the price to subscribe was lower, the arrival of the Star catalog and all its contents produced an increase in the rates, and it is worth mentioning that the prices may vary depending on your country, such as $7.99 per month and $79.99 per year in the USA. Even so, it is worth mentioning that both tariffs allow a 7-day free trial period, but only for new accounts, so we cannot chain several free trials forever.