If you frequently use Twitch, you may have heard your go-to streamer talk about how they had a raid done on them. Or that they have been raided from another channel. Although the word raid usually has a negative meaning, like raiding the fridge or getting raided by the police, on Twitch, raids are good.
Let us remember that Twitch is a platform where anyone can have their own channel. A channel that other people can follow from their devices with the Twitch app installed. And, as you might have imagined, live broadcasts are possible on these channels. The subject is the last thing you have to worry about. Be it talking to your friends, trying out the latest game released, explaining something you know a lot about, singing or playing an instrument, or anything else. On Twitch, there are many categories to choose from.
And among the many things you can do on Twitch, besides making your own live streams, you will find the possibility of collaborating with other streamers. Most collaborations include doing live broadcasts together on both channels or sending or receiving followers from another channel when one of the streamers finishes broadcasting.
What is a Twitch raid?
As Twitch puts it:
When starting raids, you can send viewers to another channel after a stream. Raiding can be a great way to network and connect with other streamers by sharing viewers and developing your communities.
In other words, in a raid, you invite your followers to watch another channel currently making a broadcast. Instead of saying goodbye to them and closing the broadcast, you send them to another channel to help them discover new content. By doing this, you help another streamer, gain a friend, and your followers have the opportunity to meet new streamers to follow.
And best of all, your followers do not have to do anything. You do the raid, and when you finish your live stream, the live stream of that other streamer will automatically appear on their screens. It is as simple as that. As a curious fact, you can raid while broadcasting, but that will cause your followers to stop seeing you. You will only be seen by those who enter your stream again. So the best thing to do is to raid when you finish your streams.
Differences between a raid and a host on Twitch
Not too long ago, there was another feature on Twitch called host that helped to make other channels or streamers known to your followers. However, as of October 3, 2022, Twitch has disabled the /host y /unhost commands. Instead, they recommend using raids. Both functions are very similar and serve the same purpose. In the words of Twitch, "raids make it easier for streamers to offer their viewers another stream they could watch when they go offline."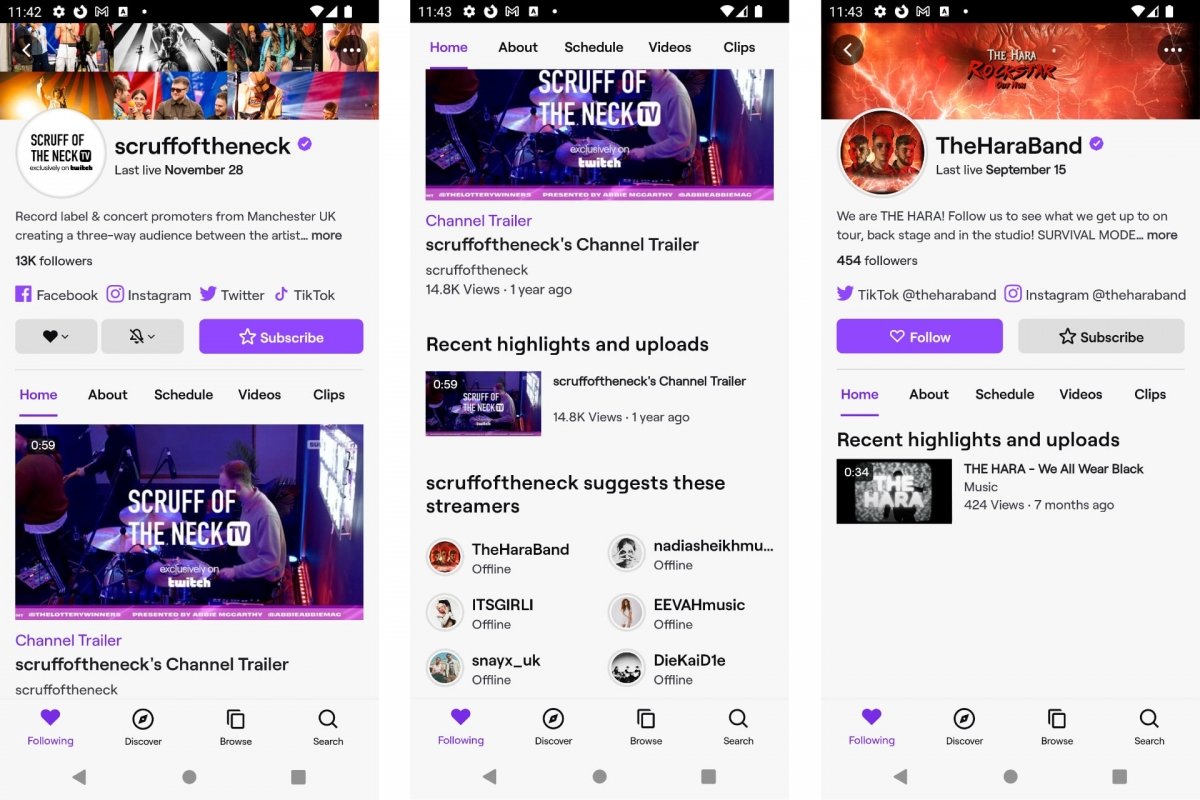 Suggested channels on Twitch
The host or automatic hosting triggered when you entered a Twitch channel, and there was no live stream running. When this happened, you could see the live streams of other streamers without leaving the channel you initially entered. It was a way to give visibility to other streamers from a popular channel while its streamer was not broadcasting anything. As of October 2022, this function is known as Suggested Channels. Now, it shows a list of Twitch channels you can join. But you will no longer see their live feeds from the channel you were in. You will have to access one of these other channels.
Another difference between raid and host is that, during a host, you were limited to being a spectator. Now, when the channel you are watching does a raid, you will be able to interact with the other streamer by sending comments, subscribing to their channel, or doing other actions common to any Twitch channel. The host function limited the viewer too much.
How to make a raid on Twitch from your smartphone
To start a raid, type the command /raid with the name of the channel you want to raid directly in your channel chat. You can also tap the Raid Channel button from the Twitch Stream Manager in the Creator Dashboard. In the second case, you can search for a specific channel or type it directly if you already know its name. But the Creator Dashboard is not integrated into the smartphone app, so you will have to access it from a web browser.
One detail to remember is that you cannot access the chat if you are broadcasting from your smartphone. Yes, you will see the comments of other users. But you will not be able to write from there. So you will have to stream from another device and enter your channel chat from your Android smartphone to raid.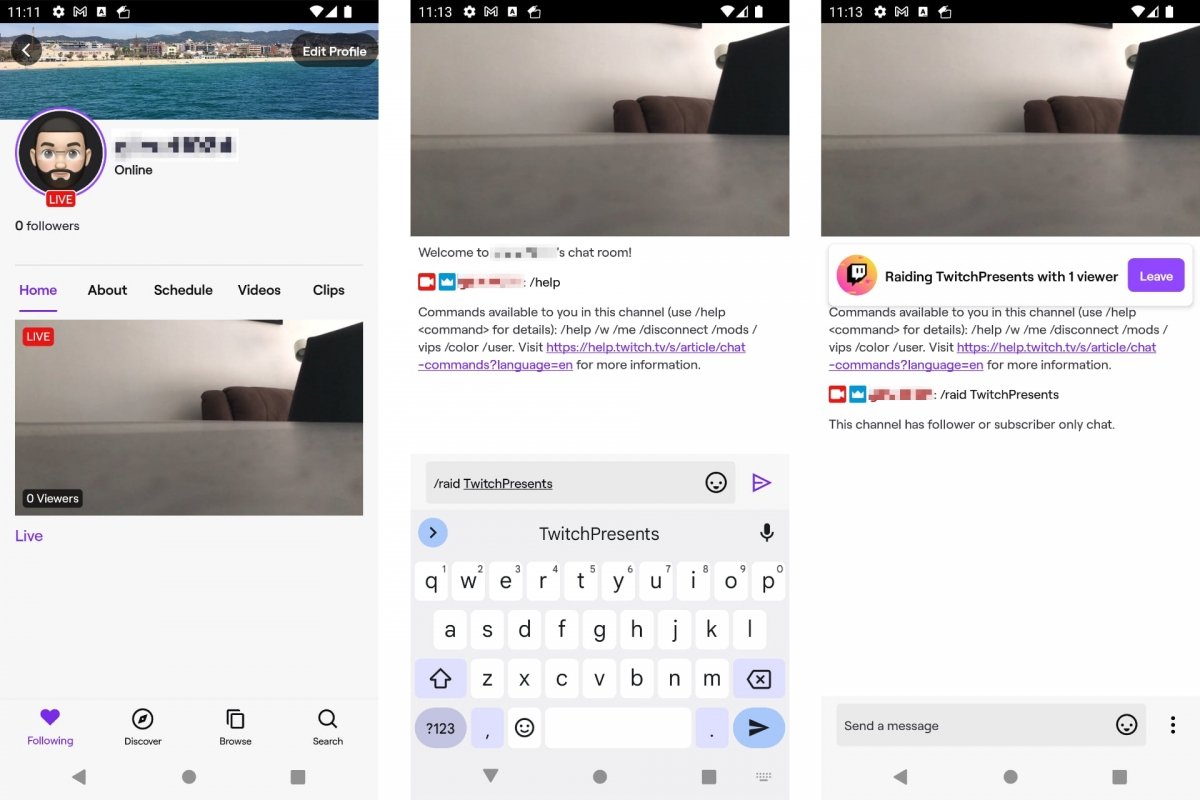 Raid in Twitch for Android
To make a raid on Twitch from an Android device:
Open Twitch for Android, in View mode.
Enter your profile by tapping on your avatar icon.
Select My Channel.
Enter your live feed.
Once in the chat, to start the raid, type /raid followed by the channel name.
You and your followers will see a countdown that says Raiding and the destination channel.