Using Wallapop to buy and sell can be very interesting due to the wide catalog of products that we find, some of which can no longer be found in other stores or platforms. Even so, it is likely that after hitting the buy button you will regret it, for whatever reason such as having seen the same product cheaper elsewhere, and you will want to cancel the purchase. Although there is no direct and effective way in Wallapop to cancel an offer, you do have several alternative methods to do it, and here, we tell you about them.
How to cancel a purchase with the seller's chat
Talking our way to an agreement. Let's just say that the fastest way to cancel a purchase that you have made on Wallapop and that you have regretted is to talk directly with the user who sold you the product. It should be noted that if you have already made the shipment, you will have to wait until it arrives to return it, but if you are in the case of having made the offer and the seller has not yet sent it, you have time to cancel it.
To achieve this, the seller can either reject your purchase offer or cancel it if he has already given the OK to your purchase request. In case of having accepted the offer but not delivering the product to the shipping company (5 days in the case of Correos and 7 days for Seur), the offer will also be considered void and will be canceled.
How to cancel your purchase by talking to Wallapop customer support
If using the chat function to talk to the seller has not helped you, you can contact Wallapop's customer service department to cancel the purchase from there. There are several ways to do this:
Customer service website: through this link, this is the easiest way to contact them effectively and get an answer as soon as possible.
Social media: Twitter DM or message through your Facebook page. In this case, we recommend Twitter, as it is the fastest way to get a response.
E-mail: soporte.envio@wallapop.com
Wallapop App: there is no chat section with customer service directly, but there is a Help Center where you can find multiple answers to all kinds of questions and problems.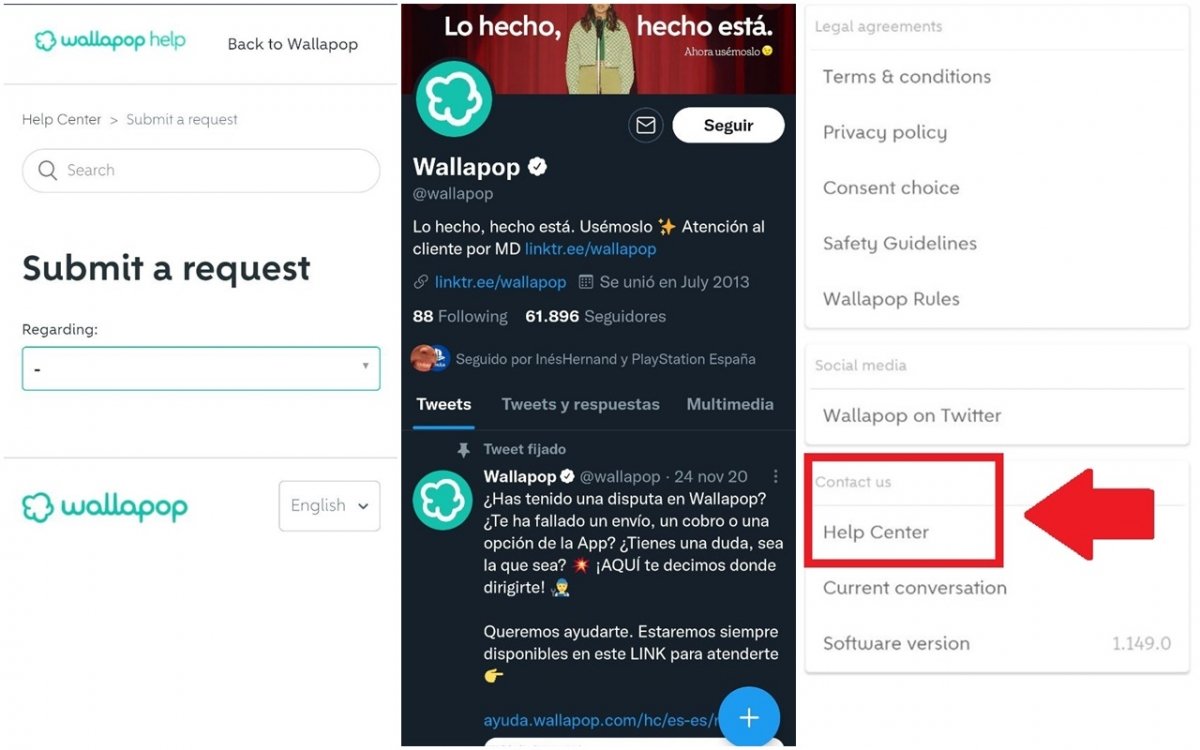 Contact Wallapop Help Center using different methods
A fourth option, less recommended due to its complexity, is to go in person to the Wallapop offices located at Avinguda Meridiana, 89, 6, 08026 Barcelona. If you are in Barcelona and have a problem that cannot be solved in any other way, you can come in person to make your consultation or send a letter by regular mail to the address indicated.
How does it work to get your money back on Wallapop?
In case you manage to cancel your purchase, you will be able to recover your money within 48 hours. You must have a linked bank card, so the money returned to you will be reflected in the form of a positive balance through that card, previously used to make the purchase. The period to start the return is from the moment that Correos has confirmed that it has received the package back (in case of a return) or when the seller cancels your purchase offer.
Even if the money takes a few days to return to your account, in general, there is no reason to worry, since Wallapop is a platform and therefore an app of guarantees: it is safe to buy on Wallapop, as long as you meet the rules and use the application safely.