Nowadays, you have many options available when looking for products that, for whatever reason, are not available for purchase in physical or online stores. Second-hand buying and selling websites such as Wallapop or Vinted let users earn money and spend it to buy what they are looking for. Starting to use one of these apps can be a bit complex, so here we explain how to buy step by step and safely on Wallapop.
How to start shopping on Wallapop
After installing the Wallapop application on your mobile device and opening it, you will see that you can start browsing the catalog of available products without logging in, but we recommend you to do so to have your own account created. To do so, you simply accept the Terms of Use and Privacy Policy, set your preferences (buy, sell, or "not sure"), and finally, select three categories of themes you are interested in (Clothing, Video Games, Cars, and so on)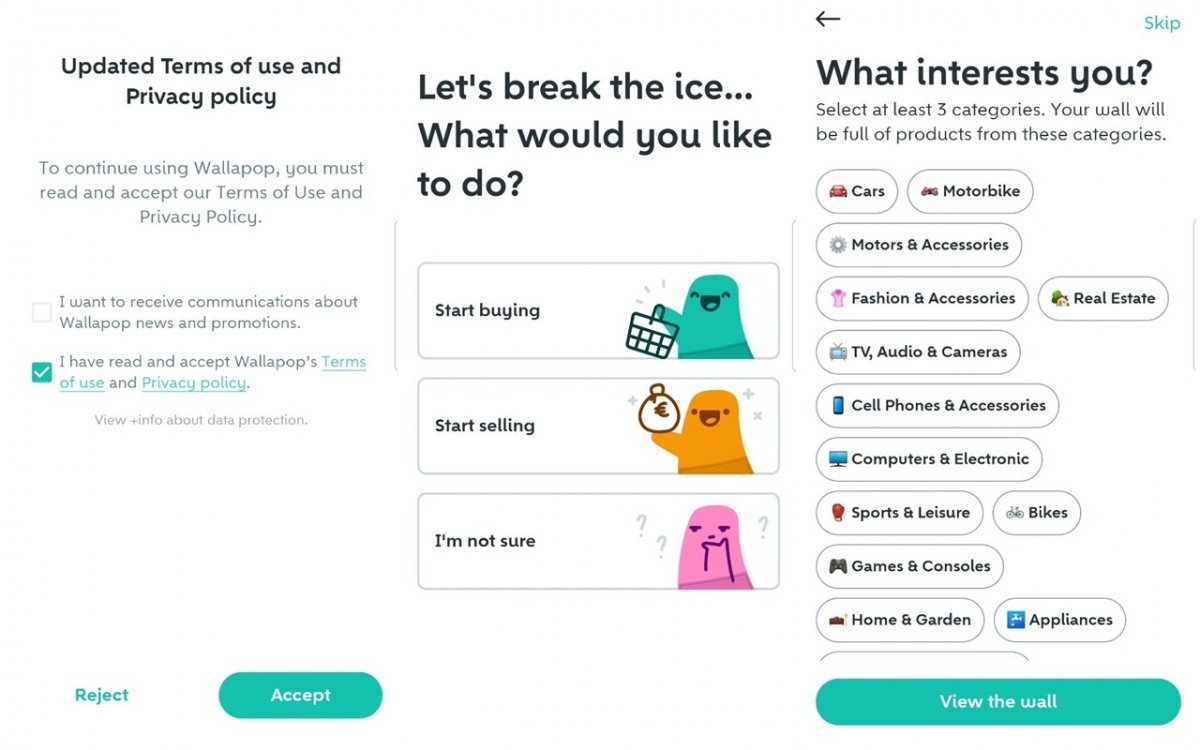 Create your account and set your preferences to start using Wallapop
This way, you will have your account created and you will be able to finish editing your profile with your name, address, and payment method (you can leave this step uncompleted until you make your first purchase, and other parameters)
How to receive your Wallapop purchase
Before explaining in detail the step by step how to buy on Wallapop and have the product delivered to your home, we will explain the options you have to buy each product and the available shipments provided by the app.
Through Wallapop Shipping
The other option, in case you want to receive the product directly at home or a collection point, is to use Wallapop Shipping. An additional insurance fee of €2.49 must be paid to use this service, and will be added to the option you choose for your shipment:
Pick-up point: choose a public point, such as a nearby post office, so you can pick up your package there. Priced at €2.95 for this service, it usually takes 3 to 7 days to arrive.
To your address: in this option, with a price of 3,95€, you will receive the product directly at your home address. It is managed by SEUR and usually works very well. Depending on your area of residence (and whether it is a large city or a remote town) it may take longer or shorter to arrive, but this is something that will be indicated to you in each case when you make the purchase.
Meet the seller in person
After finding the product you are interested in and talking to the seller via chat, you can set up a date and time to meet in person and then exchange the product for the money (either in cash or via Bizum, for example). Although complications can always arise or it can be a scam, we give you a series of recommendations to avoid this type of situation in this article about security and how not to be scammed on Wallapop.
Home delivery between individuals
One way to avoid having to pay for Wallapop insurance and shipping (which is more expensive, especially in the case of products that do not weigh much, such as collectible cards, for example), is to agree with the seller to send the product through an external courier, such as Correos or another type of shipping service. Wallapop only recommends this option if we trust the seller and we are sure that they are not going to scam us since Wallapop does not take responsibility for sales that are made outside the app, even if the product has been previously uploaded to the application.
How to buy on Wallapop
Once you have created your profile you can start shopping on Wallapop. From the main menu, you will see a series of recommendations and featured products, so you can click on one that interests you or use the search bar above to enter the terms you are looking for. In this case, we use Star Wars as an example.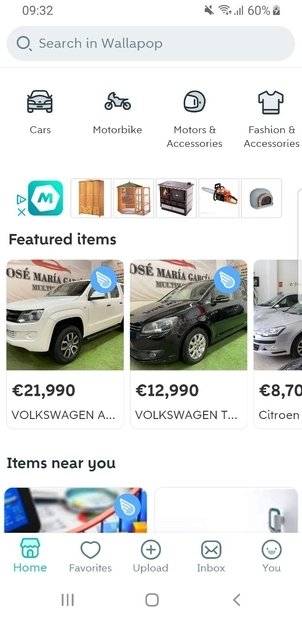 From Wallapop's home page explore until you find the product you were looking for
Once you have searched, you will be able to find a series of products related to the search you have made. If you want to be more specific, you can use the filters (at the top of the screen) to select the nearby location, the price, or the category of the product.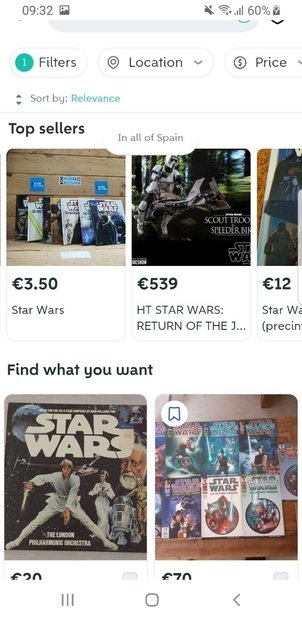 Use the filters to fine-tune the search for the product you want
When you find what you want to buy, click on it to open the product page. Here, you can find more detailed information about the product such as its description, and condition (new, used, etc.), and even talk to the seller through the Chat tab in case you want to meet in person to avoid the shipping costs of receiving it at home or a collection point (such as a Correos office).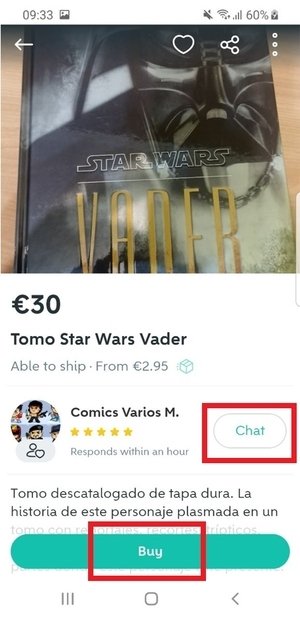 Choose between speaking with the vendor through the Chat or purchasing the product straightaway
The easiest and safest way is to buy it through Wallapop Shipping, as it will be delivered directly to your home. If you prefer this recommended option after clicking on the "Buy" button, you must choose whether you want it to be delivered to your home (3,95€) or a collection point (2,95€).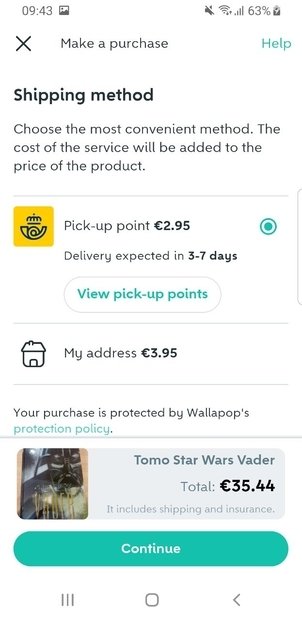 After selecting the purchase option, choose whether you want the product to be delivered to your hom
Now, it is time to enter the payment method, so if you have not already done so, you will have to add it at this point (bank card or PayPal). You can leave it linked to your account or use it sporadically.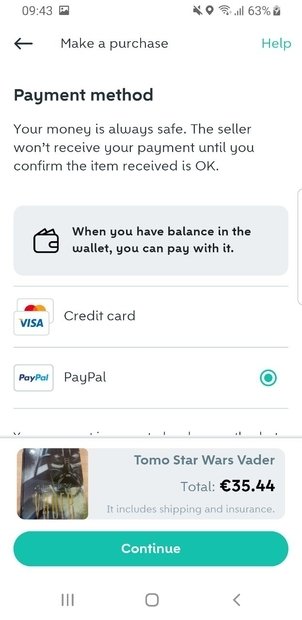 Select your payment method, whether a bank card or PayPal, in order to complete the purchase
Finally, it is time to check that everything is correct before clicking on the button at the bottom of the screen, Buy, to complete the purchase. In this case, the shipping plus Wallapop insurance has added about 5,44€ to the price of the product.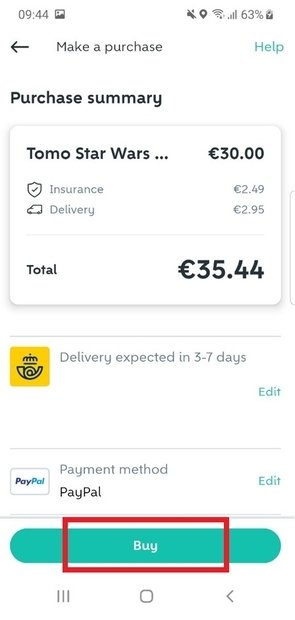 Complete your purchase verifying all the details of your order and any other necessary information
At this point, you will have a shipment tracking system that you can follow to check when the shipment is sent, is in delivery, and finally arrives at you. If everything is correct, and after receiving it, you will be able to leave a positive feedback to the seller. If on the other hand, you have had any problem, you can return it and recover the money comfortably by following the steps that you find on the Wallapop app.
Can I cancel a purchase on Wallapop?
If after buying something, you regret it, you have some options to cancel a purchase on Wallapop. Some of the possible options you can try are to talk directly to the seller of the product, but you can also contact Instagram. Wallapop offers a secure process to do so that ensures that the money and the product are safe and secure while the transaction is being processed.