AppLock is a simple application that lets you prevent access to files on your device as well as to other apps. It provides different additional functions, such as offering incognito browsing or even device cleaning.
The application works through a pattern that you will have to configure and confirm when you install the app. Once you do so, you can change this pattern to another type of access system, such as a PIN code or fingerprint. But it is the pattern that acts as a "master key" when it comes to granting access to what we want.
AppLock works by enabling some functions of the operating system in the application, centralizing everything in one place. Therefore, it is not a heavy application, and at the same time, it provides extra options that are highly recommended for any situation.
This app is offered in Premium format for 3 days at no cost, allowing us to get rid of ads, have exclusive themes or skins, and preferential feedback. After this trial period, we can pay for it in different ways, the annual cost being $11.99.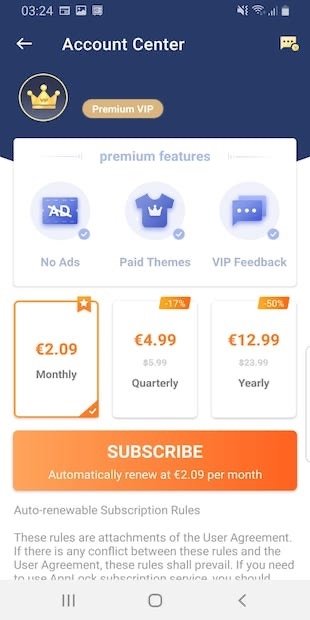 The app's premium options
AppLock offers a clear interface, with two main tabs, Privacy and Protect. In the first one, we find multiple customization options designed to protect our privacy, highlighting at the top some shortcuts that let us perform quick functions.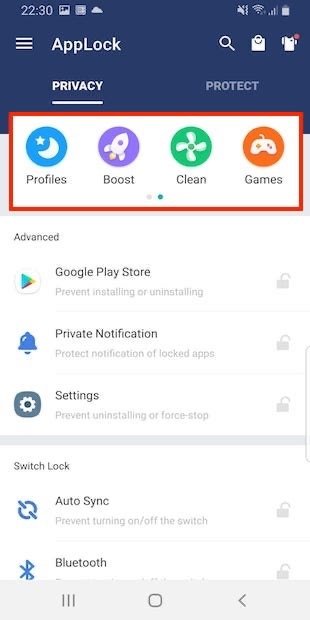 AppLock's Privacy tab
Vault: It is the place where we store the files that we want to keep inaccessible.
Browser: Yes, AppLock has its own secret browser in permanent incognito mode.
Battery: Activates a battery saving mode.
Profiles: You can configure several user profiles, including guest profiles. Here, you tell the application what applications you want to remain active if you are going to let someone use the device.
Boost: An accelerator that boosts your device by eliminating everything that hinders its functioning.
Clean: Displays large files, obsolete APKs, or all the junk on your device that you can delete.
Games: A surprise, AppLock offers a total of 16 exclusive games in various categories.
Account: Displays your account, whether it is standard or premium.
Privacy is the place from where you can fully configure the application, as you can make your notifications private, grant or deny access to the Play Store, or block the use of the Wi-Fi network or Bluetooth. You can also block access to all the apps you have on your device one by one from this tab.
In the Protect tab, application-specific functions are enabled that let you protect yourself even more. This is done from the Security section.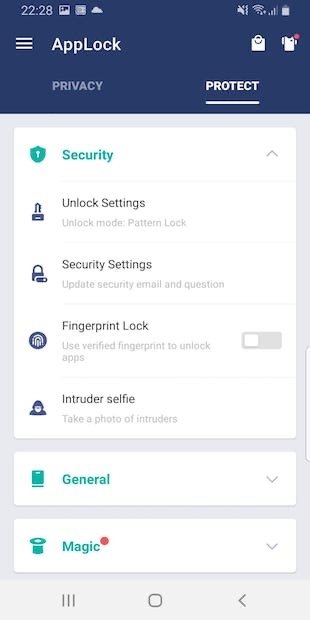 Protect tab
For example, you can change the unlock pattern, make it invisible, or have the device vibrate when you enter the pattern. AppLock enables us to use a PIN code instead of a pattern to access it, and it is in Protect the place from where you can configure it.
If your device supports fingerprinting or enabling the application to take a selfie of someone handling the device, these functions can be configured in this section.
The General section enables us to use a data saving mode, advanced protection that lets an intruder uninstall the app, for example, tell the app when we want the app to close, by setting a time, or that the application locks after the screen has been turned off.
General Section inside Protect
Finally, in the Magic section, we can make AppLock virtually an application that goes unnoticed to strangers, being able to disguise the icon and make it look like a calculator or a compass. It gives us the possibility to enable the numeric keypad as random and change the layout of the keys so that no one memorizes our movements. The cover displays an alert message asking to enter a fingerprint or indicating that the app has stopped and that it is intended to scare away intruders, but it is totally fake. Finally, the Animation section lets you launch small animations when we unlock an application.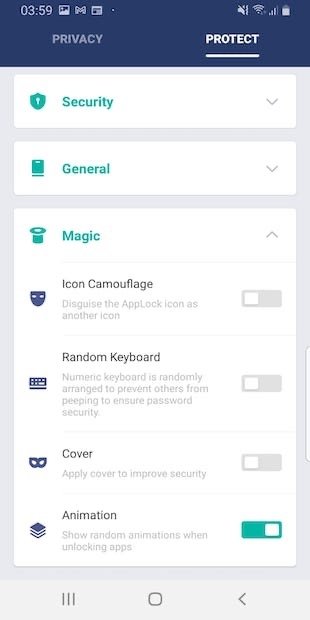 Magic Section
As you can see, AppLock is much more than a security and protection app, since we have extra features such as a secure browser, cleaner, accelerator, games, or battery manager. And it does everything it offers and does it very well. Also, its price is not excessive if we choose the annual payment option, although you can access all its functions if you watch the ads. There is no doubt that AppLock surprises with its wide range of options and makes your device more secure.