Google Maps has gradually become the Swiss Army Knife of travel. It not only tells you which route to take to reach your destination, but also shows you the most efficient one, the cheapest gas stations, or what other people think of the places you will visit. However, this time we will focus on tolls and how to find out how much they cost before making a trip.
How to calculate the cost of tolls with Google Maps
Calculating the cost of tolls with Google Maps is very easy. The steps are as follows:
Set a trip that includes tolls.
Tap on the coin icon that appears next to the estimated time and total distance of the route.
View estimated toll prices.
If you prefer not to have this information displayed, tap Change toll pass settings.
Turn off See toll pass prices in the options list.
This feature is currently only available in selected countries, such as the United States and India. So, if you reside in another country, how can you know the toll prices on your route?
Alternatives to Google Maps to know toll prices
Two services already let you know the price of tolls in Spain and other European countries. They are the following:
ViaMichelin. By creating routes with this website, you will be able to check how much the tolls for your trip will cost.
Waze. The popular navigation application already shows the price of tolls when calculating an itinerary. Additionally, it is possible to automatically apply discounts to the total amount.
How to avoid tolls using Google Maps
In addition to knowing the toll prices, you can also use Google Maps to avoid them.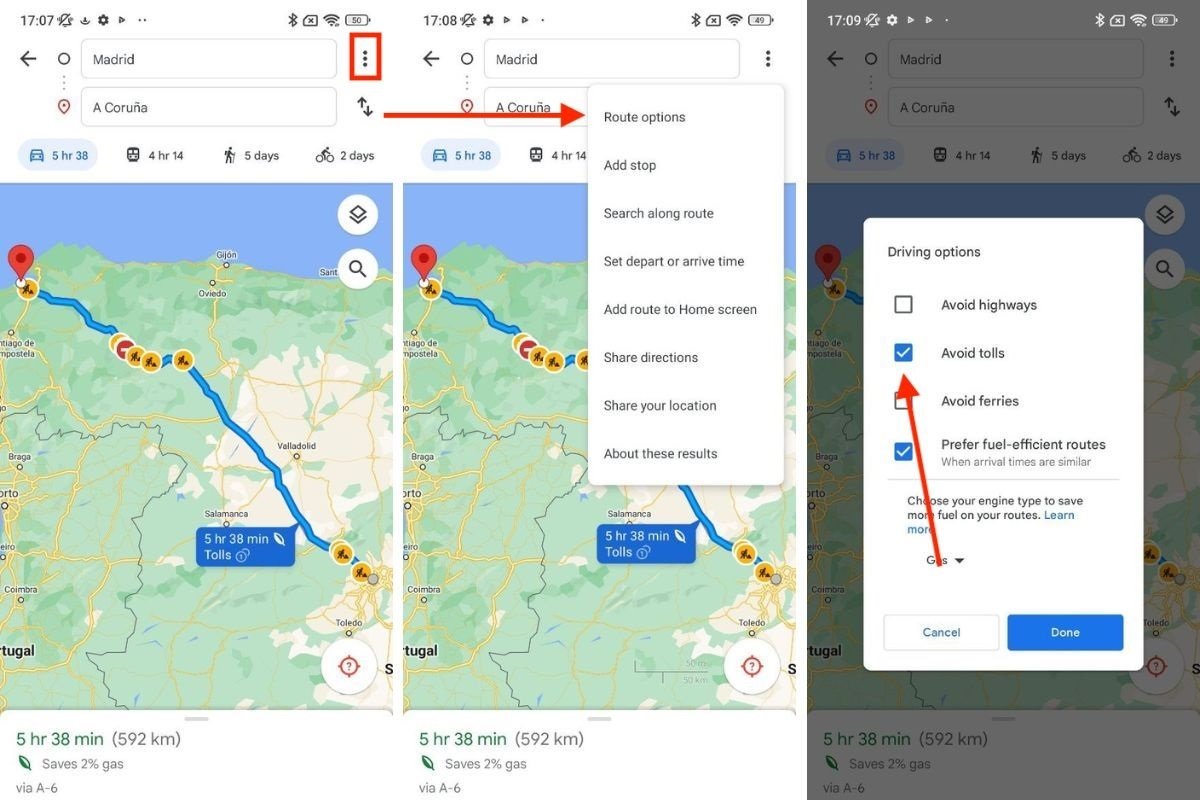 This is how you can avoid tolls in Google Maps
Avoiding tolls using Google Maps is very easy:
Create a route that displays the message This route has tolls.
Tap on the three vertical dots in the upper right corner.
Tap on Route Options.
Check the Avoid tolls
Tap on Done.
Google Maps will recalculate the route to avoid tolls. Please note that, in general, a route without tolls is more dangerous, as priority is given to two-way roads. It is also slower, as fast lanes are usually avoided. In any case, we recommend you calculate the route with and without tolls to choose the one that best suits your needs.