Lensa has become one of the most downloaded smartphone applications in recent months. And even if you have not heard of it, you will know some of its functions that have gone viral on social media (such as Instagram or TikTok). Especially the Magic Avatars. This function generates versions of yourself with artistic styles and stunning scenarios. Avatars that look like hand-painted pictures but have been created by artificial intelligence.
The artificial intelligence used for such an amazing feat is Stable Diffusion. This is an AI capable of generating images from scratch. In other words, it works as if it were a true artist. It uses your photos or selfies to turn you into a medieval hero, an astronaut, or a futuristic robot with painting-like effects, randomly recreated backgrounds, and more. The results will surprise you, and you can even share them on social media. All you have to do is provide the photos, and the AI will do all the work.
How to create a magic avatar with Lensa's artificial intelligence
The only requirements to use Lensa's Magic Avatars function is to be of legal age in your country and pay a fee. Yes, this is a paid function. You can subscribe to the application directly or purchase avatars before they are created.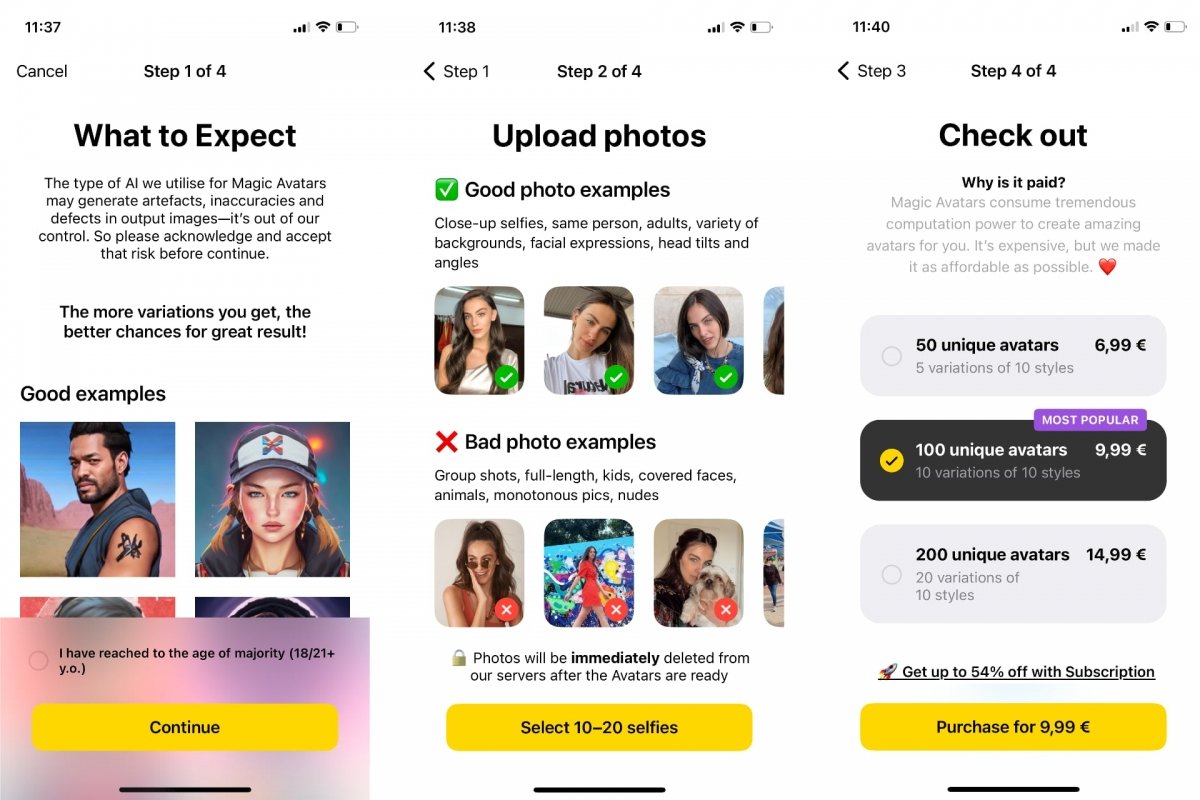 Create magic avatars in Lensa in four steps
To create your Magic Avatar with Lensa:
Log in to the Lensa app.
On the home screen, you will see the Magic Avatars button. Tap on it.
Check the I have reached... option to confirm that you are of legal age.
Tap on Continue.
Tap Select 10-20 selfies to take and upload between 10 and 20 selfies to the app.
After uploading your selfies, select your genre.
Finally, all you have to do is pay for the avatars. The price will be lower or higher depending on how many avatars you want.
After paying, a screen will appear indicating how long you have to wait.
After a few minutes, you will see the magical avatars organized by categories.
Although it may vary, the application usually takes one minute for each avatar. So if you are going to create 100 images, you will have to wait around 100 minutes. 20 images, 20 minutes, you get the idea. But it is worth the wait. When it finishes, you will see all these images with your face changed in different ways or styles and in scenarios imagined by the artificial intelligence behind Lensa.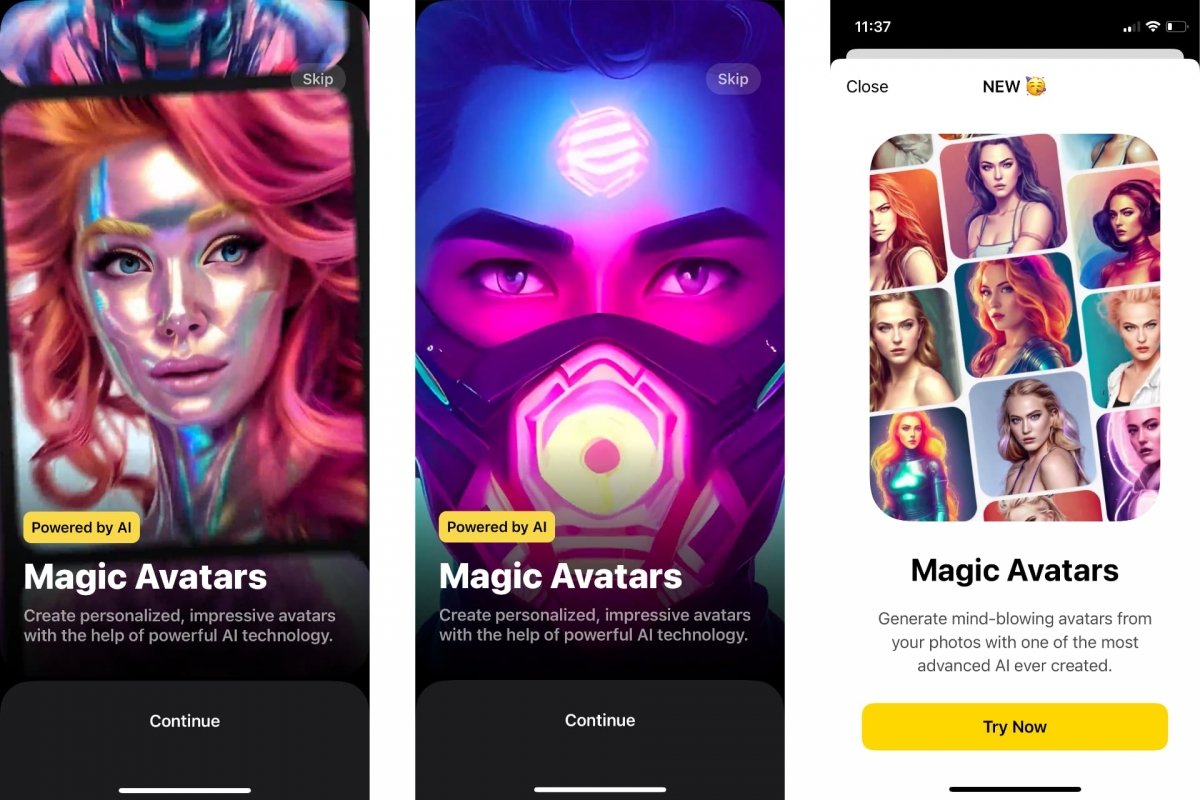 Magic avatars with artificial intelligence
The avatars generated by Lensa are saved in the application. You can save them on your smartphone in two different resolutions: 4K resolution (4096x4096 pixels) and standard resolution (1024x1024 pixels). The images will be yours, which means you can share them, save them, or post them on social media. It is up to you. You can also take more selfies or reuse the ones you already have and see what new magical avatars Lensa can create for you.
About the functioning of Lensa and its magical avatars. To create them, the images you provide through the application are uploaded to AWS (Amazon) servers. There, the Stable Diffusion API generates your artistic avatars. The app then displays them for you to download. According to its developers, the images you share to create the avatars are deleted from Amazon servers after a while.
And to avoid legal problems, especially if you are going to share these magic avatars on social media, try to use your own photos. If you use images featuring friends, family, or acquaintances, make sure you have their permission to publish the generated avatars. Please note that some avatars may be annoying or disliked by their protagonists.