Badoo has been one of the most popular applications for meeting people for many years. Its operation is similar to that of Tinder, and it has managed to put in contact with numerous couples, flings, or friends. But it is possible that for some reason you have decided that it is not for you. And in that case, you will want to delete your account so you are no longer part of the community. Fortunately, the steps to leave the app are quite simple.
How to delete a Badoo account from an Android phone
Open the Badoo app and log in.
Open your profile
On the right-hand side of the profile tab, go to Settings
In the Settings menu, go to the Account option.
At the bottom of the screen, click on Delete Account.
A series of offers will appear if you stay. If you are sure to leave, ignore them and click Delete Account and Continue.
A Premium service offer will appear. Click No, delete my account
Choose one of the reasons for leaving Badoo that will be displayed
Click on Confirm deletion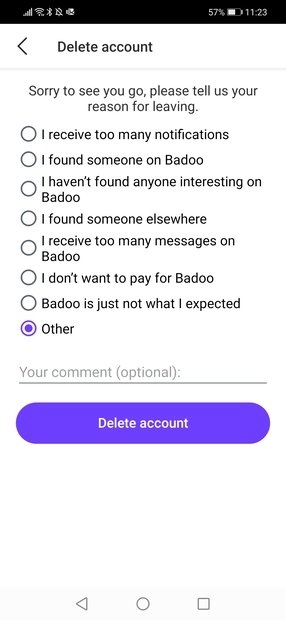 When you finish the process, click on Delete Account to delete the account permanently
How to delete Badoo account from PC in the web version
Go to Badoo.com and log in with your account
In the upper left corner, click on your profile picture
In the upper right corner, click on the gear icon
At the bottom of the settings page, click Delete account
You will be shown options that you can do instead of deleting your account. If you are sure, click on Delete Account
Click on Continue
Badoo will offer you several deals if you stay. If you do not want to stay, click on Delete account.
Select the reason why you want to delete your account and click Continue
Type in the first text box your password and in the second text box the characters you will see next to it.
Click on Delete account
How to delete a Badoo account without a password
So no one can delete your Badoo account without your approval, you need to enter your password several times during the process. Therefore, if you have forgotten your password, the first step to take before deleting your account is to recover it. To do so, you must follow these steps:
Go to the Badoo app or Badoo.com
Enter your user name and click on Forgotten password
Enter your email address or phone number so the platform can verify your identity
Create a new password by following the steps below.
Log in with your new password
Perform all the steps explained above to delete your account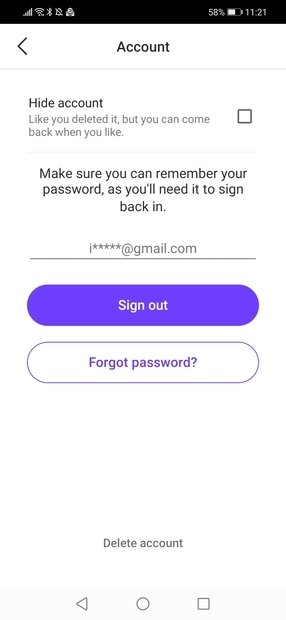 When you open the Account menu, you will find the Detele Account button at the bottom
What happens if I delete my Badoo account?
Whether you have deleted your account from your PC or your smartphone, you will have a period of 30 days to restore your account if you change your mind. Once this period has ended, your account will have been permanently deleted, and if you want to use Badoo again, you will have to create one from scratch.
But even if you are within the 30 days your account will not be completely deleted, it will remain inactive. This means that you will no longer be visible to other users, you will not be shown matches and you will not be able to receive messages from other users. Notifications will also not be sent to you. It will be as if you had already deleted it, only with the option to recover it later.
How to deactivate your Badoo profile without deleting the account
If you do not want to permanently lose your Badoo account but you want it to remain inactive, you must follow these steps:
Go to Badoo.com and log in with your email account and password.
Click on your profile picture to enter your profile page.
Click on Profile Settings
Click on Delete account
Select the option Hide your account from the list
Click on Confirm
How to reactivate your Badoo profile
If during the first 30 days after deactivating your account you want to recover it, the process is quite simple.
To do so, just go to your inbox and look for the email that was sent to you from the platform notifying you of the deletion of your profile. In that email, you will find a button that says Recover Profile, which you will have to click. Doing so will take you to the Badoo website, where you will be prompted to enter a series of letters that appear on the screen. Finally, click on Re-enter. This way, your profile will be active again and everything will work the same as if you had never deleted it.