If you want to meet new people and you are thinking about using applications to do so, you have surely heard of Badoo. But, likely, you are not very clear about what this tool consists of and how it functions, so you may not be sure you want to use it.
When it comes to dating apps, Tinder is probably the most popular and the one used by the largest number of users. But the reality is that Badoo came into our lives even earlier and continues to have a large number of followers.
Therefore, if you want to install an app with enough users but you do not want to download Tinder, Badoo is a good option.
What is Badoo
As we have mentioned before, Badoo is an app to meet people through the Internet. Although you can look for people from anywhere, the main idea is that you meet people who are close to you.
As in any social network, in Badoo, each user has a profile, in which they will include their photo, name, age, and some personal information, for example about their interests. Other people who visit this profile will be able to establish a conversation so that you can open your horizons to new people.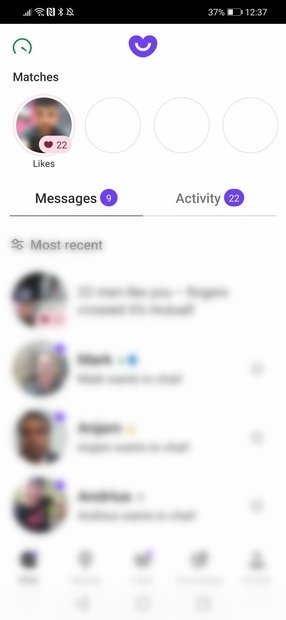 Badoo's home screen where you can view messages and activity notifications
Within the application, we can find functions for calls and video calls so that you can have more personal contact with other users without having to give personal data.
What Badoo is for
Although some people use it to try to make friends, the reality is that Badoo is primarily a tool for flirting and finding partners or dates. What it does is to put you in contact with other people near you who have similar interests and ages as you, so that you can start a conversation. If in those first conversations there is chemistry, you have the option to meet later in person to start a love story or just to have a good time.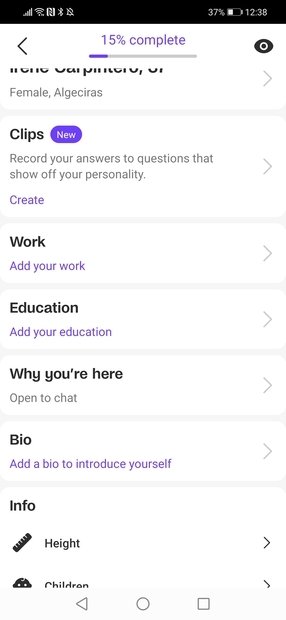 Screen on which you have to fill in your Badoo user profile details
How Badoo works
Badoo shows profiles of people near you that match your profile. When you like a profile, you can like it or open a conversation directly. If that person has liked you, the app will inform you that you have made a match, but unlike Tinder, it is not necessary to make a match to start talking. Once you start chatting with a person, you can call, send audio, send photos, or communicate as you wish. And if you find someone annoying, you have the option to block that person.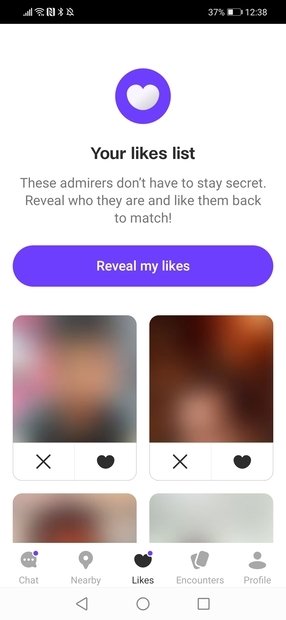 Page that shows which users have liked you on Badoo
To access Badoo, you can do so from the Android and iOS apps, or from a web browser. Once there, you can log in with your Facebook account or with the username and password you set when you created your profile.
Once you are logged in, you can make your Badoo profile by putting your basic information, uploading the photos you want to create your first impression with, syncing your profiles with other social networks like Facebook and Instagram, and start meeting the one who might be the love of your life or just a friend to hang out with.
The main Badoo tools are as follows:
Badoo search engine: Thanks to the search engine, you will be able to find people you know either directly by name or by email address.
Messages: If someone has written to you, messages are available in this tab with a number indicating how many new messages you have.
Visits and favorites: In this section, you can see who has visited your profile and who has added you to their favorites list.
Profile: You can access your profile at any time and make any changes you deem necessary. And also view the profiles of other people to see if they are a good fit for you.
Although you can use Badoo completely free of charge, there are also paid options that will give you access to some additional tools.