To have two WhatsApp phone numbers using WhatsApp Plus, you will have to install other WhatsApp MODs or use one of the options to clone or duplicate existing apps on this operating system. However, either of these options requires you to have two working phone numbers, either on a dual-sim phone or on two phones.
Option 1: WhatsApp Plus and another MOD
Your first choice is to use WhatsApp Plus and another WhatsApp MOD such as GBWhatsApp or OGWhatsApp. Unfortunately, it is not possible to use two phone numbers using WhatsApp Plus and the official WhatsApp Messenger since the system does not let you have both apps installed at the same time.
First, download and install WhatsApp Plus. You can do this by using the green Download button available at the end of this tutorial. Then, launch the installation as you would normally do with any other Android app.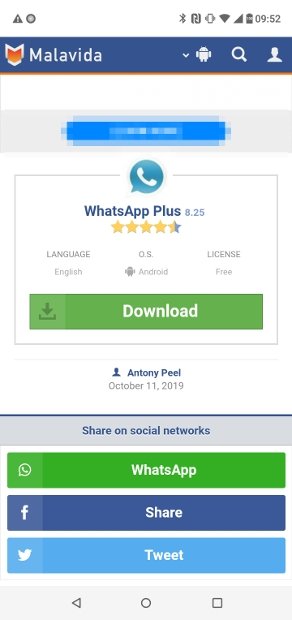 Button to download WhatsApp Plus
With the app installed, all you have to do is register your first phone number to set it up and make it work.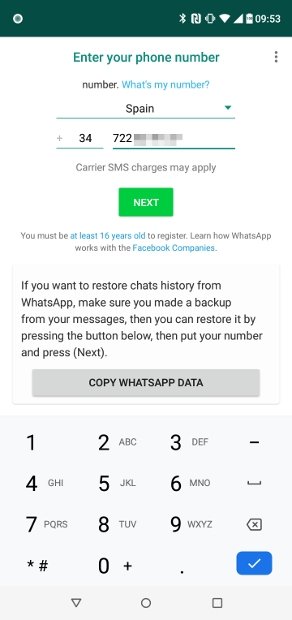 Configuration of the first phone number in WhatsApp Plus
Then, you must repeat the procedure with any of the available MODs. We recommend you to use GBWhatsApp or OGWhatsApp, although you could choose any other available MOD. However, we cannot guarantee 100% that it will work correctly beyond these two options that we offer you and that we have verified that they do work. Start by downloading the APK file of the app you want through the download options you can see just below.
Set up this second user with your second phone number. Make sure the phone number is operational so you can receive the number verification message.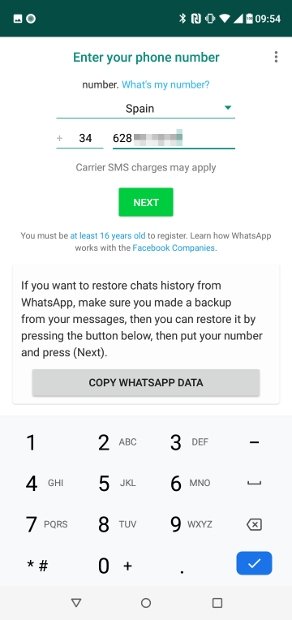 Configuration of the second phone number in GBWhatsApp
From this point on, you will have two phone numbers running, one with WhatsApp Plus and one with the additional MOD you have chosen.
Option 2: cloning apps
The second option is to clone an app, in this case, WhatsApp Plus. This can be done either from the phone itself (some manufacturers include their own tool to do this), from the operating system tools (the latest versions of Android allow working with different user profiles) or by using Parallel Space, a third-party app that basically offers the same features of our first choice for phones that do not have that feature natively.
Native app cloning: Samsung, Huawei, Xiaomi, OnePlus or Oppo are phone manufacturers that have added their own tool to clone apps on the operating system. This tool is commonly called Clone Apps or Dual Apps and is usually located within the Android settings. If you have such a phone, check to see if your version of the operating system has such an option. If so, access it: it should offer you a list of apps that you can clone, which should include WhatsApp Plus. Make a clon. When you return to your app menu, you will see that you have two WhatsApp Plus icons, the second of the new and with a lock symbol. Enter the app and you will notice that you are looking at a second WhatsApp Plus to configure. All you have to do is register your second phone number and enter the verification code so you can have two WhatsApp Plus running on the same device with different phone numbers.
User profiles: Android introduced from version 5.0 Lollipop the option to create multiple users for one device. Display the notification menu on your Home page by sliding your finger from the top to the bottom, and repeat the operation to expand the display of that notification bar and quick settings. Among all the icons, you will see the user icon, the classic bust of a person: tap on it. A new menu will be displayed where you can see the user you are using and the Add guest and Add User options. Create a new user by clicking on the + button. Set up the new user, you will need a different Google Account than the one used in the main account. Now download WhatsApp Plus and install it normally. Register your second phone number and you will have completed the configuration of two WhatsApp Plus clients. However, with this method, you need to switch between user accounts in order to read and send messages from one or the other.
Parallel Space: This app allows you to clone apps, making it the best possible alternative to the options of the manufacturers we mentioned in the first scenario if your phone does not have that feature. What it does is duplicate an already installed app such as WhatsApp Plus.
Its operation is simple. Once opened, it detects the installed apps and tells you which ones it can clone, among which you will, of course, be able to see WhatsApp Plus as long as you already have it installed. Select clone the app and once done look for the new icon in your menu of installed apps. As always, sign up with your second phone number and it is done, you can enjoy both phone numbers on the same phone and using the same app.