WhatsApp Plus is without a doubt one of the best WhatsApp MODs. Yet, it does not mean that we do not have high-quality alternatives that offer features up to the level of this one. Let us show you a list of the best MODS that you can find and that offer features similar to Plus, highlighting in each case those characteristics that may be interesting for you.
What is the best WhatsApp Plus alternative?
These are the main options available to you if you want to change WhatsApp Plus for another MOD:
GBWhatsApp, use two WhatsApp accounts at the same time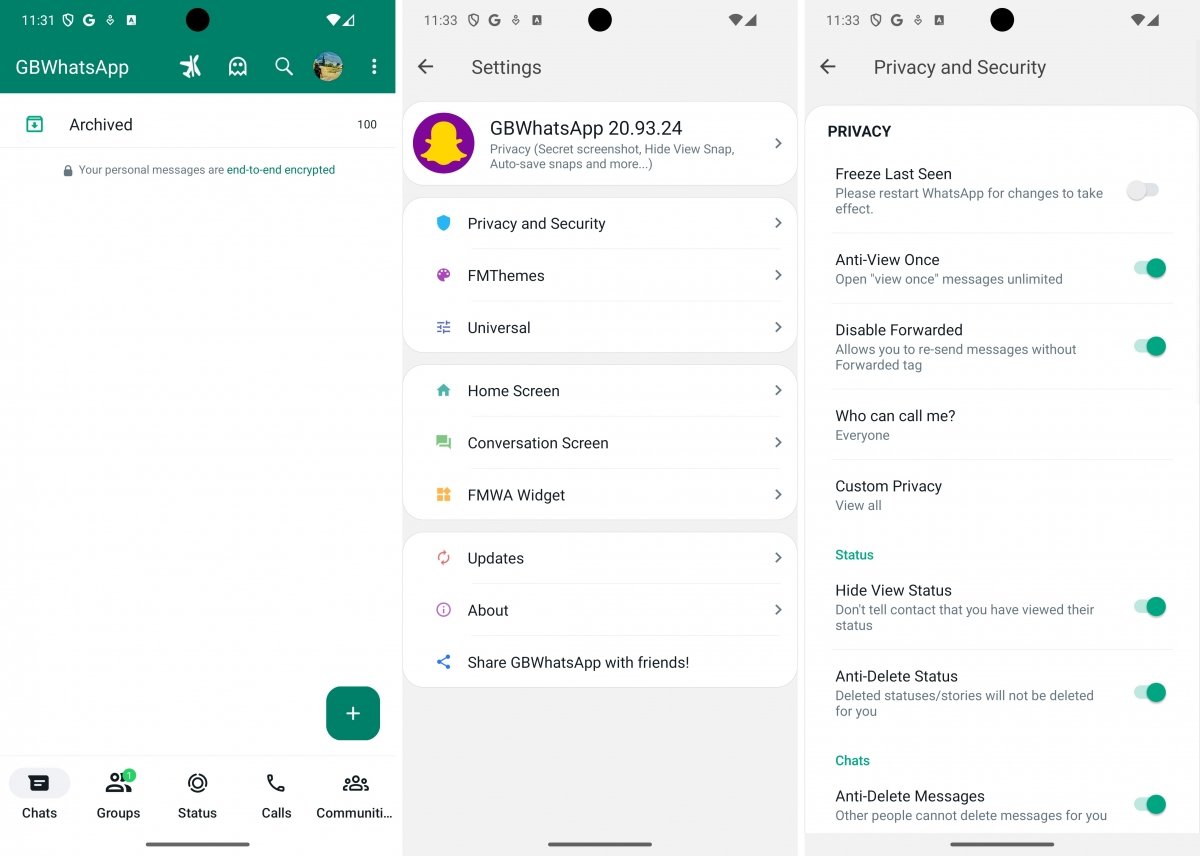 GBWhatsApp interface screenshots
If we stop for a moment to look at GBWhatsApp, it will seem like we have wasted our time installing it: it does not differ in any way from the original version at first glance. However, when we check it, we realize that the app is much more than it seems.
First, GBWhatsApp makes it possible to use up to two different accounts on the same device. Yes, you will need to have a smartphone with a second phone number to receive the verification, but after that, it will no longer be necessary.
Finally, GBWhatsApp has a multitude of privacy options hidden in the twists and turns of the app. If we enter the submenus of the app (either in the list of chats or within one), we can see them, and there, we will see that we can become almost invisible even while online.
YOWhatsApp, the origin of many MODs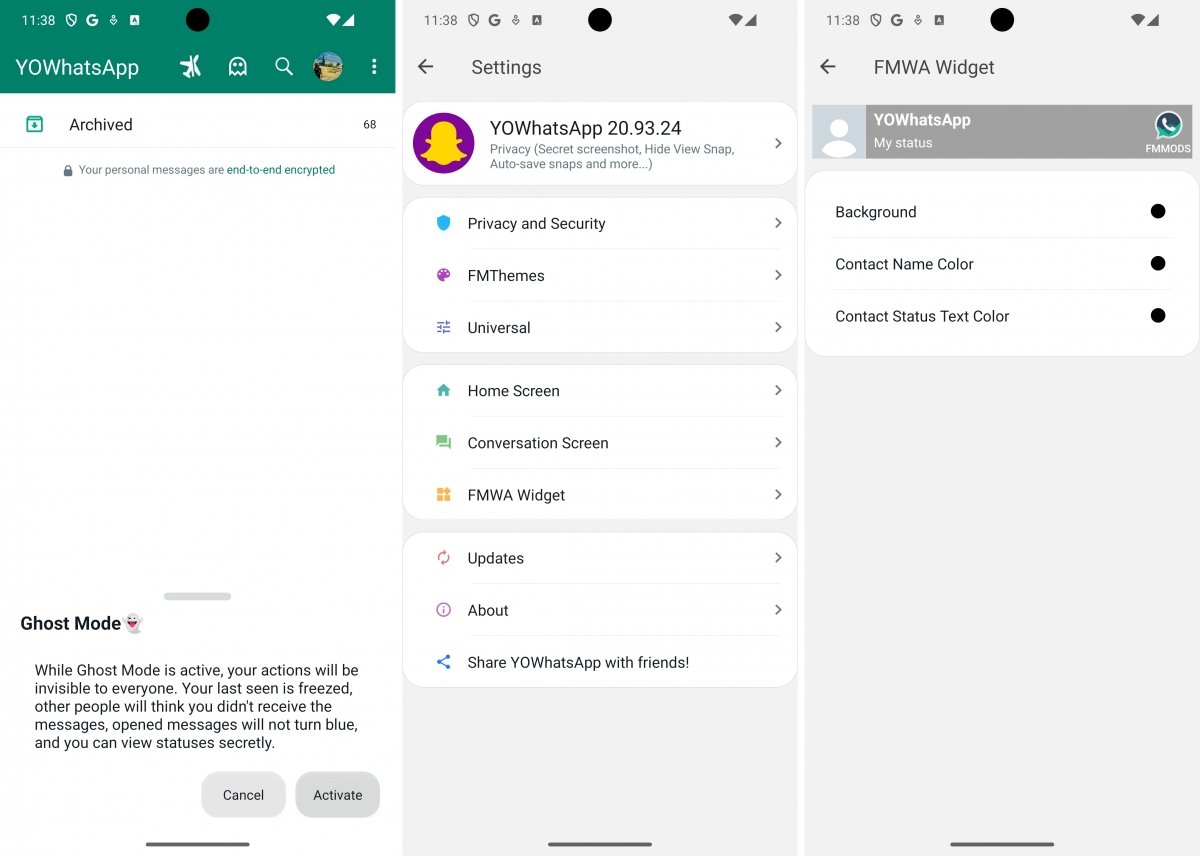 YOWhatsApp interface screenshots
Developed by Yousef Al-Basha, it is the best-known MOD of a different line of clients than GBWhatsApp or OGWhatsApp. The chats, status, and calls part is identical to the official client, but the options menus have been redesigned and reorganized. Of course, here you will also find the same library of themes as in the previous options.
It is the ideal choice for those looking for something lighter and less cluttered. It is updated relatively frequently, which partly ensures that it works properly avoiding WhatsApp bans, although you can never be 100% sure in this regard when using MODs.
FMWhatsApp, the alternative to AlexMods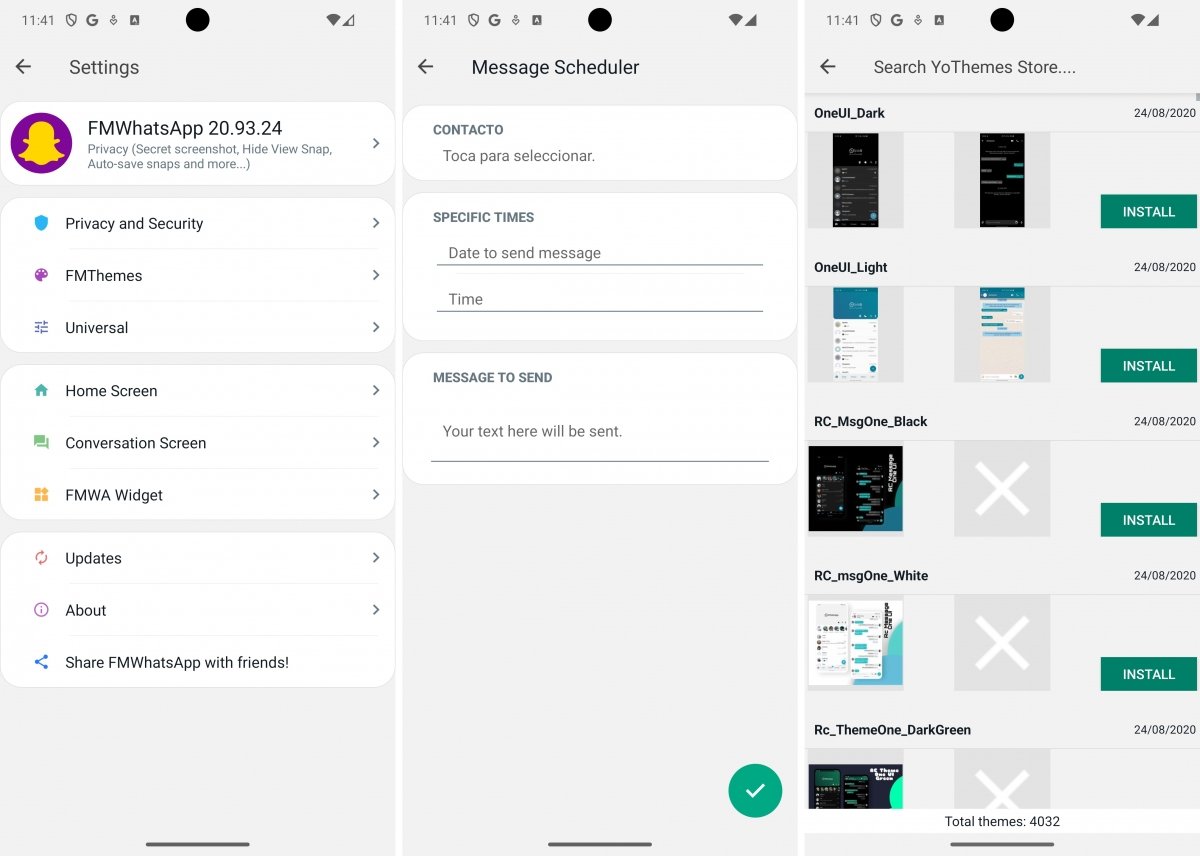 FMWhatsApp interface screenshots
Another MOD that is very similar to the rest of the list, with an interface that mixes the official one in the chat windows with the YOWhatsApp look and feels in the settings menu part. Graphics and privacy options are on par with the best clients on this list, you can hide your status or install new themes from the same repository used by almost all MODs.
Perhaps the most striking thing is that being developed by another user the update times change with respect to AlexMods MODs. Also, airplane mode, integrated into the Chats, lets you "turn off" conversations without having to give up the Internet connection of the rest of the smartphone or the renewed design of the camera.
WhatsApp Aero, something new in customization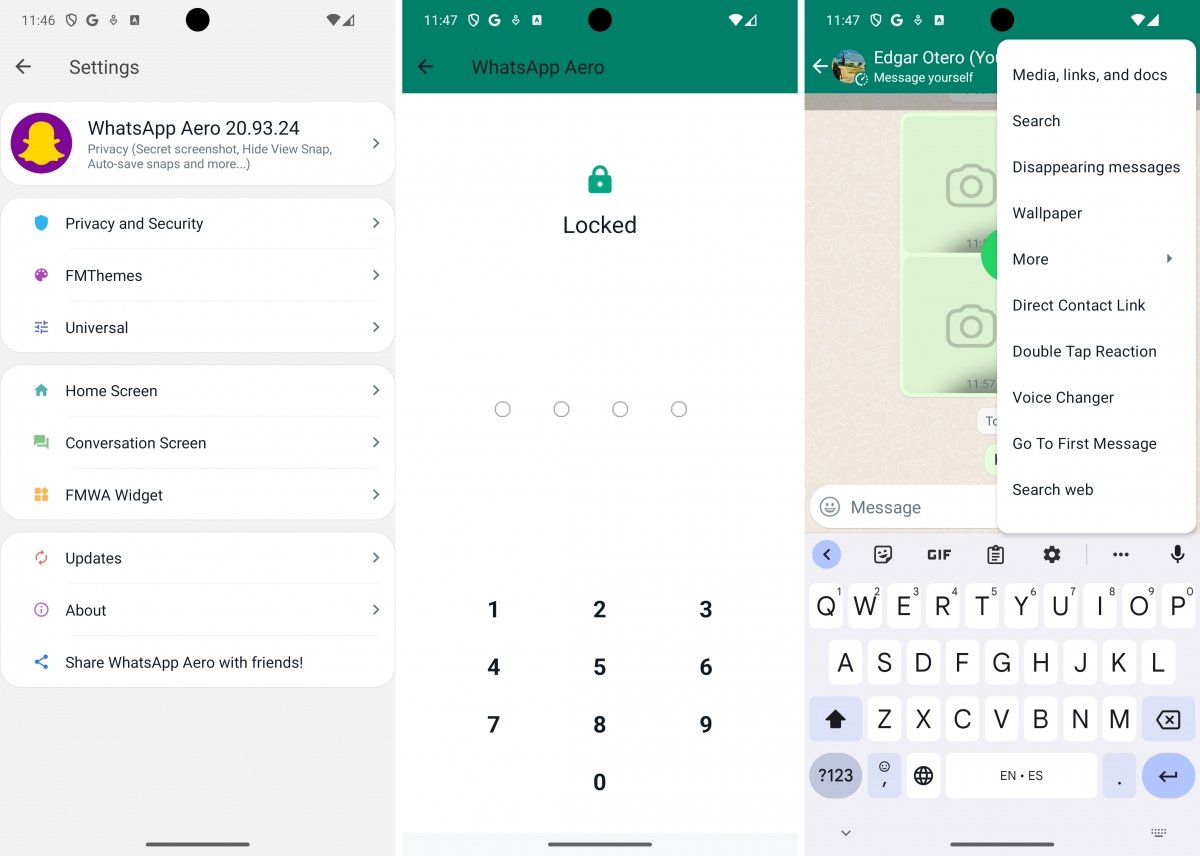 WhatsApp Aero interface screenshots
Another WhatsApp MOD that works very well is WhatsApp Aero, also known as AeroWhatsApp. Like the vast majority of apps on this list, it focuses on small improvements that optimize the operation of the official application, with special emphasis on what its developers call "removing the limitations" of WhatsApp. These improvements mainly affect the privacy of the user concerning the rest of the users and the customization options.
And this is precisely where we find the strength of WhatsApp Aero because, among its main features, we must highlight the ability to download over 3,000 different themes to change the visual appearance of our messenger and give it a much more colorful touch. To this, we must add colorful themes, which are attractive dynamic effects for our chats, and the option to create our own themes.
Soula WhatsApp, privacy only
Soula WhatsApp interface screenshots
If we commented before about YOWhatsApp that it only had visual options, Soula is completely the opposite. Here, there are no themes to install and no more interface-related settings, but everything is focused on basic privacy issues in this type of development, so we cannot say that it adds anything new either.
If you do not want to complicate your life, you are 100% satisfied with the look of WhatsApp as usual and the only thing you want is not to be seen online or not to show the double blue check, you do not need more than this MOD.
MBWhatsApp, a new skin and two simultaneous accounts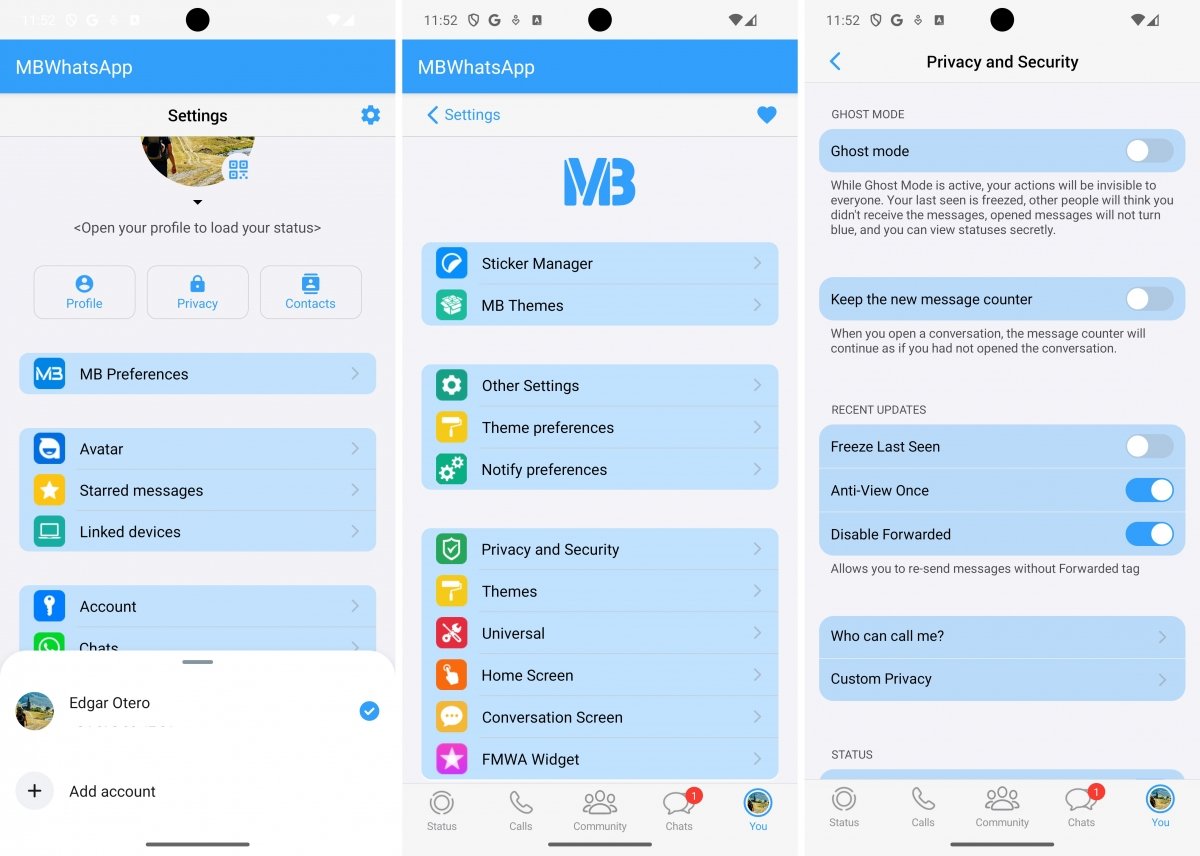 MBWhatsApp interface screenshots
MBWhatsApp is a MOD that comes to solve one of the most frequent needs of a good handful of WhatsApp users: to be able to use two user accounts at the same time on the same smartphone. It lets you do so without any problem and, in addition, it brings other features among which the completely renewed design of the messaging app interface stands out from the start. This one is much more striking than the, perhaps, too-sober original.
But this aspect that shows us this MOD not only serves to make it more visually appealing, but also serves to accommodate a few useful functions such as new features in privacy and security, configuration options, sending multimedia files, the new management of chats with contacts, groups and communities, navigation style, Instagram-style statuses, and more; certainly an attractive alternative for those who want something new to chat without stopping using WhatsApp.
WhatsApp+ JiMODs, a YOWhatsApp clone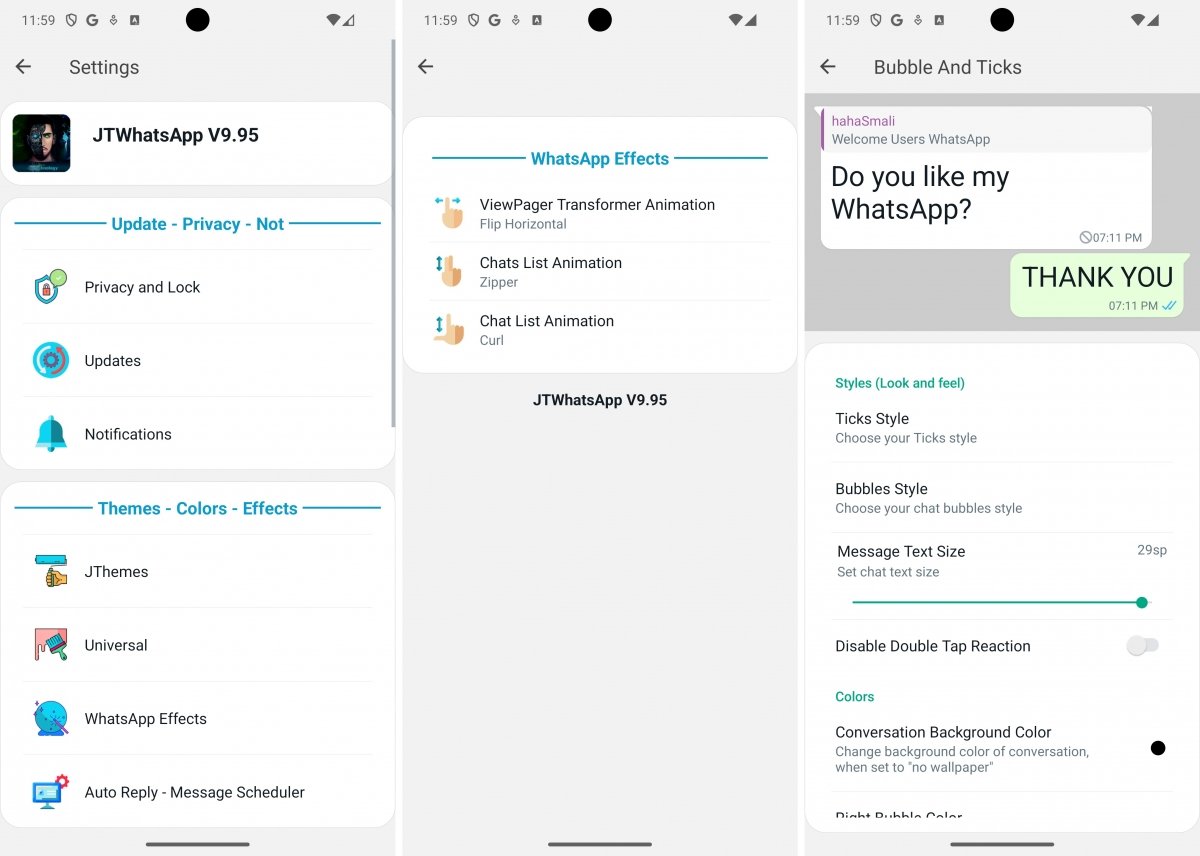 WhatsApp+ JiMODs interface screenshots
WhatsApp Plus JiMODs, also known as JTWhatsApp, is another of the great alternatives to WhatsApp Plus although the truth is that it does not offer anything different from what the other MODs on this list provide. It is the same as FMWhatsApp and both are based on YOWhatsApp.
You have all visual and privacy options available, including airplane mode. Some small changes in icons. And little else to highlight.
HeyWhatsApp, the improved WhatsApp from HeyMods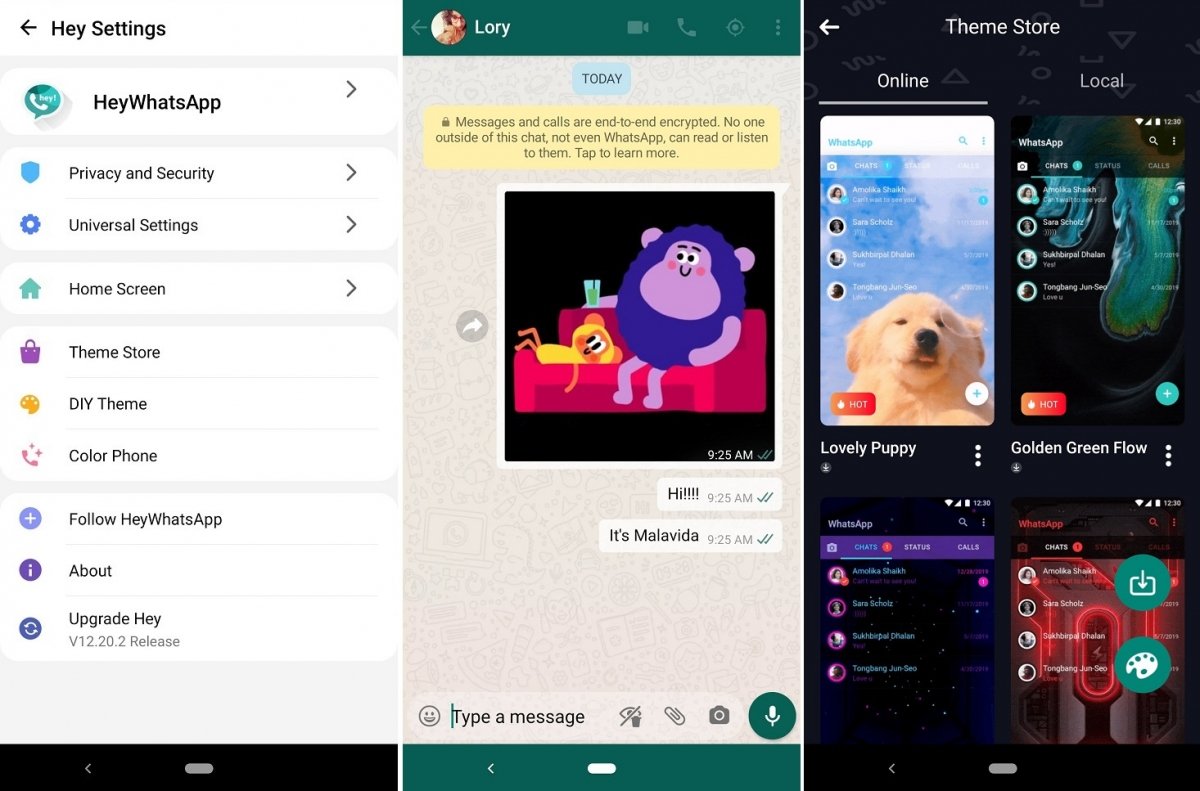 HeyWhatsApp interface screenshots
HeyWhatsApp is the WhatsApp MOD developed by HeyMods, who lately has taken over from AlexMods, becoming the main developers of both WhatsApp Plus and GBWhatsApp, without being the original creators of them. This MOD is directly based on these huge WhatsApp variations, in addition to YOWhatsApp on which it is clearly based.
The truth is that there is little to highlight concerning the rest of the MODs on this list, but it deserves a place in this compilation because it works well, and is updated very often, which is even more important to continue enjoying all the new features of the official WhatsApp with our MOD, and because we do not miss anything: improved privacy options, more customization options, theme store, and the elimination of various limitations.