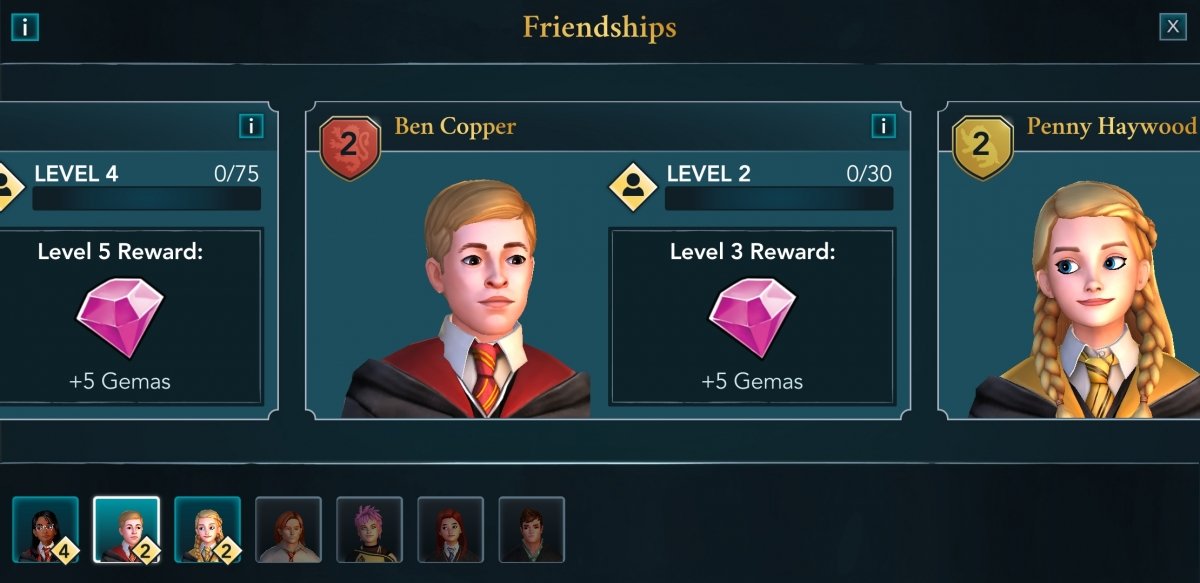 To make friends and strengthen the concept of friendship in this game in order to earn rewards, you only have to follow these tips and recommendations:
Our first advice is to advance in the story as we can't come ahead of time. You can make friends at any moment and make your group of friends grow. During the first year, you can make friends with Rowan, Ben, and Penny; during the second year, with Bill Weasley; during the third year, with Nymphadora Tonks and Tulip Karasu; and beyond the third year, we can make friends with Barnaby Lee.
Save coins: interacting with your friends costs money that has to paid with your coins so don't go too mad. In any case, they are quite easy to earn, either completing different goals or purchasing them with real-life money.
Make the most of your relationships identifying the mood, attributes, and frame of mind of the characters. This is a key aspect for a decent interaction with characters. You can do so by pressing on the avatar of your friend, in the top right-hand corner, where you can see the attributes: courage, empathy or knowledge.
Build up stats: to talk to your friends, you need to give the right answers but you only have a limited number of attempts. It's advisable to have a high stats level before answering.
In Harry Potter: Hogwarts Mystery, friendship is an important factor as it will help us to unlock new contents, to advance in the story, and to earn gems, which are basic to be able to get hold of the different elements that will help us to complete the game.