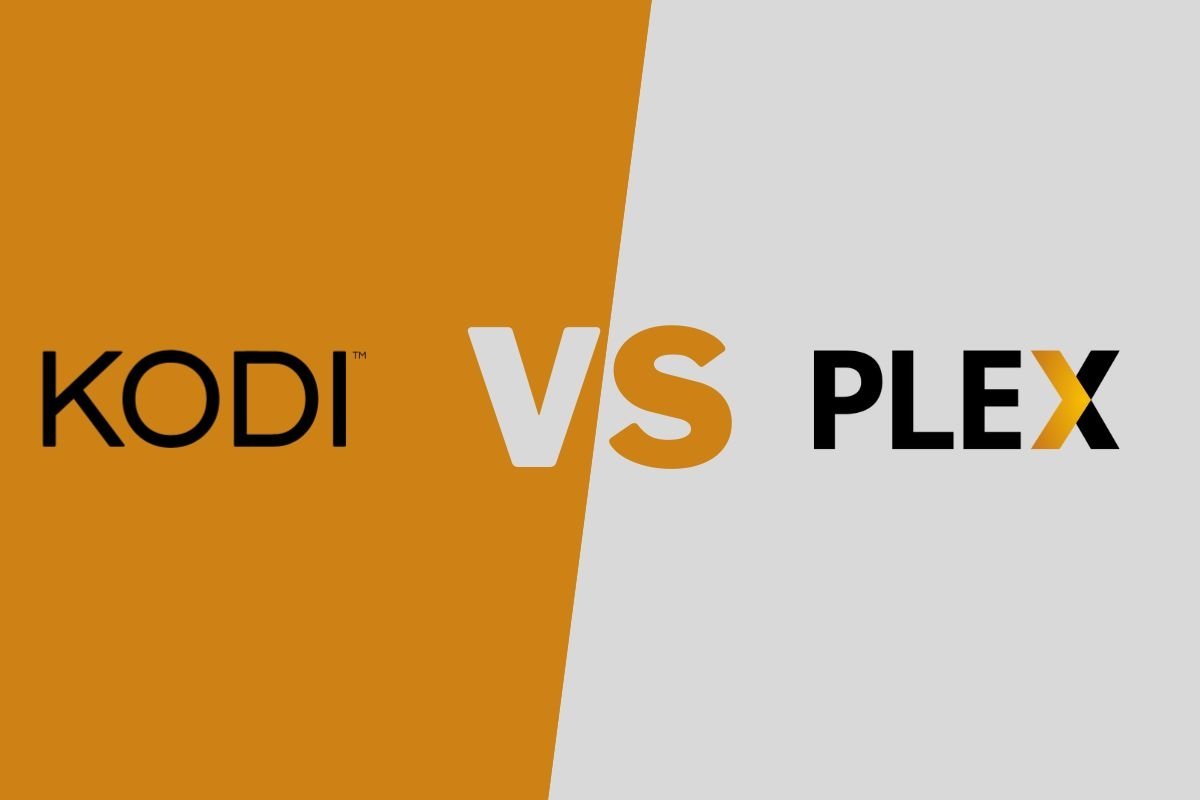 Kodi and Plex are two of the best software for watching multimedia content, but which one should you choose? Let's compare them both and identify the differences between them so you can choose the one that best suits your needs. We put face to face the main media centers in software format in the market.
Concept
First of all, Kodi and Plex are not exactly the same type of software, although they may seem so since they share many features. Both are considered multimedia centers that let you watch the content we have stored locally, whether video, music or images, but the way each one works is very different and the rest of the features also vary significantly.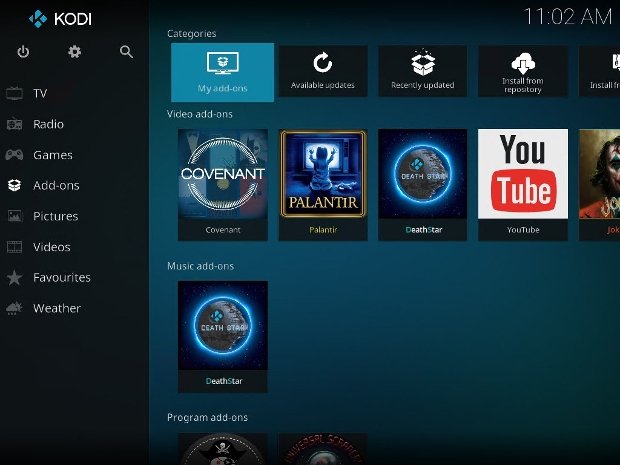 Kodi's interface
Kodi is a media center that takes advantage of local content but also gives a lot of importance to online content available on streaming through its add-ons. On the other hand, Plex uses a server-client type structure and focuses on local content, and although in the past it had add-ons, from 2018 they are no longer supported. However, its function never was to provide free new sources for subscription content like Kodi, but to offer some extra features such as monitoring server activity and sending notifications.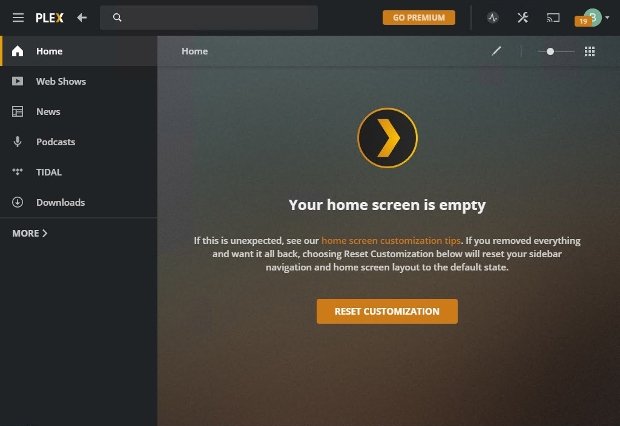 Plex's interface
In short, it is safe to say that Kodi is designed to enjoy online content in illegal streaming, while Plex focuses on local content.
Installation
When installing both programs, the process is the same as when installing any other software. However, there is an important difference between them: Kodi does not require any user account, once installed, you can use it immediately. While with Plex, you need to create a user account, so you have to perform a registration step. It is free, but it is still a nuisance and a hassle. This is a necessary step so later you can synchronize all the contents between all the clients you install.
Signing up for Plex is compulsory
Media Center
Both Kodi and Plex offer very similar solutions when it comes to acting as a media center. Both can offer the contents stored in a server to the different clients we have installed and in operation. For Plex, it is its basic function, for Kodi, it is one of the many features available. In this section, there are hardly any differences between the two options that need to be highlighted.
Add-ons
One of the biggest differences between the two programs is the add-on support. Kodi has hundreds, if not thousands, of add-ons that can be installed directly from the official libraries in the application or by searching for them on the Internet and importing them into the application. These add-ons let you do anything, but basically, they let you add content sources, whether they are TV channels, film, and series or radio stations, just to name just a few examples. Add-ons are the core of their entire user community, so it is important to keep up to date with them so you do not miss out on any content.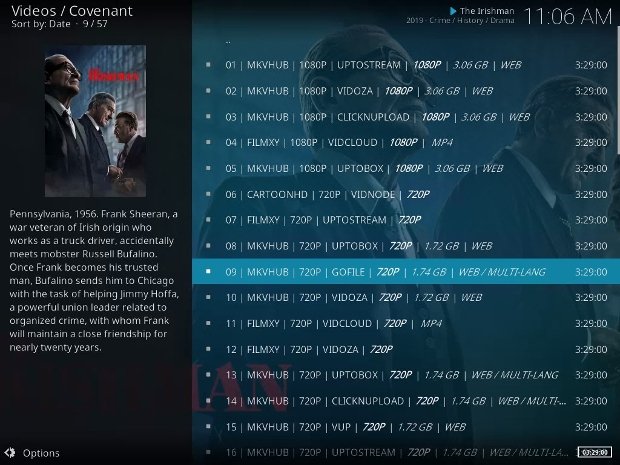 A movie offered through a Kodi add-on
For Plex, since 2018, its software is not compatible with add-ons, in a clear effort to distance itself from piracy. They worked until that date, but in fact, they were focused on supporting functions and not directly on providing content. For example, we talk about monitoring our activity or receiving notifications when content is played, or when it is added to the available library. The only comparable features are the so-called channels, which are no more than pre-installed apps that give access to some popular services such as YouTube or Spotify, and that are also available as add-ons on their rival. Certainly, there is a premium subscription that lets you watch TV and use DVR functions, but in addition to being paid, it requires that you have a satellite antenna, a set-top box, and such. Everything perfectly legal.
Use and settings
Let's be honest, in this section Plex is easier to use. You only need to install the server software on the device that stores the content, and the client software on the computers that will play it. Once the configuration is done, navigating through the Plex interface and using its functions is a piece of cake, since it has a very clear and intuitive Netflix-style interface. Moreover, it can automatically organize the content we add to the platform, saving you work and time. On the downside, having to search for content outside the software means that there is an extra step before you can start enjoying your shows, so you cannot leave out your favorite P2P client or that website that regularly provides you with movies and series. You will always have to turn to the Internet or friends to provide you with new content.
In Kodi's case, things get complicated, especially when using add-ons. Setting it up as a media center may be similar to Plex, but dealing with add-ons is a bit more complex, and leaving everything working 100% according to your preferences and interests requires time and patience. Indeed, Kodi lets you do much more than Plex and has many more options, making it more complicated to use.
Supported devices
Both programs are available on a large number of devices due to their characteristics. Here is the full list of versions available for each one:
Plex: Windows, OS X, Linux, Android, iOS, NVIDIA Shield, NAS devices (QNAP, Synology...), Smart TV (LG, Samsung, Sony, Toshiba, VIZIO, Roku TV), Apple TV, Android TV, Amazon Fire TV, Chromecast, Sonos, TiVo, PlayStation 4 and Xbox One.
Kodi: Windows, OS X, Linux, Android, iOS, NVIDIA Shield, Amazon Fire TV, Chromebox, Cubox-i, CompuLab Utilite, Nexus Player, Intel NUC, ODROID, Raspberry Pi, Razor Forge TV, Wetek Play and Xiaomi Mi Box.
Maybe this list is what really determines the choice. If the device you have in mind is not compatible with the chosen software, that is all, there it is. Either you change your choice or you go to the store and get a new device.
The final decision is in your hands. Do you have a large library of content already downloaded and stored and want to watch it anywhere? Plex is the answer. Are you looking for recent content or live sports to watch in streaming? Then Kodi is your friend.
However, if you still have doubts, there is a much simpler solution than having to choose between the two: Plex is also available as a complement to Kodi so that you can enjoy the advantages of both at the same time. Install the official Plex add-on at Kodi and you can enjoy both worlds and all their advantages without giving up anything.