There are several ways to install an APK file on an Android TV. The process will depend, on one hand, on the app that you want to install and, on the other, on the device which runs Android TV: each manufacturer and each version is a separate world, so you will have to combine all techniques for installing your apps so that they work. Also, keep in mind that not all Android apps are supported or 100% functional on Android TV.
First of all, when applications are installed that are not from the official app store, Google Play Store, an operating system setting has to be changed in order to allow app installation from unknown sources. To enable this function, search for and access the Settings section on your Android TV's interface.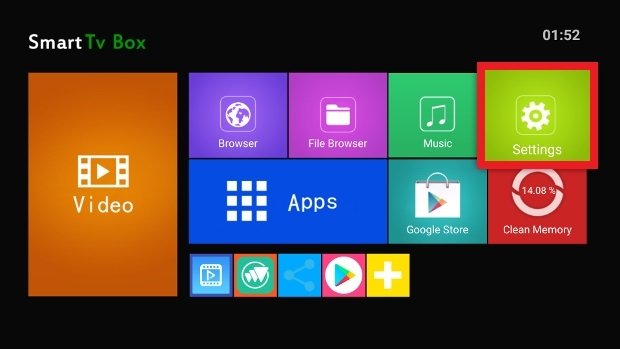 Access to Android TV's settings
Go to the Security section.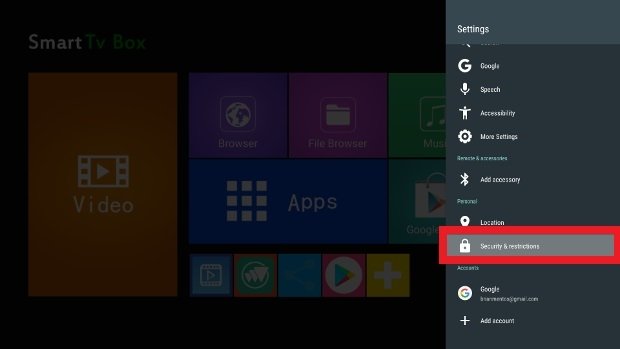 Access to Android TV's security settings
Press on the Unknown Sources option.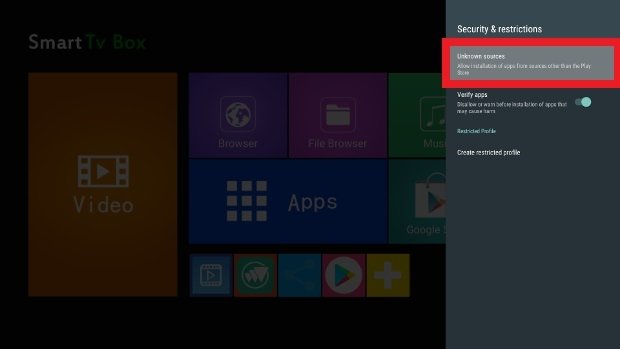 Press to go to the Unknown Sources section
Make sure your web browser, in this Chrome, has the toggle to the right, which indicates that it has the permissions necessary to install apps obtained through this method. Also make sure your file explorer has the same permissions, as well as any other cloud storage app you may have installed. As we'll see next, there are several different ways to get hold of the APK file and depending on which one you choose, the middle-man tool will require this permission to complete the installation.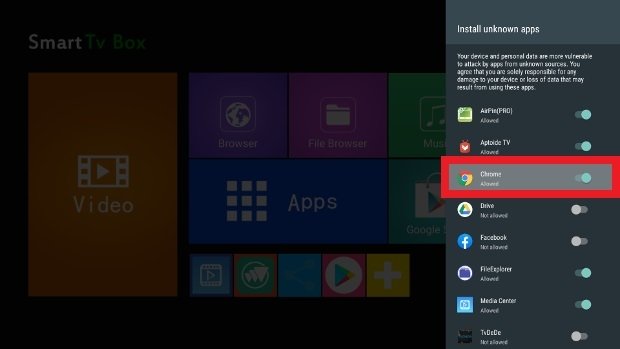 Grant permissions to your web browser to install apps
The next step involves transferring the APK that you want to install to your Android TV. How do you do it? Here the possibilities multiply, as there are several ways of going about it.
Direct download
Any Android TV has a web browser. Open it and type malavida into the address bar in order to go to our website. Once there you will be able to browse through all the apps and download those that you are interested in, using the green Download button which you will find in any of our apps. They will go to your download folder, where you just click on the APK file to launch installation. Once again, make sure that your browser has the installation permissions in the security settings!
USB
Do you have a USB entry port in your TV or in your Android Box? If so, one of the most practical ways to go about this is to copy the APK files onto a USB key from a computer and then upload them to Android TV.
There are two possible scenarios here. Your Android TV might have a preinstalled file browser which you can use to see USB content; you just need to go to the directory and click on the APK file to launch installation.
The other scenario is that your Android TV does not have a built-in browser, so you will need one. You will have to resort to any other method as an alternative in order to at least be able to install a file browser.
Cloud storage
One of the default services that usually comes installed on an Android TV is Google Drive. To configure it you simply have to log in using your Google account access information, and that shared space can be very useful when you want to install APKs. All you have to do is upload the APKs you want to install to your personal cloud and then go to that cloud using Google Drive on your Android TV to download the files and launch installation.
Google Play
If none of the above works in your particular case, another option is Google Play, which is available on practically any Android TV on the market. Use it to download and install any app necessary for using the methods mentioned above or in the last instance, for downloading the APKs directly from there.
Whichever method you use the last step is to run the APK file. How to do so changes depending on the method chosen to download the APK. In this case, we have used a USB unit, therefore, the next step is to connect it to your Android TV and access the file explorer.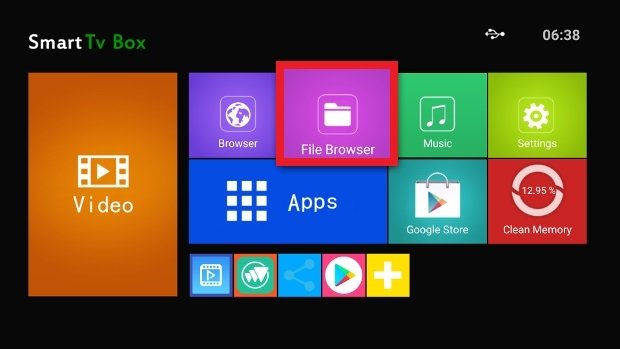 Access to Android TV's file explorer
Go to the USB unit using the menu on the left to view its content and press on the APK you want to install.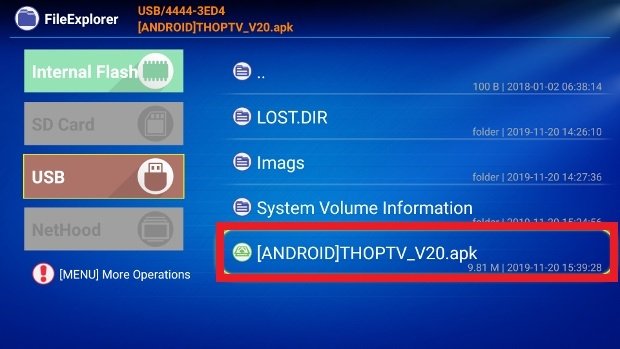 Access the USB unit and press the APK you want to install
Once you launch the installation, press the Install button in the bottom right corner and wait for the process to be completed.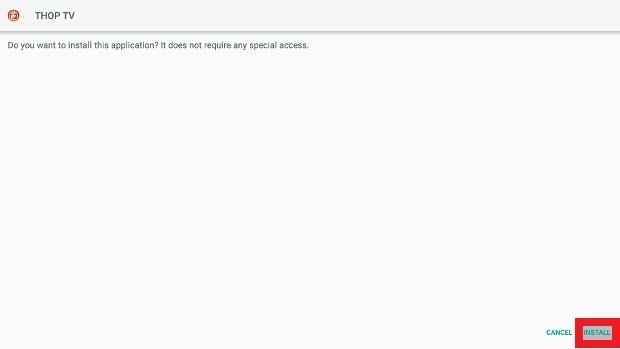 Confirm the installation of the app on your Android TV
At that very moment, you'll be able to open the app with the Open button or search for its icon in the menu of apps installed on your Android TV.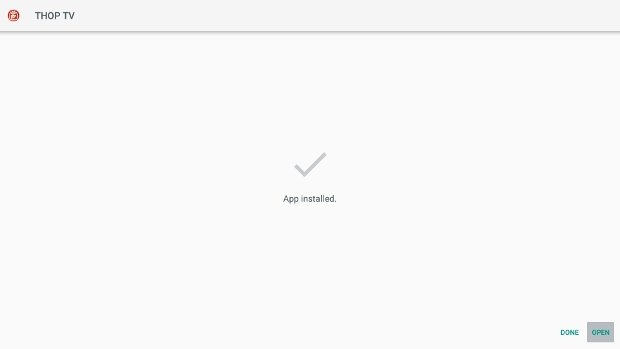 Open the app installed on Android TV
One thing you should keep in mind is that not all Android apps are supported by Android TV. Despite the fact that the operating systems are very similar, the features of the devices for which they have been designed condition the apps' functions, which is why applications created for mobile phones or tablets might not work well on an Android TV or vice-versa. Not all Android APKs work 100% correctly on Android TV.