One of the problems we usually find when using Tinder is fake profiles. The fact is that there are many people who use fake profiles to trick other users. To avoid this kind of problems, we have the possibility to verify our account, so we can prove that we are really us.
Actually, when we talk about verification, we can refer to two different things. Firstly, to account verification, so no one can create an account with our phone number. Secondly, the verification of the profile, so we can prove to other people that we are someone totally real.
Here, we are going to show you how to do both. Verifying your account is a mandatory thing that Tinder will ask you to do before you can start using the application. Profile verification, by contrast, is entirely voluntary, and you can do it or not depending on what you want to do. In any case, it is advisable to have a verified profile so other users know that you are a real person and you are more likely to have matches.
What are verified accounts on Tinder?
Verified accounts on Tinder are not like verified accounts on other applications such as Twitter. A person who has a verified account is not necessarily a popular or famous person. It is simply a person who has followed all the necessary steps for the application to verify their identity. Normally, Tinder simply asks you to take a selfie to verify that the photo you have on your profile is really yours.
So, this way it is intended to avoid something that unfortunately is too common in the flirting platform, being that there are people who upload a picture of someone very attractive but that has nothing to do with the person we are talking to. Therefore, if you are on Tinder with a verified account you will know that you are really talking to the person in the photos.
Reasons to verify your Tinder account
As we have explained, Tinder does not force you at any time to verify your account, so you do not need to do so if you do not want to. However, verified accounts tend to get matches more frequently. This is because many people, after having had bad experiences, become suspicious of people whose accounts they cannot prove are real. By verifying your account, you are showing the person you are talking to that you are sincere, something that is always appreciated.
How to verify your Tinder account and get the blue checkmark
Once you have verified your account, a blue tick will appear next to your profile indicating that Tinder has verified that you really are you. The steps to follow to verify the profile are as follows:
Open Tinder
Touch the profile icon
Touch the gray checkmark next to it
Select Verify your profile
You will be shown a pose, which you will have to replicate in order to take a selfie
Confirm that your selfie matches the pose
Click Submit for review
Repeat steps 5, 6, and 7 once more.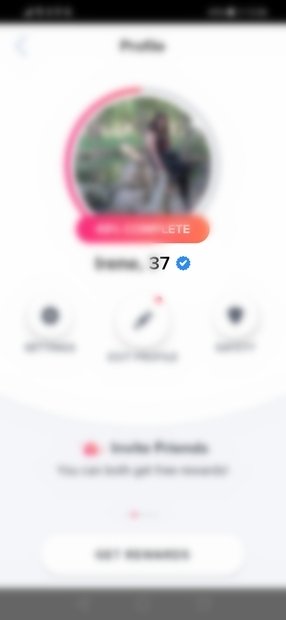 Blue check for a verified profile
How to verify your phone number on Tinder
Normally, Tinder will guide you through the steps to verify your phone number when you create your account. But in case you have changed your phone number, you may have to verify it again. Basically, this verification consists of receiving a code on your phone that you will have to enter in the application, so you can confirm that you are the owner of that number. The steps to follow are as follows:
Login to Tinder from the app or the web
Click on your profile icon
Go to Account Settings
Click on Phone number
Select Update phone number
Enter your new phone number
Click on Accept
Enter the code you receive by SMS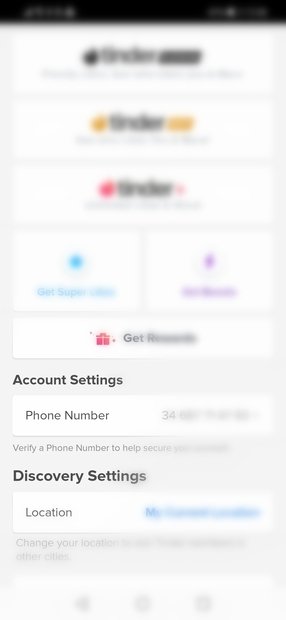 Enter the phone number to verify it
How to verify the email address associated with your Tinder account
It is also possible that what you need to verify is not the phone number, but the email address associated with your account. The process for verification is very similar to the one explained in the previous section. The steps you must follow to verify this are as follows:
Open Tinder
Click on the icon with your profile picture
Go to Account Settings
Enter the Email Address section
Enter your email address
Enter the code that Tinder will send you to the e-mail address you have indicated.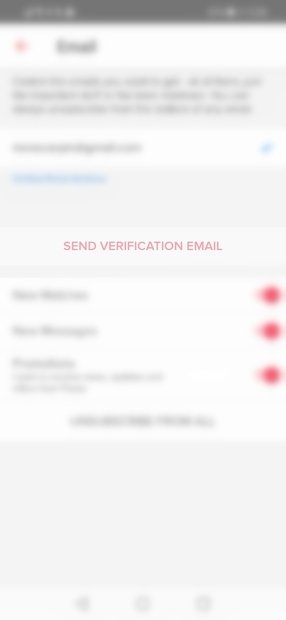 Request an email verification
Once you have completed this process, your Tinder account will be fully verified and there will be no doubt that it is really you.