Tinder is a dating app with a huge number of users around the world. It is a system that lets you review several profiles, Like the ones that interest you the most, and wait for some of those people to Like you back. When that happens, you get a Match. Then you can start chatting with the person, and eventually, meet up for a date. However, Tinder has made additional tools available to its users to increase their chances of success. One of them is the Super Like, and here, we tell you what it is and how it works.
What is the Super Like on Tinder
The Super Like is a more expressive version of the traditional Like. This is a specific alternative for those cases where you really like a profile and you want to express that interest to the person who receives the Like. In the free version of Tinder, you are allowed one Super Like per day. This amount cannot be accumulated, so you will have to think very carefully about when to use it if you want to get the most out of it.
How Tinder's Super Like works
To give a Super Like to a profile, all you have to do is slide the person's photo upwards, or tap the blue star button that appears in the bottom bar.
Press the star button or swipe upward
On the other side of the screen, the person will be able to see a symbol that will highlight the fact that you gave them this Super Like, probably, generating more interest. It is important to note that to have more Super Like than the free version offers, you will have to buy one of the paid memberships offered by the application.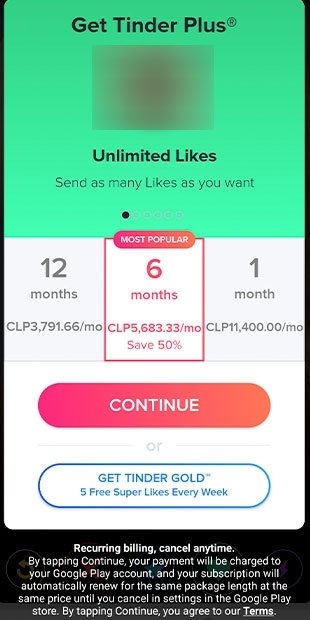 Purchase a premium subscription
How long does a Super Like on Tinder last?
A super Like on Tinder lasts forever. As long as you do not delete your account or undo the Super Like, the likes that you send or keep in the app are saved. We hope we have helped you, and that you can keep taking advantage of this effective dating app.