Wikipedia is a free online encyclopedia created and edited by volunteers from around the world. Its main attribute is being a "wiki", which means that anyone can join the project to create or edit pages, with some exceptions.
That aspect is both its main advantage and its main disadvantage since popular wisdom and the knowledge of the masses help to create a valuable information resource. But, at the same time, volunteers can submit information with errors or inaccuracies that jeopardize its reliability. For this reason, editors have to back up information with verifiable references and authoritative sources, but this is not always the case.
Who can edit Wikipedia
Anyone can edit a Wikipedia page, as it is an open platform that thrives on the voluntary participation of users. However, administrators protect certain pages if they believe they may be subject to vandalism, misrepresentation, or abusive language.
Wikipedia administrators are called librarians or sysops. These users can perform various tasks according to the policies of the platform. In addition, they have certain technical powers and are authorized to handle notices, complaints, inquiries, votes, and other user requests.
How to modify a Wikipedia article
Wikipedia is a wiki (which means "fast" in Hawaiian), and this implies that anyone can easily edit the pages (except for those that are protected). In addition, the changes are instantly visible.
The editing process is quite easy. Just follow these steps:
Enter the page you want to modify from the app or the web browser.
Tap the Edit button or pencil icon.
Choose between the visual editor and the code editor.
Edit what you want and tap Save the page.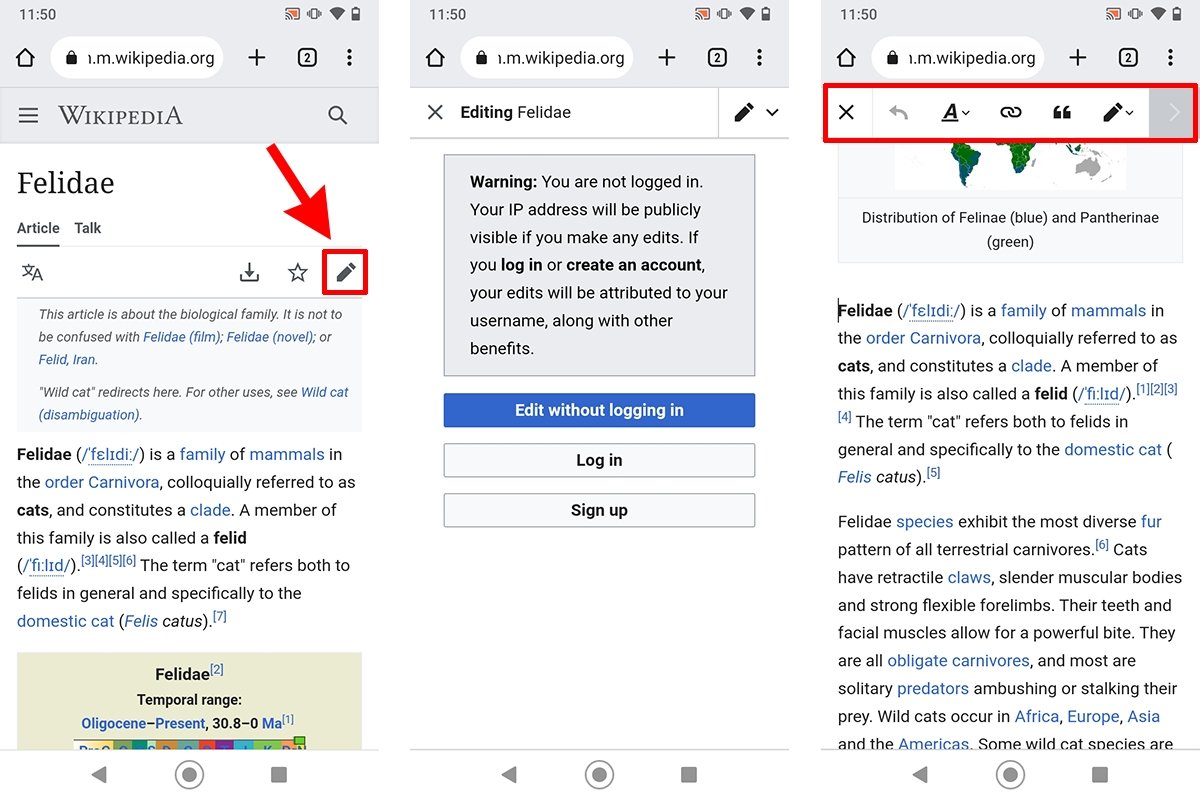 Steps to edit a Wikipedia page
The editor includes formatting tools and does not require registration to make changes to pages. However, if an unregistered user makes a change, his or her IP address is publicly recorded in the history of the site. That is why it is advisable to create a free account.
How to edit a protected page on Wikipedia
There are different levels of protection for Wikipedia pages. This list will show you who can edit them and how:
Permanent protection. These pages are protected by the MediaWiki software and can only be modified by the interface administrators.
Full protection. Only administrators and interface administrators can edit.
Template protection. They can be edited by administrators, interface administrators, and template editors.
Extended protection. All previous agents and verified users can edit them.
Semi-protection. Any registered user can make edits following the steps indicated in the previous section.