Are you having trouble with Android Auto? Then you have come to the right place. In this guide, we show you the most effective solutions for when Android Auto does not work in your car or smartphone. We also include a section reviewing the requirements to use this software to control your device from the multimedia center of your vehicle. Face Android Auto bugs with all the tips we provide in the following guide.
Requirements for using Android Auto
Thanks to Android Auto, you can use certain applications on your device from your vehicle's multimedia screen as long as they are compatible. Likewise, it will work perfectly to receive calls, answer messages, or set GPS navigation. Obviously, multimedia aspects are also covered, offering complete control of music playback.
Although the developers work to increase its compatibility, there are still several requirements to meet. Knowing them will help you determine whether Android Auto failures are due to the incompatibility of one of the devices or a problem with the application.
Android Auto on your vehicle's display through a USB cable
To use Android Auto via the wired connection, here is what you must have:
Android 8.0 or higher with an active data plan.
The most recent version of Android Auto.
A compatible car. There is an official list on the Internet that you can consult, although we believe that not all models are listed. It is best to consult the multimedia center instruction manual of your vehicle.
A high-quality USB cable. According to official documentation, it must be less than one meter in length.
Connecting Android Auto wirelessly
Even if your car is Android Auto compatible, it might not let you wirelessly pair both devices via Bluetooth. On top of this, the requirements are more demanding in this case:
A device running Android 11 or higher, with an active data plan and 5 GHz wifi connectivity. Samsung Galaxy S8, S8+, and Note 8 are compatible with the Android 9 version.
The latest version of Android Auto.
A car that supports wireless Android Auto.
Android Auto cannot be used in all countries
Although you may think that Android Auto works everywhere, the truth is that it is limited to some locations only. If you are outside any of the following territories, the application will not function correctly:
Argentina
Australia
Austria
Belgium
Bolivia
Brazil
Canada
Chile
Colombia
Costa Rica
Denmark
Dominican Republic
Ecuador
France
Germany
Guatemala
India
Indonesia
Ireland
Italy
Japan (USB connection only)
Mexico
Netherlands
New Zealand
Norway
Panama
Paraguay
Peru
Philippines
Poland
Portugal
Puerto Rico
Russia
Singapur
South Africa
South Korea
Spain
Sweden
Switzerland
Taiwan
Thailand
Turkey
UK
USA
Uruguay
Venezuela
As Google warns, most Android Auto features will not be available if you are outside these countries.
What to do if Android Auto does not work
Do you meet all the requirements to run Android Auto, and the app is still not working? Do not worry. Check out the following solutions to regain access to this tool.
Make sure that the cable is in good condition and is of the right kind
As we have already seen, there are several requirements regarding the cable to use. But, even when it is of good quality and measures less than a meter, Android Auto may not work properly. Here are some suggestions to determine if this is the problem:
Try another cable. If Android Auto works, then the problem is the cable you were using. Remember that some cables are only used to charge devices and do not offer data transfer features.
Connect another device. Use the same cable, but connect another smartphone to it. If the steps to set up Android Auto appear, then there is a problem with your device.
Avoid cable extensions. Please use a single cable without adapters or extension cords. Some accessories may prevent data transmission between the two devices.
Update the application
Download the latest version of Android Auto. After installing it on your device, check if the application works in your car. In addition to getting the latest features, updates provide security enhancements and bug fixes.
Delete application data
Cached data is a common culprit of software-related problems. To delete it, follow these steps: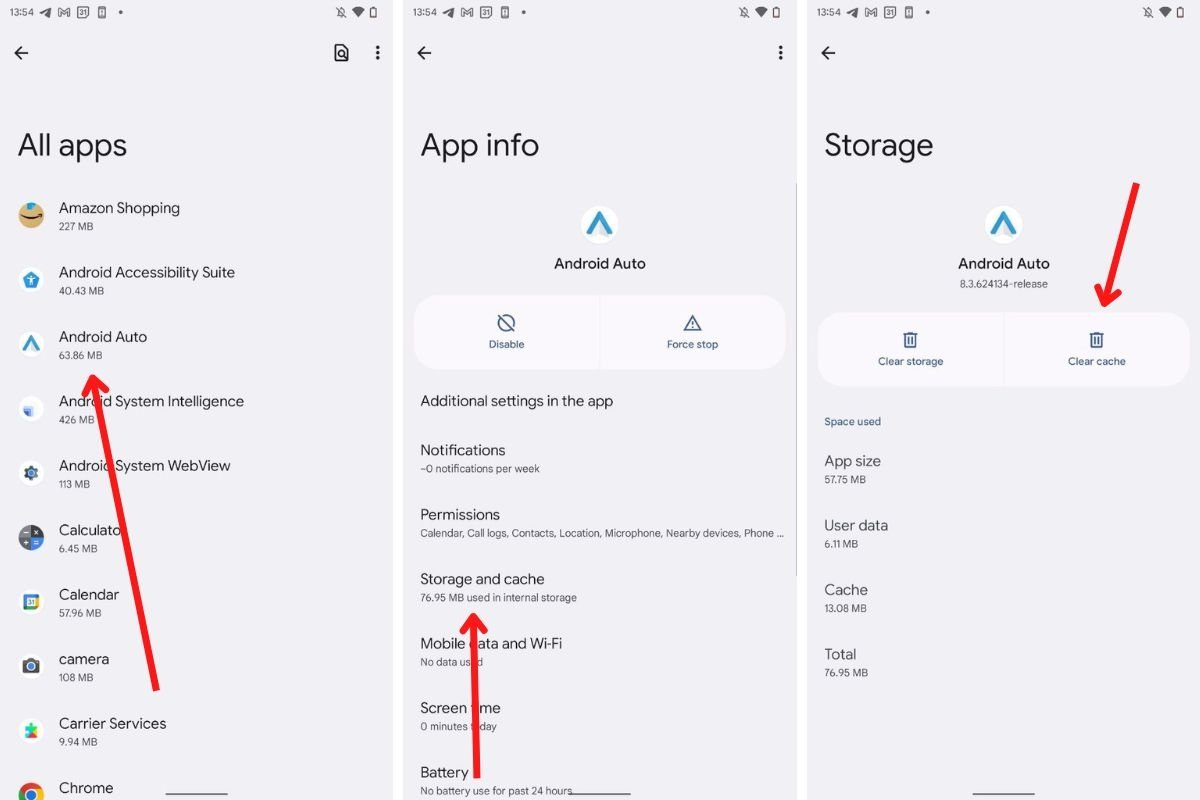 Clear Android Auto's cache or remove all the data
Open the system settings.
Go to Apps.
Tap on See all apps.
In the list of all installed applications, tap on Android Auto.
Open the Storage and cache option.
Tap on Clear cache.
Return to the previous screen and tap on Force stop.
If this does not work, you can try the Clear data button, which resets the application.
Problem with permissions
Android Auto requires various permissions to work. You may have rejected some unintentionally. We recommend restoring the application following the instructions mentioned in the previous section. After this, you must reconfigure the service. Check which permissions are requested, and accept them.
Voice-related errors in Android Auto
Voice control plays a fundamental role in Android Auto. In fact, it is the most convenient interaction system, as it prevents the driver from lifting his hands from the steering wheel. What should you take into account to troubleshoot this feature?
Background noise. High-intensity sounds interfere with speech recognition. When you want the assistant to understand you, make sure that you have closed the windows or that the music is turned off while you are speaking.
Microphone quality. Depending on the quality of the microphone in your car, the voice recognition feature will be more or less effective.
The assistant answers in another language. Adjust this parameter from the Android Auto settings. You may need to change the language settings in Google Assistant.
The results of the wizard are not correct. When the answers are too generic, you must go to Google Assistant preferences and activate the personal results in your car.
Network connection problems
Loss of network connection is not a failure of Android Auto. It is a problem related to your device. But don't panic! Usually, due to the movement, coverage is lost in some sections of the route.
Android Auto runs very slowly
Among the most annoying Android Auto bugs is poor performance. A possible reason could be that your smartphone may be too hot if you have the heating on and are opening several applications.