The Google Clock app now lets you record your own sounds to use as an alarm tone. However, this functionality is not available on all devices. Will your smartphone support this feature? This is just one of the questions we will answer.
In addition to showing you the necessary steps to record your own alarm ringtone on your Android device, we look at some situations where you may find it interesting to use this feature. You may find one or more of the ideas we propose attractive and lead you to create your own sound for your alarms.
How to create and set your personalized alarm sound on your smartphone
As we mentioned in the introduction, the Google Clock app, which usually comes pre-installed on numerous devices, now includes an option that lets you record your own alarm tone. But when can we use such a feature?
We have come up with some interesting ideas:
Wake up to a specific sound. Now that it is possible to record any sound, you can use this feature to wake up to one of your favorite sounds. Several examples come to mind, but one that we love is using our pet sounds.
Use the voice of another person. With this function, it is possible to wake up to the voice of any person. It is only necessary to ask this person to record a message.
Start the day with a positive message. You can also record your own voice narrating an excerpt from a book you like or a text with a positive message. This way, you are sure to start your day the right way.
Record a song that is not on Spotify or YouTube Music. Another scenario in which Google Clock's recording function is interesting is for "capturing" songs that are not so popular. All you have to do is play them and make your smartphone record them to set later as your alarm tone.
Play a joke on somebody. Obviously, being able to use a personalized recording as an alarm tone is a great way to play a joke on someone. And this is as far as we go because we do not want to give you more ideas.
We are sure these examples have inspired you, and you have probably thought of many others. But how do you record an alarm tone with your smartphone?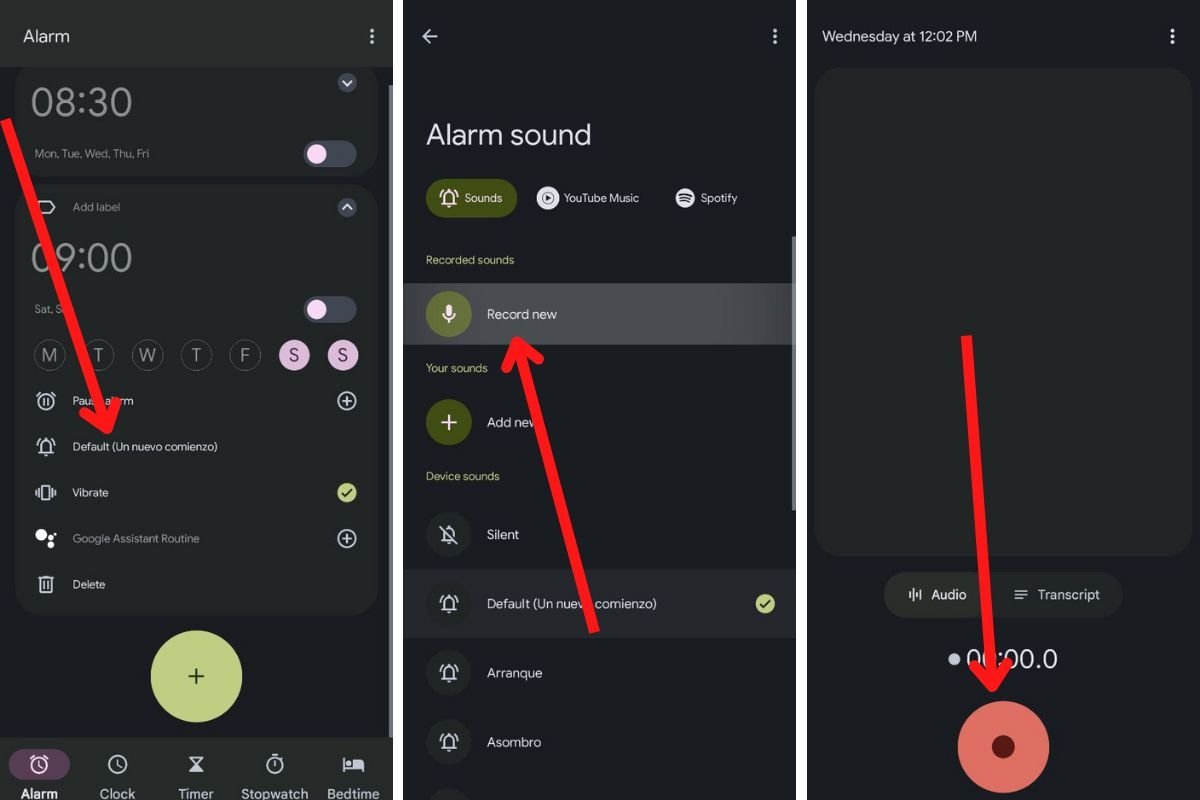 Record an alarm tone to use it as your alarm clock sound
The steps are simple:
Open the Google Clock application.
Go to the Alarm section.
Add a new alarm, select the time, and wait for it to appear in the list of all scheduled alarms.
Tap it, and tap the little bell icon.
In the Recorded Sounds section, tap Record a new one.
The Google Recorder will open. Now, tap the record button to start recording.
At the end of the recording, stop the audio recording process and tap Save.
The audio will appear in the Recorded Sounds section, and now you can use it.
From now on, the smartphone will use the sound you have recorded as your alarm tone.
Aspects to take into account when customizing your alarm
For the moment, only available for Pixel devices. Apparently, the Google Watch app executes this action with a command directed to the com.google.android.apps.recorder app (which is the recorder that comes pre-installed on the Google Pixel). In addition to these devices, it could also work on some custom ROMs that include this app, such as Pixel Experience.
The Clock application supports other sources. Although you cannot record directly from the Clock app, remember that it is possible to select custom sounds selecting them from the Android file explorer. If this option is unavailable on your device, record the sound with the native application (or with another one you download) and then select it by tapping Add new in the Your sounds section.
Many more options with YouTube Music and Spotify. Google's streaming service has a vast music library, including live performances and cover versions of popular songs. Additionally, Google Clock supports Spotify. In both cases, you need an account to select songs from these platforms.