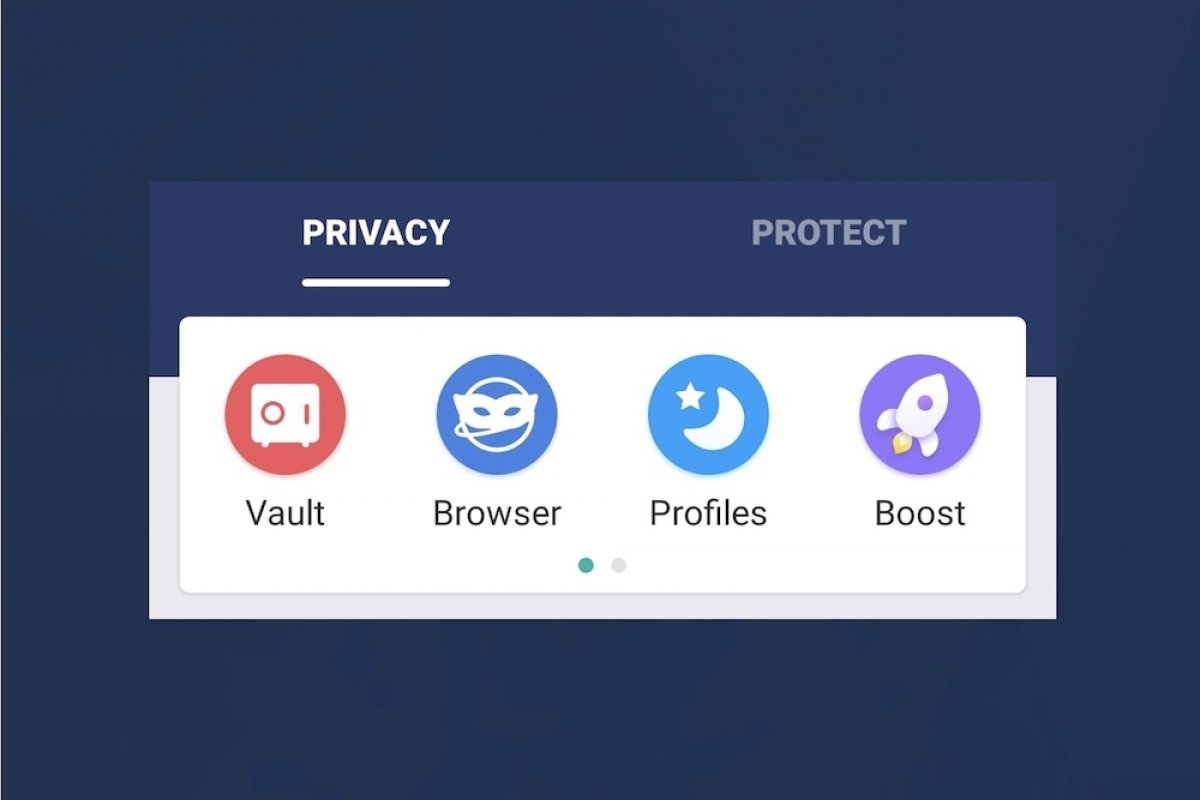 The application has 2 main tabs, and thanks to them, you will be able to access several configuration options. The first one is called Privacy, and it is the one that lets you configure access to the apps you have on your device.
Privacy tab
Here, we can prevent access to the device settings, such as changing the configuration or uninstalling apps. It is possible to prevent access to folders, gallery, contacts, or the app store, Google Play, so that no one can download or buy apps. All these options can be set in the main menu, and it is up to us to determine the degree of protection of the device.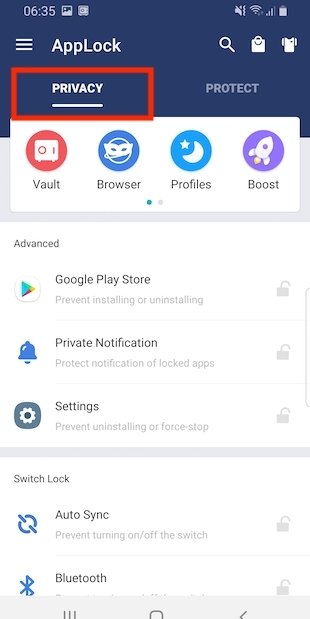 Privacy tab
Privacy gives us several interesting options:
Vault, a place where we can send all kinds of files that we want to keep hidden from others, whether they are videos, audio, photos, or even an APK.
Browser is a browser that lets you browse by default in hidden mode, and with it, you can also have access to some exclusive games from the developer.
The Profiles tab lets you quickly access an option to fully unlock all apps, and another to configure the device for a guest so that we will give them access to the functions and apps that we determine.
The Boost tab is a phone accelerator, just by tapping on it, we will have automatically freed memory. AppLock is more than a simple privacy protector.
The same goes for Clean, it cleans the device of system cache files, APKs that are no longer useful, or junk items.
Games is an extended version of what we find in Browser, a good catalog of games from the developer to have a good time.
Finally, the Account tab shows us the option that we have configured as a user, either normal or Premium. When installing the app, we have 3 days to enjoy an app without ads or exclusive themes. After that time, we can pay between $1.99 and $11.99 depending on the functions desired and the time contracted.
Protect tab
In the Protect tab, we find the configuration options of the application. It has three menus, Security, General, and Magic.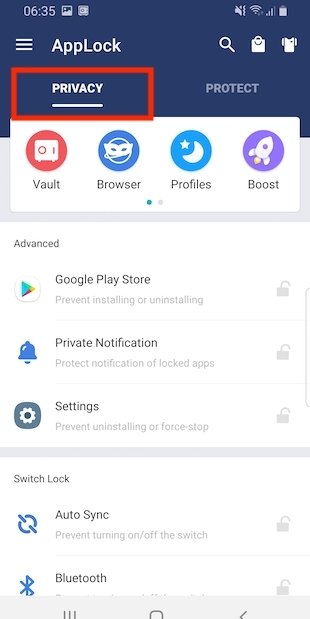 Privacy tab
In the first one, Security, we configure the unlocking and security options, we can enable the fingerprint or even allow the app to take a selfie if an intruder accesses the device.
General features options such as power saving and advanced protection to prevent someone from uninstalling applications or to prevent the app from blocking some applications when the screen is activated.
Magic has several options, from hiding the app icon to generating a random keyboard that prevents snoopers from memorizing our code. It also has a Cover function, that scares intruders away with the appearance of a persuasive screen, such as asking to put a fingerprint or saying that the apps are locked.
As we can see, AppLock is a very complete application with many configuration options that let you adjust the app to your real needs of use.