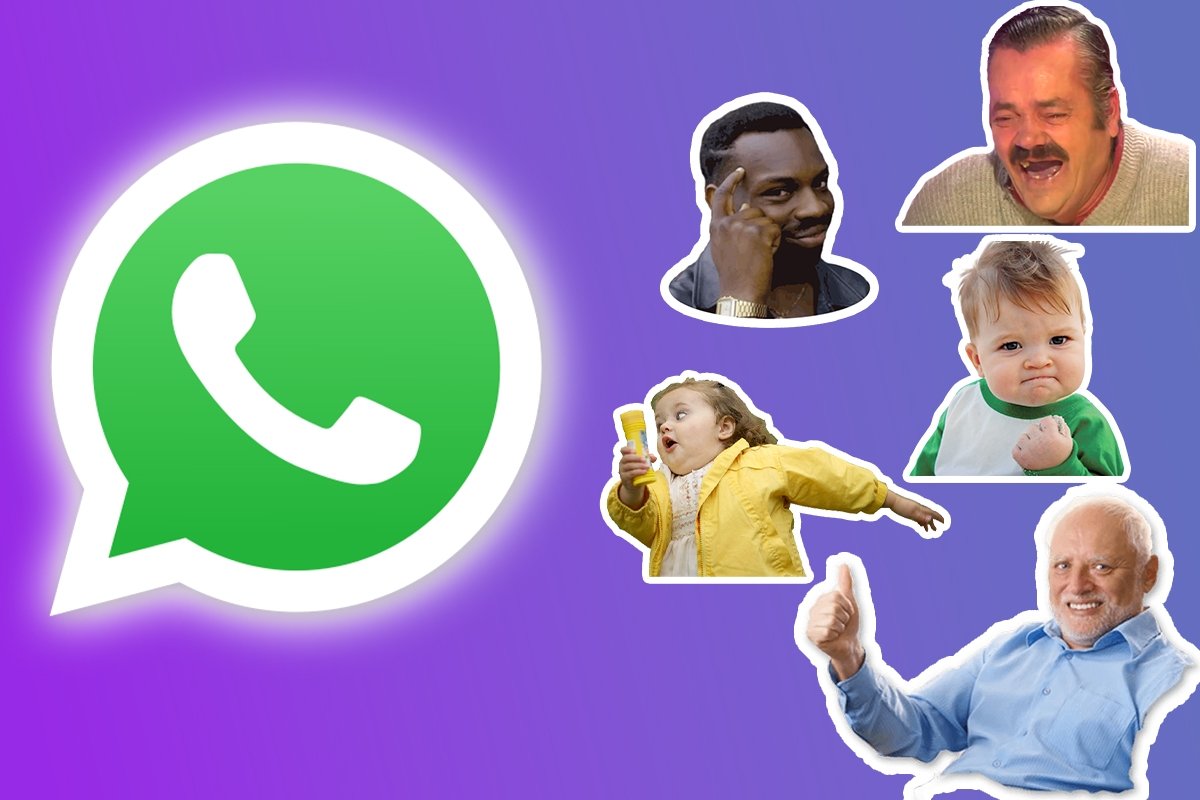 Although it has been later than on other applications such as LINE, Telegram or Facebook Messenger, stickers have finally landed on WhatsApp. The service allows us to use those offered by the application itself but it also lets us create our very own ones to add them to our collection. We're going to show you're the best applications to download or create stickers for WhatsApp.
Sticker maker
Its name is quite a clue about what we can find in this app. It offers us everything we need to create a sticker from a photo taken with our camera or imported from our gallery and then incorporate it to our collection. We only have to cut out the image with our finger and include it in the packer stick that we'll add to our library. Perfect if you want to use your mates' face, for instance.
Meme Stickers
This application offers us all sorts of funny and popular memes on the Internet. You know, online stars of the likes of Chuck Norris, Donald Trump or Elon Musk, amongst others. They are sorted into categories so that we only have to download the pack that we're interested in and that's it.
Personal Stickers
The contents included in this sticker app is quite assorted as it offers us different kinds of images sorted into random categories. In other words, we can find from robot stickers to cat stickers, as well as flower stickers. The truth is that it's a great app to have a wide range of options available to be able to reply with a sticker to all sorts of situations.
Cat Stickers
Everyone knows that one of the core elements of the Internet are cats and that without them, the web would definitely not be how we know it at present. Therefore, a decent collection of cat stickers is a must and that's why we've included this app in our selection. It comes along with a wide range of cartoonish cat drawings to illustrate our conversations, giving a cat-like touch to all chats.
Love Stickers
Stickers can also be used to express your unconditional love towards other people and that's why this app offers you the best collection of romantic and love stickers that you could ever find for your favorite messaging and chat app. Well, don't expect any kind of piece of art as they're basically a bit corny and tacky… but if you're going to tell someone you love them with one of these stickers that should be the least of your worries
Telegram stickers
Telegram was one of the first messaging applications to include stickers in their conversation. At the very precise moment that WhatsApp announced their implementation, its developers didn't hesitate to bring out their own sticker app to conquer their rival. Here we'll find many of the stickers we can use in Telegram which makes it almost perfect. And it's even better if we bear in mind the huge amount of them available. Possibly one of the best sticker apps out there.