In October 2018, stickers finally arrived on WhatsApp, one of the most popular features among users, who had already been able to enjoy them in other messaging applications such as LINE, Telegram, or Facebook Messenger. These stickers offer us a funnier way to express ourselves in our chats, being able to use the ones that come by default in the messaging app, download packs created by third parties, or generate our own.
The best sticker packs apps for WhatsApp
The option to use pre-made sticker packs is one of the most convenient because we simply download the app, add the packs we like the most, and use them directly in our conversations. After analyzing a few of them, it is time to talk about the ones we have liked the most.
Superhero Stickers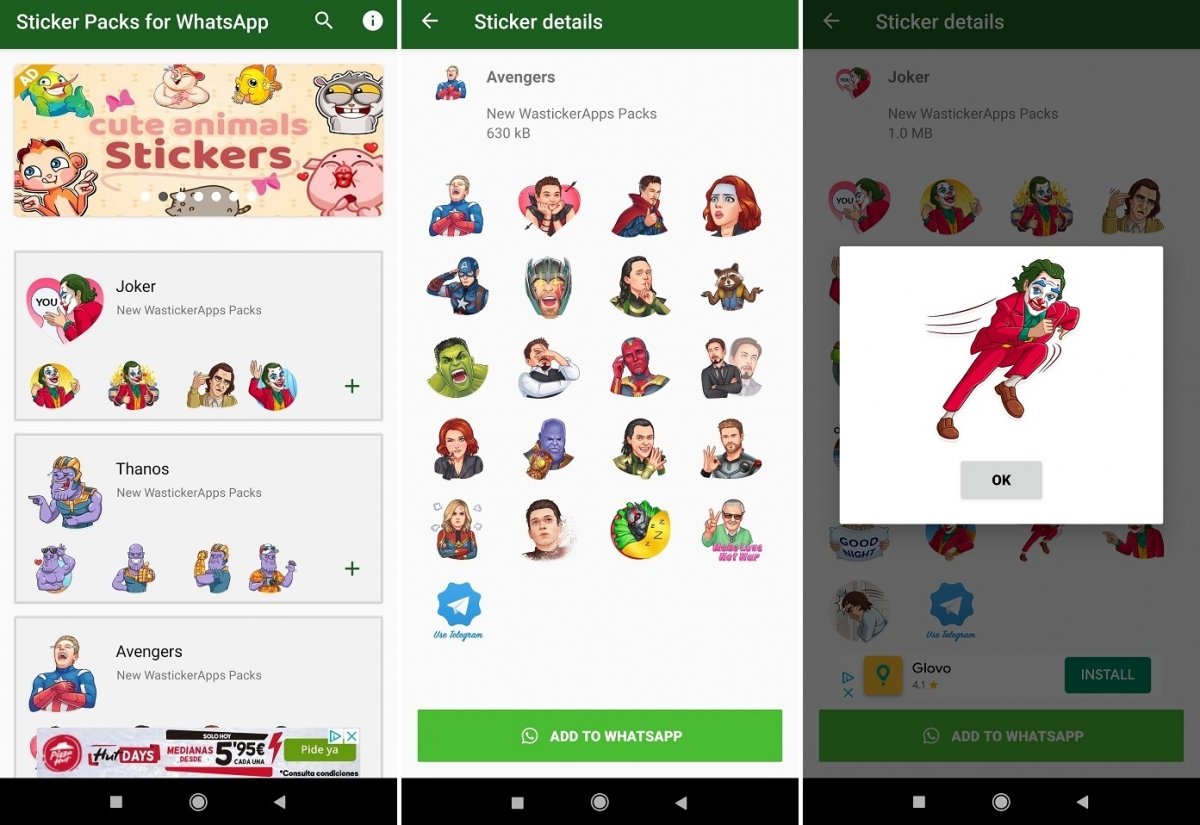 Screenshots of SuperHero Stickers' interface
If we are fans of comics and superheroes, and we have geek friends who will appreciate a Batman facepalm as an answer, this app can not miss on your mobile. It has stickers of Captain America, the Joker, Thanos, the Avengers, Deadpool, and different DC Comics characters. Using them is as simple as tapping the + on the pack we want to add, watch a small ad, and we are ready to go.
Telegram Stickers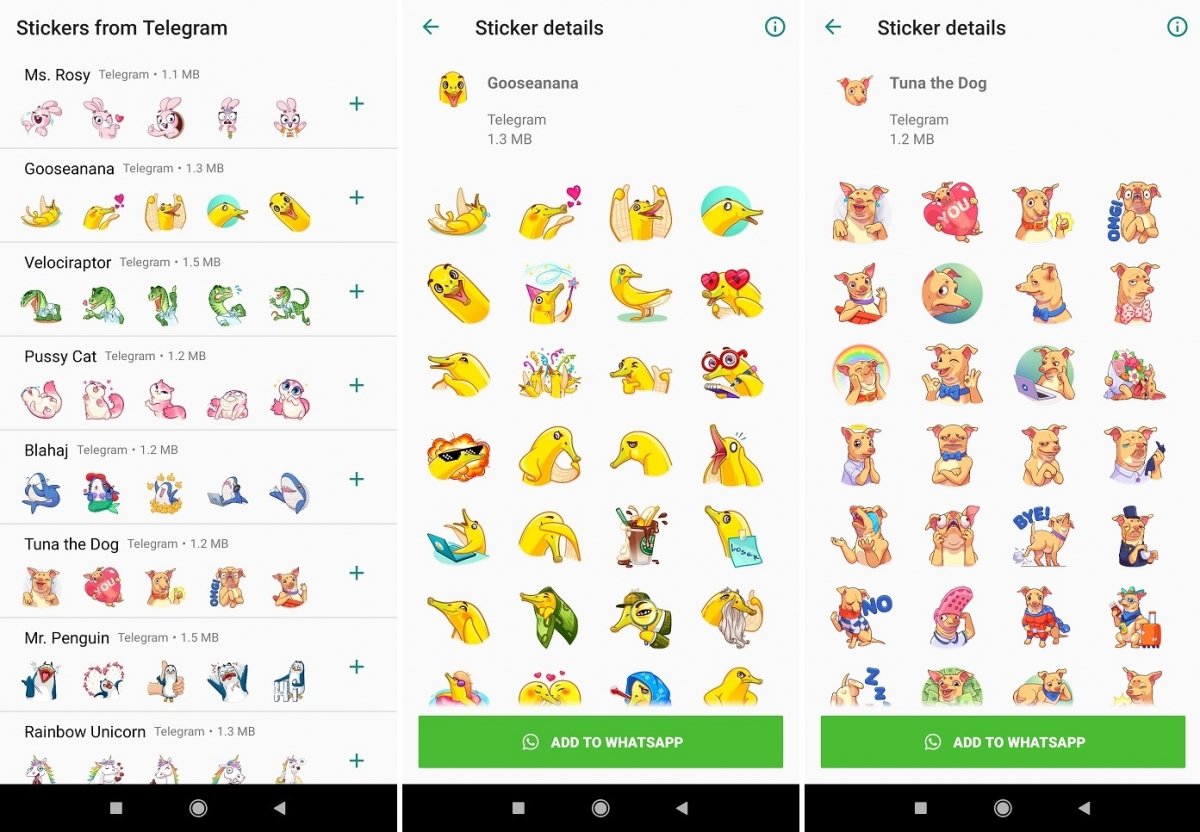 Screenshots of Telegram Stickers' interface
If you have been using the stickers in Telegram for a while and you miss some of them in WhatsApp, this is the application you are looking for. Developed by Telegram, here, we can download and add ten of the most popular packs from Pavel Durov's messaging app: the velociraptor, the polar bear, the rainbow unicorn, and more. There is no advertising for other apps, although the app will kindly invite you to download Telegram Messenger from time to time.
Emojis Stickers
Screenshots of New Funny Emojis Stickers in 3D's interface
This sticker pack focuses on emojis, and especially, memojis. It contains dozens of packs for all tastes, so even if we do not have our own avatar created in our image and likeness, with this pack, it will be easy to find stickers that bear a certain resemblance to our face. There are of all genders, races, hairstyles, and facial attributes. They are as easy to use as any other pack.
Elite Emoji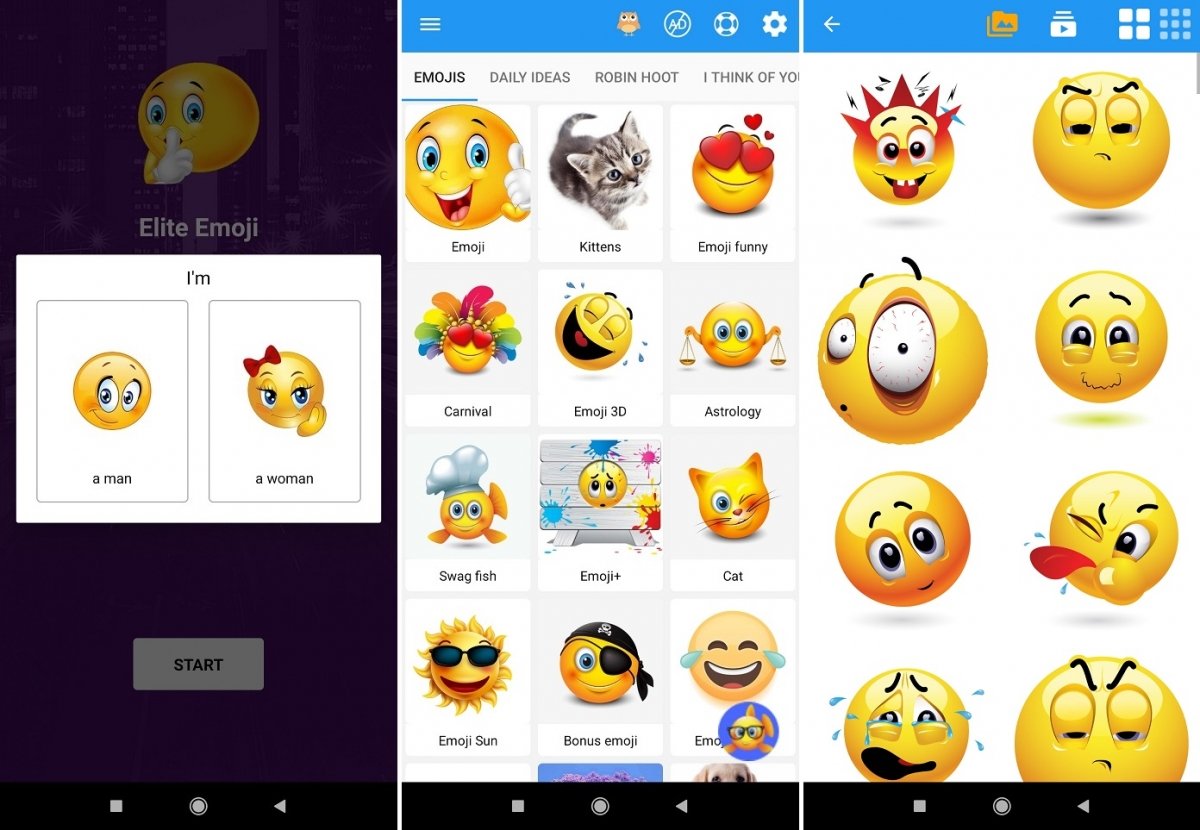 Screenshots of Elite Emoji's interface
This may be the most different app of all, along with the following one, because it is not a usual sticker pack application since it offers us many more things like GIFs, inspiring photos, and motivational messages to share on WhatsApp. After a few questions about our personality (hopefully just to be able to offer us customized stickers), we will have access to a huge gallery of resources that we can share in our favorite messaging app.
Popular Stickers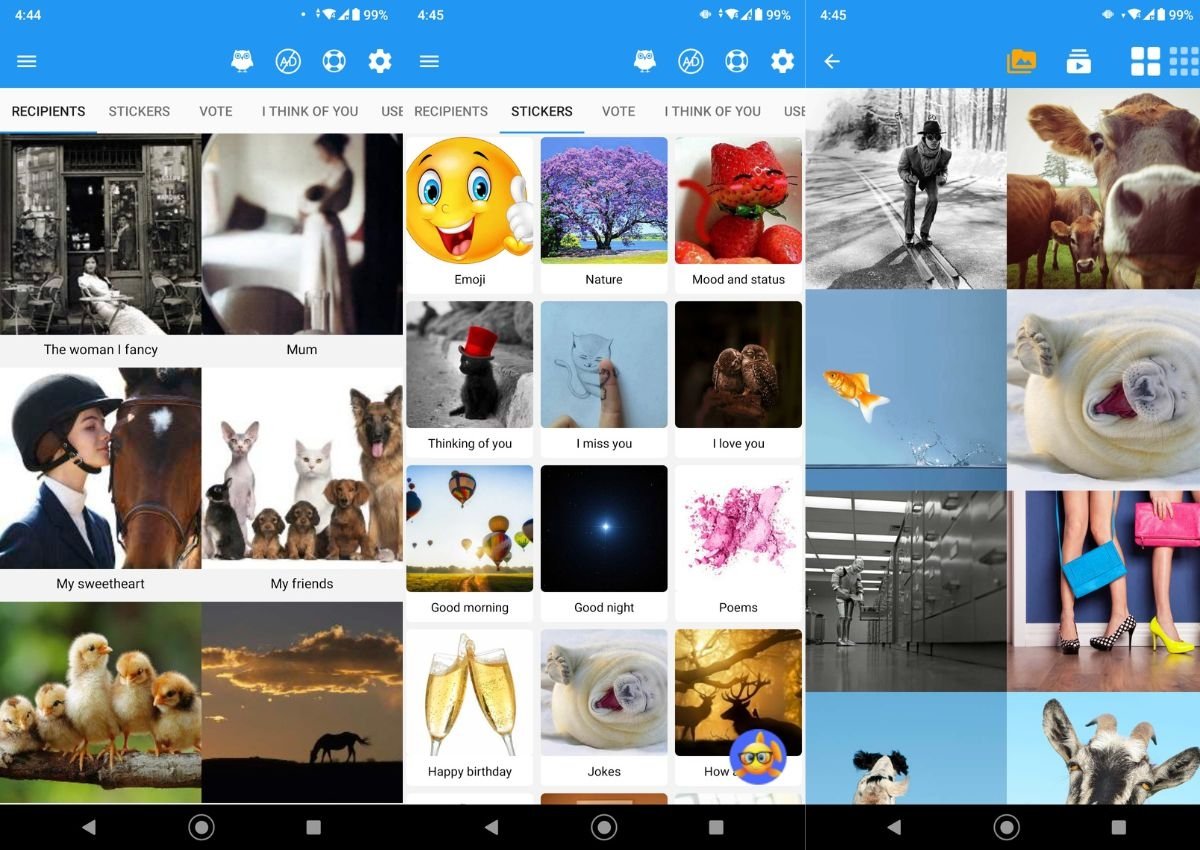 Screenshots of Popular Stickers' interface
From the same developer as the previous Emoji Elite, the interface, sections, and functions are identical to the previous one, including personal questions before starting to use it. What differs is the content. We do not know what criteria its developers have followed to add stickers to the app, but that does not prevent it from being one of the best sticker applications due to the variety of its contents.
Christmas Stickers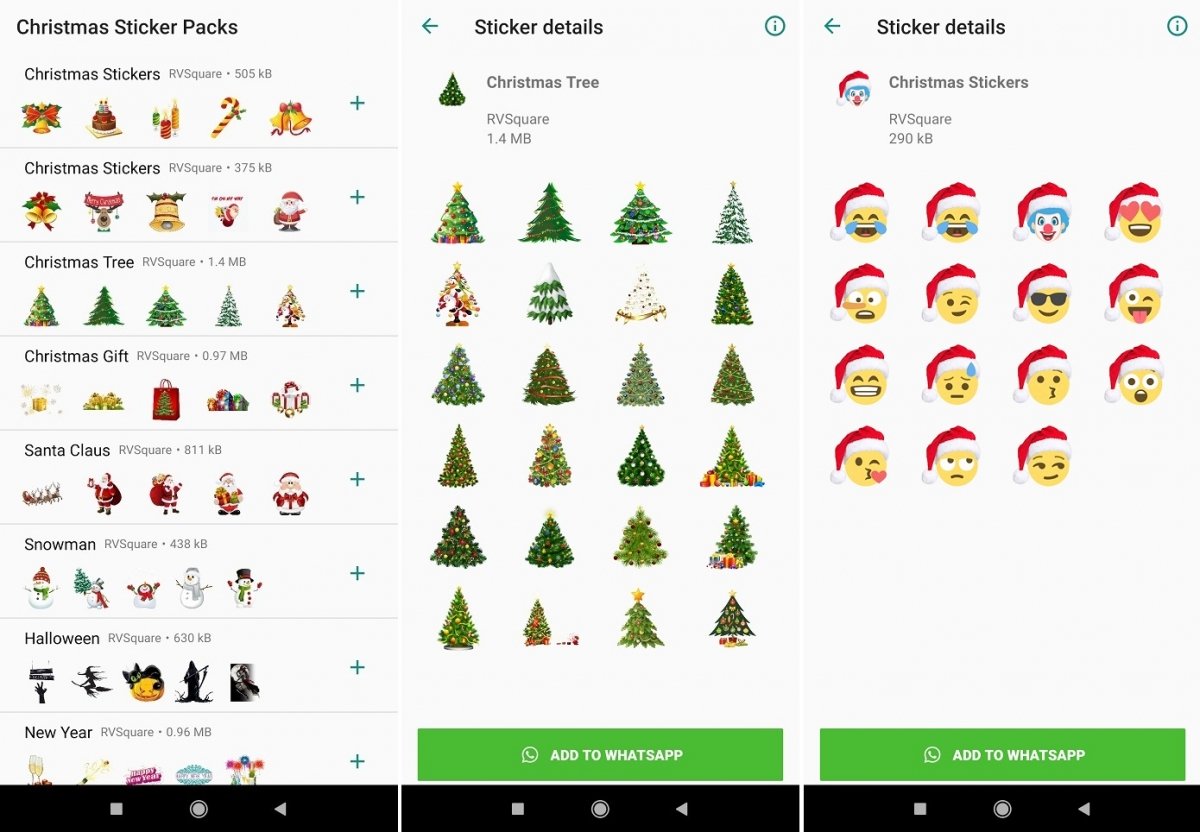 Screenshots of Christmas Stickers' interface
It may not be a pack to use all year round, but once the Christmas season arrives, we will surely give it a good use to brighten up our friends' day. Christmas decorations, gifts, Christmas trees, snowmen, Santa Claus wishes, and New Year's greetings, are some of the images we can share on WhatsApp, as well as Halloween and Thanksgiving stickers, not related to Christmas but good enough to fit in.
Meme Stickers
Screenshots of Meme Stickers' interface
Some say that memes are the best thing the Internet has given us, and surely they are right. Therefore, this sticker pack is a must because it contains virtually everything from the classic forever alone or rage guy to the most modern, including celebrity memes such as Chuck Norris, Donald Trump, or Elon Musk. However, not all of them are free, as some require a premium subscription.
Best apps to create stickers for WhatsApp
If you are not happy with the way things are done and prefer to create your own stickers, here is a list of some of the best tools to create stickers for WhatsApp. In another article of this tips guide, you will find several detailed tutorials on how to create stickers and how to do it with your own photos.
Stickify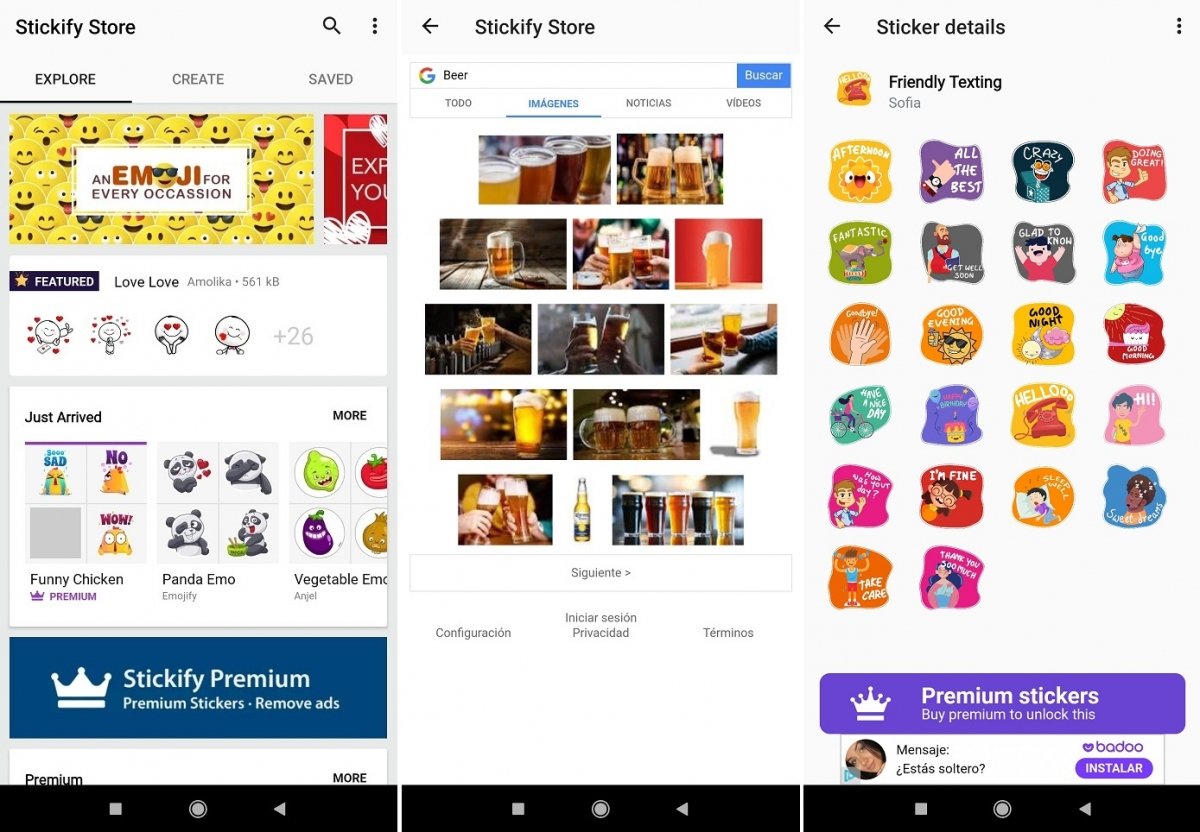 Screenshots of Stickify's interface
Stickify could have appeared in the previous section as it also includes a lot of pre-defined sticker packs of all kinds (it has over 5,000 and new stickers are added with each update). But what we liked most is its creation tool, that in contrast to other creators, incorporates web search in case you do not want to use the photos in your gallery, and also does not require a minimum of three stickers per pack to add them to WhatsApp.
Sticker.ly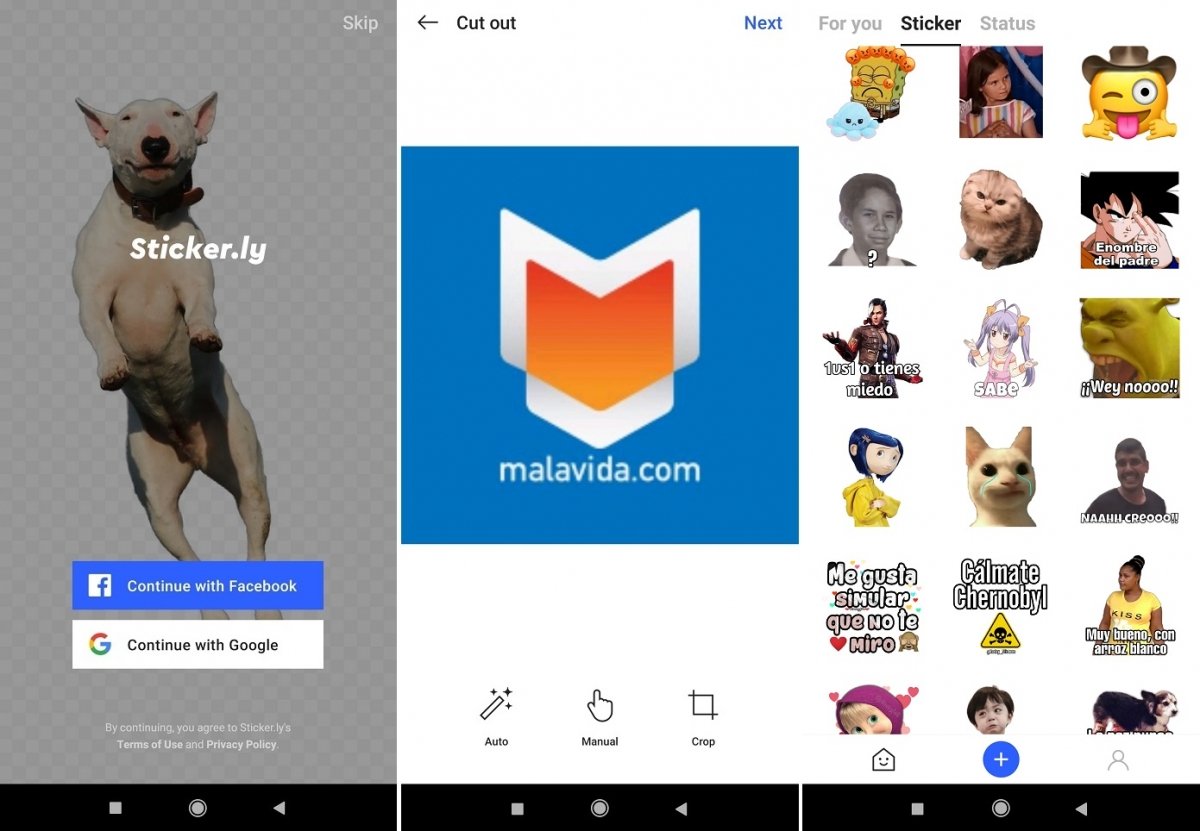 Screenshots of Sticker.ly's interface
Sticker.ly is probably the most complete app on this list. As in the previous case, it offers us stickers already created, perfectly classified by theme, plus funny short videos to update our WhatsApp status. It also stands out for its creation tool, which easy and intuitive, that also lets us add hashtags to our stickers so that others can find them and use them (as long as we grant our permission). As in most cases, it requires a minimum of three stickers per pack to be able to add them to the messaging app.
Sticker Studio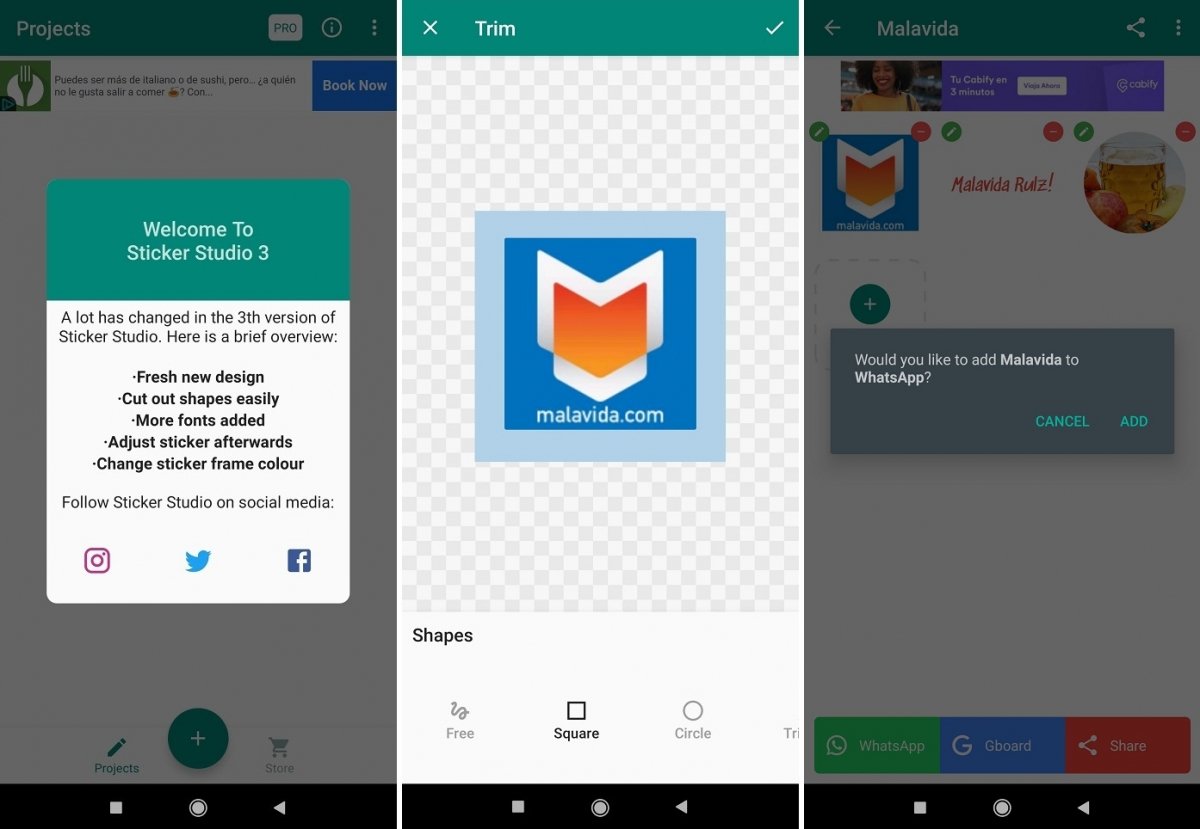 Screenshots of Sticker Studio's interface
The PlayStudios tool gives us everything we need to create our own stickers, whether from photos in our gallery, from images captured directly with our camera, or from text stickers. We can create them in square, circular, triangular, or free form, and we will always have to create a minimum of 3 stickers to be able to add the pack to WhatsApp. The only drawback is that fitting the image in the chosen shape is not an easy process because it requires a good pulse.
Wemoji
Screenshots of Wemoji's interface
Wemoji is one of the most popular apps when it comes to creating stickers for WhatsApp. In general, it offers us almost the same tools as any other sticker creation tool, although it stands out for the detailed tutorial that it offers us the first time we access the app, making everything easier, and also because of its two different menus that separate the creation area from the gallery of stickers already created. Also, we will get the possibility to create stickers with our photos and access to a lot of predefined accessories, some of them only available for an hour (unless we pay, of course).
Sticker Maker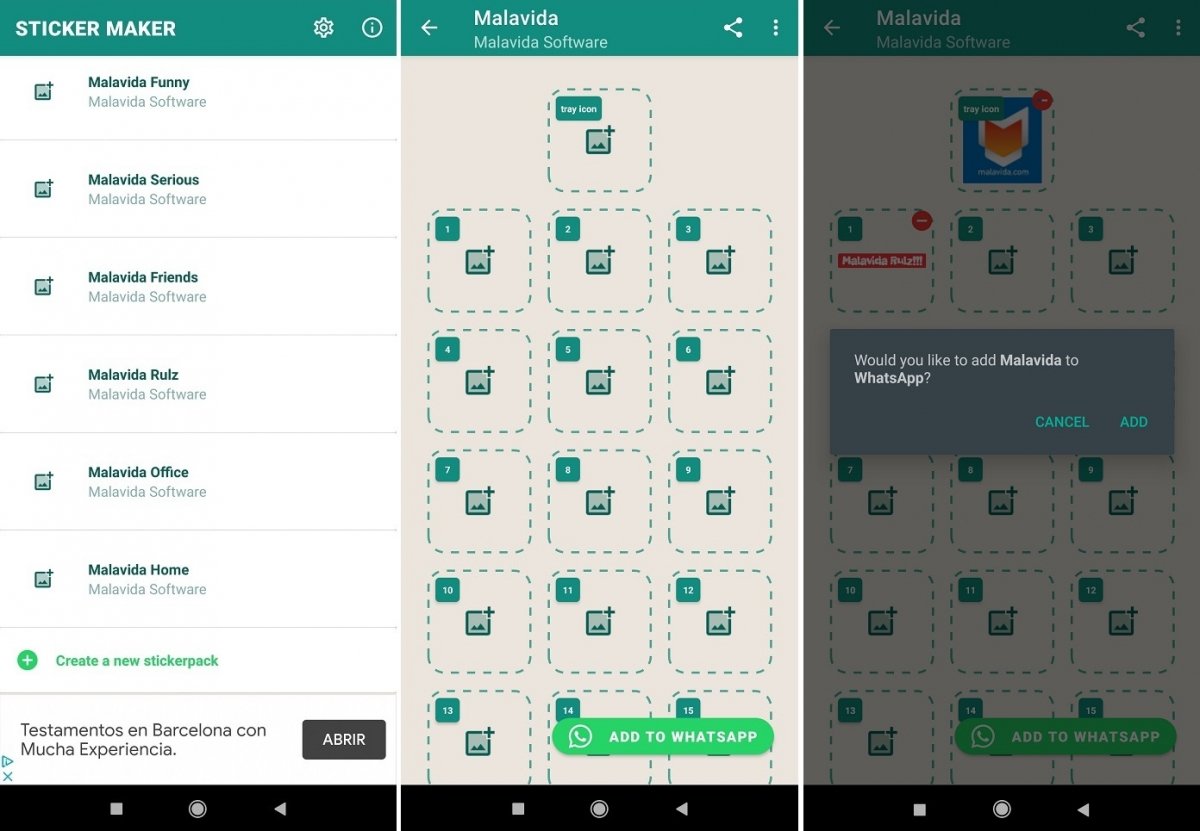 Screenshots of Sticker Maker's interface
Viko & Co has developed several sticker pack apps that have become quite popular, including one from world leaders where Trump hogs all the spotlights, but in this case, we highlight their creation tool, that is just that, an application to create stickers from our photos without access to others already created. The most eye-catching thing is that it lets us add up to 30 stickers per pack, without a minimum number, and its cutting and text tools are easier to use.