To talk about Fitbit is to talk about one of the best applications on the market to measure our physical activity and some aspects of our daily lives. This application, whose basic version is free, is ideal for getting the most out of Fitbit wristbands, although it is possible to use it with other devices. If we want to get the most out of this application, we can get Fitbit Premium, a paid subscription with several interesting additions. In this article, we will tell you more about this paid version and give you the necessary steps you must follow to unsubscribe or change your subscription.
How to unsubscribe from Fitbit Premium
If you have decided to sign up for Fitbit Premium (it offers a 90-day free trial period) or are thinking about doing so, you may be interested in learning more about the exclusive features offered by this paid option. We can find among these new features a series of additional tools to control the quality of our rest and sleep, play relaxing sounds to help us sleep better, help us manage our stress levels, and advanced metrics to measure our physical performance or even our heart rate in more detail.
Unsubscribing or changing our Fitbit subscription is very easy, and best of all, we do not need to go to the computer since we can manage the entire subscription through our smartphone.
How to change or modify your Fitbit Premium subscription
The only drawback we can mention about this option is that it can be somewhat hidden for the average user, but we will give you detailed step-by-step instructions about everything you need to do to manage your subscription. To begin, follow the steps mentioned below:
Within the Fitbit app, tap on the icon at the top left corner of the interface.
On the next screen, tap on Account Settings.
Once the menu opens, choose the Manage Subscription option.
All your active subscriptions in the Google Play Store will appear on the screen. Choose the Fitbit one.
Inside, you can edit the payment method and the type of subscription. If you want to cancel it, tap the button at the bottom of the screen.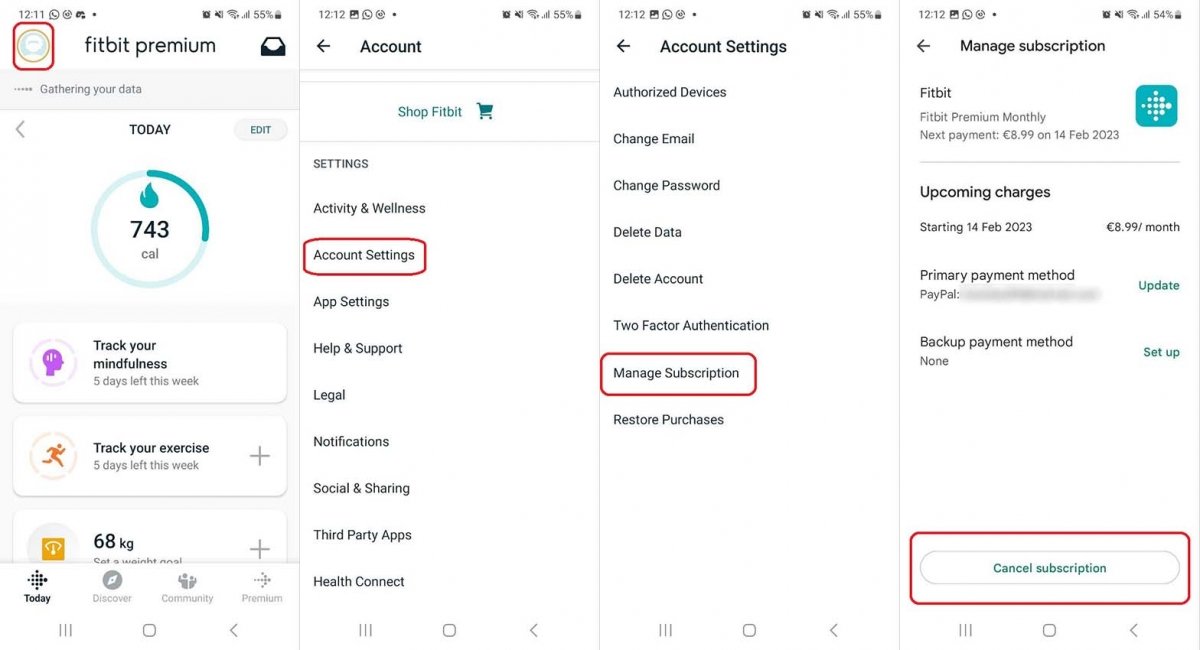 Steps to be able to edit or cancel your Fitbit Premium subscription
As you can see, you can edit or cancel your Fitbit Premium subscription in a few seconds. If you take advantage of the free trial, you can cancel the automatic subscription and continue to enjoy the paid version until the end of the trial period.