Gmail can act as a complete email platform for multiple accounts. And we do not mean setting up multiple addresses in your application. Rather, we are talking about Gmail taking care of managing, consulting, and sending messages from an external account. Knowing the process to set up all your accounts in the Google email service has a clear advantage: it centralizes all your conversations in one place.
This is a guide designed to help you set up many accounts and show you how to use each of them from the official Gmail applications. Upon completion, you will have managed to unify all your inboxes and reduce the number of logins when accessing all your emails.
How to access an external email account from Gmail
We will start by explaining how to configure the reception of emails from an external account. Although the articles we publish about Gmail are focused on its mobile application, it is recommended that you put this method into practice from your computer. The reason is clear: this setting can only be applied from the web version. In addition, during the process, some pop-up windows will open, a rather cumbersome element if accessed from the mobile browser.
We start by opening the Gmail settings on the web. Tap on the cogwheel and then tap on See all settings.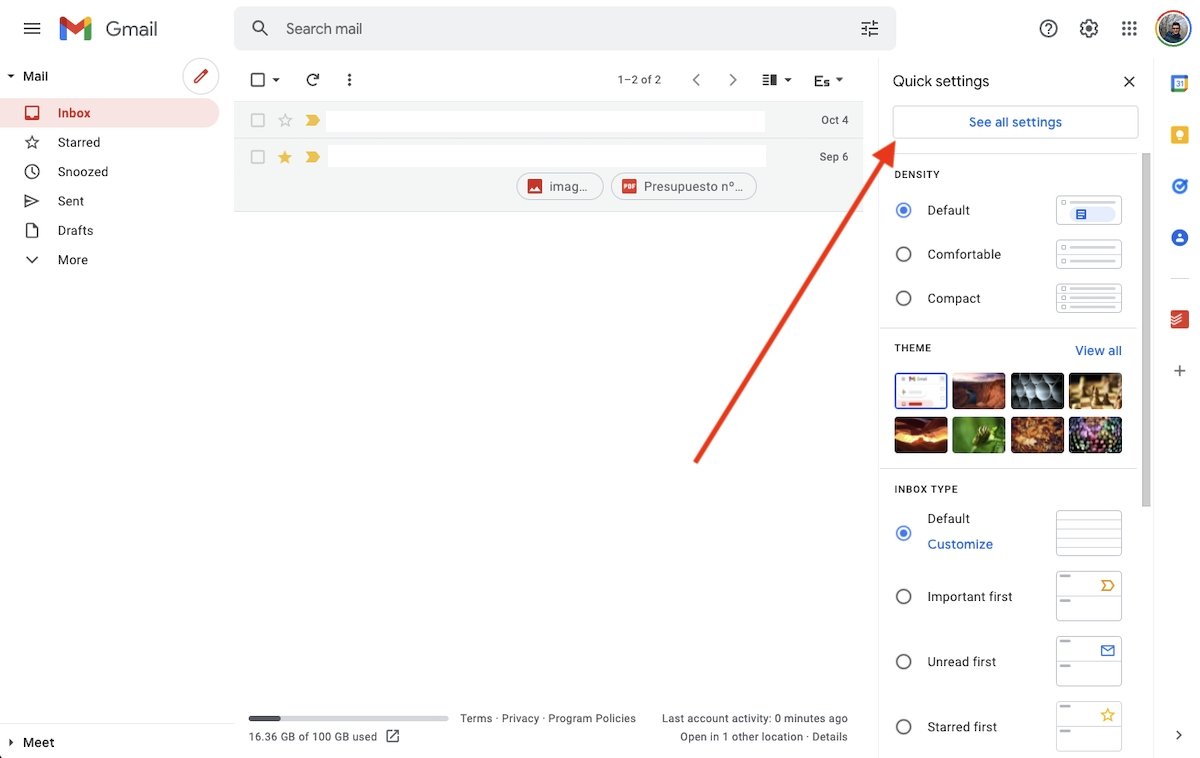 Open Gmail's settings
Open the tab Accounts and import. Then, tap on Add a mail account.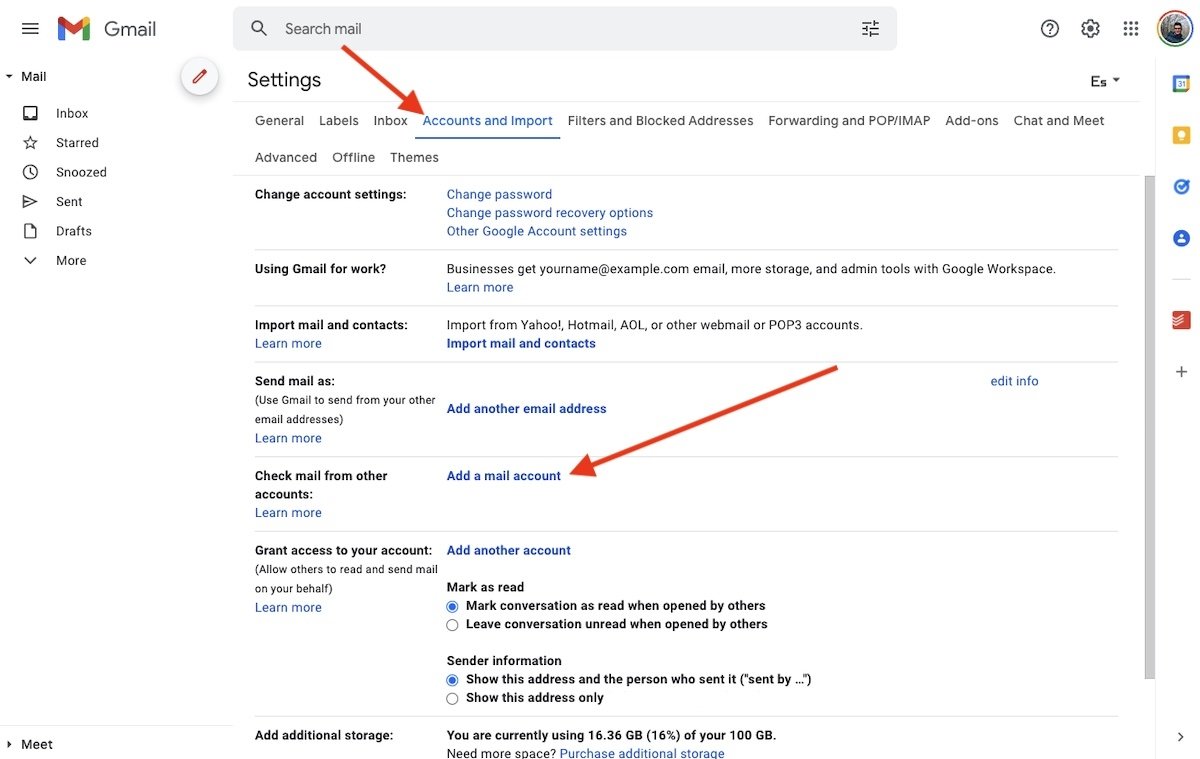 Start configuring the account
In the pop-up window, enter the email address you wish to configure.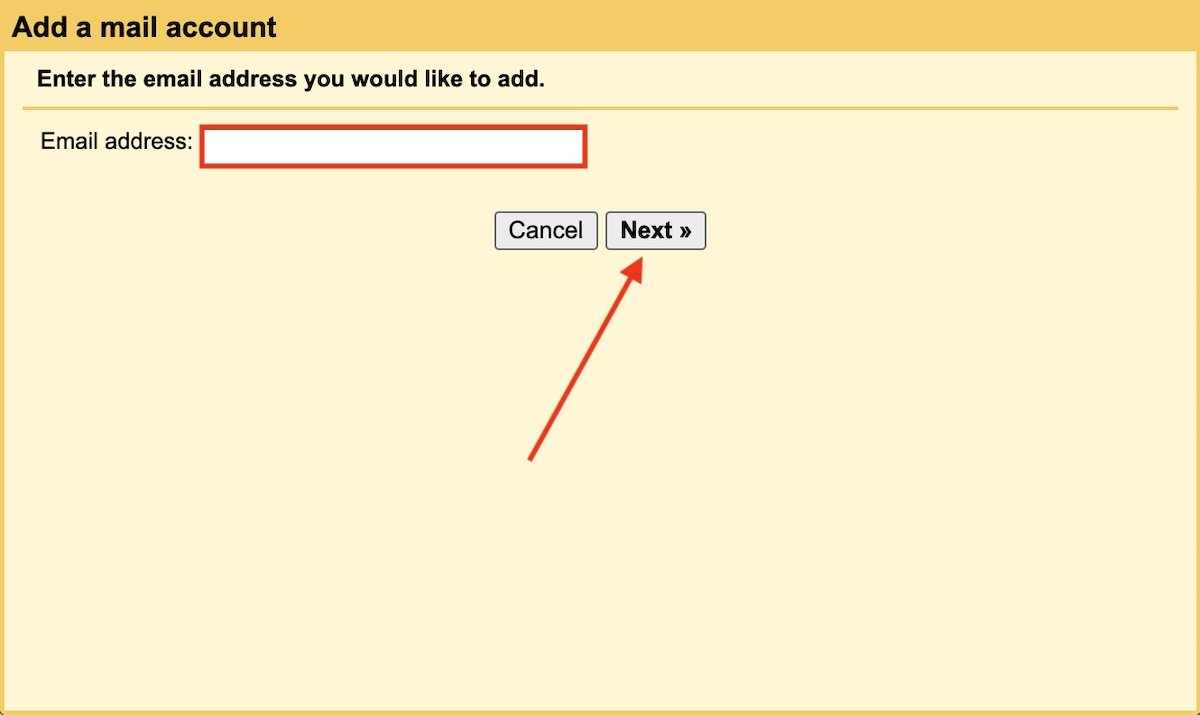 Indicate your email
Next, select the method Gmail should use to check the new mail. Gmailify is a simple method, but it is not available for all providers. In this case, you should opt for the POP3 protocol.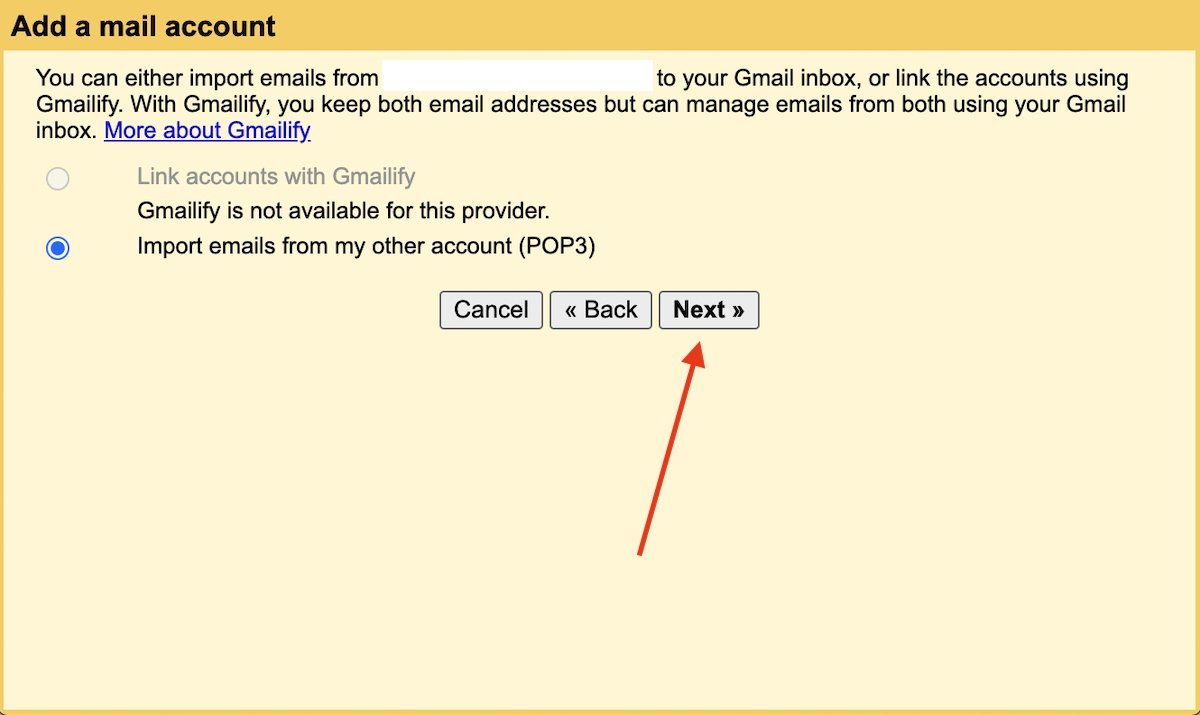 Linking method
Now, it is time to enter the connection data. If you do not know them, check with your email provider. It is also interesting to enable or disable some options. For example, with Leave a copy of retrieved message on the server you tell Gmail to keep a copy of the mail on the original server. On the other hand, with Label incoming messages, all mail from this provider will be marked with a specific label, allowing you to easily distinguish it. We advise you to keep both active.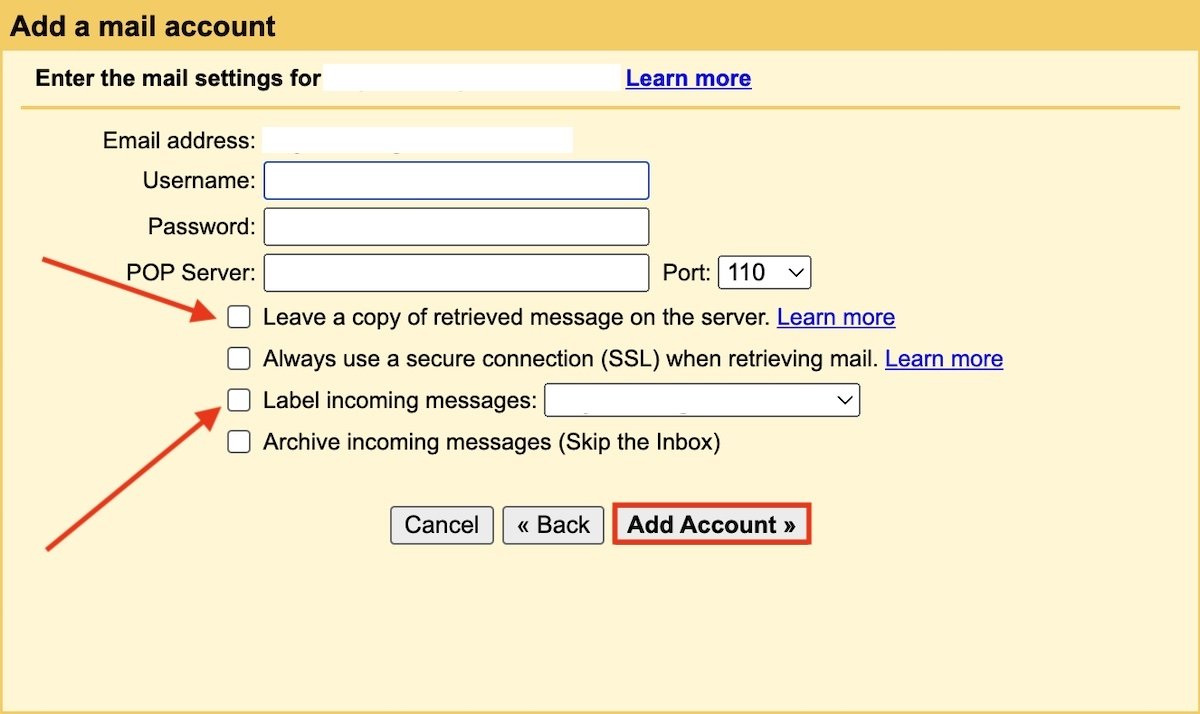 Add an account
From now on, Gmail will be receiving the mail from your account and will mark it with the label you specified. Repeat this process as many times as necessary to port all your email accounts.
How to send mails from an external account in Gmail
It is important to make it clear that you are now receiving emails from an external account, but you cannot send messages from it. To set up sending, go back to the Gmail settings, open the Accounts and Import tab, and tap on Add another email address. This is the link you will see in the Send mail as section.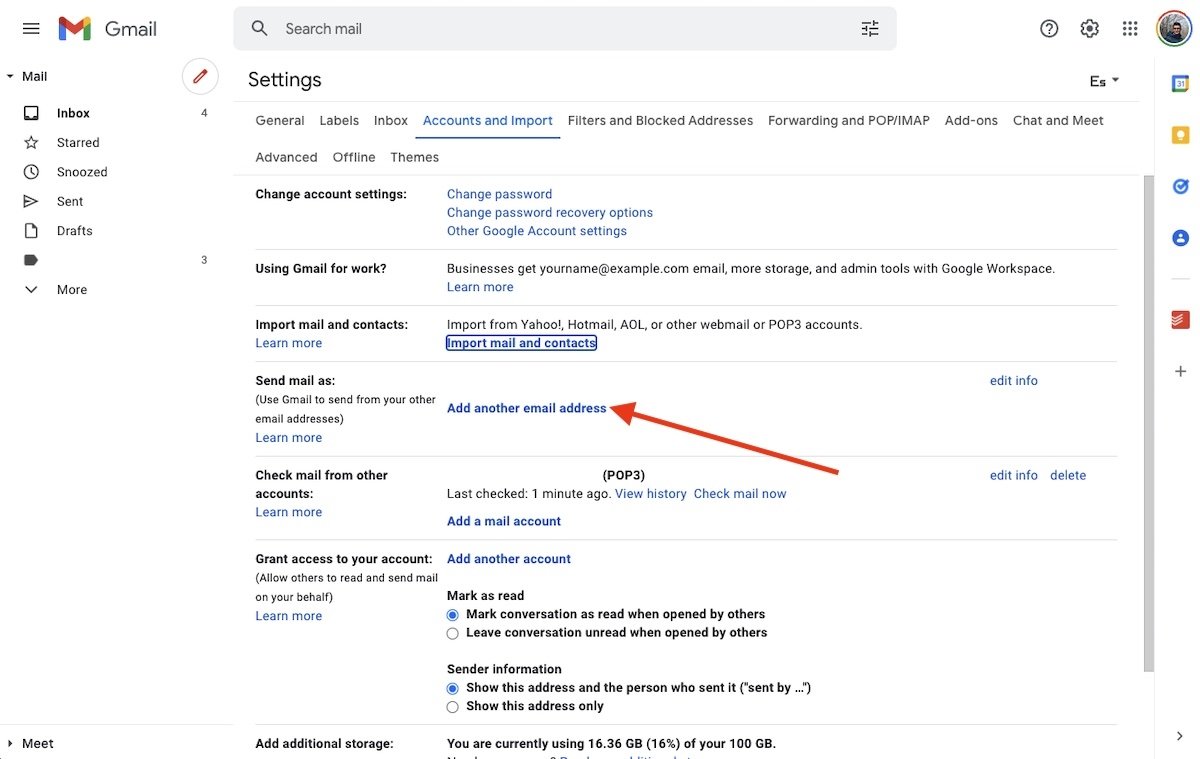 Send as Gmail
A pop-up window will appear immediately. There, please, indicate your name and email address. In most cases, it is advisable to keep Treat as an alias checked. If you are not sure, use the Learn more link to find out all the details.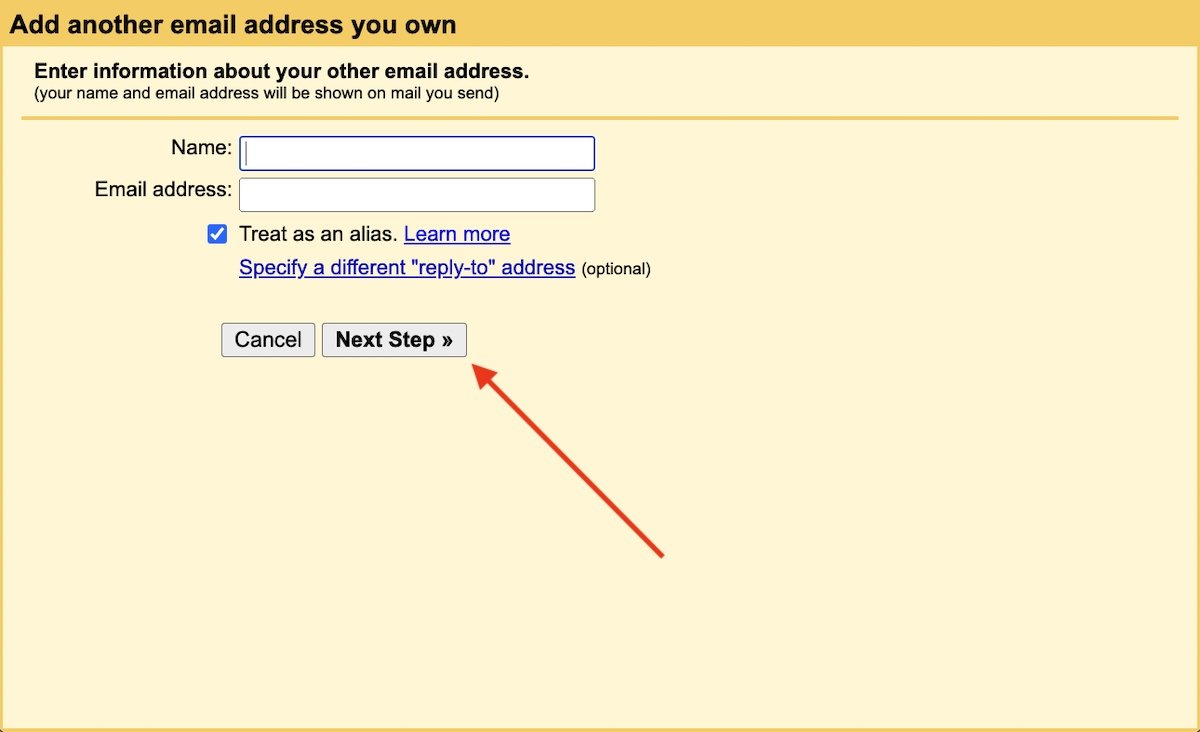 Configure sending in Gmail from another account
Specify the server data, in this case, the SMTP, that is, the outgoing server. Use Add account to confirm.
Details of the outbound server
Gmail will send you a confirmation email where you will have to tap on a link. Then, if you start composing a new email, you will see that you can choose the delivery address.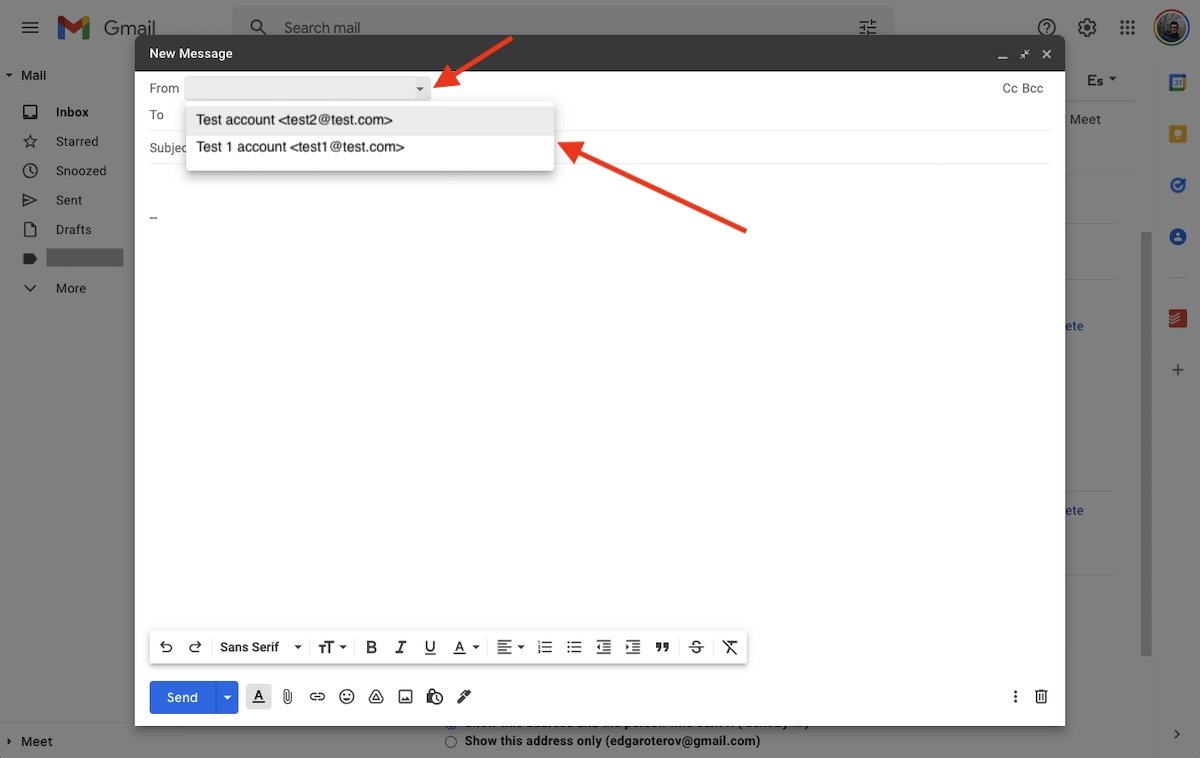 Send emails from Gmail
Remember to repeat this process with each of the addresses you want to configure in Gmail.
How to use your accounts from the Gmail application
All these settings also have an impact on your account when you access it through the mobile application. All emails received from your external email will be stored in the same label or folder. And the same is true if you try to send an email.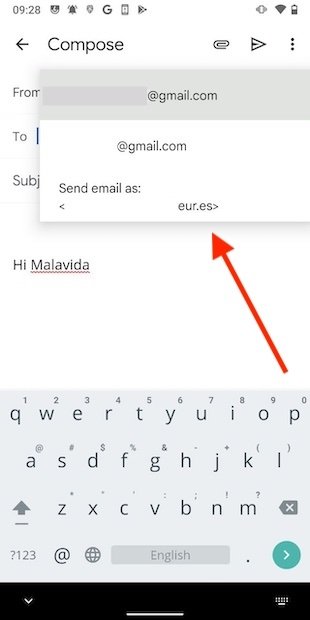 Send from several accounts in Gmail for Android
As was already the case in the web version, the configured e-mail addresses are available when sending messages. All you have to do is sign in with your Gmail profile on Android to use all your accounts.