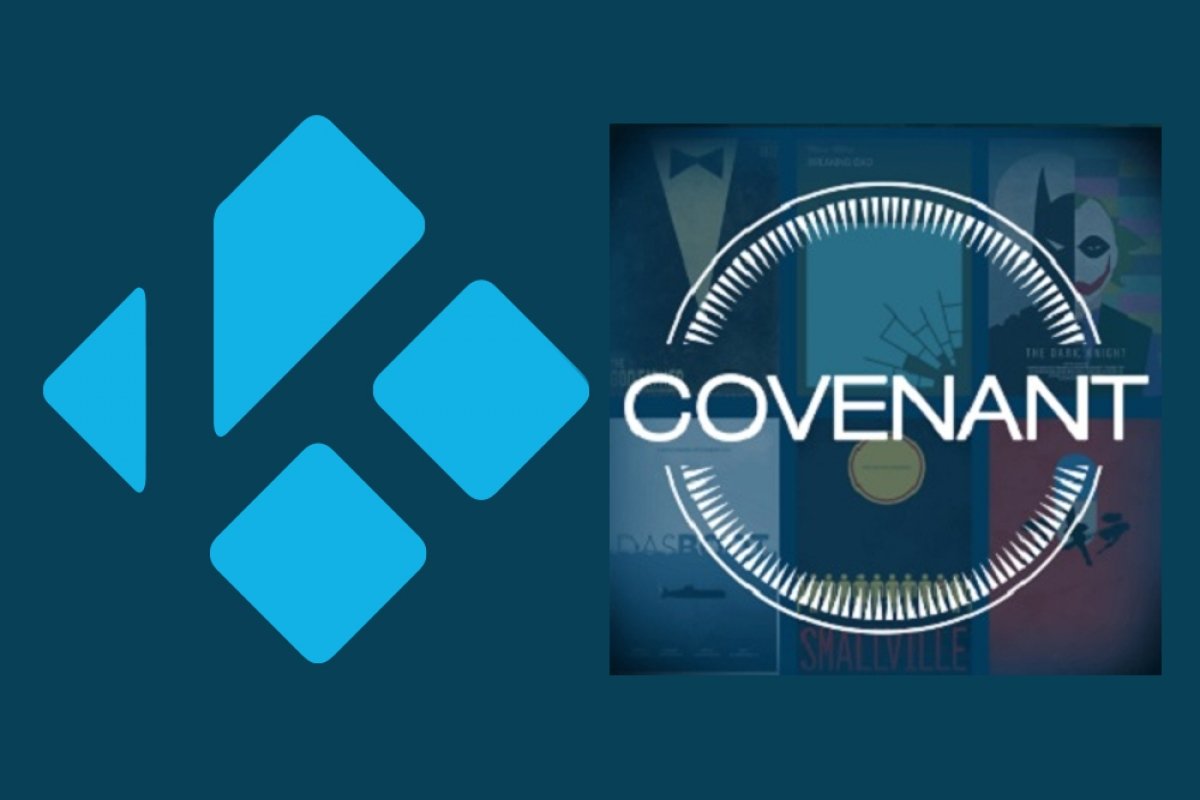 First, to install the Covenant add-on on Kodi for Android, you must download the extension. You can download it from the green Download button below.
Next, you have to enable the installation of add-ons from unknown sources. To do this, go to Kodi's Home and press the button that grants access to the settings.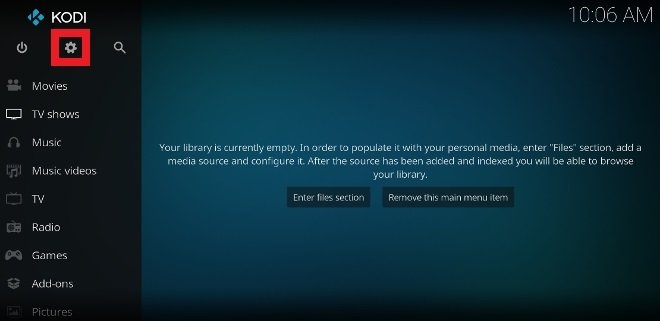 Kodi's settings button
The next step is to enter the System section within these settings.
Access to the system's settings
Search for the Add-ons entry in the side menu and click it to access all its options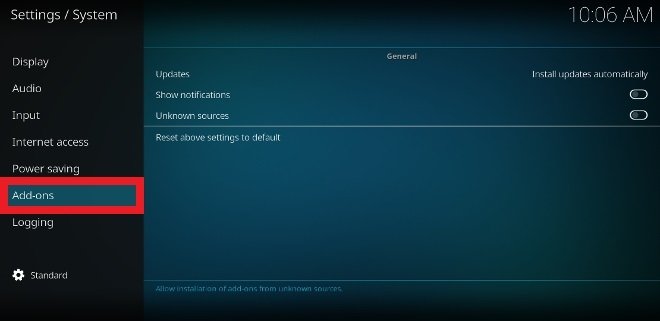 Add-ons section within the settings menu
Tap on Unknown sources.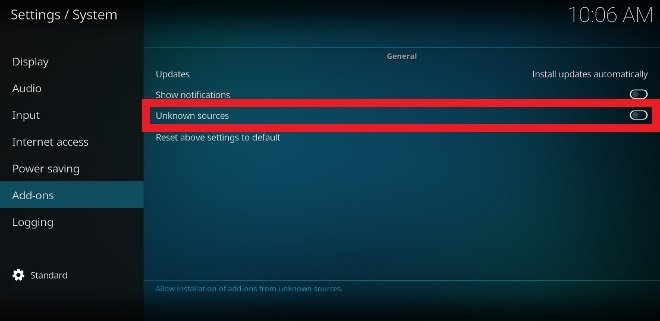 Go to Unknown sources
Kodi will ask you if you really want to do this through a pop-up window, agree by clicking on Yes.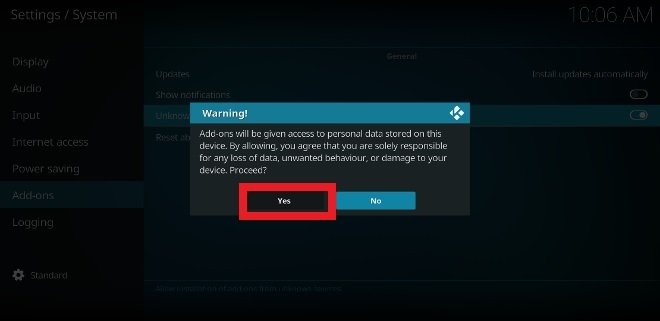 Press Yes and confirm the changes made
Once we have the app ready to install add-ons from unknown sources, it is time to go back to the Home screen. In the left side menu, select Add-ons.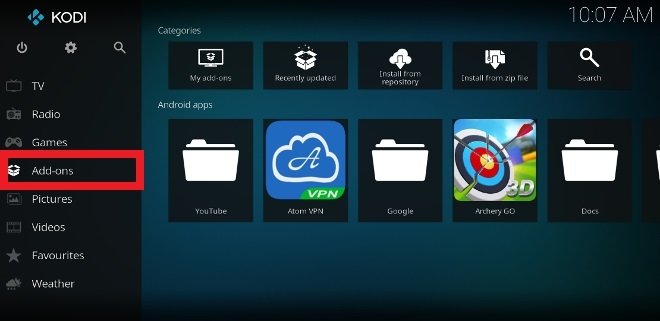 Add-ons section on the general menu
Among all the options available in the upper part of the interface, click Install from zip file.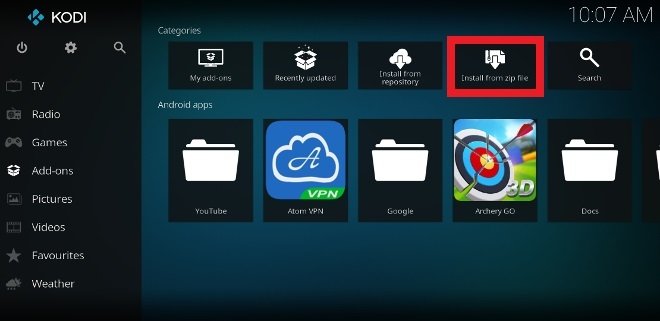 Choose Install from zip file
This action will open a file browser that will let you browse through all your directories. Find the folder where you have stored the Covenant ZIP and click it.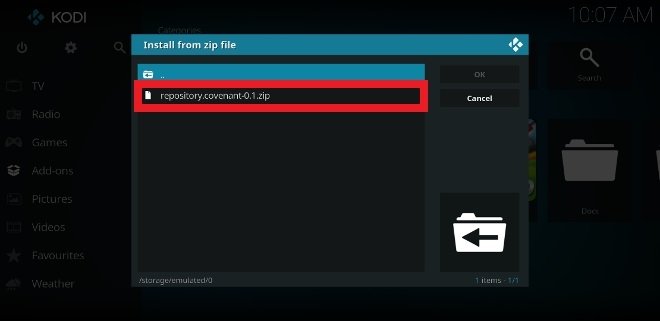 Locate Covenant's installation file amongst your files
After a few seconds, you will receive a notification indicating that the add-on has been successfully installed.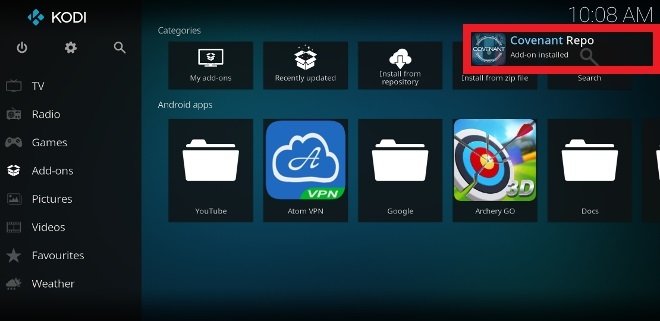 Notification that Covenant has been installed
Now, all you have to do is search through your list of installed add-ons where the Covenant add-on will be ready for use.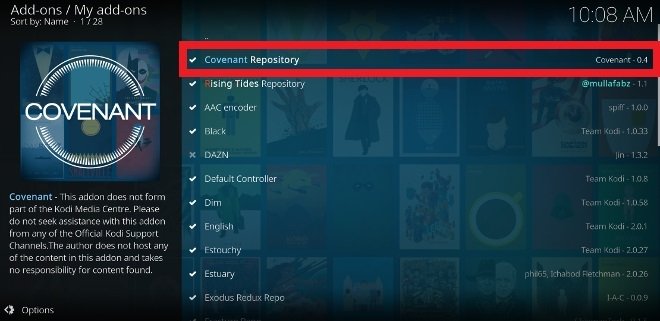 Covenant amongst your installed add-ons
This is the process for installing Covenant, but you should know that it is the same process used to install any other type of add-on downloaded from the Internet in ZIP format unless its developers indicate otherwise. In other words, this is a universal method you can use for any Kodi Add-on.