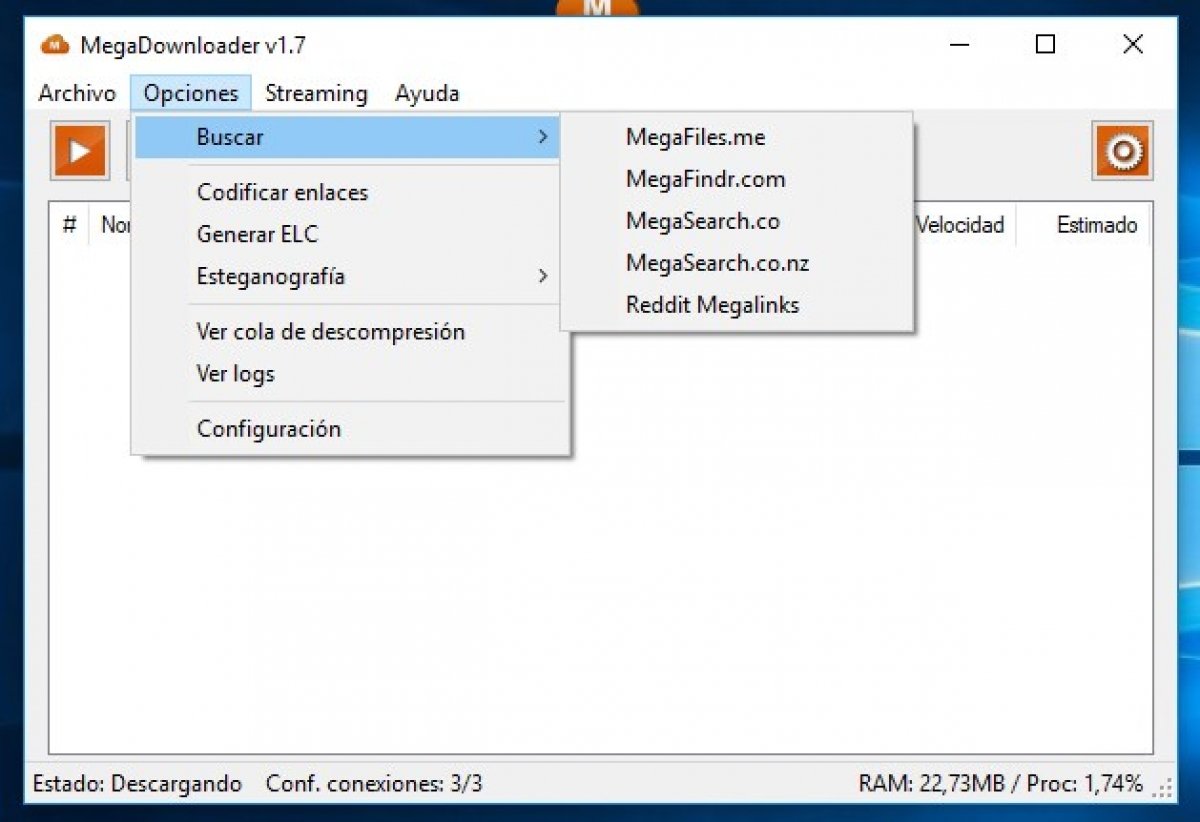 MegaDownloader is an unofficial client to download files from Mega, which is the online storage service created some years ago by Kim Dotcom. It can be used to easily download any file hosted on this online storage platform created in 2013 by the controversial Internet celebrity after the FBI shut down his previous project, Megaupload. As we said before, it has got nothing to do with this cloud storage provider that appeared on the scene a few months after Megaupload was shut down following the arrest of its founder.
With MegaDownloader, we can download any file hosted on this new version of the service provided that the file isn't protected with a password. The vast majority of files hosted on this service are available for any user, but if the file is blocked with a password, you'll need to get hold of the key beforehand. This is an unofficial client to download files from Mega.co.nz. It's much lighter than the official app and that's why it's a great alternative.
It can be used totally free of charge and it offers its users the following features that can download any file without requiring a user registry:
Speed: it allows the simultaneous download of several files making the most of the user's entire bandwidth.
Lightweight: it weighs under 2 MB and consumes very few resources without creating large temporary files.
Security: it doesn't display any adverts to the user, it doesn't gather any user data and only connects to Mega's servers. The internal information handled is encrypted locally be means of the DPAPI and AES protocols.
Simplicity: it's equipped with a simple interface so that configuring and managing downloads is as easy as possible.
Different functions: it offers us all sorts of functions to pause, stop, and resume the downloads, place files in the queue, group them into packs to download them in an organized manner, extract files automatically, detect Mega links automatically, different languages for the interface…
Furthermore, it doesn't require a powerful computer to work. It works perfectly with an old Windows XP (and above) and you only need to install .NET 4.0 or above.
Using this client for computers running on Windows operating systems has several advantages compared to the web page's options. Thanks to this program you can have in the same folder all downloads you carry out (as well as being able to manage them), and configure the download of several files at the same time without having to wait any time between one and the other.
Yes, from the web you can also download several files simultaneously but you have to go from one file to another giving the order to download in each case. With this program, we'll only have to add all the links to the list, press the corresponding button to start the download, and the application will do all the dirty work for us so we don't have to worry about anything. Without a doubt, the perfect companion for the most frequent users of Mega.