Over the years, Discord has become one of the most popular chat applications. Its endless possibilities in terms of configuration, as well as its ease of use even though its browser version, make Discord one of the users' favorite programs for communication online. In fact, in 2021, Sony invested in Discord to get its system integrated into PlayStation consoles. Let us tell you everything you need to know about Discord in this article.
What is Discord
Discord is a chat application available for computers and smartphones. Thanks to this app, it is possible to communicate with one or several people at the same time. It is possible to communicate via text, voice call, or even video call. It is also possible to send files or use emojis in our conversations with other users.
Discord is a program focused on group communication rather than personal contact. Although you can use it to talk to your family, the fact is that you get much more out of it when you use it to talk to your co-workers, classmates, or even to talk to people with a common hobby.
Precisely for this reason, it is widely used by gamers: it is very easy to manage groups and voice chats where members of a competitive Fortnite team can be, or simply have connected all the players who want to have fun in Among Us (and incidentally, reveal who is the impostor to win). Remember that not all online video games offer voice chat, so this type of tool is more popular among players.
What it stands out for
Discord has many unique features that are difficult to see in other similar programs. Applications such as Skype, Hangouts, or WhatsApp do not have configuration options as complete as those offered on Discord servers. Below, we explain some of the most distinctive elements.
Usernames: Discord Tags
Unlike other programs, the search for new contacts is based neither on phone numbers (as in WhatsApp) nor on real names and surnames (like Facebook), but usernames with their own nomenclature, the so-called Discord Tags.
These usernames are a bit difficult to remember, as they are a nickname chosen by the user followed by a hash (#) and four digits. The nickname is case-sensitive as well as special characters. The traditional method to add someone as a friend is to copy their Discord Tag exactly.
Groups and servers
Discord offers several options to talk with several people at the same time. The easiest way is to create a group by opening a DM (direct message) and adding up to 9 people (10 including you). In the Home menu, you will see a chat dedicated exclusively to these people.
On the other hand, there are the servers, that offer a highly structured organization with lots of possibilities. On each server, it is possible to create several chats and voice channels, choose the users who have privileges or can enter certain chats, broadcast live video, and more. Thanks to the servers, it is easier to add friends or colleagues, as their profiles will appear in the section of connected and disconnected users.
Bots and commands
One of the most distinctive features of Discord is the enormous range of configuration possibilities it offers. In a chat, it is possible to add bots that reply to our requests. Some bots let us play a song in the voice chat, others can guess a character we are thinking about (the famous akinator), others can inform us of our level according to the number of posts we make, censor our messages in case we use swear words, and more. To "make these bots work" it is usually necessary to use certain commands. Each bot has its own nomenclature, so you must learn the bot nomenclature of those you want to use.
How does Discord work?
In case you have never used Discord before, we explain how to use each of its main features. First of all, what you need to do is to install the APP. You can download the APK by using the download button at the end of this guide. After downloading and installing it, open the app. You will be given the option to register or enter your credentials if you already have an account.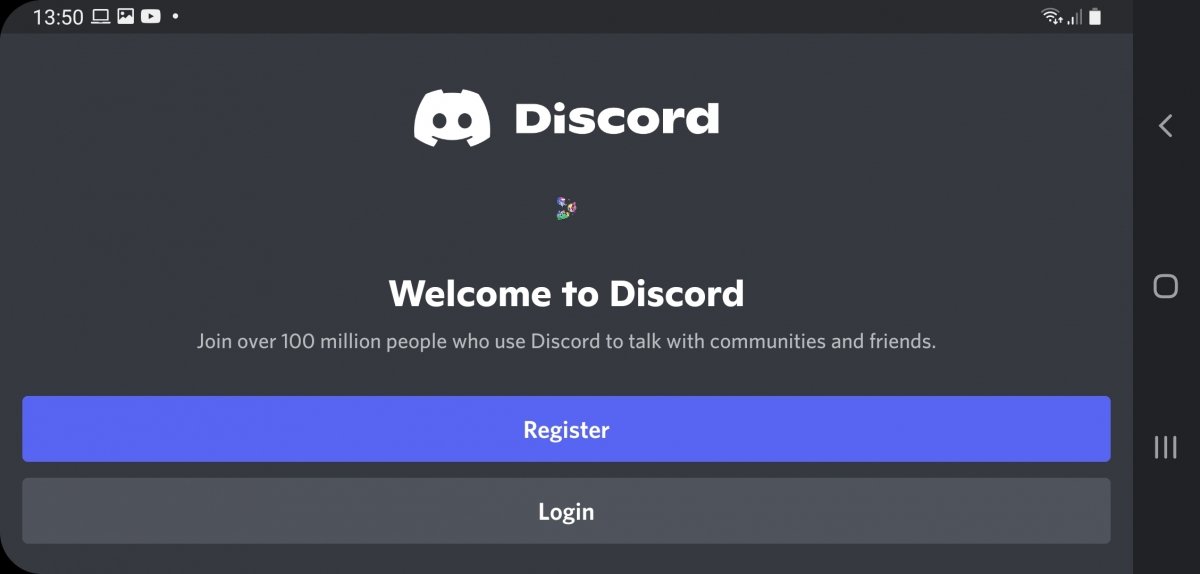 Discord's registration or login form
To register, you must enter a telephone number or e-mail address. After entering it, tap Next.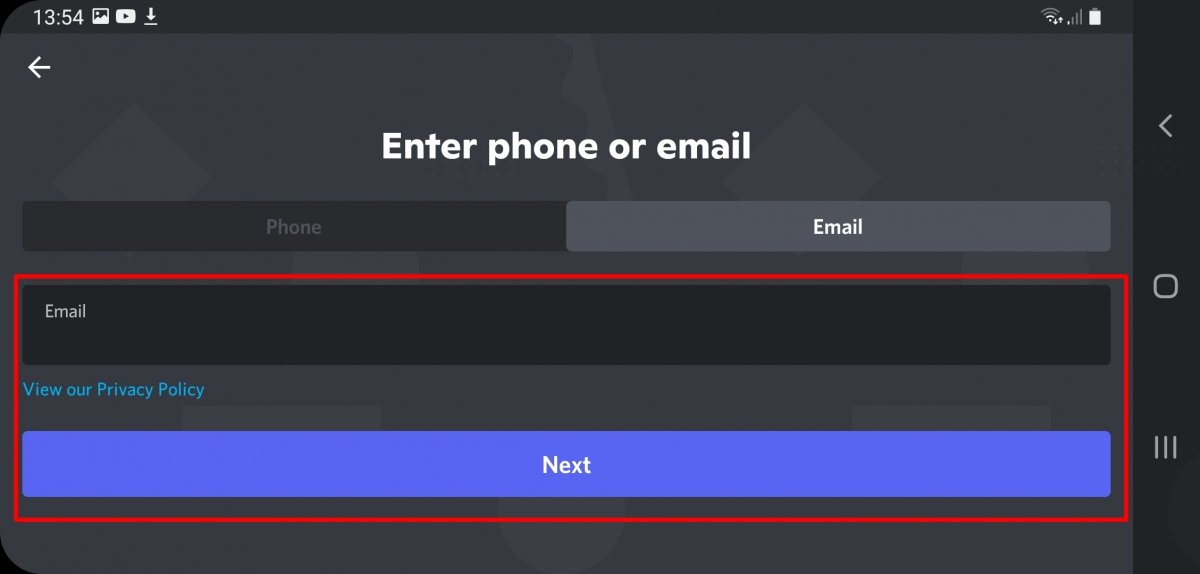 Enter your email and continue by tapping Next
Now, you must choose a user name and password. Tap Next again.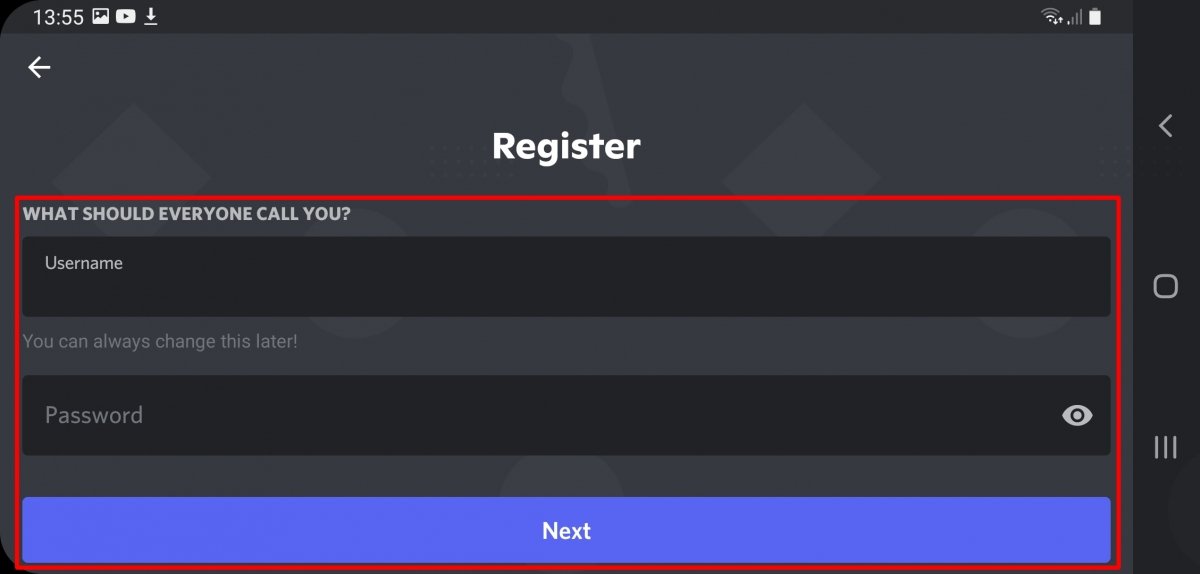 Write your username, password, and then press Next
Finally, you must enter your date of birth and accept the terms and conditions of service. After that, tap on Create an account.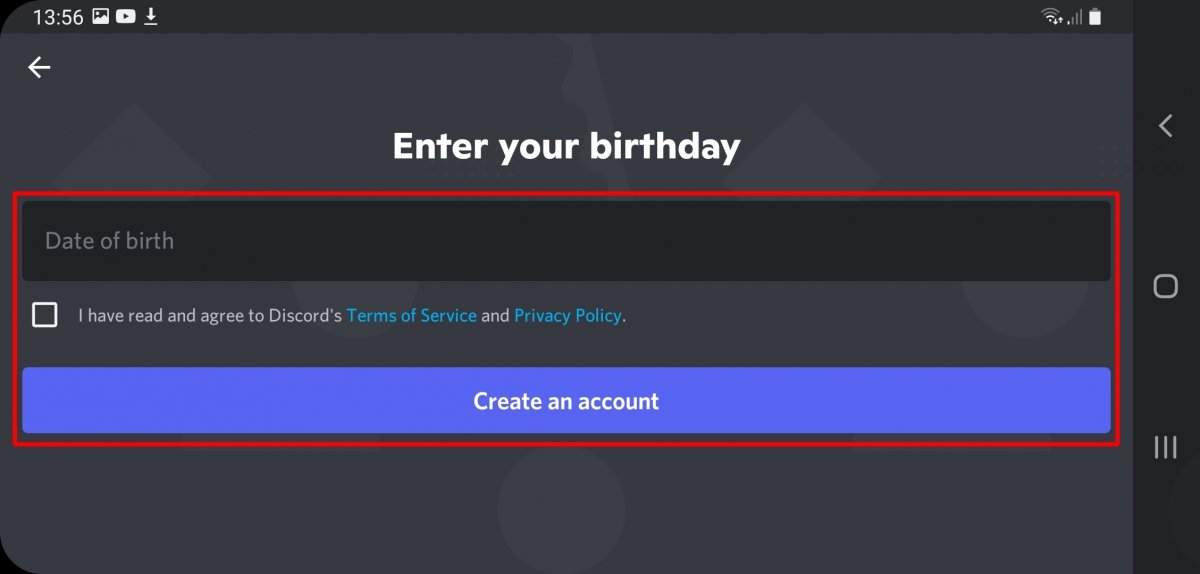 Enter your date of birth and tap on Create an Account
Add friends
After installing Discord, the first thing you need to do is to add friends. From the home screen, go to the friends menu by tapping on the icon of a person with an upraised arm at the bottom of the screen.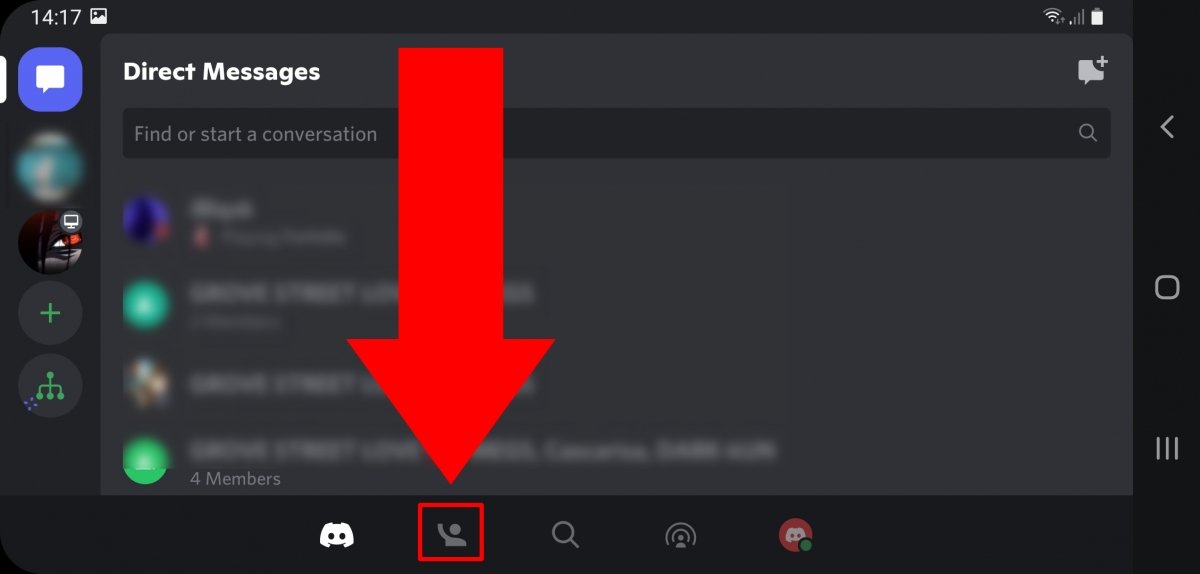 Tap this icon to go to the friends section
On this new screen, there is an interesting button, Find your friends, that lets you find friends by browsing your smartphone's contacts. If you want to enable this option, tap it.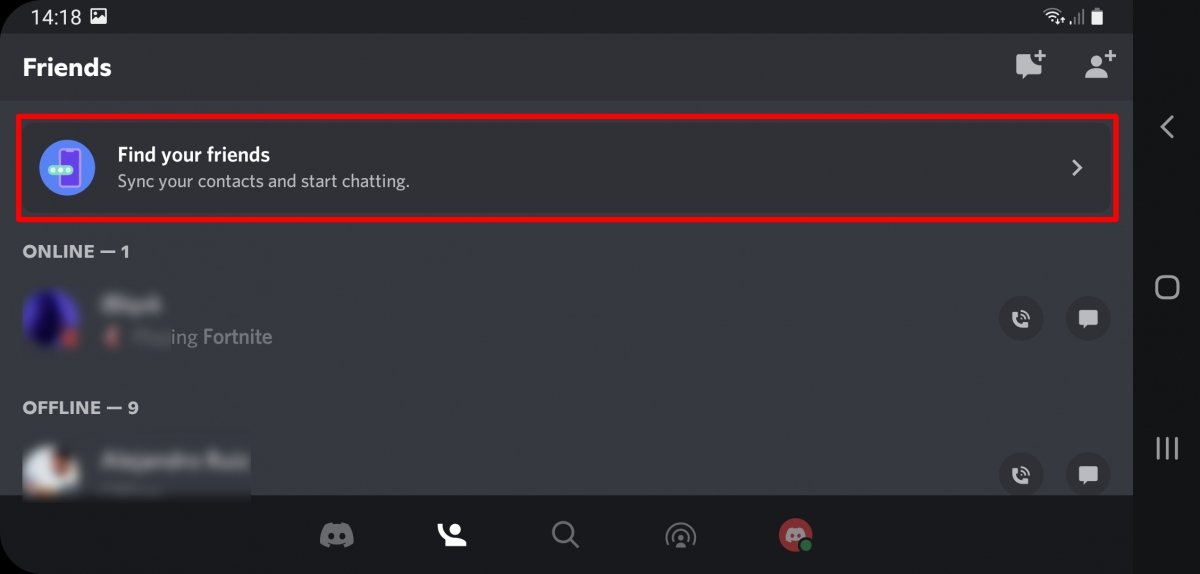 Tap on Find your friends to start looking for friends
Now, tap on Get Started.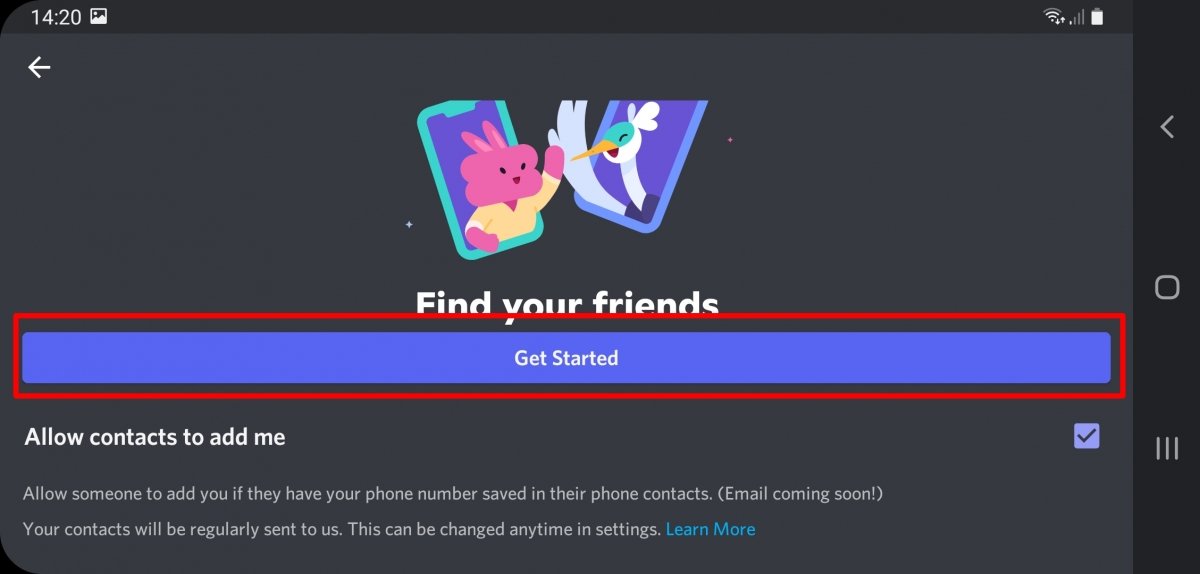 Press Get Started to continue the procedure
If you registered by email, you will be asked for your phone number. After that, tap on Next.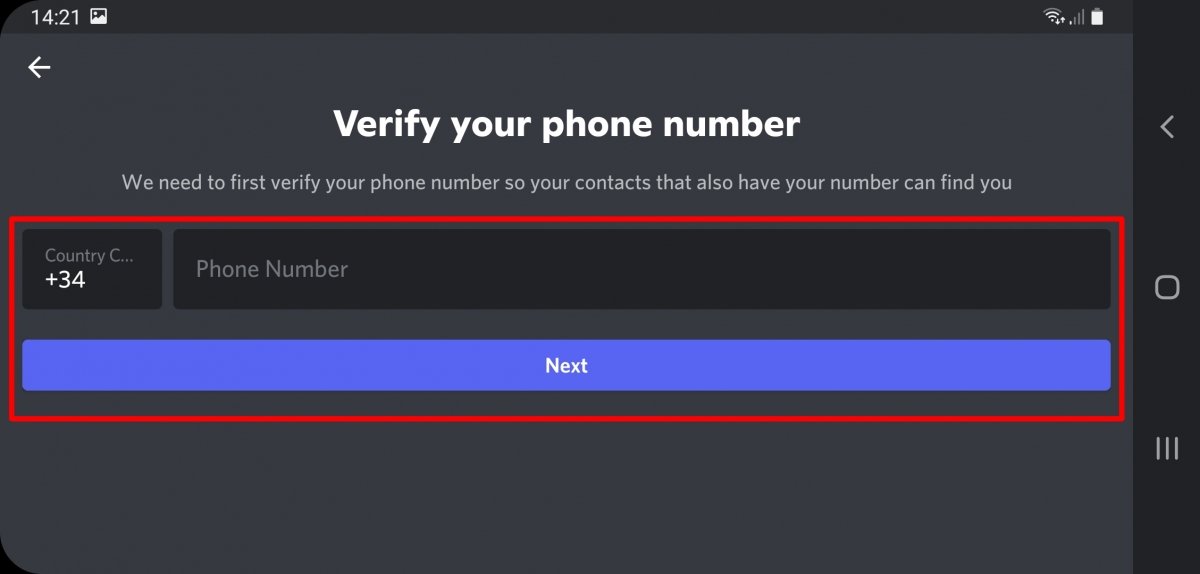 Enter your phone number and press Next
An SMS will be sent to you with a code. Enter it on the next screen and tap Next again.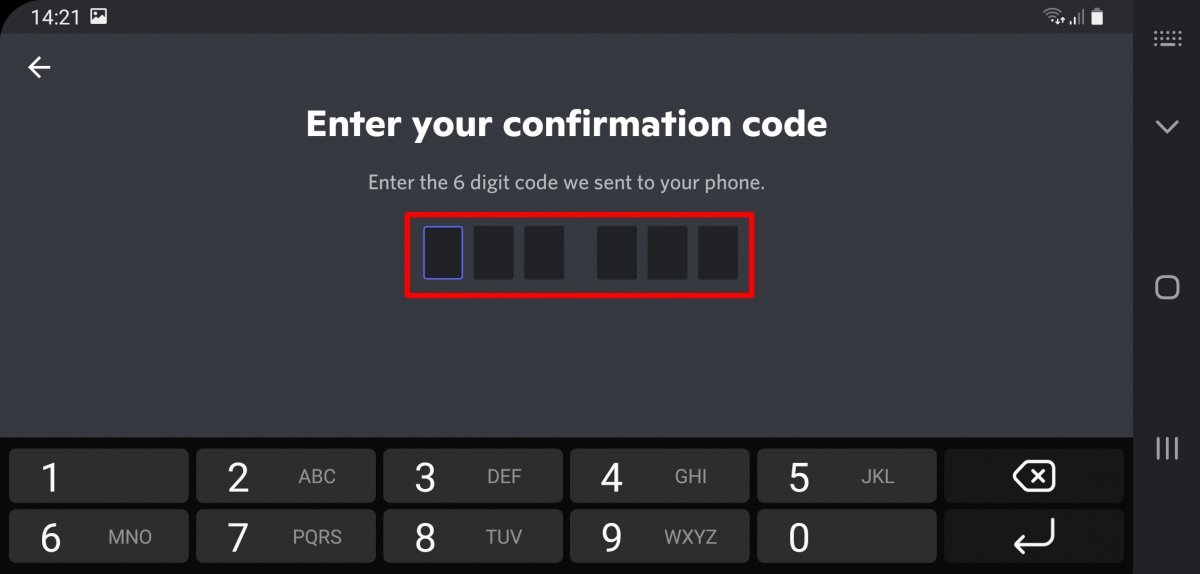 Enter the 6-digit code you have just received by SMS
Now, the smartphone will ask you for permissions to view your contacts, tap on Allow to grant them.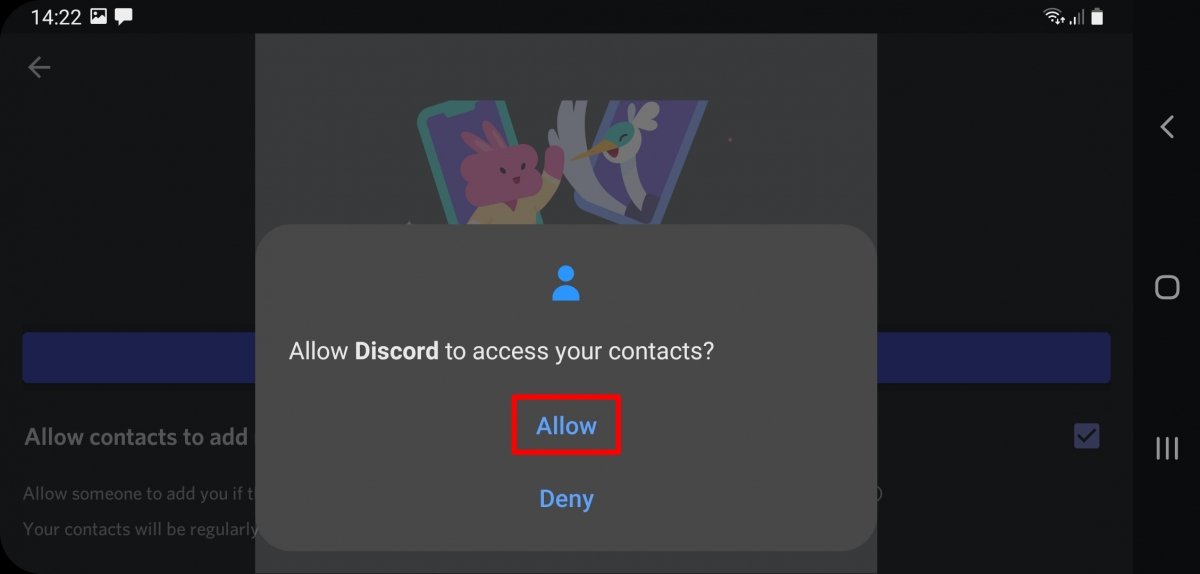 Grant permissions to Discord by pressing Allow
In the next step, you are asked to enter your name. After that, tap on Next.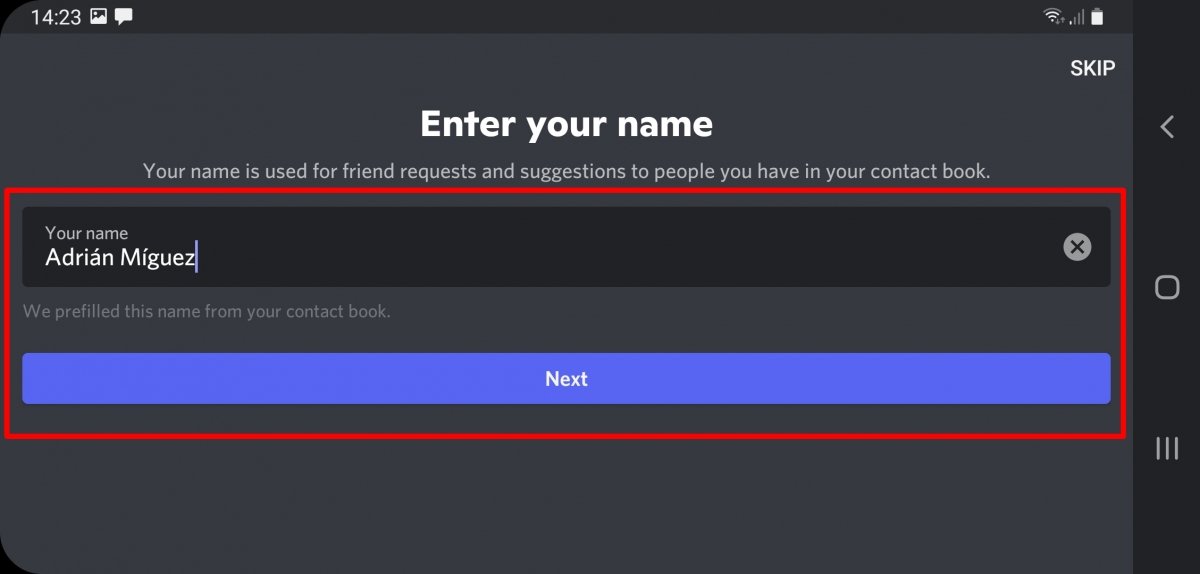 Enter the name you want to be found by other users and press Next
Now, you will see the contacts that have a Discord account. Select the ones you want to add and click Next.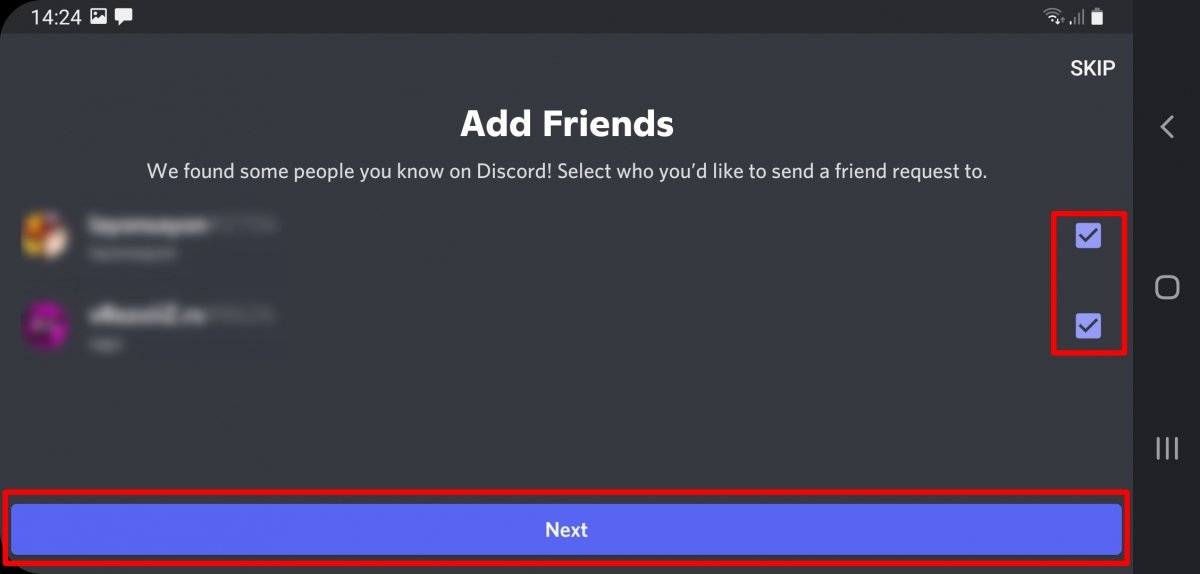 Check the boxes of the people you want to add and press Next
After that, the people to whom you sent the friend request on Discord will receive the notice and will be able to add you by accepting it.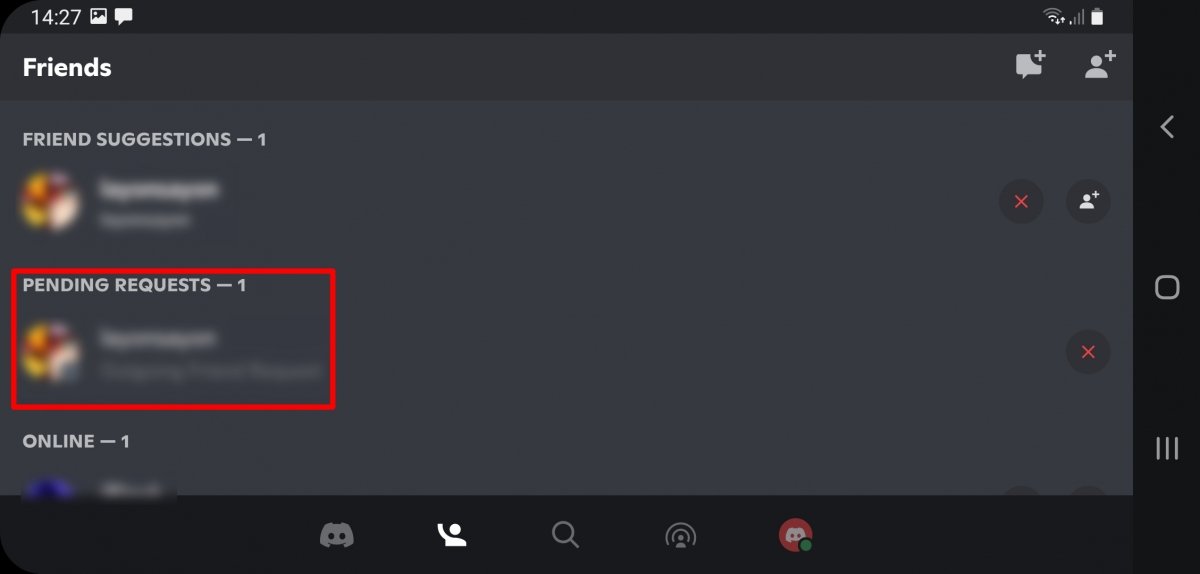 The friends you try to add will receive your friendship request
Another way to add friends is by knowing their Discord Tag. From the friends menu, tap on the button in the upper right corner.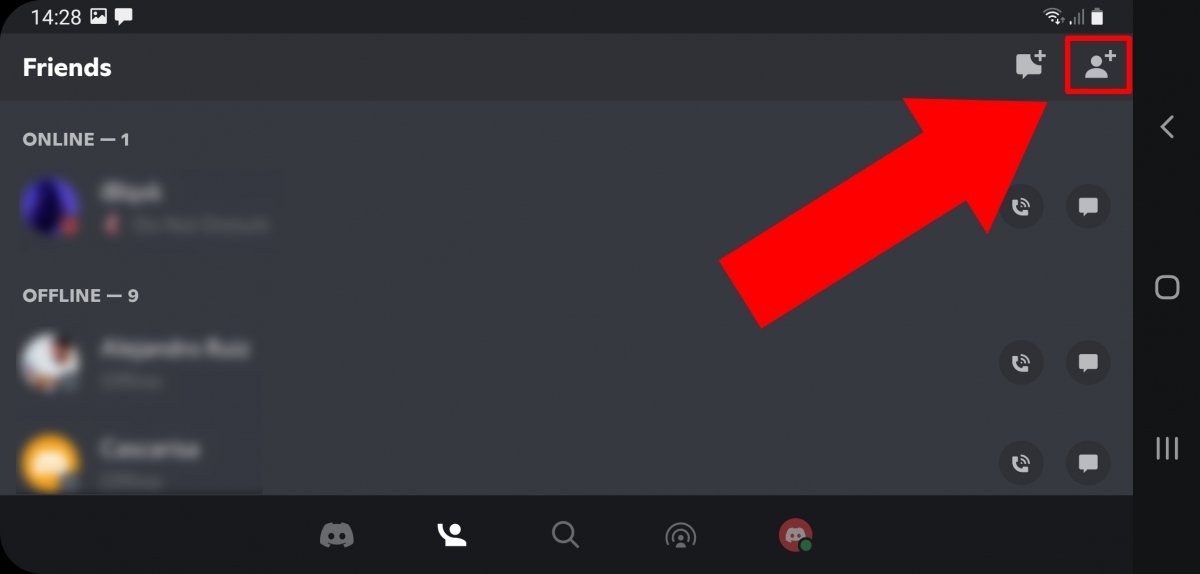 Press this icon to add a new friend
In the box, enter your friend's Discord Tag and select Send Friend Request. Here, you can also see your Discord tag to pass it to a friend and have them add you.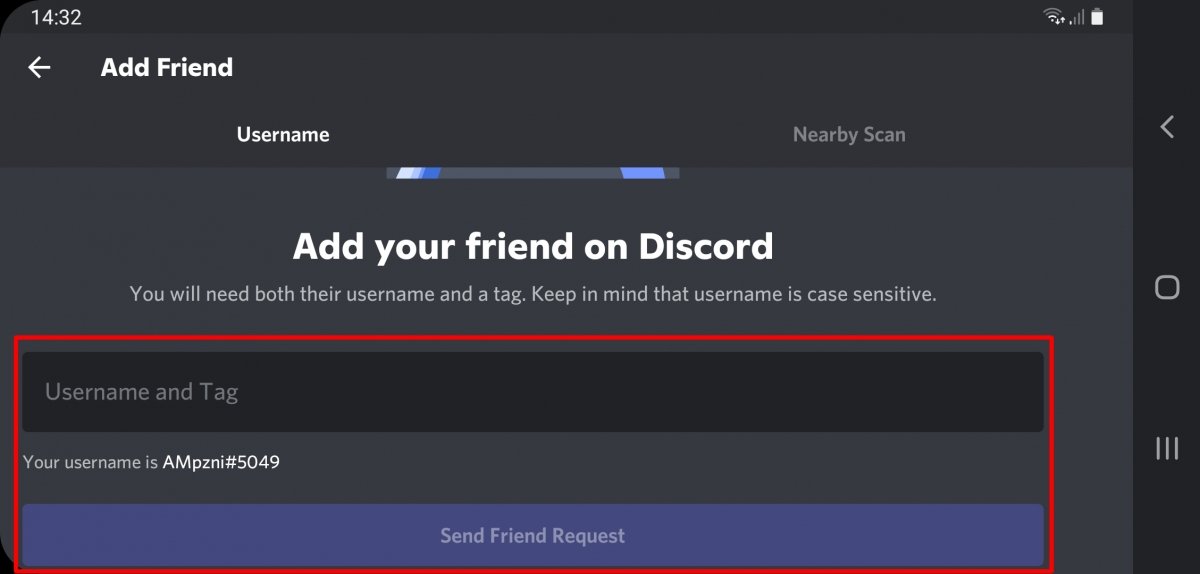 Enter your friend's Discord Tag and press Send Friend Request
Chats, calls, and video calls
Starting a chat with a friend is quite simple. Search for your friend in your friend's list and tap on the message button. You will automatically access the private chat with that person.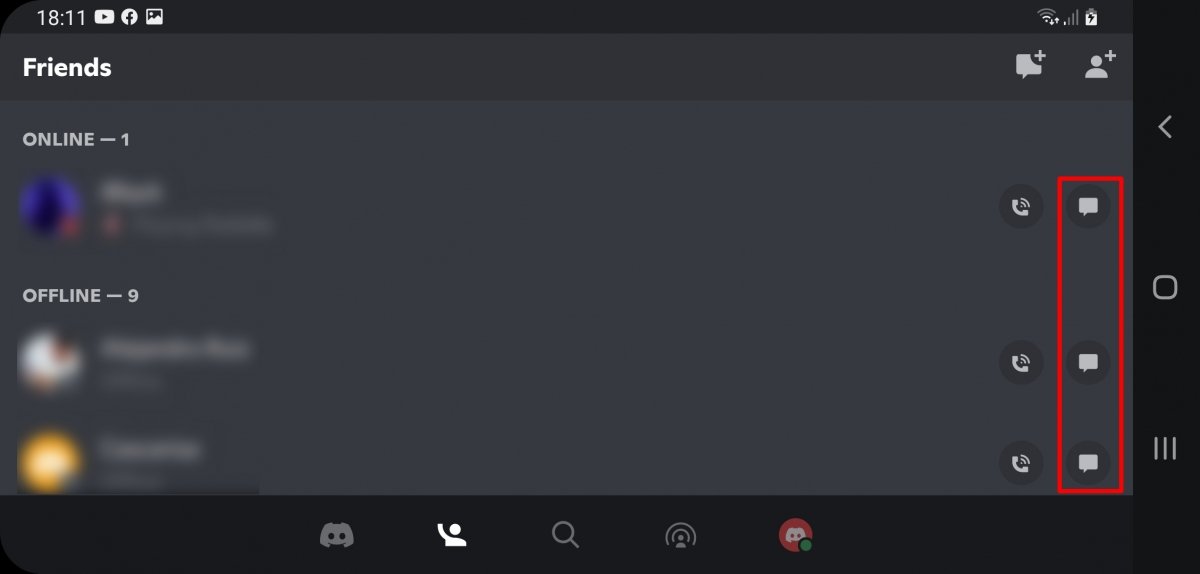 Tap the message icon to start chatting with a friend
For a call, it is the same procedure by tapping on the phone icon instead of the message button.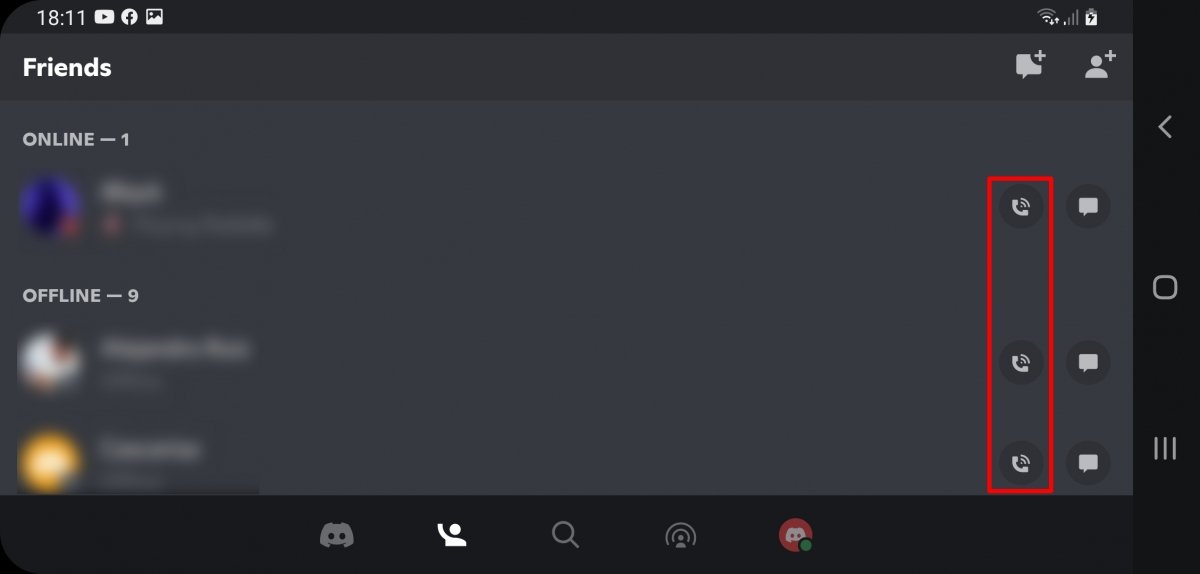 Tap the call icon to start a conversation with your friends
In case you want to make a video call, with that person's chat open, tap on the video camera icon.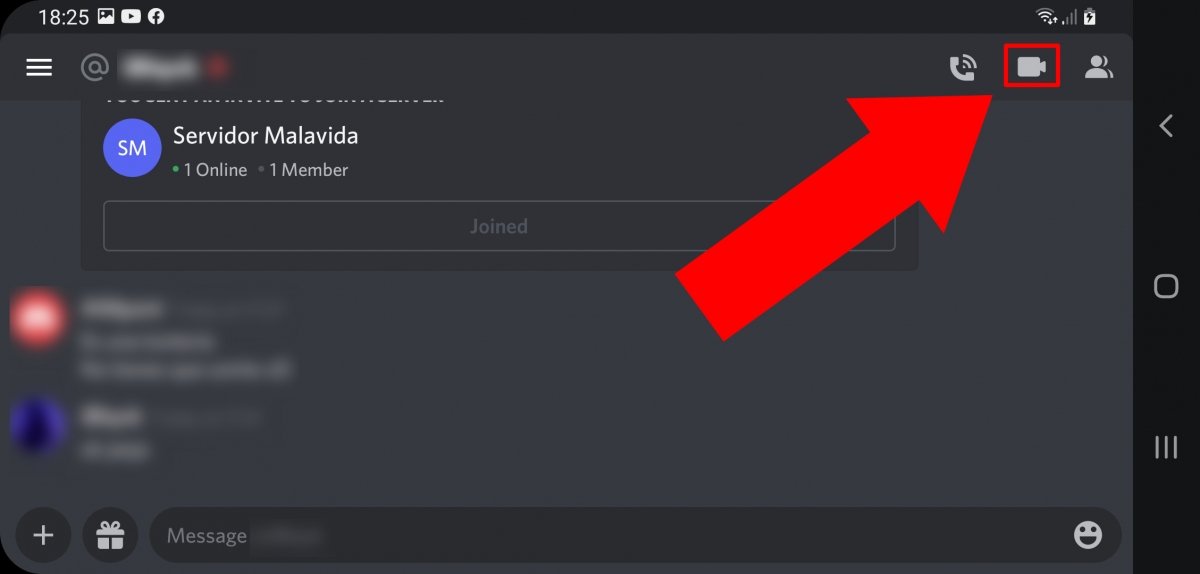 Press this icon to start a video call
Group chats and servers
To start group chats or join servers, you need to go to the Discord home menu, tap on the Discord logo to do so.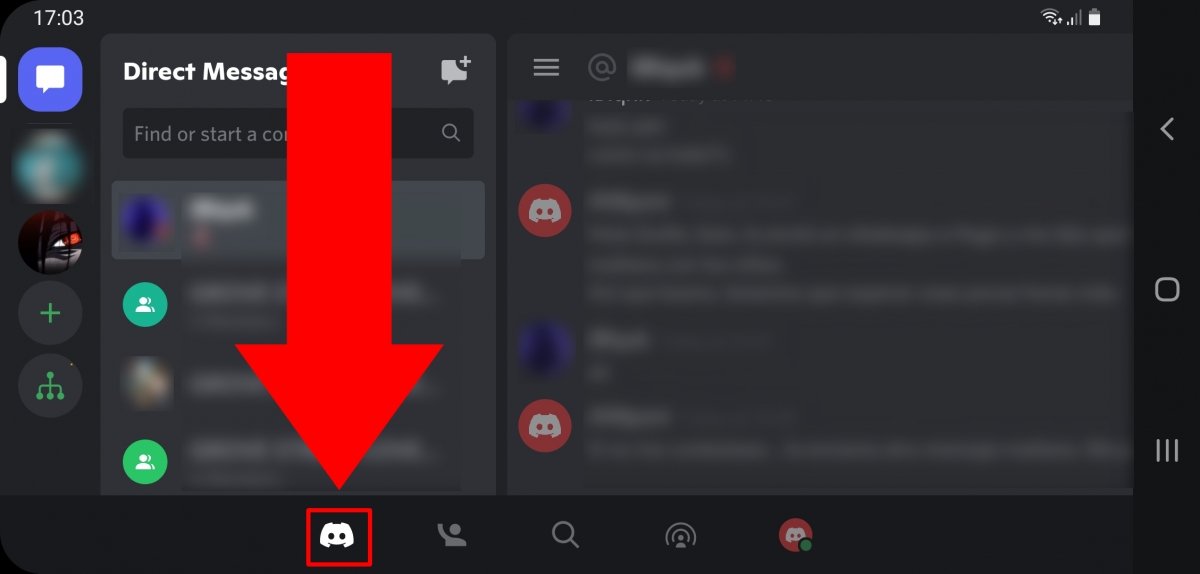 Go to Discord's start menu
If you want to start a group chat, tap on the icon next to Direct Messages.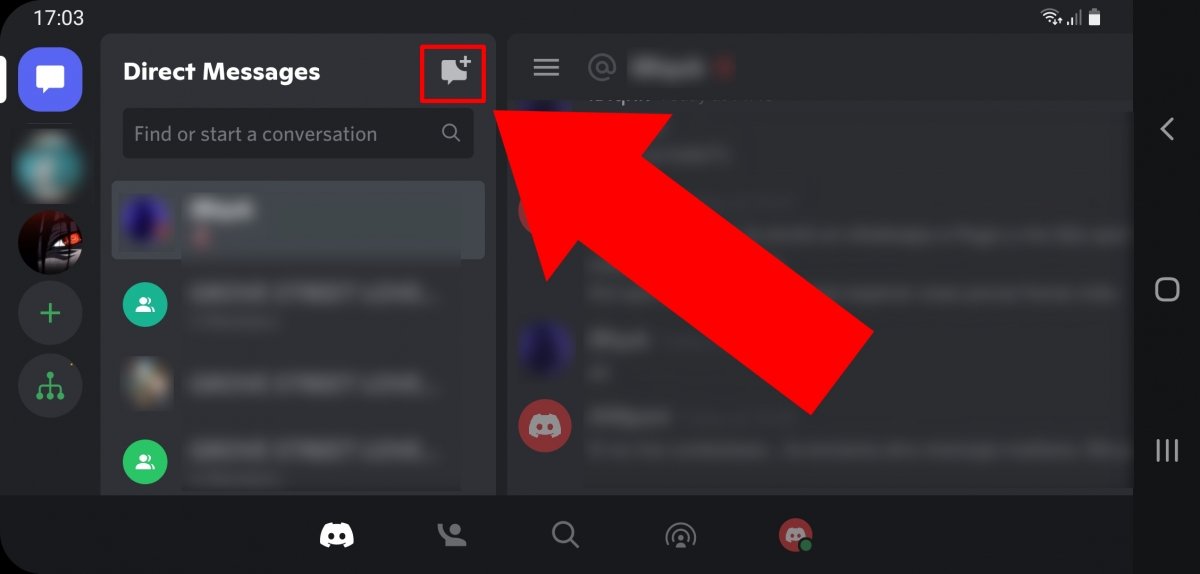 Tap this icon to start a group chat
Tap in the box of each of the friends you want to include in the group.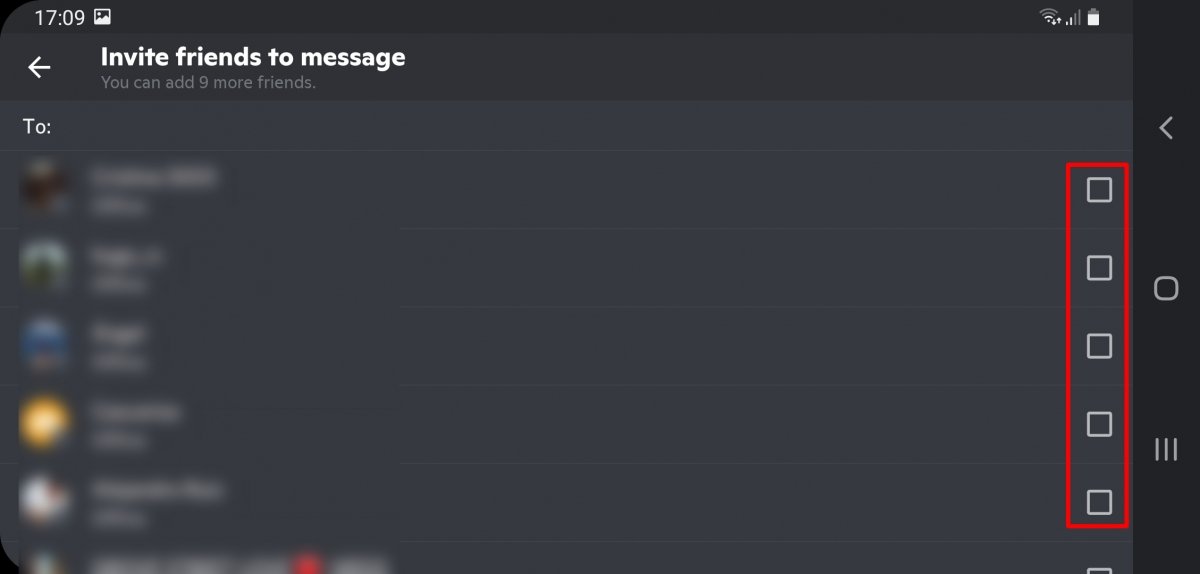 Tap the boxes of the people you want to add
Finally, tap on the button with a kind of arrow to complete the creation of the group.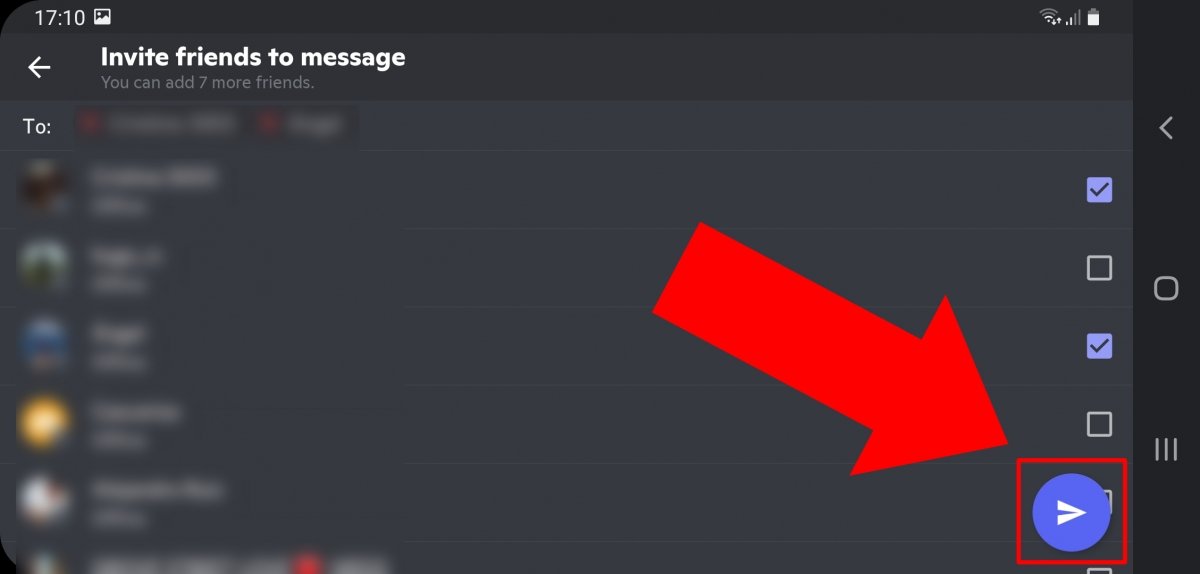 Press the arrow-shaped icon to create a group chat
With this, the group chat is now created. There, you can comment on all its components, as well as make a group call or video call.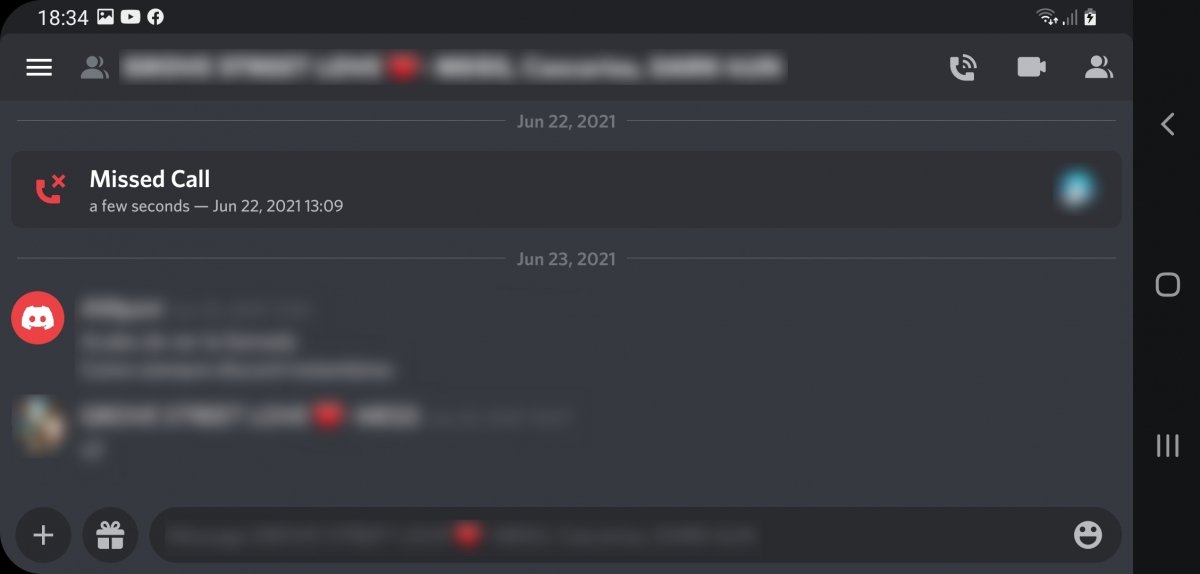 Aspect of a group chat
In case you want to have much more than a single chat, or simply want to gather many more people than a single chat allows (10), there is the possibility to create or join a server. To create one, tap on the plus (+) button.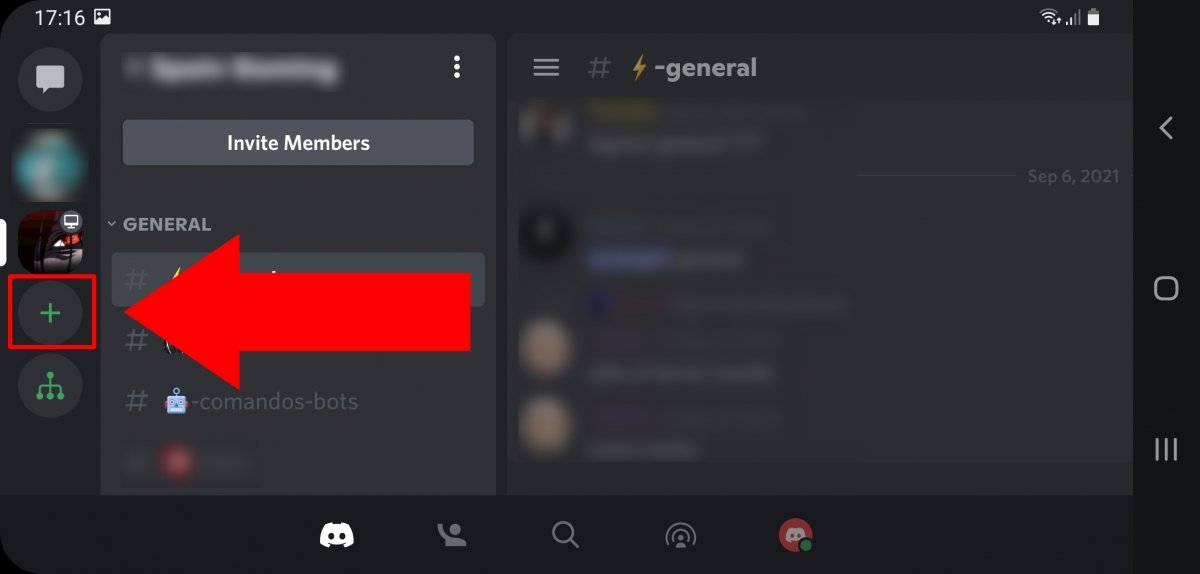 Press the plus button to create a new server
Choose one of the themes from the default ones.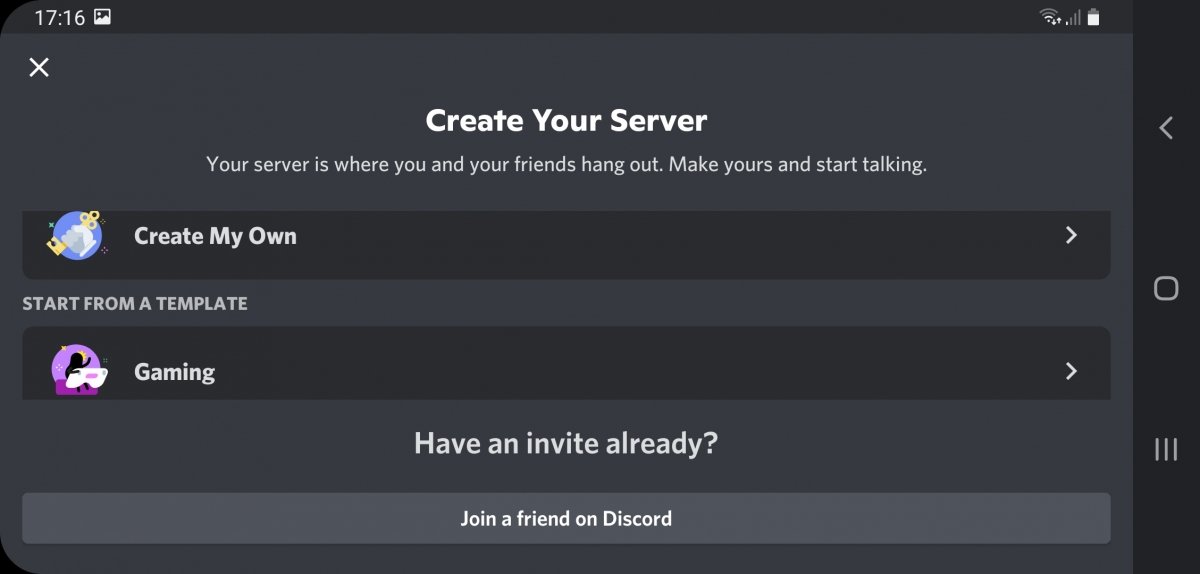 Screen to select the server's theme
Choose if the server is for talking with friends or if it is more of a community.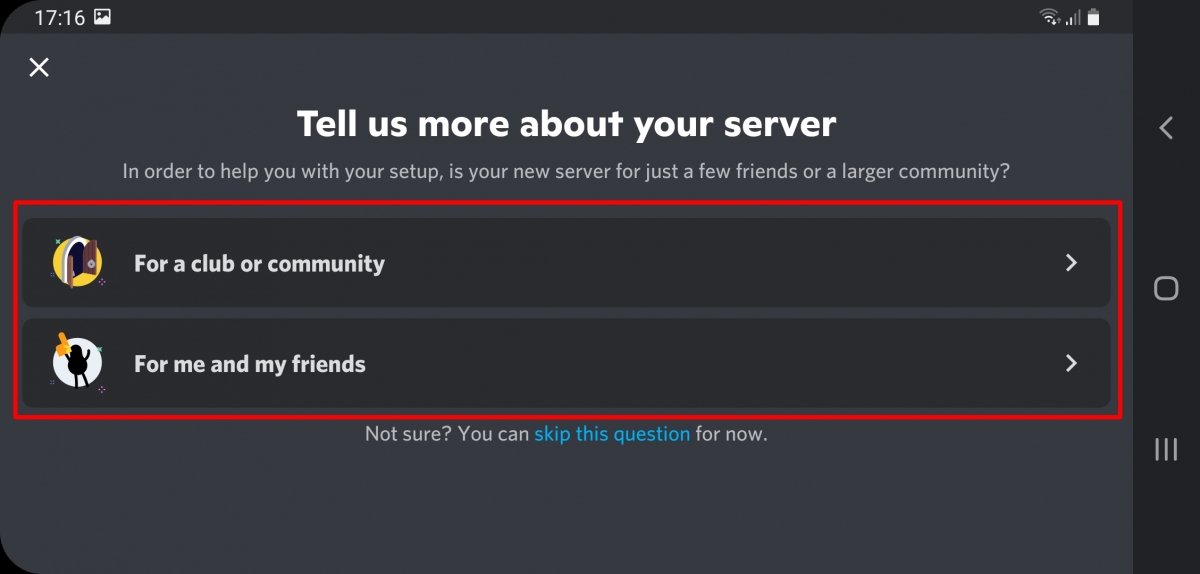 Choose a server to create a community or to chat with friends
Add an image and name the server before tapping Create Server.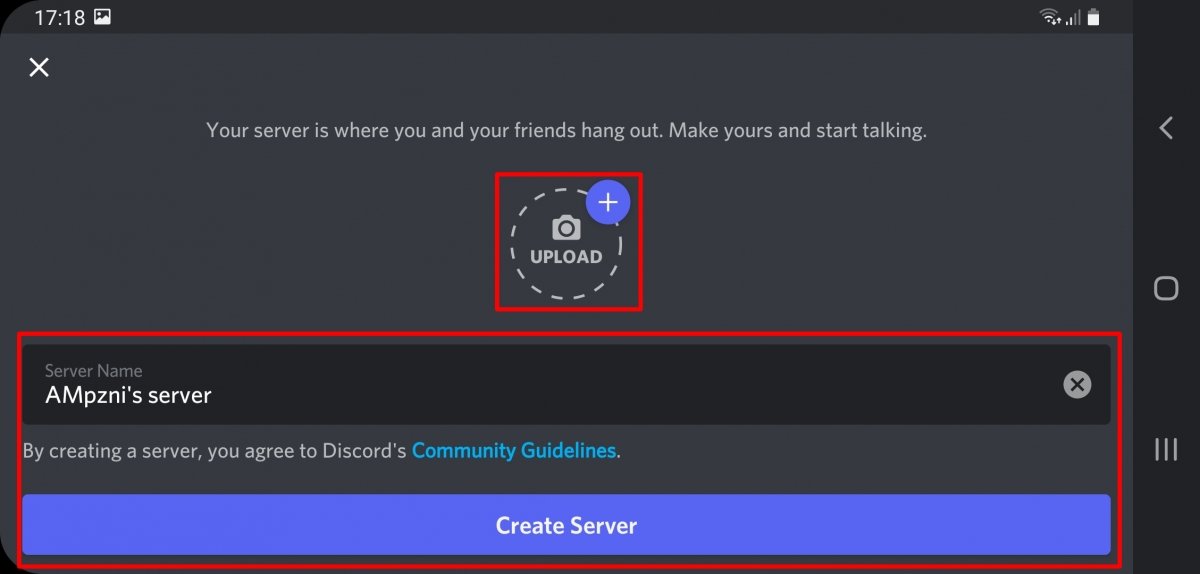 Give the server a name and photo before tapping on Create server to create it
In the next screen, you must write the topic of this server.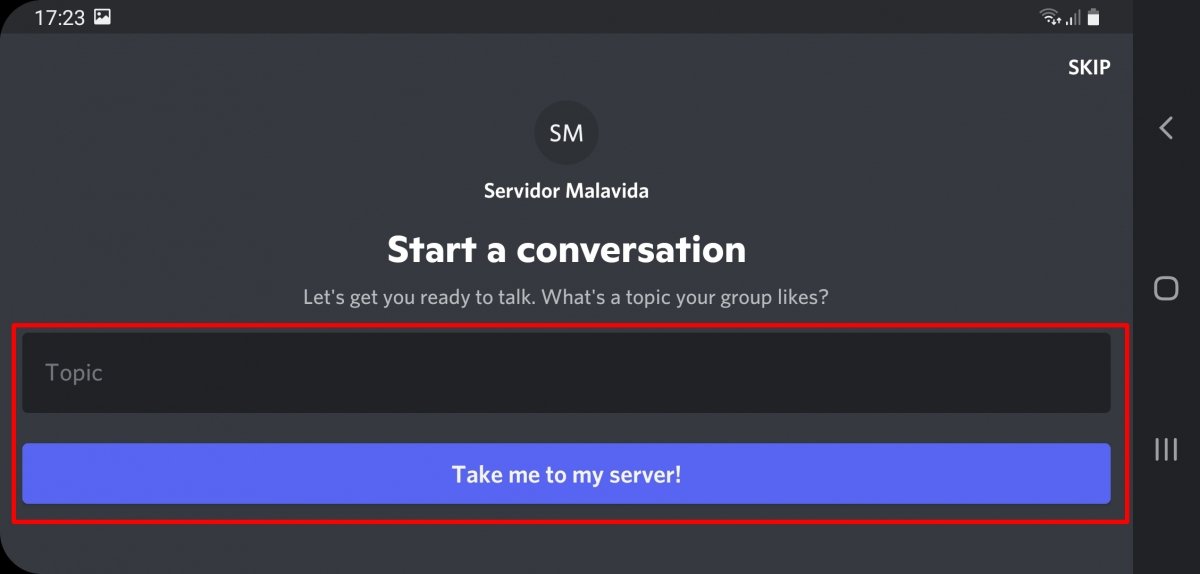 Briefly describe the theme of the Discord group
Finally, you can invite friends by tapping on the Invite button, or directly pass them the link that appears on the same screen. A Share Link button even appears to share the link through other applications on our smartphone.
With the Invite button you can invite a user to the server or share a link
With the server already created, you can easily add several chats and voice channels to it by tapping on the + button next to Text Channels and Voice Channels.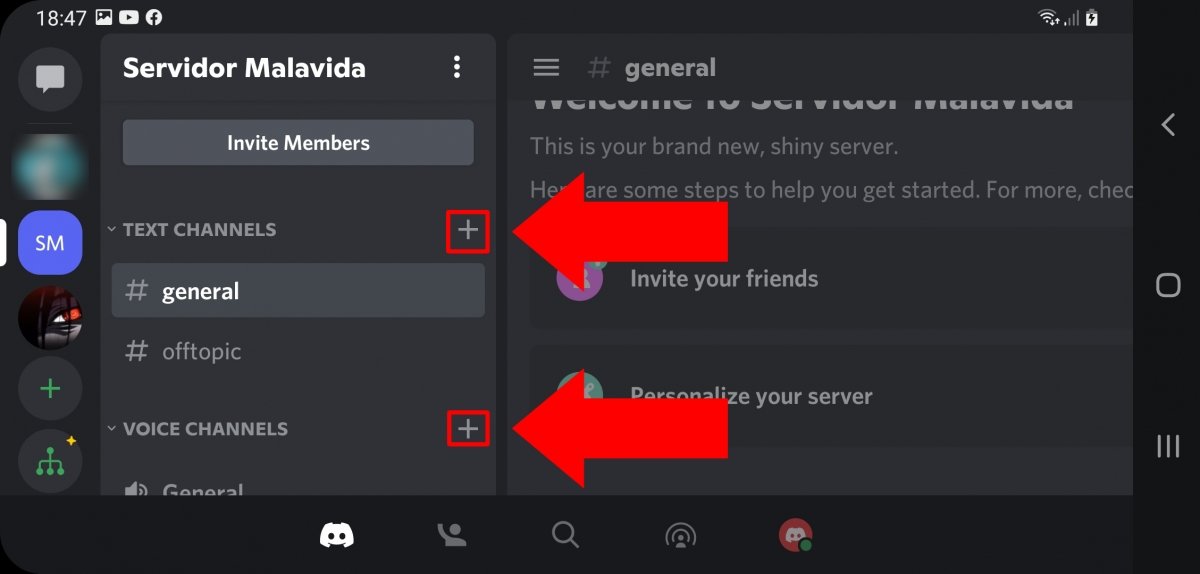 Press one of the plus buttons to add a new channel to the server
When creating a new channel, you must enter its name, type, and whether it is a private channel. Finally, tap on the validate icon to create this new channel.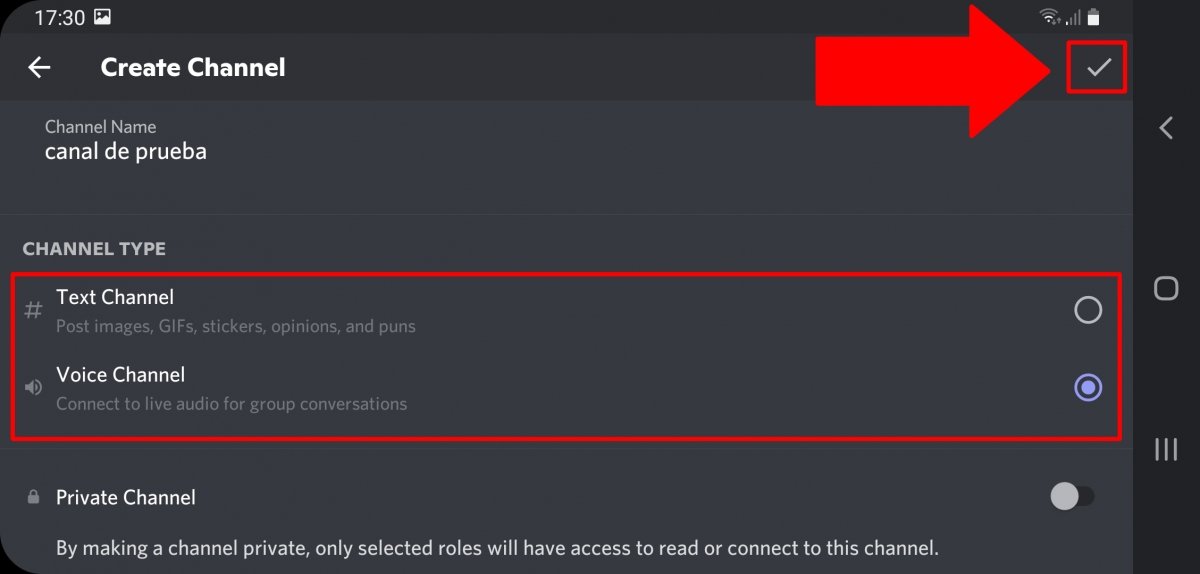 Choose whether you want a text or voice channel and press the upper checkmark
Thanks to the possibility of creating several different channels, the servers let us better organize our conversations with friends and acquaintances.