Twitter offers us the possibility of verifying our account to generate trust among users of the platform. The verification process confirms the identity of the user, and there are different methods to complete it. In this step-by-step guide, we will show you how to apply for an account verification.
What is a verified Twitter account?
A verified Twitter account is a profile with a proven identity. The verification proves that behind the photo is the real person, company, or entity popularly identified with the name taken. Thanks to this, users can differentiate fraudulent or fake accounts from real ones.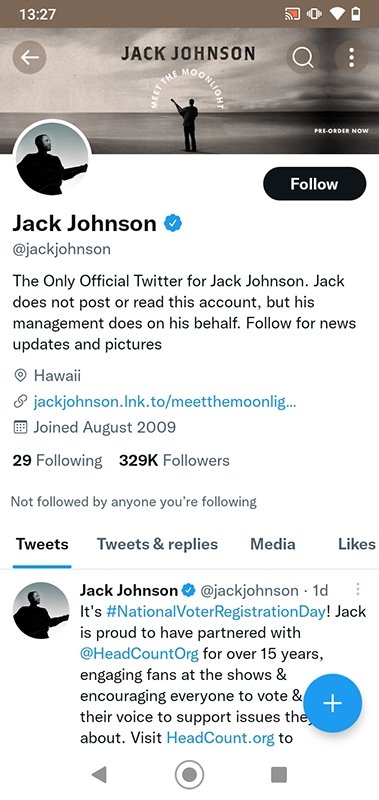 Verified Twitter account with a blue tick
The social network sets apart these profiles with a blue badge icon with a check mark inside that appears next to the user name. In other words, to find out if a Twitter account is verified, just look at the name and check if it has the blue badge.
Requirements to verify a Twitter account. How many followers do I need?
Not all Twitter users can verify their accounts, as it is necessary to prove that the profile represents a widely recognized person or brand according to the relevance criteria imposed by the platform. Because of this, Twitter may ask us for the following requirements:
Google Trends. You need to provide a link to a Google Trends profile showing search history related to the verification category.
Wikipedia. You will need to submit a stable Wikipedia article about the person or organization "that meets the encyclopedia's relevance standards".
News coverage. Twitter may ask us for news articles that reference the individual or organization. However, only those from verified news agencies are valid, discarding blog articles.
Follower or mention count. In certain categories, it serves as proof of relevance that the account is in the top 0.05% in relation to its follower or mention count in a given geographic location. This means that no specific number of followers is required.
Other sector-specific references. These references depend on the category.
Additionally, to verify an account, it is necessary that it is active and complies with the rules of Twitter. In other words, it must meet the following conditions:
A completed account with name and profile picture.
Active use of the account at the time the application is submitted.
Confirmed e-mail or phone number.
The account must not have been blocked for 12 hours or seven days for non-compliance within the last year.
Fake accounts, news sources, and unofficial administrator accounts are not eligible to apply for verification. Neither are profiles of pets, fictional characters, or those that pursue harmful purposes.
How to request Twitter verification step by step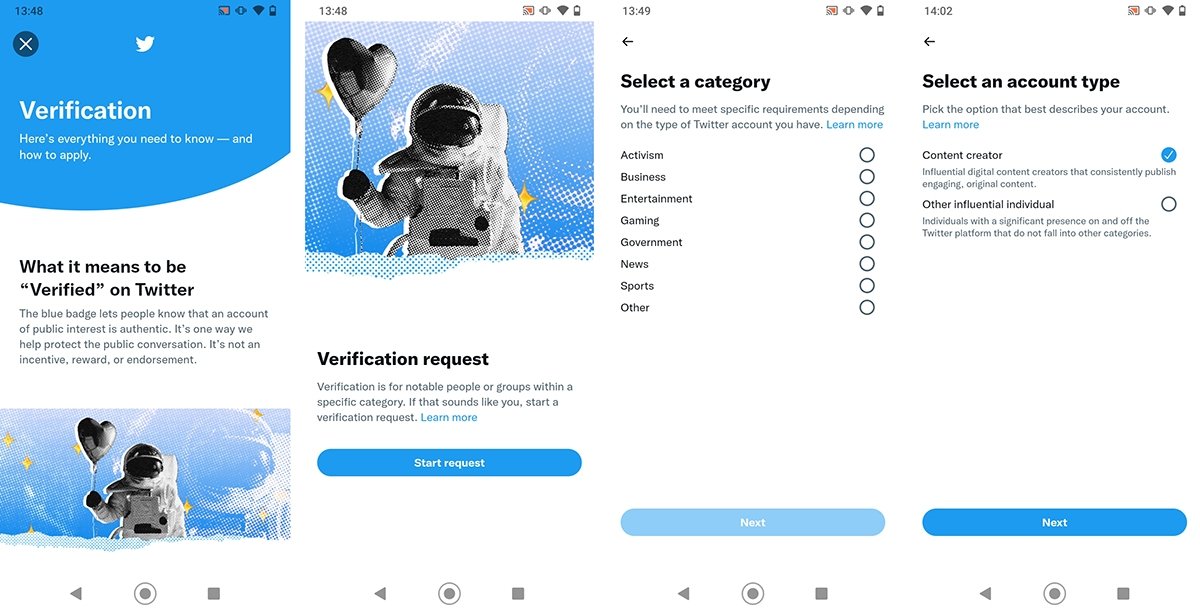 Process for the verification of a Twitter account
Once we have ensured that we meet the verification criteria, we can start the application. To do so, follow these steps:
Open the Twitter app and tap your profile picture.
Scroll down to the Settings and Privacy option in the menu that opens on the left.
Tap on Your account.
Tap Account Information.
Select Verification Request.
Scroll down to the bottom and touch the blue button.
Confirm your selection.
Choose the category and type of profile.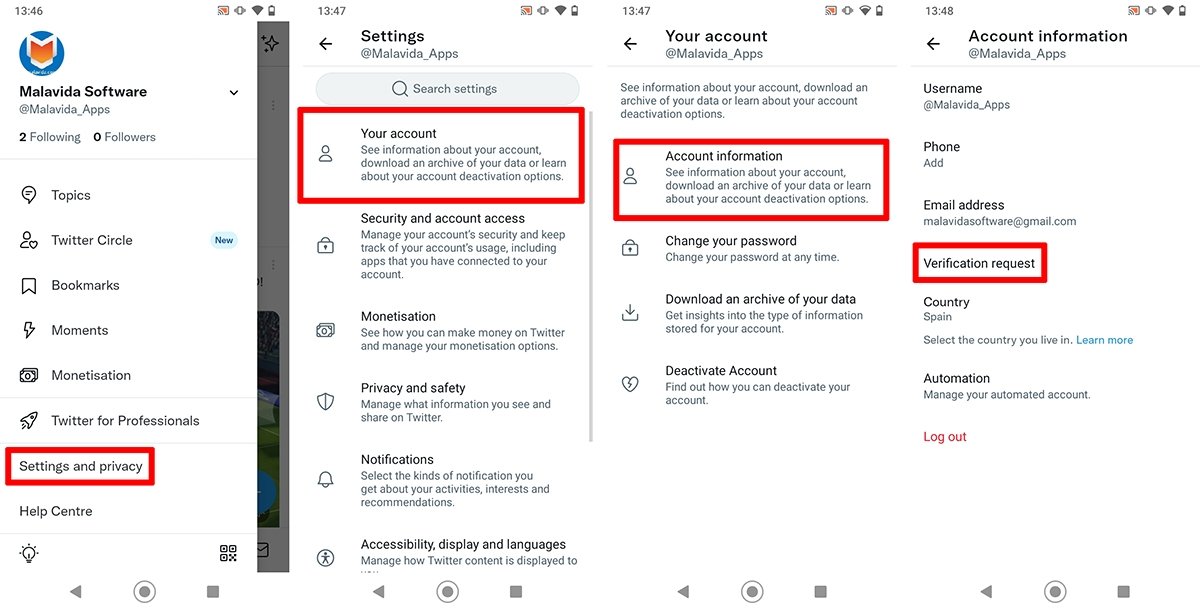 Steps to request the verification of a Twitter account
Twitter will tell us if our account is eligible or not. If the process continues, the platform would ask us to confirm our identity through one of these methods: a link to our official website, a photo of an official government-issued ID, or an official email address.