Social networks have been gaining significant importance in our lives in recent years. In fact, nowadays, it is almost impossible for a person not to have at least one active profile in one of them. This is because most of them are free, which allows anyone with Internet access to have the possibility of using them. However, over time, some paid functions or features have also been added to them, as is the case of Twitter Blue. Let us explain in this article what this feature of the popular social network owned by Elon Musk consists of.
What is Twitter Blue
As we have explained a few lines above, Twitter Blue is the paid mode of this social network. It does not mean that Twitter will eventually become a paid app for all users, but simply that there is an alternative version to the free one for those users who want access to several exclusive benefits.
Like all social networks, Twitter has been gradually introducing new features, and these have been reaching all users simultaneously (or, at least, in waves). With the arrival of Twitter Blue, the social network now has two different versions of its app, with a paid one that gives access to new functions in advance to the rest of the users. Without talking about these exclusive new features for the moment (we will do so a little later), it should be noted that access to this paid version is not instantaneous, as the Twitter team must first verify our account and our identity, something that can take days or even weeks in some cases. We will be able to change our name or any personal information in our account, but this will involve a new mandatory review by Twitter.
What features does Twitter Blue include and what are its advantages?
Now that we know what Twitter Blue is, it is time to talk about the most important things about this version: its advantages and exclusive functions. The most relevant feature of Twitter Blue is the arrival of the blue verification check in our account, showing that our profile corresponds to us. This badge was previously reserved for celebrities and such, but with the arrival of Twitter Blue, profiles that have achieved this badge by relevance or by paying for Twitter Blue will be differentiated. In addition, the social network has also introduced a yellow check, now reserved for companies or entities such as the Real Madrid soccer team.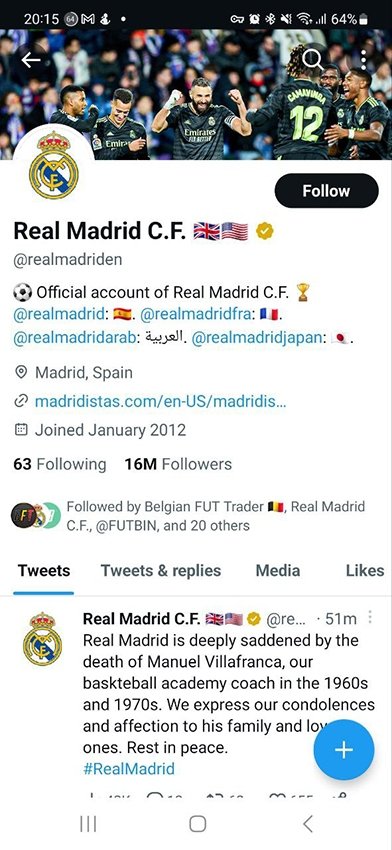 This is the yellow check mark aimed at corporations
Although this is the unique feature that may attract the most attention, the truth is that there are many more right now. They are the following:
Editing tweets: One of the most demanded features in this social network and currently only possible if you are a Twitter Blue user. Thanks to this it is possible to edit tweets already published, as well as to undo the publication of these for a period of time after their publication.
Improved video posting: Twitter already enables users to post videos in tweets for several years now, and thanks to Twitter Blue, we will be able to do so in Full HD quality, in addition to supporting longer videos as well.
Create bookmark folder: A not very well-known function of this paid mode is the possibility of creating folders of your saved contents to access them in a more orderly and comfortable way.
Greater variety of themes and customized icons: Another very common demand of Twitter users is increasing the customization offered by this social network, something that improves significantly with Twitter Blue. We will have many colorful custom themes, as well as custom icons for the Twitter app on phones.
Improved navigation: With Twitter Blue, we can also customize the way we navigate through this social network, as we are able to add from 2 to 6 elements in the navigation bar to more comfortably access what we are interested in. We can also create shortcuts to the most shared articles in our network.
Reduction of the number of ads displayed: Most paid services usually completely eliminate the number of ads displayed by free services. However, this is not the case with Twitter Blue, which only reduces the number of ads displayed to 50%.
In addition to all these exclusive features, we cannot forget some that are on the way for all those who decide to take the leap to Twitter Blue. These include the ability to post tweets of up to 4,000 characters, or also a way for our tweets, replies, and mentions to gain priority over those of other users.
How to get Twitter Blue
The paid feature called Twitter Blue is intended to be accessible by any user of this social network. However, the program is currently a beta and is not available in all territories around the world. Twitter Blue is only accessible by normal means for users in the United States, United Kingdom, Canada, Australia, and New Zealand. In addition, in order to subscribe, we will have to do it from the web or an iOS device, since for the moment Android users do not have the possibility to do so.
How to subscribe to Twitter Blue
Despite what you can read a few lines above, if you are not a user in one of the territories mentioned above, you will also be able to subscribe to Twitter Blue, although for this you will have to do a little trick. This trick involves using a VPN to access our Twitter account, doing this will give us the possibility of subscribing to Twitter Blue from our Twitter. Despite this, we do not need the VPN to use the advantages offered by the paid mode, as it is only required at the time of subscription.
Thus, to subscribe to Twitter Blue, it will be necessary to follow these steps:
Download and install a VPN (such as Hola Free VPN) on your Android device and use it to establish your connection from the United States.
Access Twitter from your favorite browser and log in with your credentials.
Once this is done, click on the top left icon with your profile picture.
In the drop-down menu that appears, click on Twitter Blue
Once the following screen appears, click on the button to subscribe
Fill in all the information that appears on the screen and click on the button at the bottom of the page.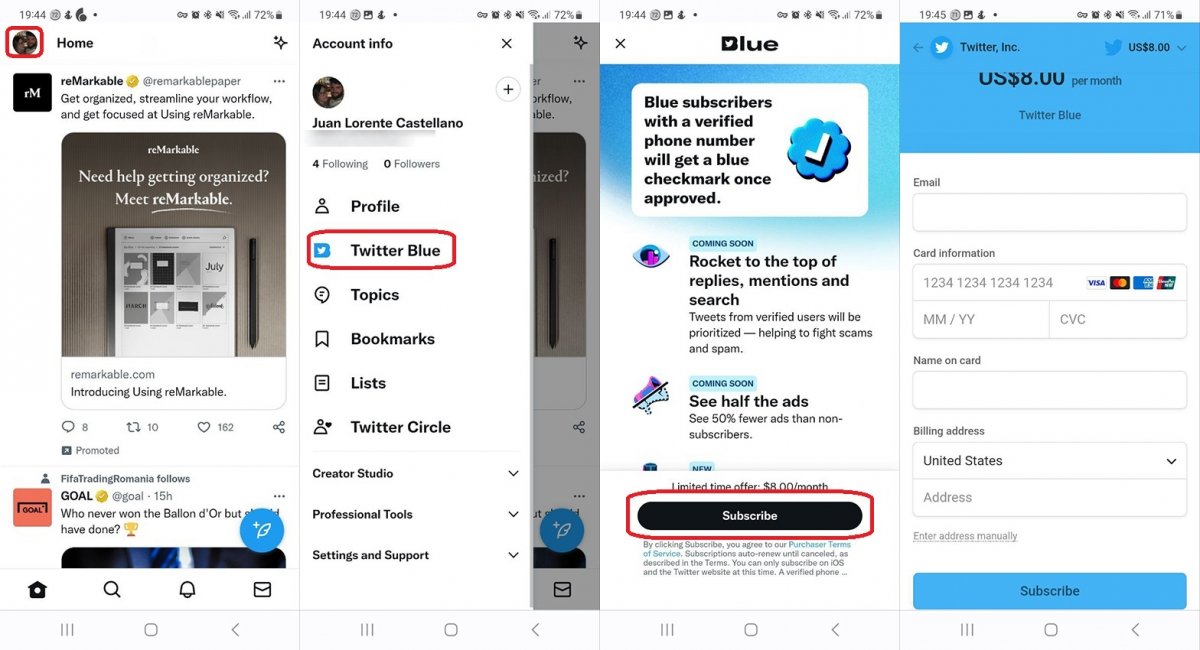 Steps to purchase a Twitter Blue subscription
Once this is done, we will have the Twitter Blue mode associated with our account. We must keep in mind that one of the requirements we must fill in to use Twitter Blue is a valid US address, but you can use a random one such as a fast food restaurant.
How much does Twitter Blue cost: here is its price
Now that we have told you about all the functions that Twitter Blue brings with it and how to get it from our mobile, we only have to talk about something else: its price. Twitter Blue is currently priced at $8 per month, although, of course, its price may be somewhat different when it is officially launched in other countries. However, as with other paid subscriptions, if we purchase it from an iOS device we will have to pay a little more, to be precise 11 dollars a month, something that happens because the App Store adds commissions to the payments made through apps downloaded from it.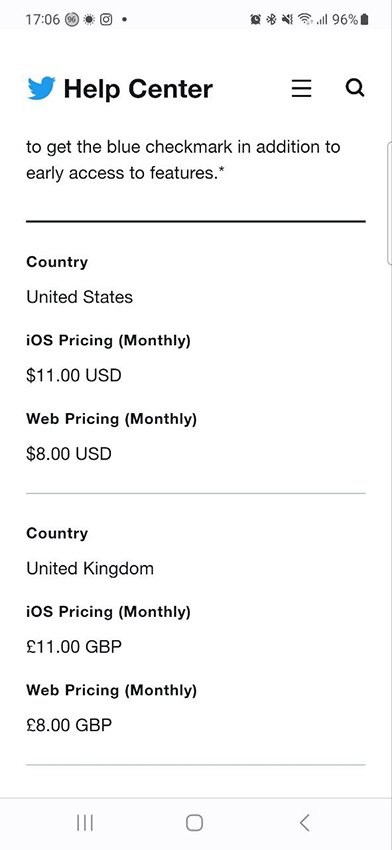 Twitter Blue prices in the USA and the UK
If you are thinking of using Twitter Blue from an iOS device, it is recommended to purchase the subscription from a computer, since this way you will be paying $8 per month and you will be able to use the app as usual from your device.