In this text, we are going to offer you a basic guide to use the social network. Under no circumstances, we are going to cover all the things you can do with the platform, but we will try to cover what is necessary for you to start sharing content using Facebook.
Create an account
Before you can do anything, you need to create an account. To do this, open the application, and then tap on Create New Facebook Account: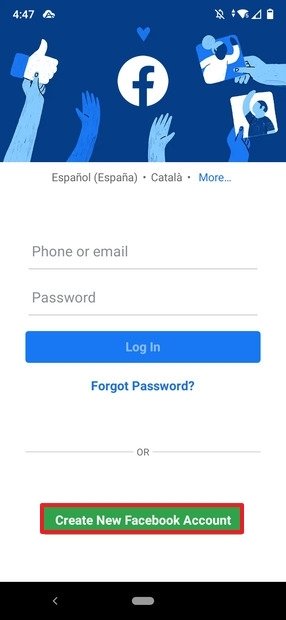 First time we open Facebook
On the next screen, tap on Next: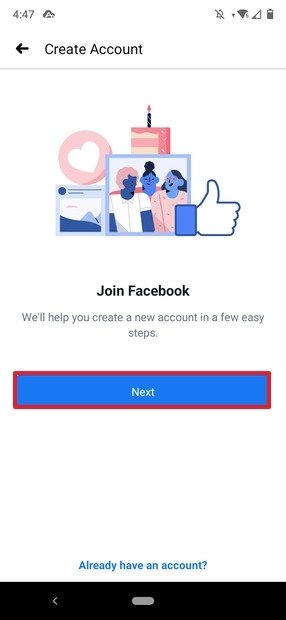 Creating a new account
Enter your name below: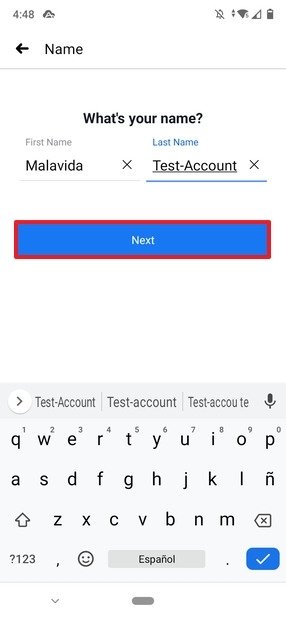 Name of the account
Then, set your birth date: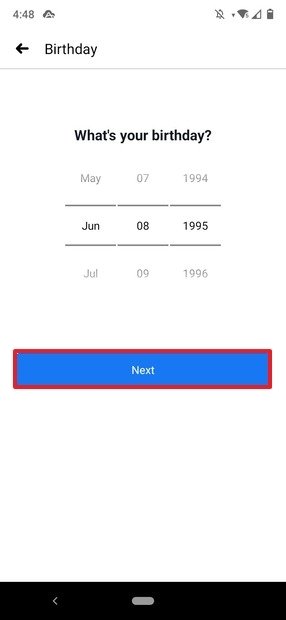 User's date of birth
Facebook will ask you to confirm that the date is indeed correct. Tap on Yes: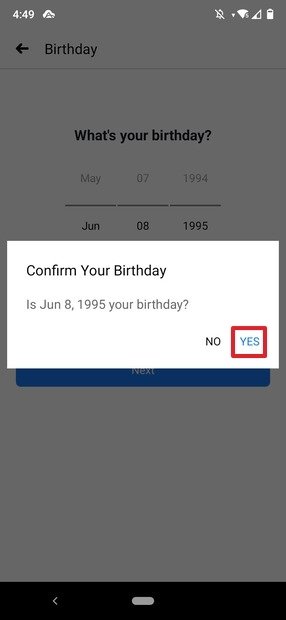 Confirmation of the date of birth
Then specify your gender and tap on Next: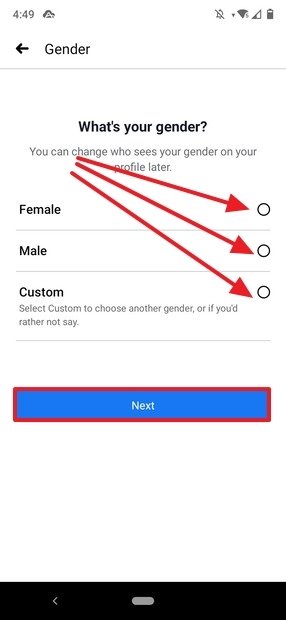 Selecting the user's gender
You will then reach a screen where you will have to enter a phone number, or use an email account. When you have done so, tap on Next: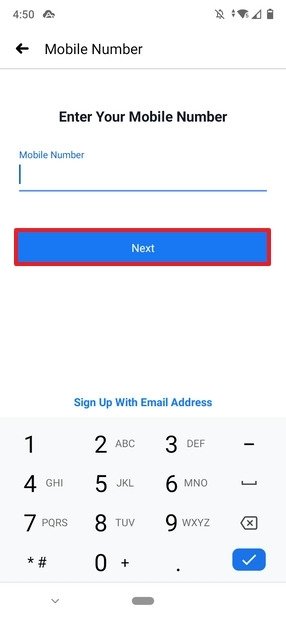 User's phone number
Now, choose a password and tap on Next: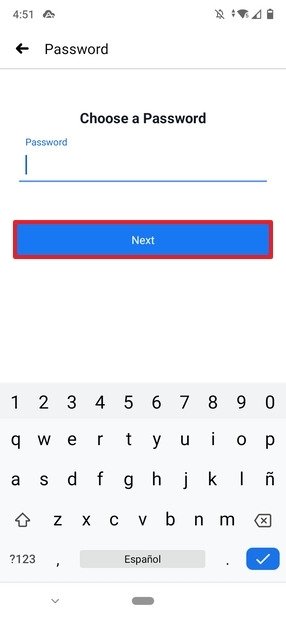 Setting the user's password
Then, if you prefer, you can add an email account or not. If you want to do it, tap on Yes, otherwise tap on Skip: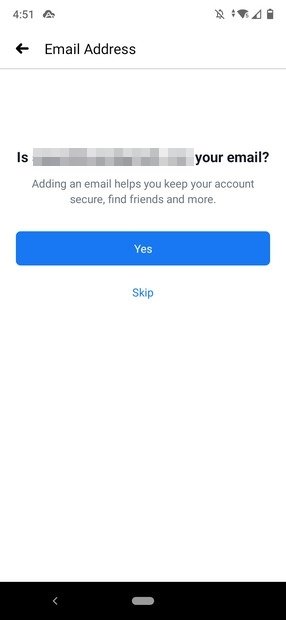 Adding an email address
We have reached the last part of the account creation. Now, tap on Sign Up and that is it, you will have your account ready to start using Facebook: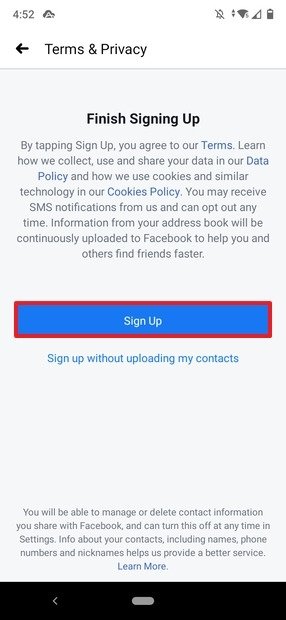 Completing the registration process
Configure your privacy settings
As soon as you log in to your first Facebook session, you will be given the option to add your first friends, but we recommend that you forget about that (for now) and set your privacy settings first.
It is totally legitimate for you to ask why, and the answer is very simple: Facebook by default leaves your posts and some of your data open to anyone, so you should know how to access the limitation of this data.
To do this, tap on the Facebook menu button: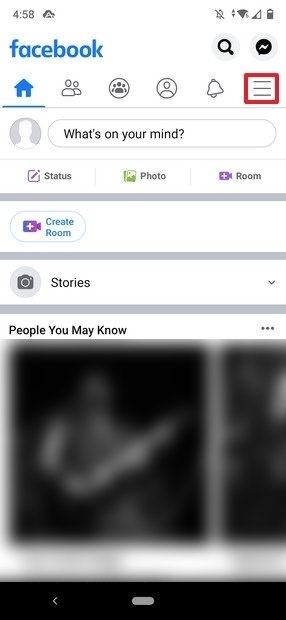 First time we open Facebook's Feed
Now, scroll down and tap on Settings & Privacy: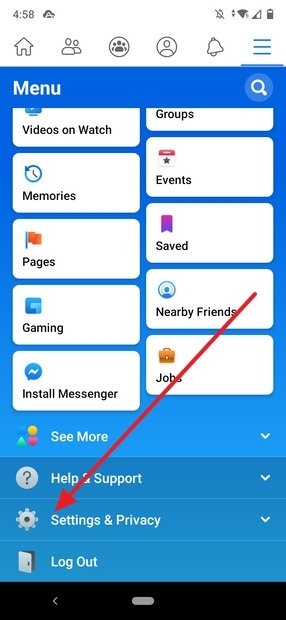 Facebook's menu
Then, tap on Privacy Shortcuts. The first thing we are going to do is limit who can see the content we publish. To do that, tap on Review a few important privacy settings: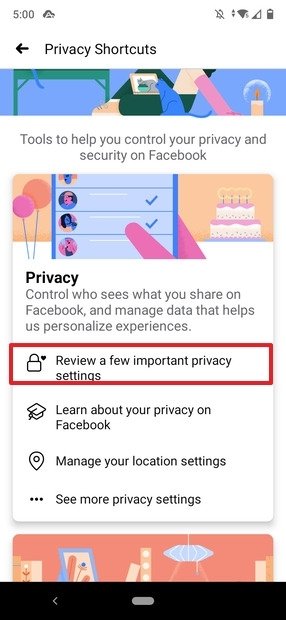 Access to the privacy options
Now, tap on Who can see what you share: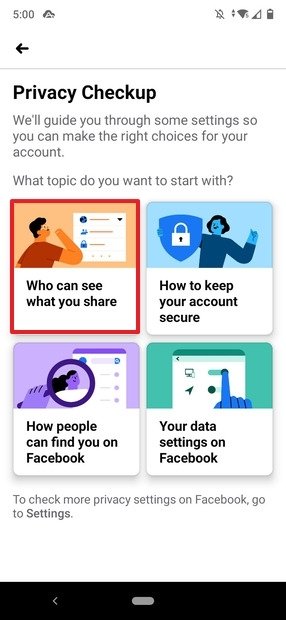 Checking the privacy of the postings
In this menu, we control who can see our personal data. Some of them, like the phone number, is recommended that you change their privacy from Friends to Only me, so that no one (except yourself) has access to them. To change the privacy of all these sections, tap on the drop-down menu button to the right and tap on Next when you have finished: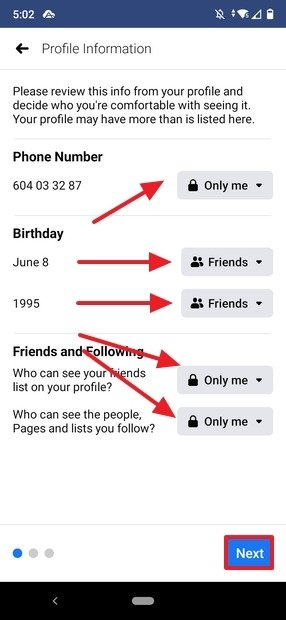 Privacy of the user's personal details
On the next screen, we will control the privacy of our publications. It is highly recommended that only your friends can see them (it is already set to that by default), as well as limiting access to old posts to only your friends (it is also set to that by default). If you do not want to change anything (you should not), tap on Next: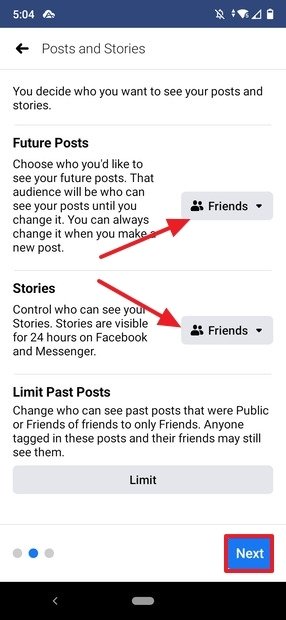 Privacy of posts and stories
The last page lets you block content or people you do not want to see, for whatever reason. This last section is very personal, so we will let everyone add (or not) what they consider appropriate. To do this tap on Add to Blocked List and tap on Next when finished: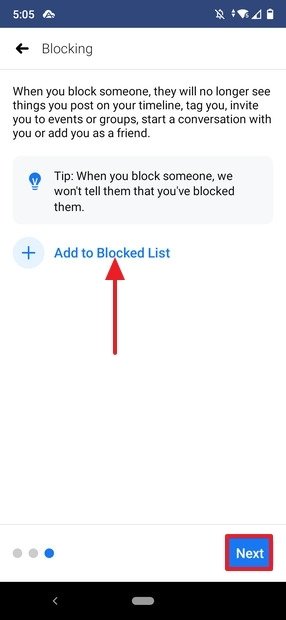 Configuring the block list
A screen will appear informing you that this information has been successfully reviewed. If you want to review more, tap on Review Another Topic. Otherwise, tap on the arrow in the upper left corner of the screen: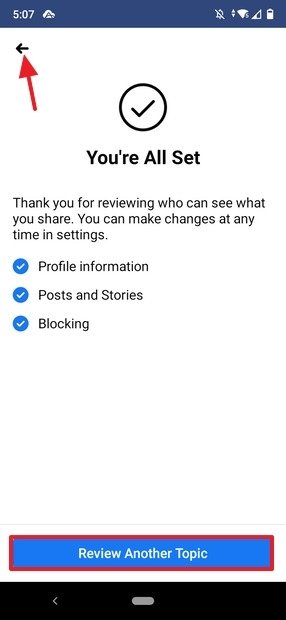 Profile privacy configured
In this case, we are interested in reviewing one more thing before continuing, and that is to delimit how people can find us in the social network (so we will tap on the button). Now click on How people can find you on Facebook: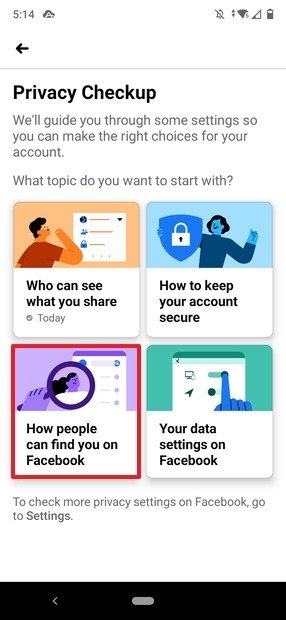 Checking the profile's privacy
On the next screen, tap on Continue: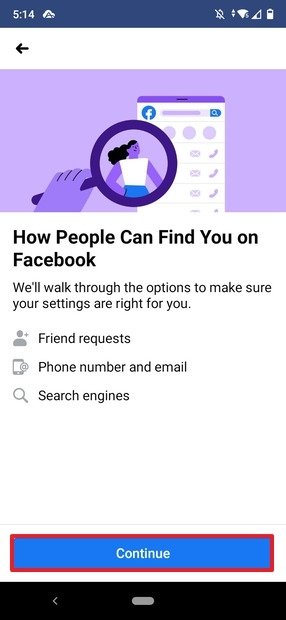 Information about how people can find us on Facebook
First, we can review who can send us friend requests. If you do not mind that anyone can find you, leave it at Everyone and tap on Next. If not, use the drop-down menu button exactly as before and change it to the option that suits you best (in this example, Friends of Friends) and then click Next: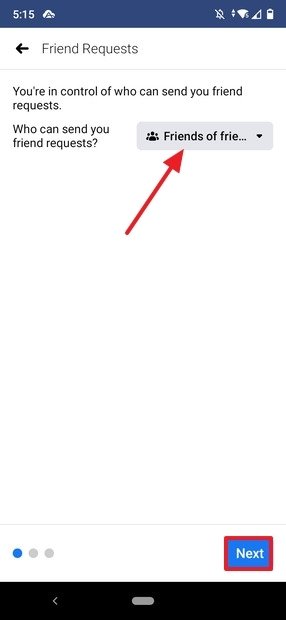 Privacy of friendship requests
You can then check if you can be reached by your phone number or email address. In this example, we have used the menu to disable being found in this way. When you are done, tap on Next: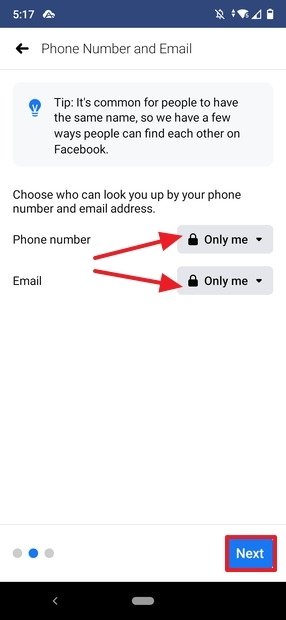 Privacy regarding the search of users by phone number or email
Finally, and this is highly recommended to try to keep your profile as private as possible, disable the option that lets search engines index your profile (it has to be in gray) and tap on Next: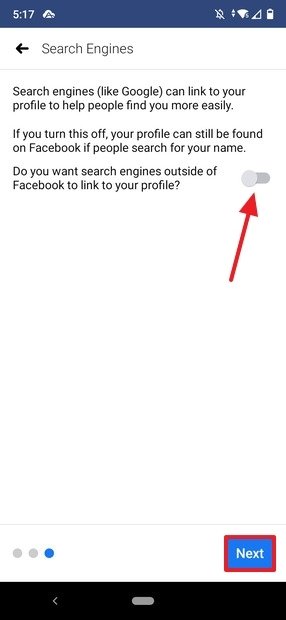 Enable or disable search engine indexation
Customize your profile
Right now, your profile is empty. Modify it to make it look much more lively. First, tap where your profile picture should go to add one: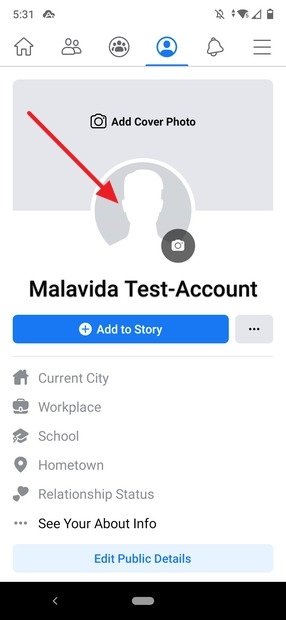 Changing our profile pic
In the menu that appears, tap on Select Profile Picture: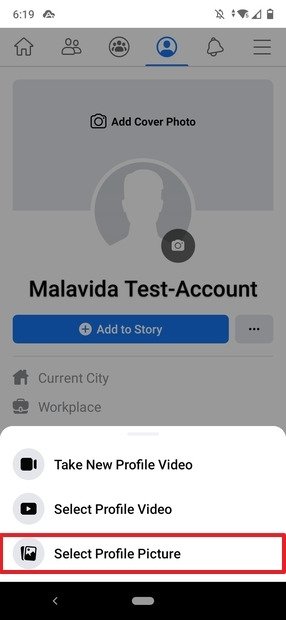 Choosing an image from the gallery
A gallery will be opened where you will choose the one you want. When you have done so, you will arrive at this screen, where you will have to tap on Save: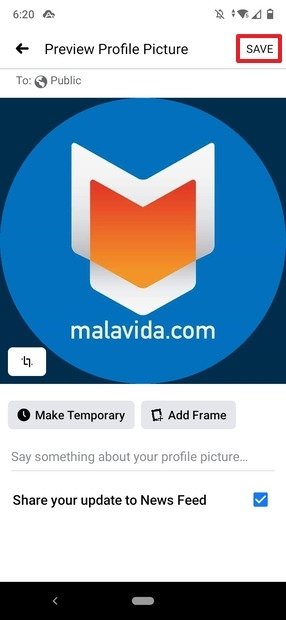 Editing our profile picture
You will return to your profile. Now, tap on Add Cover Photo to add a cover image: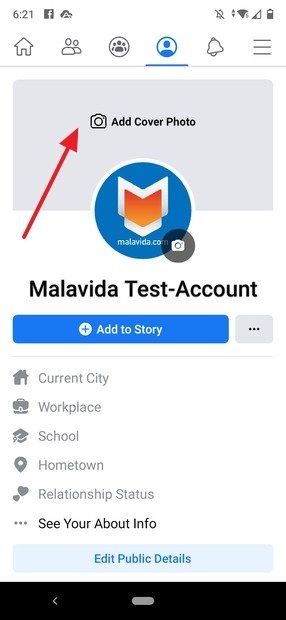 Changing our cover photo
The procedure to follow is exactly the same as with the profile photos.
Then, if you wish, you can add your current city, place of work, school you attend or went to, city of origin and even your marital status by taping on the Edit Public Details button:
Editing our public user details
Here, you will find everything you need to do it yourself.
Adding friends and interests
The primary way to work with Facebook is to add people we know. To do this, we have to tap on the second icon on the left in the shortcuts bar: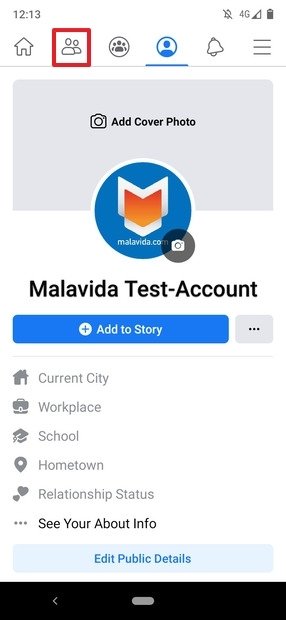 New friends button
When we do it, we will access a list of people we might know. To add them as friends, just tap on the Add Friend button and wait for them to accept our friend request: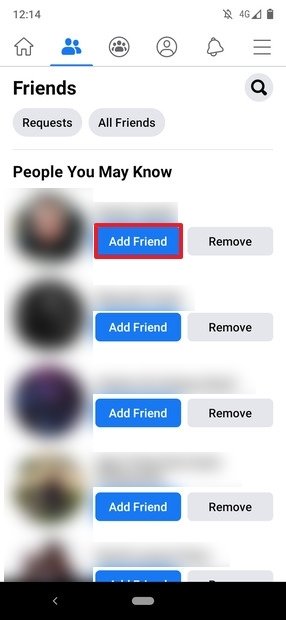 Facebook contact suggestions
Another interesting feature is to add interests, or likes to pages that are in line with our preferences. To do this, go to the main page and tap on the magnifying glass button: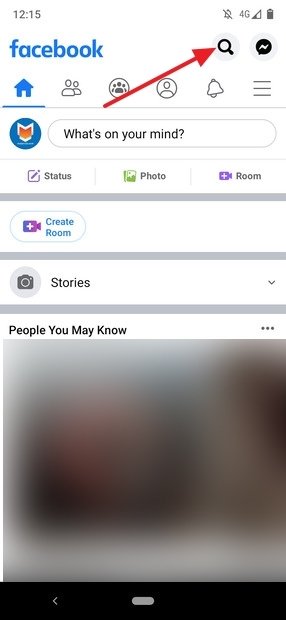 Facebook search
Then, type in what you are interested in and tap on the magnifying glass icon on the screen: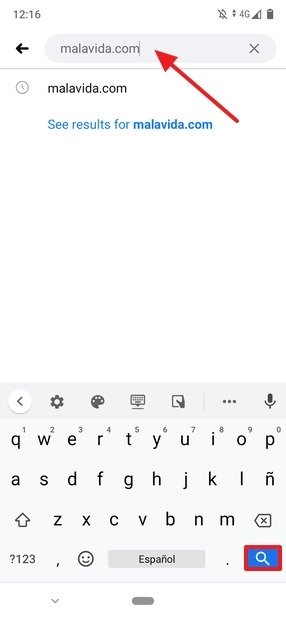 Entering the keyword to search
Then, tap on the thumb icon next to the page we are interested in: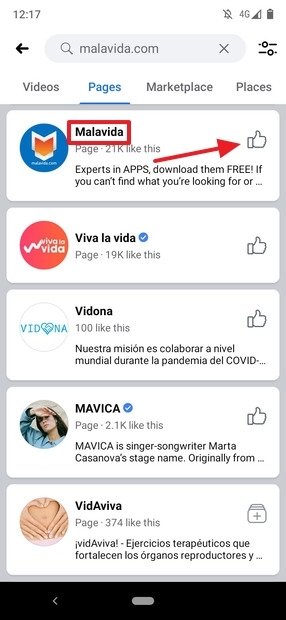 Like button
Create publications and share external content
Now, it is time to end this basic guide on how to use Facebook. Creating publications is the best way to let your contacts know what you are doing, what you are thinking about, or what you feel like doing in the immediate future, to name a few examples.
You can create different types of publications:
Pictures or videos accompanied (or not) by text.
Tagging friends in a publication.
An activity you are doing.
A visit to a particular place.
Open your camera to take a picture that is instantly uploaded.
A GIF, a moving image that repeats itself in a loop.
Text on a background color.
A three-dimensional picture.
Ask for recommendations.
Create a group view of a video on Facebook Watch (the platform for watching videos from the social network).
Requesting support for a non-profit organization.
To create a publication, just click on What's on your mind?: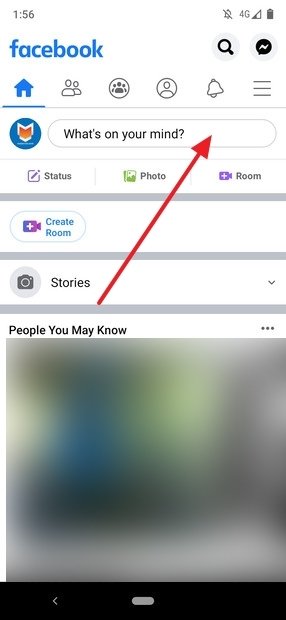 Creating a publication
A menu will appear here, where all the options we have just named will be reflected: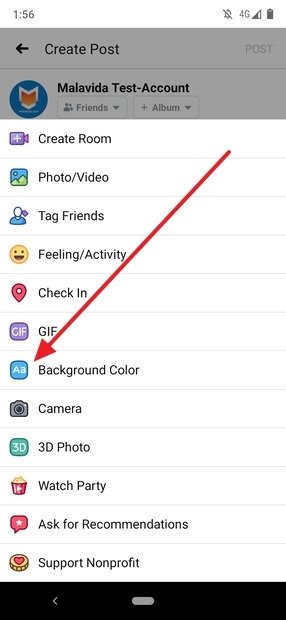 Types of publications
In this example, we are going to create a text state on a background color. Tap on Background Color and write what you want. When we are done, tap on Post: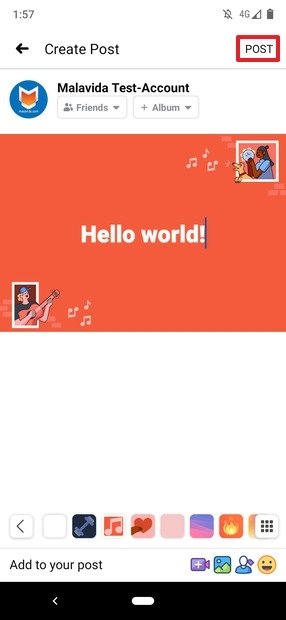 Post created
The process is very similar in the other options available through the publication creation menu. Explore them to familiarize yourself with them, you will see that they are easy to use.
Sharing content is another primary feature of social network operation. It can be done with virtually any application. Imagine for a moment that you want to share a YouTube video. To do this, first, open the application and find what you want to share. When you have done so, tap on the three-point button next to the video you are interested in to access the menu where you will have to tap on Share: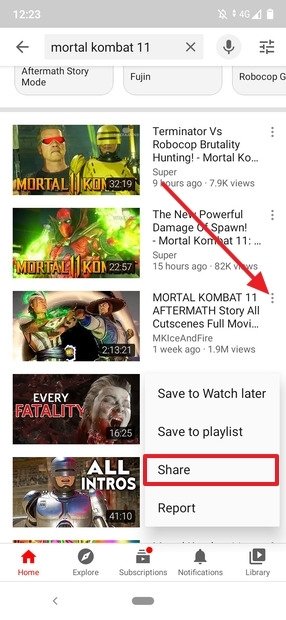 YouTube video menu
Different options for sharing will appear. In this case, we choose News Feed: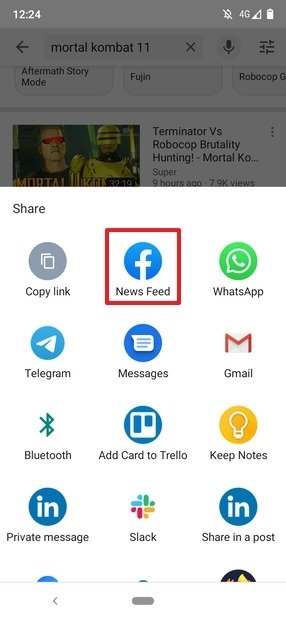 Options to share the video
The Facebook app will open. Here, we will be able to add the commentary that we want if we consider it opportune, and when we have done it, we will press Post to share it in our timeline: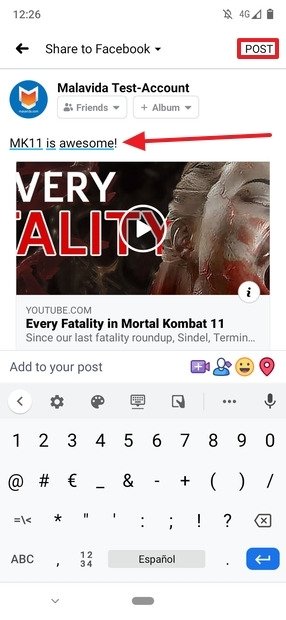 Editing a Facebook post
All the content we share will be visible to our contacts on Facebook. Keep in mind that this mechanism is exactly the same for all the applications that allow us to share their contents: it does not matter if it is Giphy, Pinterest, Twitter, and such. In all cases, the mechanics are the same.