Spotify has become, by its own merits, one of the most important applications available for both Android and iOS. Although there are other applications that let you stream music, there is no other platform that offers a music catalog as broad as this one. On top of this, one of the main advantages of this application over its competitors is that it lets us enjoy a free tier that, even with ads, works quite well. However, if we want to enjoy all the features and benefits that Spotify offers, we will need to purchase Spotify Premium, this app's premium version. We will tell you in this article a little more about its paid version and how you can get a free trial of this excellent service.
How to get a one-month free trial of Spotify Premium
First of all, it is worth explaining the advantages we will get once we have Spotify Premium. The main benefit (and the one that everyone knows about) is that this version of Spotify has no ads. Another game-changing benefit includes the ability to skip songs as many times as we want, as one of the main limitations of the free tier is that it limits the number of songs you can skip per hour. Another advantage is that we can pick the songs we want, as the free version will only let us play complete playlists or albums where we cannot choose what we want to play.
Getting a one-month free trial of Spotify Premium is simple enough, and we can do it all from its Android app without having to go to a computer. To start, follow these steps:
Open the Spotify application on your smartphone and log in with your account.
Once inside the application, select the Premium button at the bottom right of the screen.
On the next screen, choose the option get Premium.
Now, you will need to enter a valid payment method, although Spotify will not charge you anything.
Once this is done, you will enjoy 30 free days of Spotify Premium.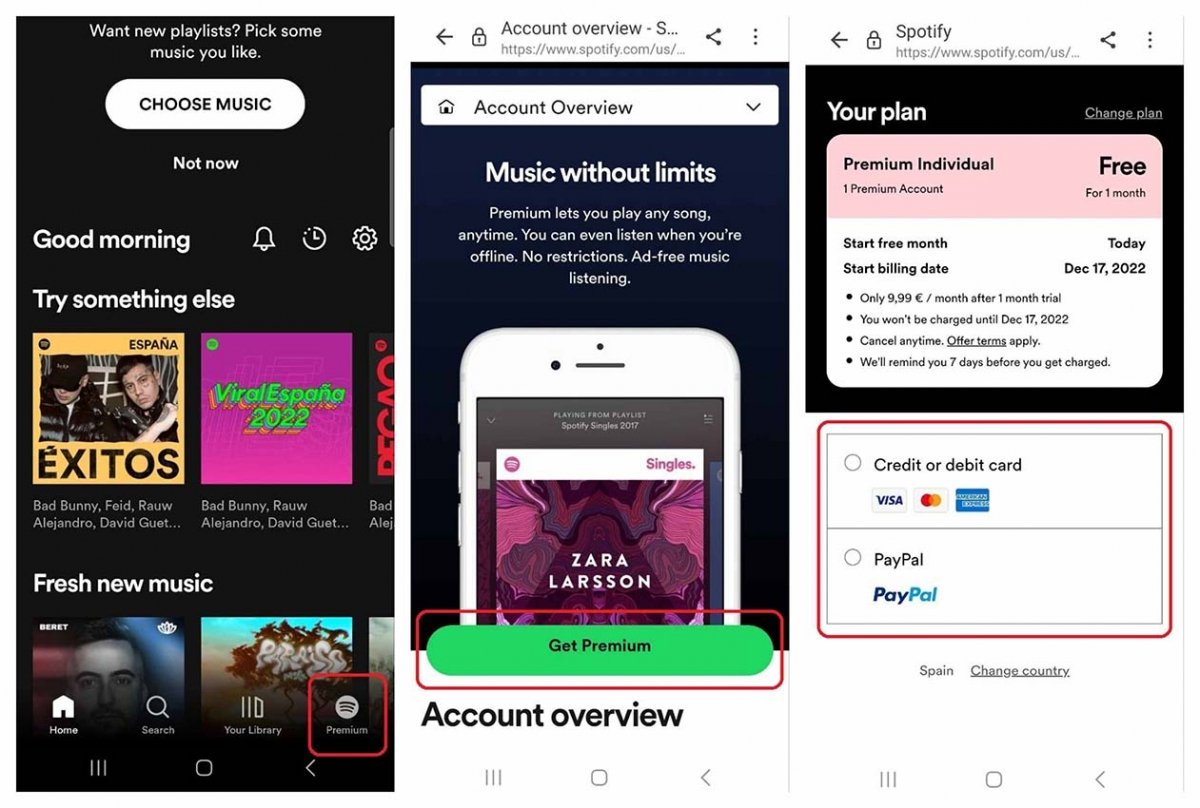 You have to enter a valid payment method to enjoy Spotify Premium for free
It is important to note that the only two forms of payment accepted by Spotify are credit or debit cards and PayPal. However, you will not be charged for whichever one you choose.
What are the conditions and requirements to use Spotify Premium for free?
There are almost no requirements to enjoy this free trial of Spotify Premium; nevertheless, it should be noted that one of the requirements is absolutely essential. To enjoy this free trial, it will be mandatory that we have never been subscribed to Spotify Premium, either by a free trial or paying the subscription.
Another important aspect to keep in mind is that Spotify is aware that many users want to try this free trial, but when the time runs out, they do not wish to continue paying. Therefore, a particular feature of this trial is that we will receive a notification seven days before the first charge to cancel the service if we want.
How to get 3 free months of Spotify Premium
The one-month free trial of Spotify Premium is available all year round, but during certain times of the year (mostly during summer), the application changes this promotion and offers three free months instead of one without any strings attached. The condition to enjoy this three-month promotion is the same as for the one-month one, which means we need to have never been subscribed to Spotify Premium.
Finally, it should be noted that the subscriptions we can access in this free trial are the Individual and Student subscriptions, which means we can not get the Duo and Family plans.