Google Maps is the most popular mapping and GPS navigation application for most users. As you may have guessed, its main function is to be used for orientation and to consult routes in any means of transport, but over time, it has become much more than that.
As soon as you enter the app, the map occupies almost the entire screen. The initial view is a standard view with a search engine at the top and tags as search suggestions. At the bottom, on the right, we have two icons, one to center the view around our location, and another with an arrow that opens the GPS navigator to set routes and paths. At the bottom, a list of icons shows the Explore, Go, Save, Contribute, and What's New options. These are different tabs that grant access to other functions of the tool.
This is the basic aspect of Google Maps so that you can locate and situate yourself. The question now is, what can we do with Google Maps, and what is it really for? We have already briefly previewed some of its key functions, but much more can be done. Let's review all the possible options.
To see the map
Google Maps, as its name suggests, is a map application. It lets you consult any point on the map in a thousand and one different ways, and thanks to the GPS of your mobile, locate yourself on it. Just open the application and watch where you are and what's around you. With a few simple on-screen gestures, you can move and orient yourself on the map at all times. You need to have an Internet connection, but you have the option to download parts of the map if you need the help of Google Maps when you are not connected to the Internet.
There are three views available. In the standard view, as we access the application, the map and the area where we left it the last time we accessed the app will be displayed. In addition, as we zoom in, we will see icons of the most representative places and buildings and many other small icons with a color code to differentiate them. These are points of interest on the map, suggestions that Google makes using all the information it stores in its web services.
In the Satellite view, we will have a satellite view of the place where we are in, and we will see in detail all the buildings from above, up to a minimum distance of 5 meters and a maximum height of 1000 km (this happens in all the views). This option is useful to know if your neighbors have a pool or to check what is in each place.
In the Terrain view, using a color code, we can see the orography of the maps, or in other words, the terrain that each place can have regarding the sea level. In green, we have the mountainous areas and parks, and in gray, the rest of the flat areas.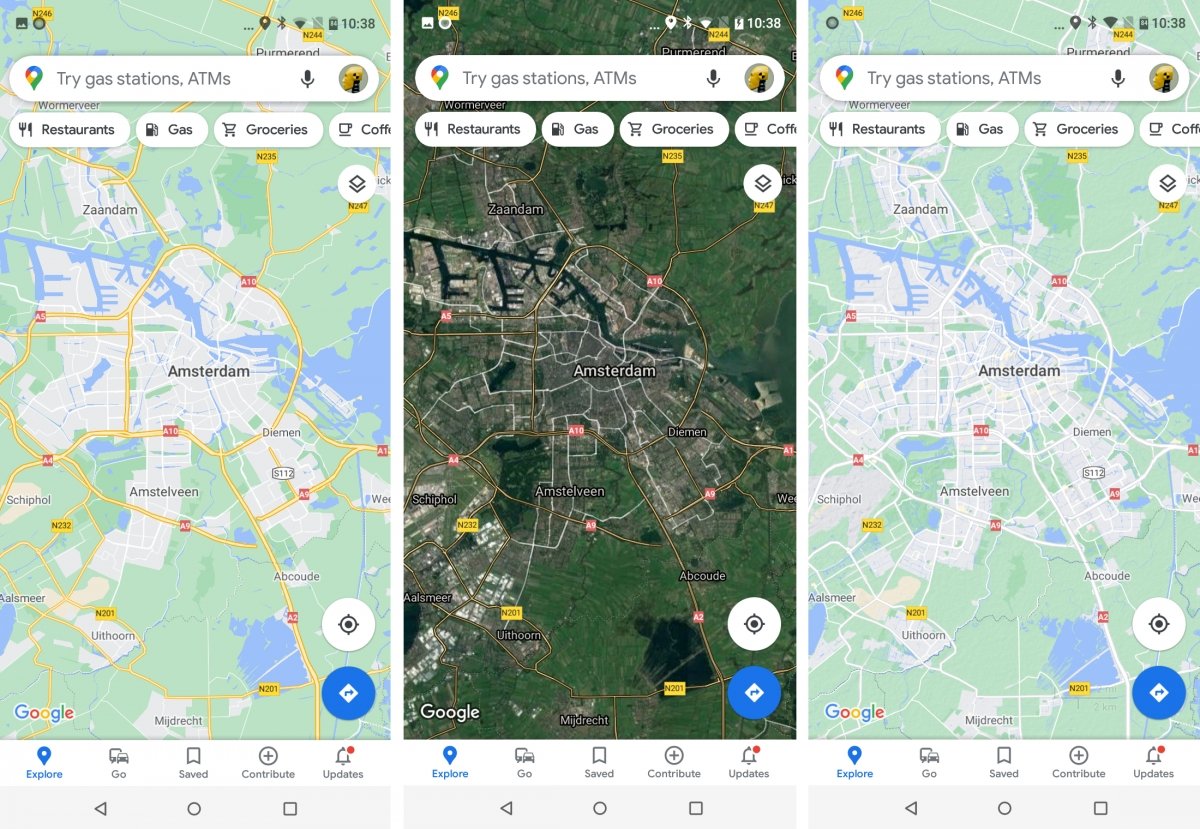 Different map views
Another great feature of Google Maps is that we will have a view of the stores, parks, and other places to visit that are in the area where we are on the map or that we want to consult. Through the search engine, we can find almost anything such as restaurants, entertainment, and so on.
As GPS navigator
Due to the characteristics of Google Maps, it is an almost perfect GPS navigation tool. Just set a starting point and a destination point to calculate a route, for example, the fastest one, and start the trip following the real-time instructions to reach the destination. If you make a mistake, Google Maps recalculates the fastest way to return to the correct path. No matter what transportation mode you use. Thanks to Maps, you will be able to know how to get to that restaurant by walking, which means of transport you should use to cross the city, how congested the traffic will be on that planned route, and what alternatives you have. This is done by taking advantage of the information that Google collects from the millions of users who use Maps to give you the most updated information possible. With no doubt, having Google Maps on your mobile is the best way to have a guaranteed pocket GPS.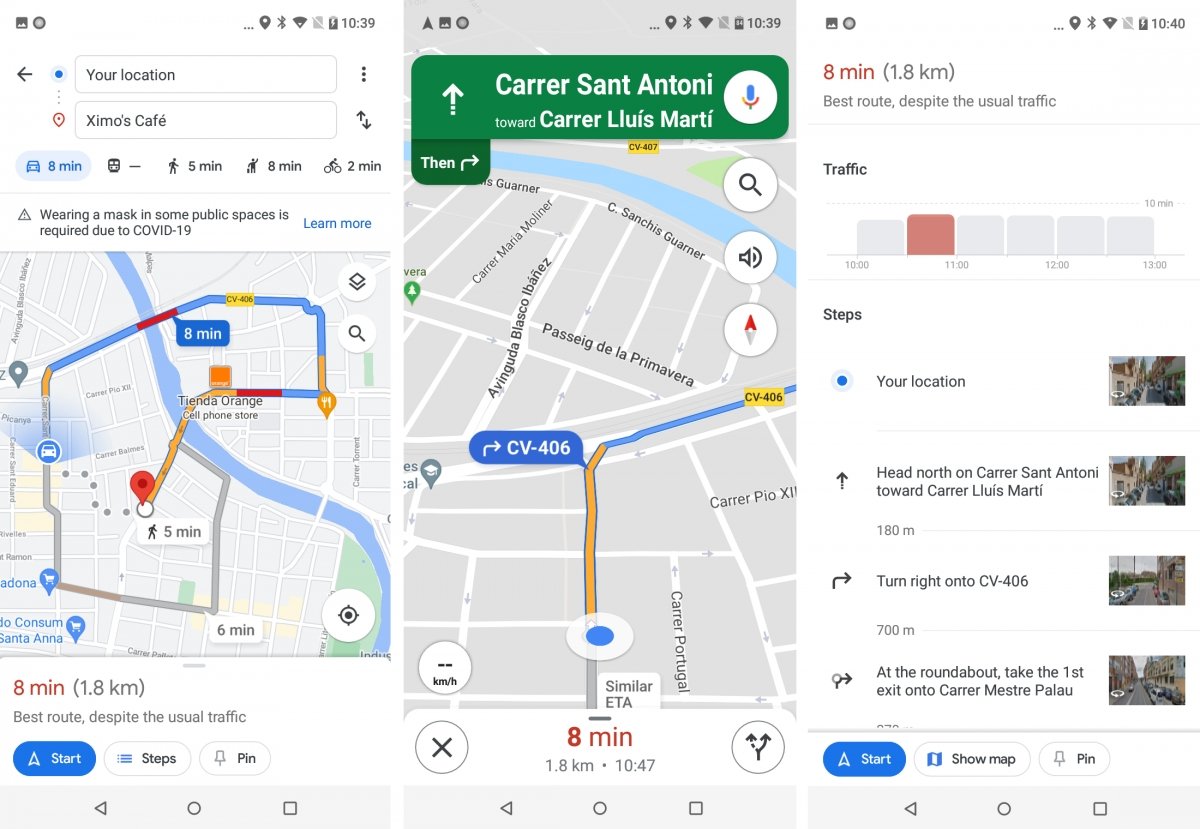 GPS navigation with Google Maps
There are many ways to calculate routes with Maps. For example, by tapping on the arrow icon at the bottom right of the map, you will see two boxes to include the starting point and the destination, with the possibility of changing between them and adding intermediate stops. Just below, some icons let us indicate how we want to move, whether by car, train, walking, or taking a VTC vehicle (Uber, Cabify, Freenow). And if when marking the places, you can go there by bicycle, we will also have this option available. Below, you will see a history of locations searched in Google and Google Maps.
To walk the streets as if we were in them
One of the functions integrated into Google Maps is Street View, a ground-level view that lets us see the appearance of all the streets in a 360-degree view and walk through it with some freedom. In Google Maps, you just have to mark a point on the map to receive a Street View suggestion in a small window. When you tap on it, the view will move to that point on the street, and you can move the perspective freely, move forward and backward, and see with photographic precision exactly what is there. You should keep in mind that not all of the map is available with Google Maps (the famous cars and cameras men of Maps cannot reach everywhere), however, you will find lots of places and all the main streets or roads that are accessible.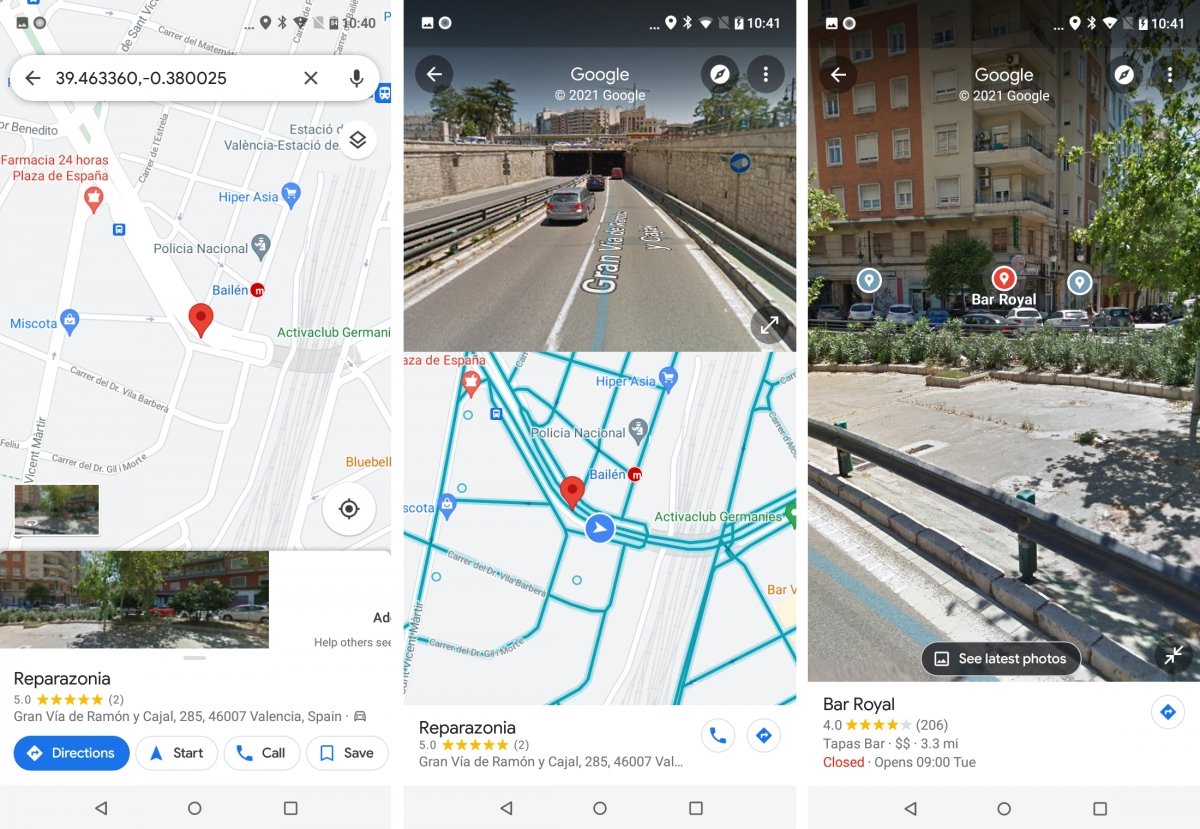 Street View in Google Maps Android
To consult public transportation
How can we get around by public transport wherever we are? All you have to do is select this view in the Explore section, the application's main section. By tapping on the icon available at the top right of the map and selecting Public transport in the map details, you will be able to take a quick look at all existing public transport structures in the area. By default, it shows trains and subways, but if you click on any bus stop you see on the map, you will see the buses that cover that route, the waiting times, and more.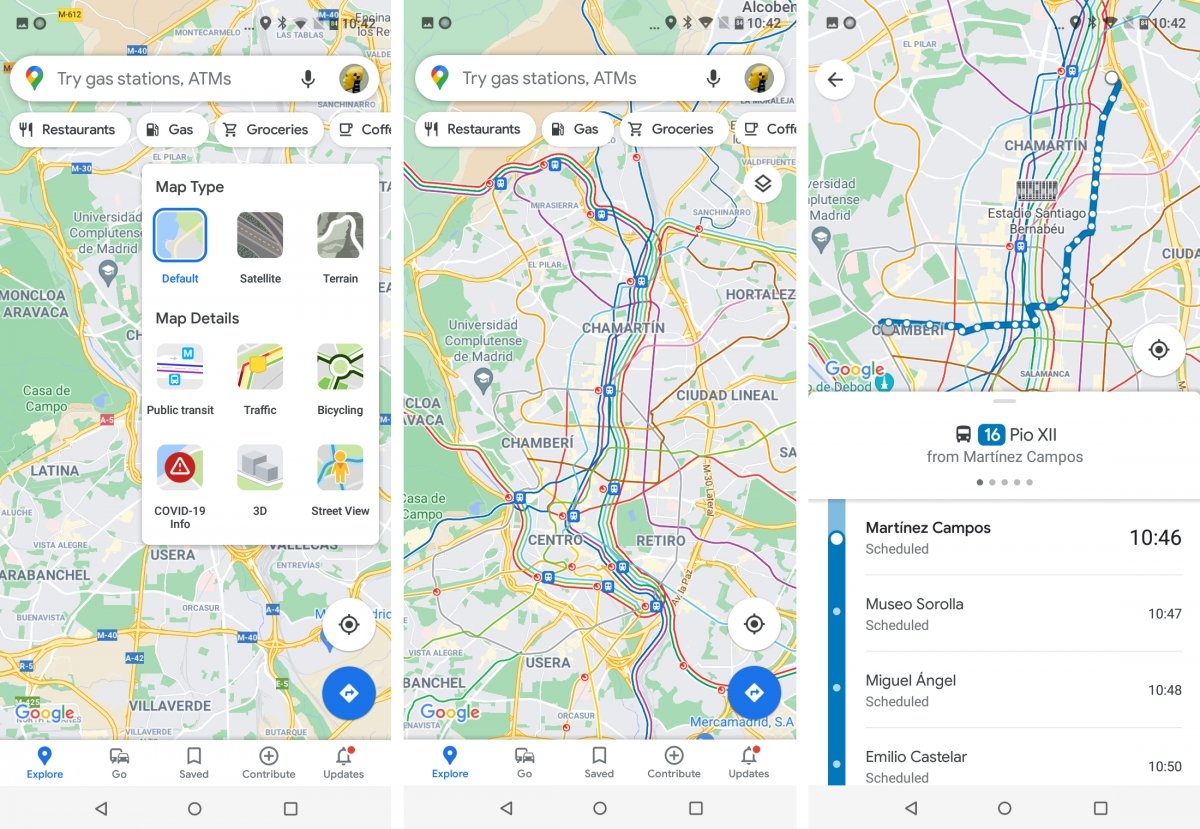 Public transport viewed in Google Maps
To check traffic status
Another of Google Maps' great contributions to our lives is to provide us with real-time traffic information. Utilizing color-coding, we can see the traffic density of the road or street we are on or those we want to travel through. In green, fluid circulation, orange means some traffic jams, and red implies dense circulation with stops. Red dashed: Track cut. It is always combined with an icon of prohibition.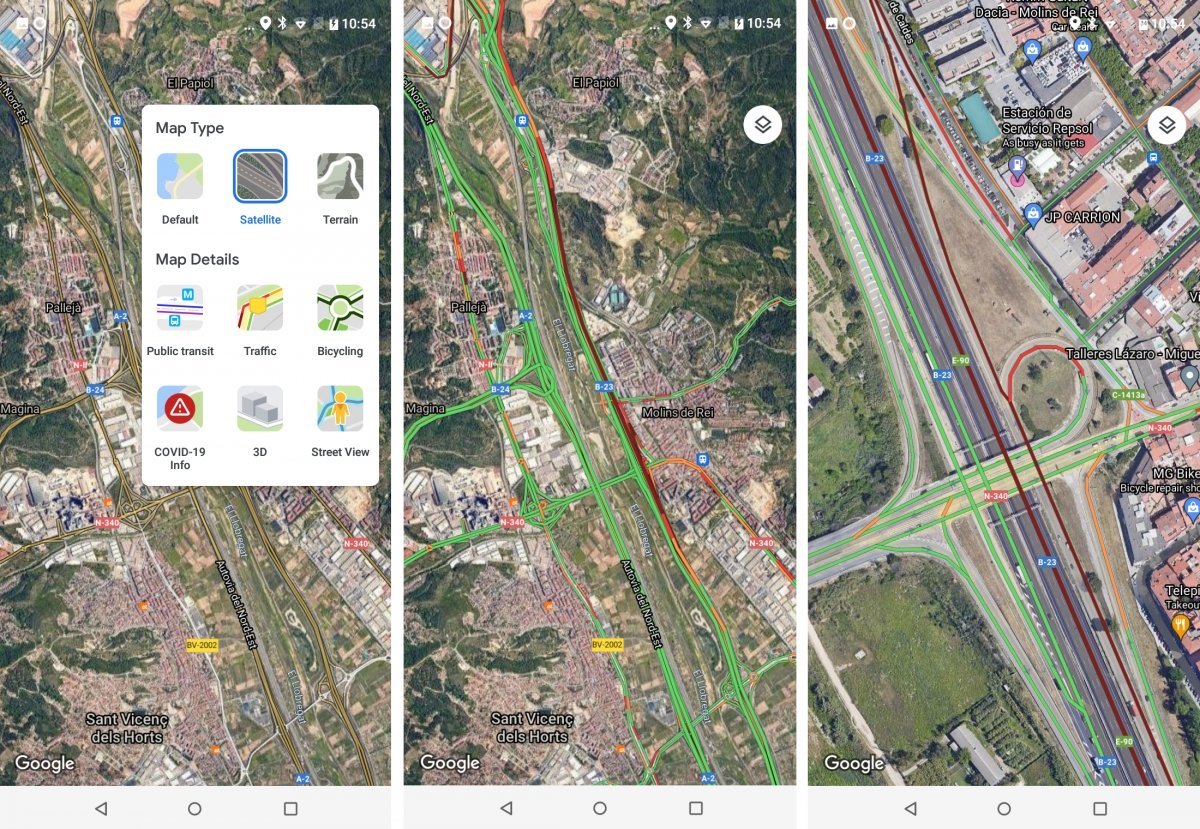 Traffic status according to Maps
To see the bike routes
Are you a bike person? If this option is checked, we will see the available routes for biking. In some places, this option is not available, so it will show the message Bike view not available at this zoom or in this region. The only thing you have to do is to open the map view menu with the icon on the top right margin of the map and select in the map details the Bike view.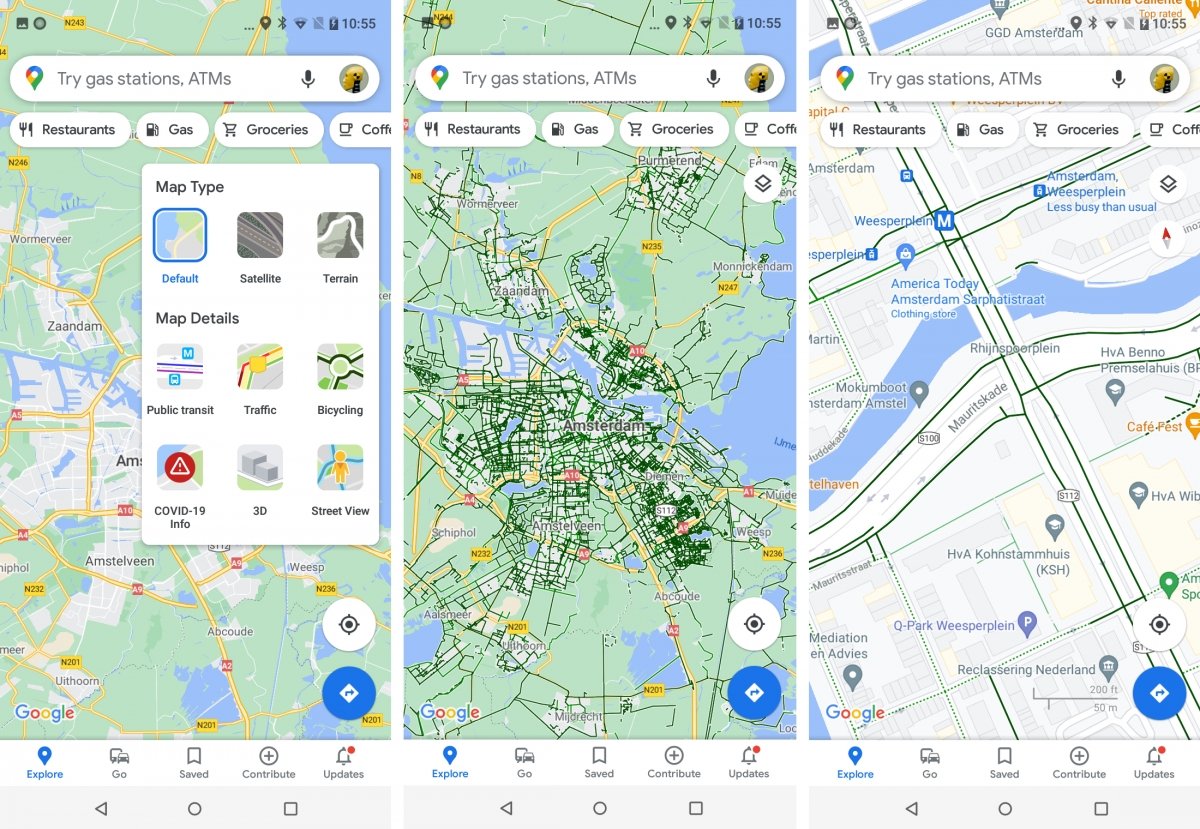 Cycling routes in Google Maps
For Covid-19 data
This recently added option shows infection data per 100,000 inhabitants on an average of 7 days. In addition to the number of infected people, it shows an arrow with an upward or downward trend and color-codes the country or community with the cases. Gray, less than 1, light yellow, from 1 to 10, yellow from 10 to 20, orange from 20 to 30, pink: from 30 to 40, red: more than 40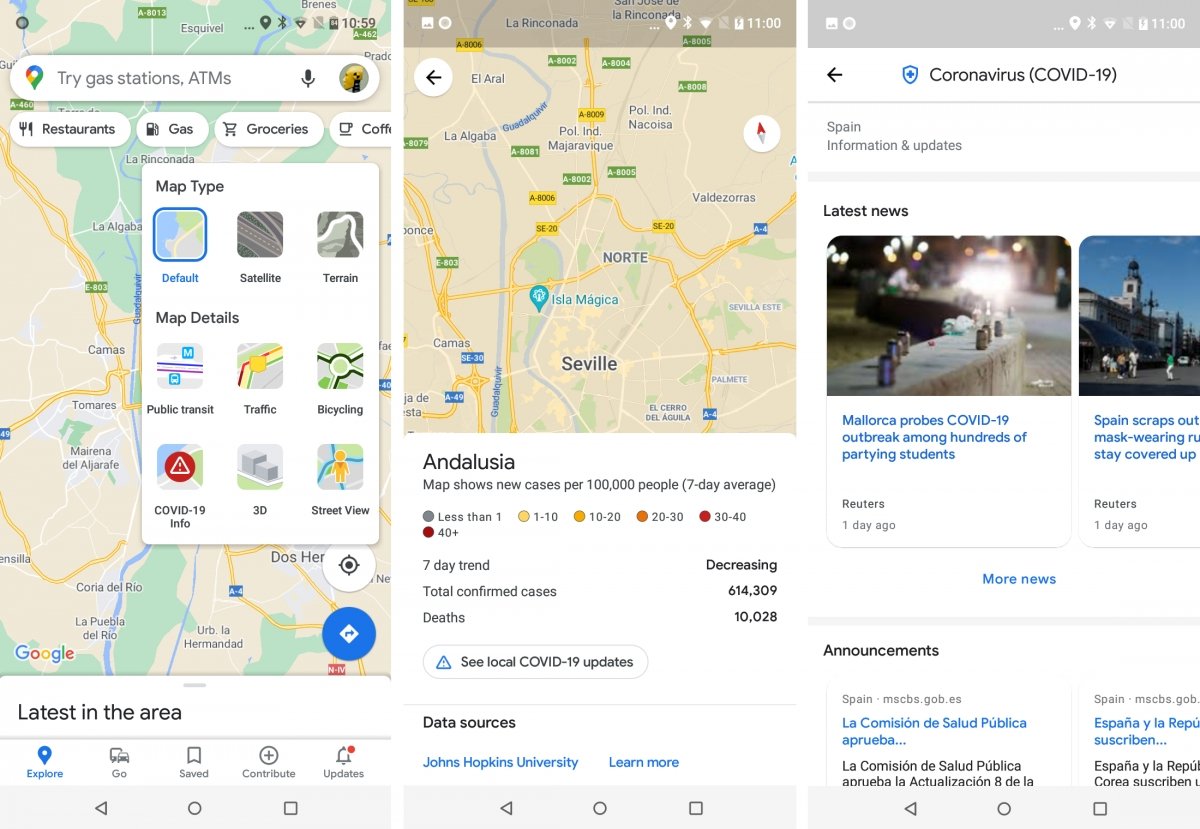 Covid-19 details provided by Google Maps
As a compass
The map offers a real-time compass that is available under the map view change icon. Just tap to reorient the map taking north as a reference. If at any time, we need to know information about cardinal points to orient ourselves, this is the right place.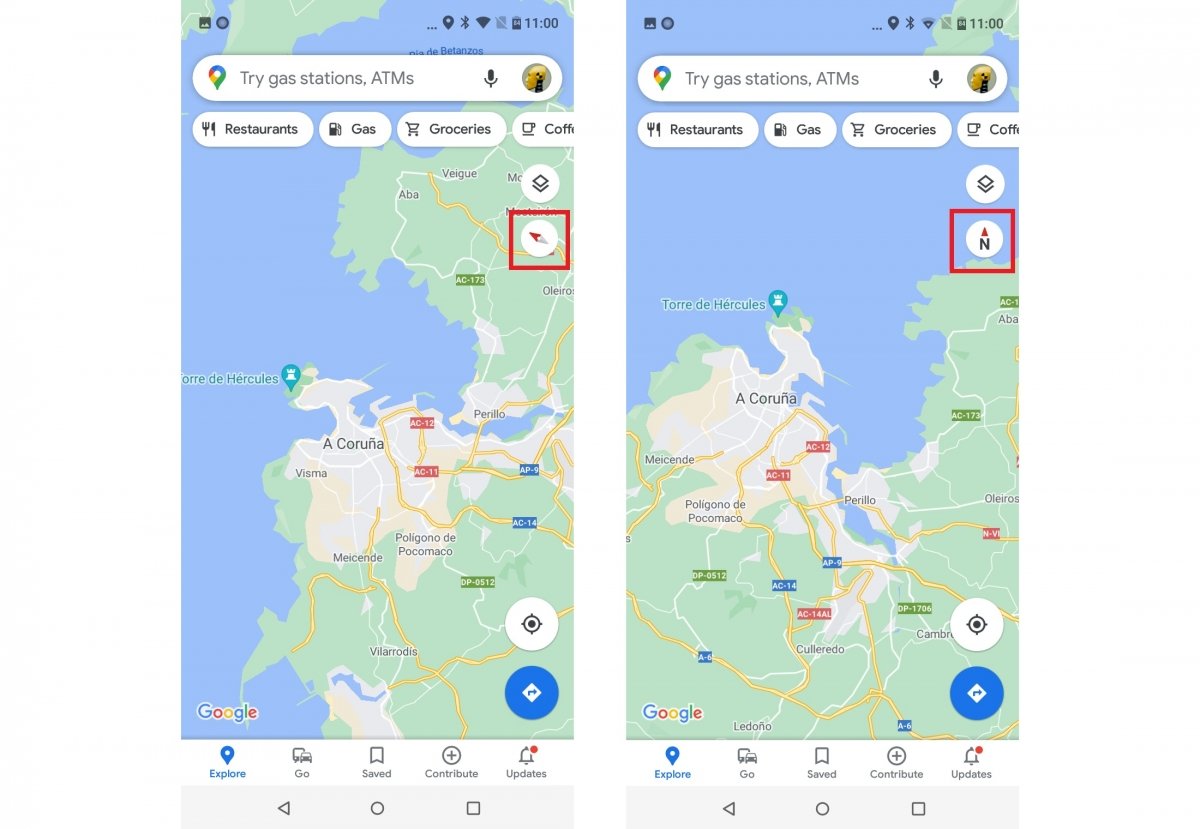 Compass location and use
To create customized maps and save points of interest
By using Maps, you can save points of interest of different types and create your own map of locations. Tagged sites, where you want to go, highlighted sites, favorites, or even the place where you parked your car so you do not forget. With this, we will be able to create our own maps. You can also check the history of places visited or reservations made in stores and services if they are managed through your Google profile.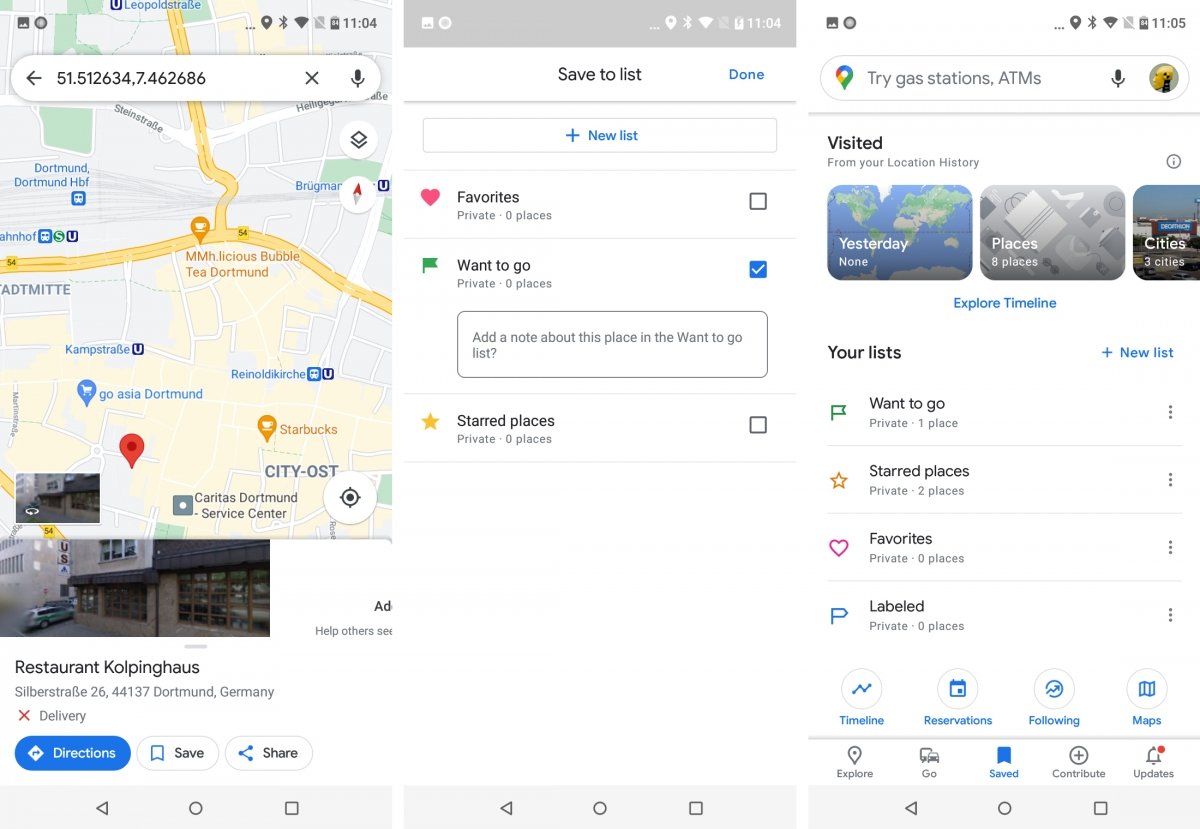 Save places and locations
To contribute to the improvement of Google Maps
If you want to help Google Maps, you can send your suggestions and contribute to the tool's improvement. You can also upload photos and make reviews through your Google profile, information that is included in many of the features of Google Maps. Have you found any errors? Do you know a place that is not shown on Maps? Through the app, you will be able to notify it.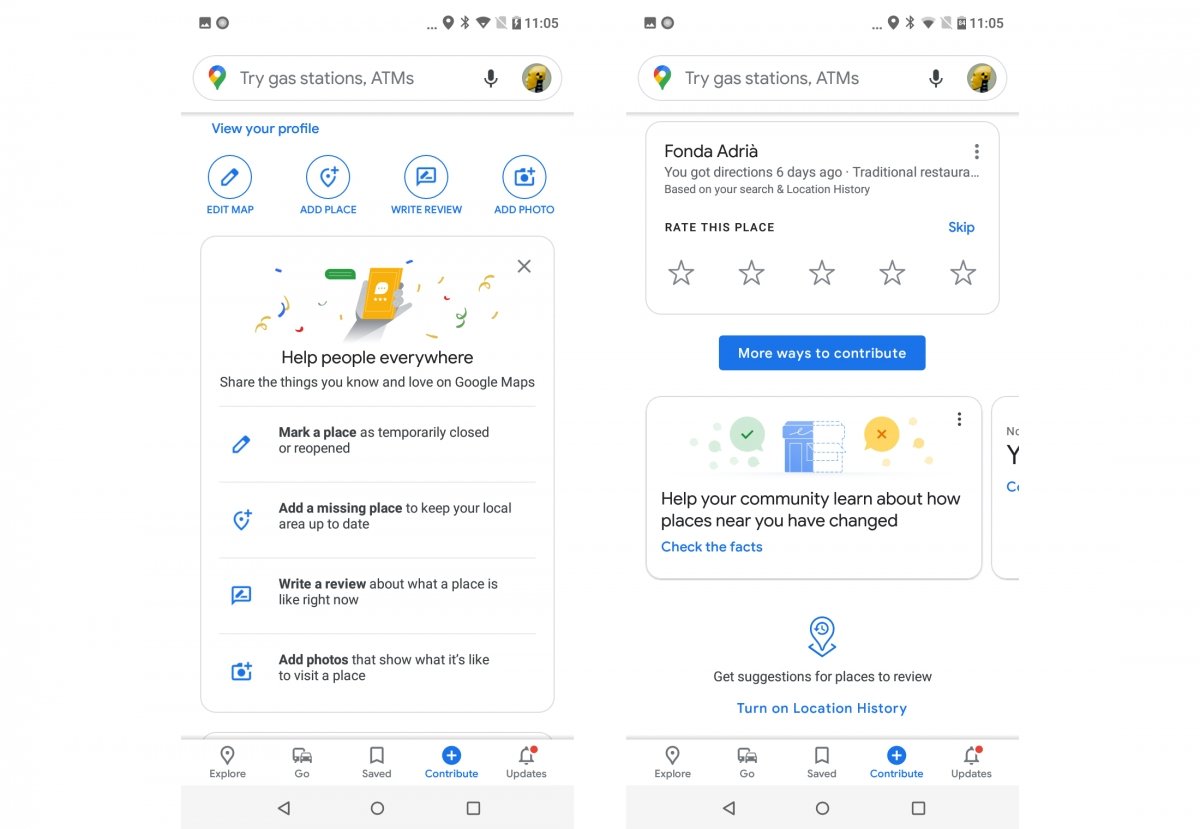 Contribute section
As we have been able to see, Google Maps is useful for traveling and everything you can imagine before, during, and after reaching your destination. It is very hard to get lost in real life if you use Google Maps but it is easy to get lost in the application with all the features it has.