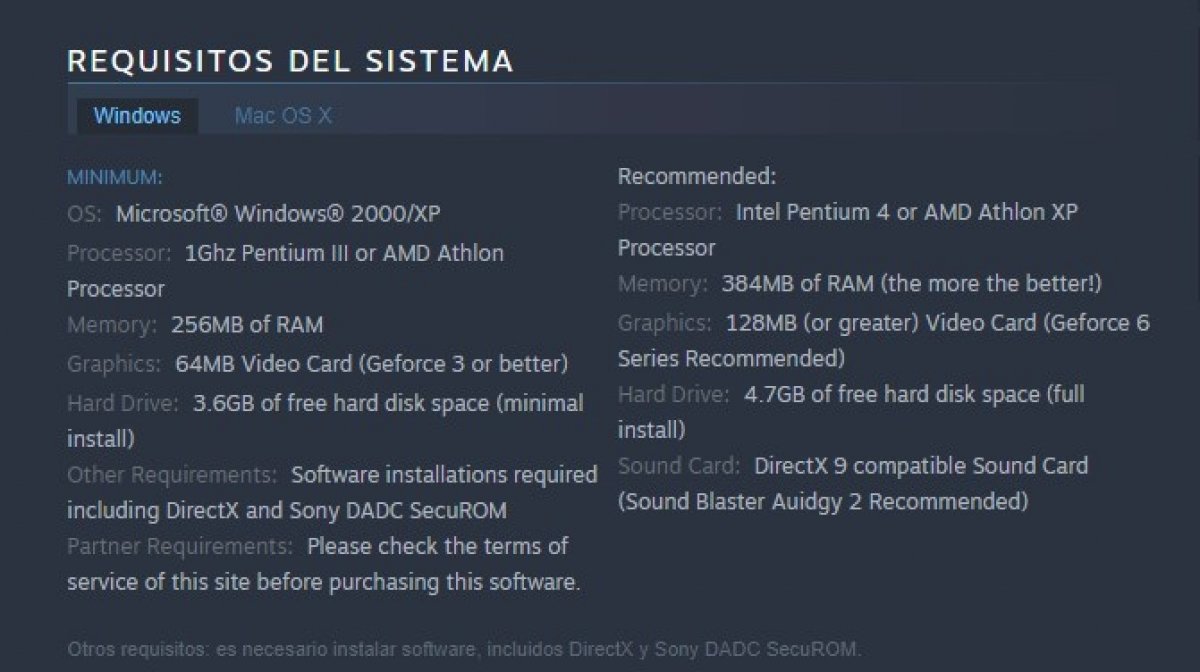 The requirements to install Grand Theft Auto San Andreas on a PC are different whether we're referring to the minimum requirements or the recommended requirements, and can be checked on Steam, the online video game distribution platform from where you can purchase and download this title. Let's start off with the minimum requirements:
Operating system: it works on old operating systems such as Windows XP and Windows 2000, so almost all users can run this game on their PC.
Processor: it requires a Pentium III or AMD Athlon at 1 GHz.
RAM memory: it requires 256 MB of memory.
Hard drive storage space: the minimum amount of space required to run this game is 3.6 GB.
Other requirements: amongst other requirements necessary to run the game and make it work, we'll also need to install DirectX and Sony DADC SecuROM.
However, if you want to play GTA San Andreas with high-resolution graphics and the utmost smoothness, we have to meet the recommended requirements:
Operating system: not specified but we know that it works on Windows XP and Windows 2000. However, the newer the operating system, the better.
Processor: the recommended processor is a Pentium 4 or and AMD Athlon XP.
RAM memory: it recommends 384 MB of memory but the more, the better.
Hard drive storage space: the full installation occupies 4.7 GB.
Graphics card: it can be run with the default video card installed on your PC but it's better to have a GeForce 6 with 128 MB of memory.
Sound card: to be able to enjoy all the audio effects and the game's incredible soundtrack, any sound card compatible with DirectX 9 is good enough, although its developers recommend a Sound Blaster Audigy 2.
In any case, if your computer exceed the recommended configuration, even better: the game will run much smoother.