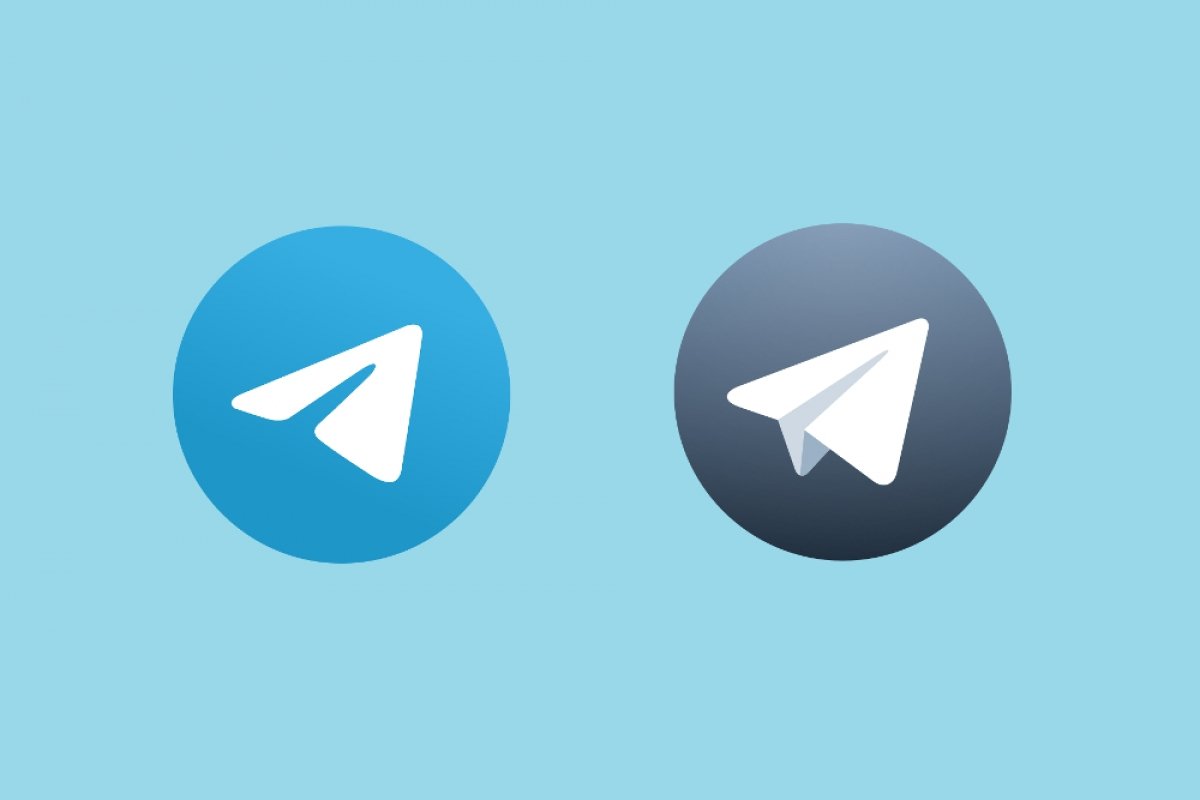 Both Telegram and Telegram X are apps developed by the popular instant messaging platform. Both apps are official and offered simultaneously to users, but do you know what exactly is different between them?
Development
The first difference lies beneath both apps. Telegram X was born in 2016 under the name of Challegram, created by Vyacheslav Krylov as a version developed from the TDLib (Telegram Database Library) to participate in a contest sponsored by Pavel Durov, the creator of Telegram. It is a tool aimed at facilitating the creation of different versions by third parties, bringing new advantages to the app. In 2018, it became an official version and its name was changed to Telegram X. Thus, their origins are different, even though they coexist today, and the type of programming behind them is as different as the libraries used.
Interface
There are many differences between the Telegram and Telegram X interface that can be noticed from the very first moment. Telegram X is organized in two tabs, one for chats and one for calls, unlike its big brother that does not have this type of organization. It also lets you pinpoint conversations at the top of the window.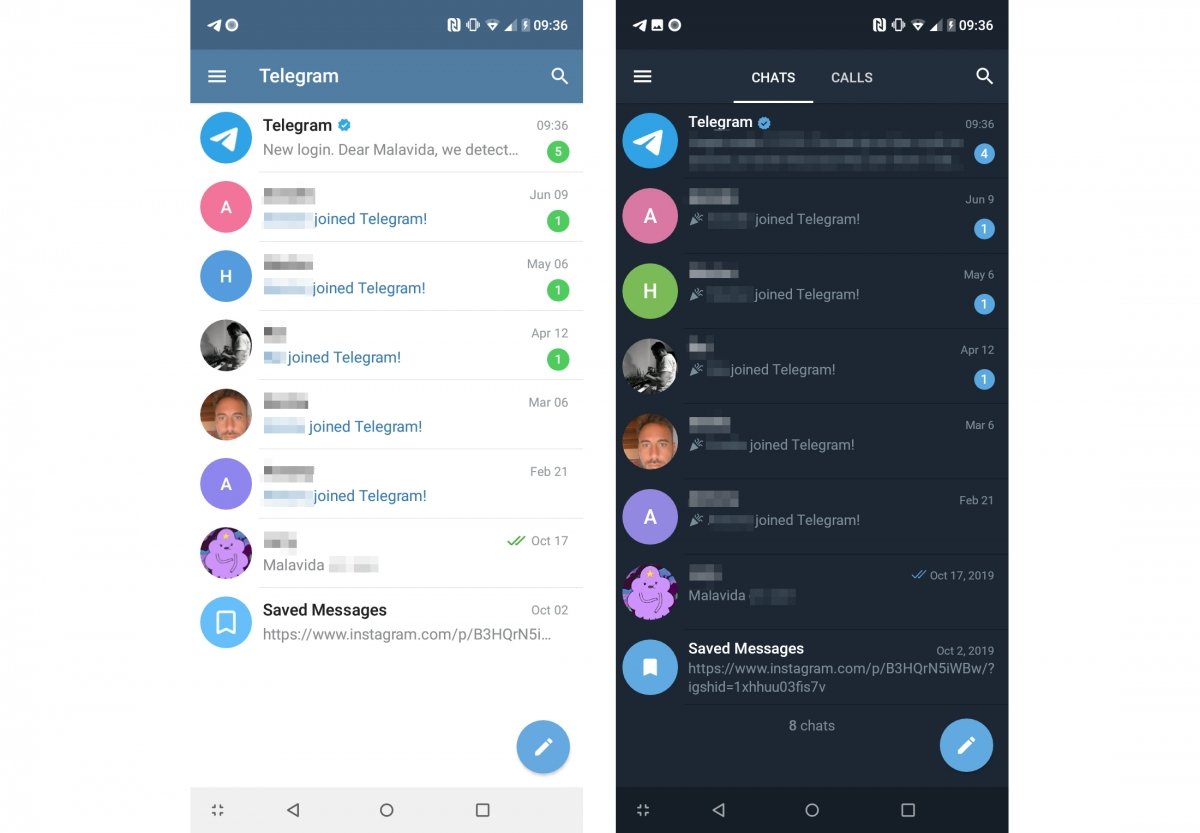 Telegram's interface on the left and Telegram X's on the right
Telegram X's performance is more fluid, transitions, and animations are smoother and faster, the design is neater, everything is more optimized from a visual point of view. Also, the customization options are higher, starting with a night mode (displayed in this guide by default for Telegram X), being able to create visual themes from zero, vary between different emojis packs like those of Apple, Samsung and other brands like Twitter or Google, or apply a bubble mode to chat messages to improve their display and reading.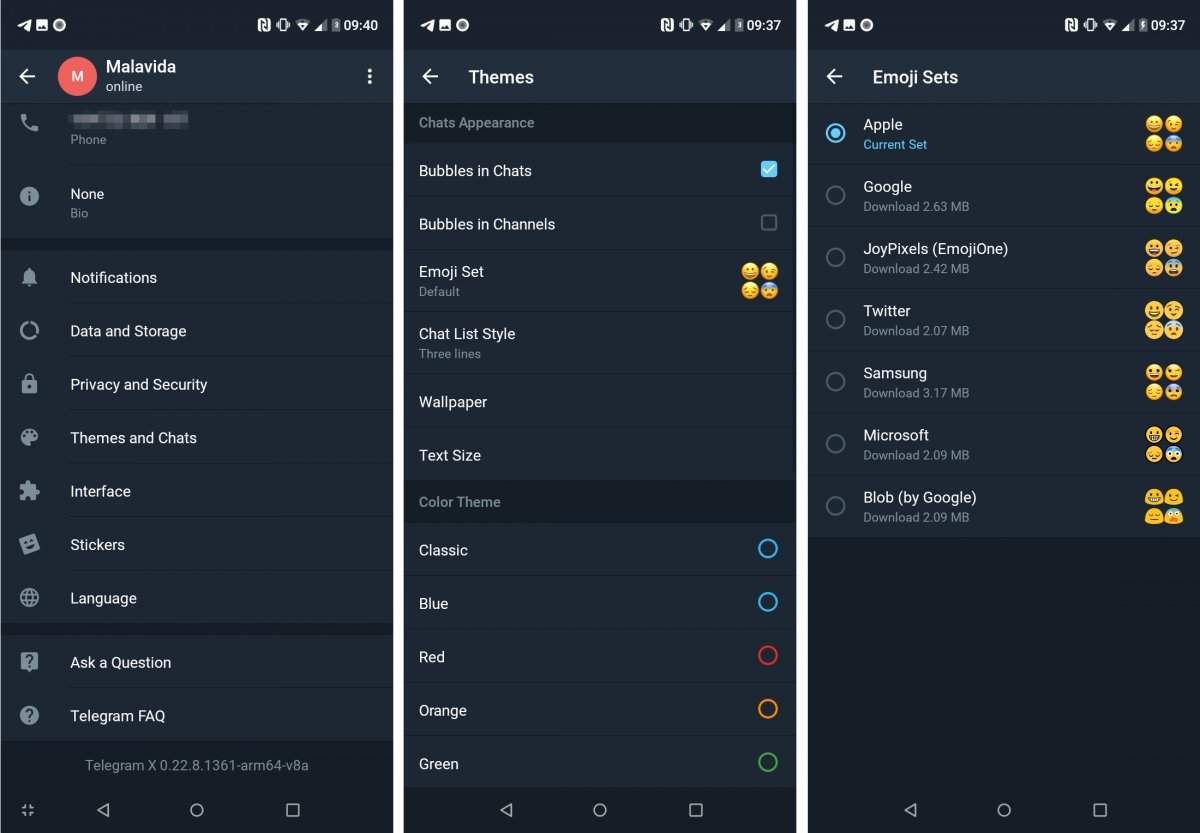 Telegram X's customization settings
Aesthetical differences are really everywhere: in the profiles of the contacts, in the menus for sharing files in the chats, in the integrated music player, and so on. However, in many cases, they are just that, aesthetic changes and most of them can also be modified in Telegram X.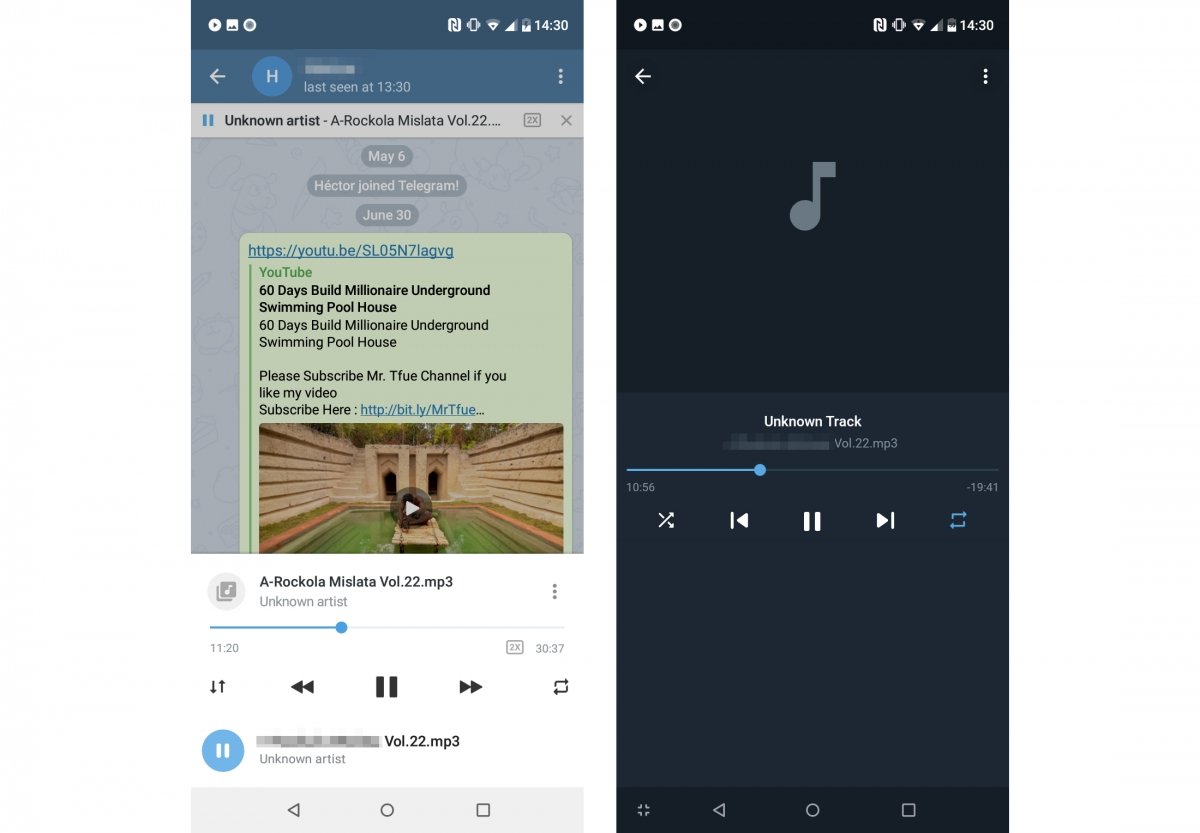 The visual differences regarding the music player
Chat blocking methods
Chats can be blocked and inaccessible without the password. Another difference between both versions is that in Telegram, it is only possible to block chats by using a PIN or a password, something similar in practice. Instead, in Telegram X, you have up to five different methods. In addition to the PIN and password, you have a keyboard pattern, some gesture, or fingerprint if you have a reader on your device.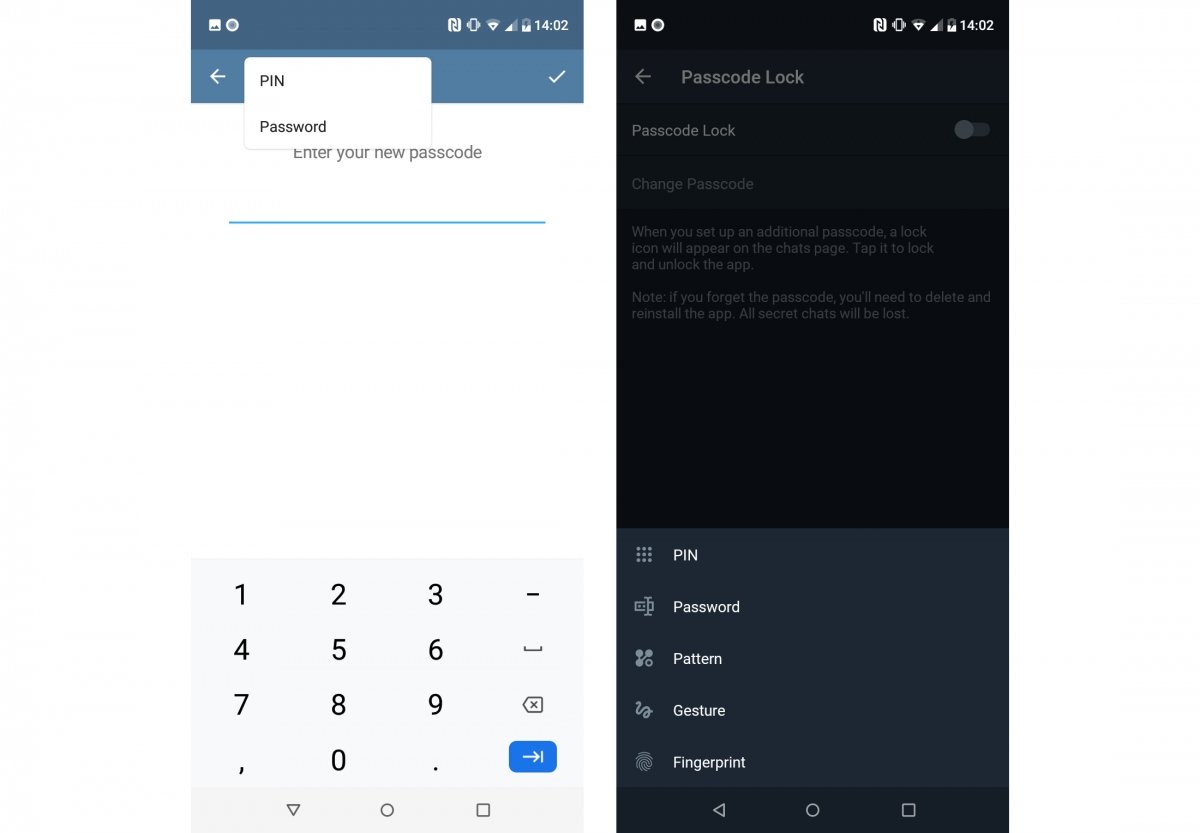 Chat blocking options in Telegram (left) and Telegram X (right)
Saved Messages
Something very interesting about Telegram is the saved messages section, it is basically like a conversation with ourselves where we can store everything we want to keep. Here, there are also significant differences between the two versions. The option is located in the left-side menu, but once inside, you will see that while Telegram simply allows you to access all the mixed content by clicking on the top, Telegram X organizes it by type so that it is quickly accessible.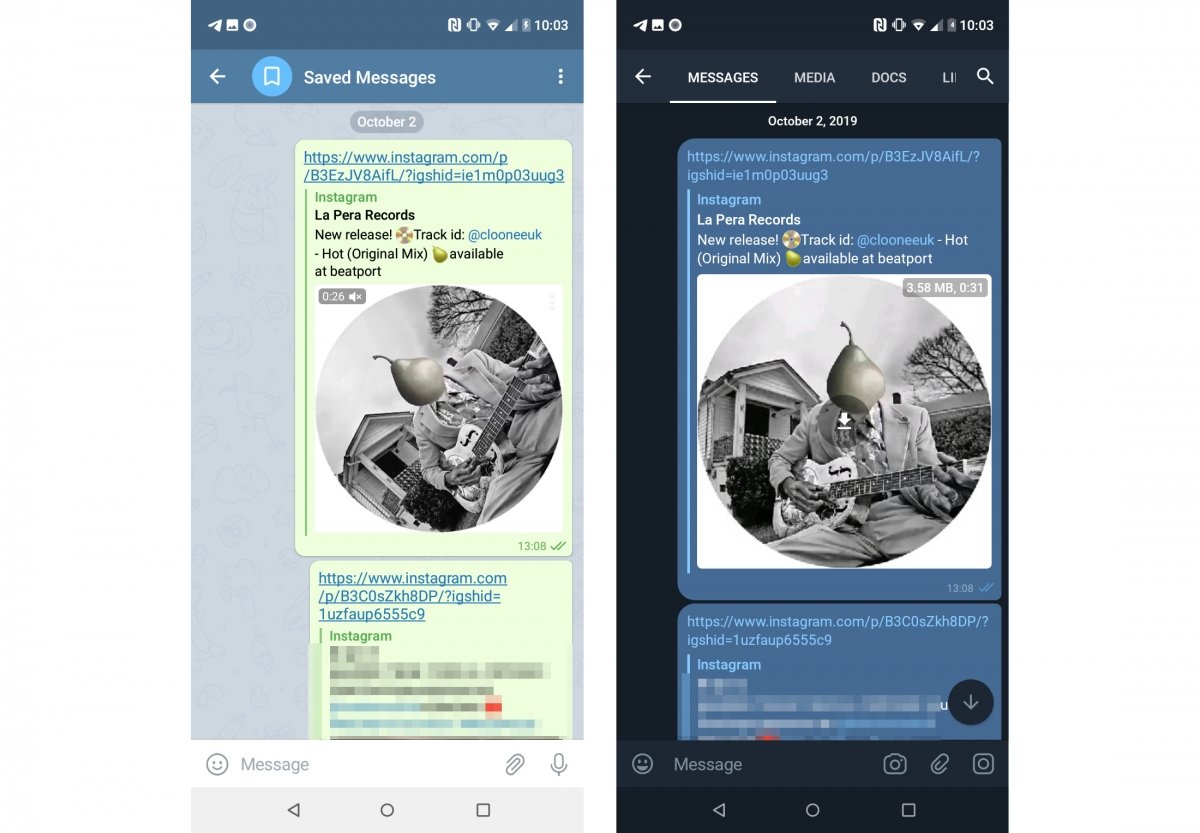 Differences regarding the saved messages chat
More customizable settings
Another difference is in the settings options in both apps. We have already referred to the interface, but it must be said that in Telegram X, there are other additional settings options, such as the autoplay of GIFs, the preview configuration of conversations by holding them down for a few seconds in the chat list, the animated sticker section, or the animation reduction. There are lots of additional settings that are not in Telegram.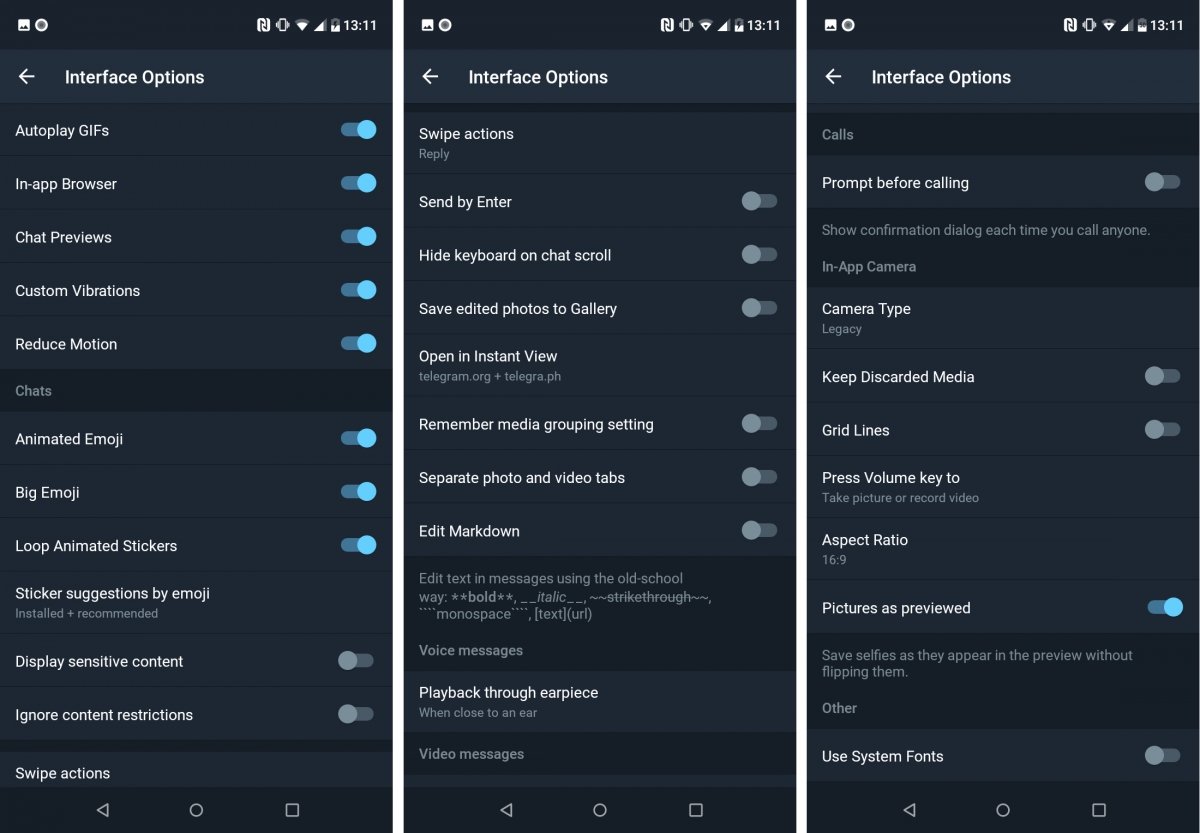 Additional interface settings in Telegram X
Stickers
The sticker options are far superior in Telegram X as well. If you go to the settings, you will see a specific section dedicated to stickers of all kinds, including animated stickers. You can add the packs that are trending, see the installed and archived ones, or access the Mask section, which contains more stickers.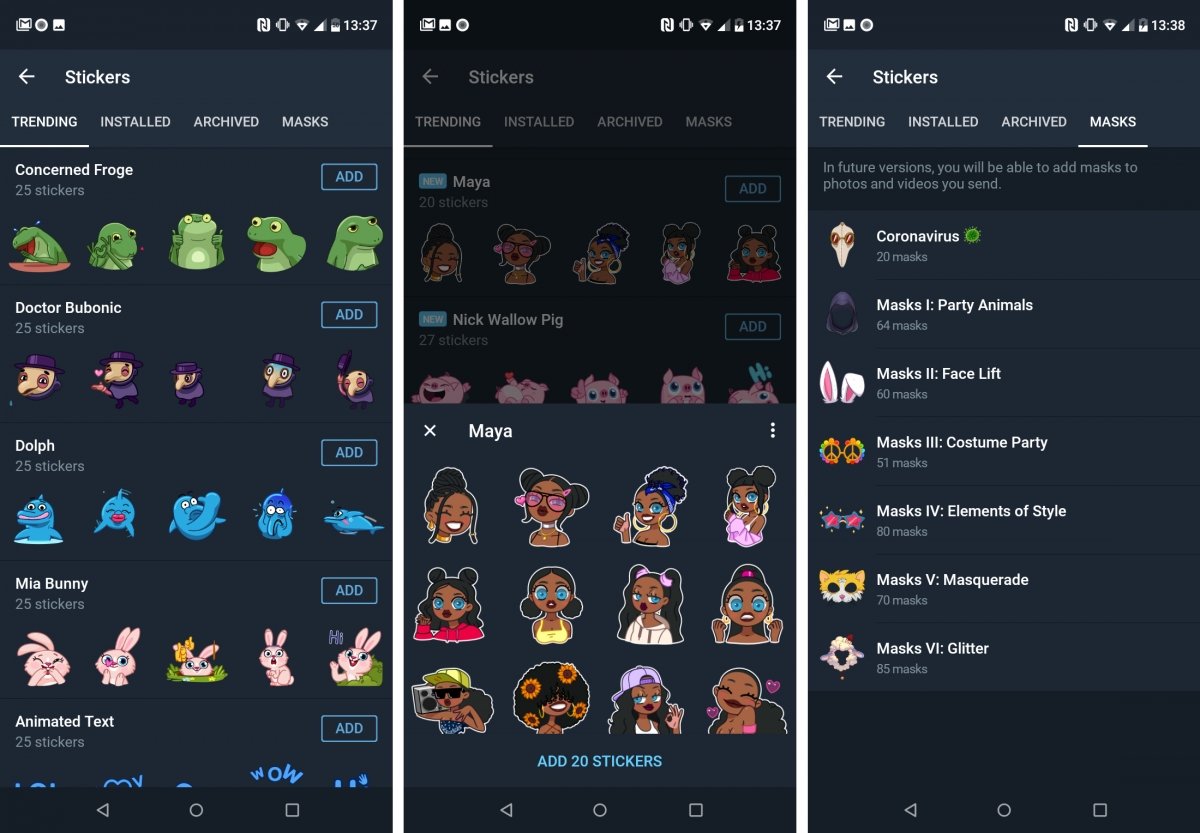 Sticker section in Telegram X
Both Telegram and Telegram X are different apps that offer the same service and work on the same network. However, there are differences between them, and they may be significant enough for you to choose one over the other.