WhatsApp requires a verification code every time you log in with an account on a smartphone. To get it, the company offers two methods to receive the key to access WhatsApp. However, many people are wondering if it is possible to access an account in this application without having to receive the verification code. Below, we will answer your questions and show you the options available to you to verify your identity when logging in to WhatsApp.
Can WhatsApp be activated without a verification code?
Is it possible to activate WhatsApp without a verification code? The answer is no. In fact, the obligation and entry of a 6-digit code is intended to protect the user.
It is important to note that the only data that is crucial to enter in WhatsApp to log in is the phone number. It is not difficult for other people to have this information, enabling them to log in to any profile. Thanks to code verification, only the owner of the number will be able to log in to WhatsApp. Although it is true that only with the number you can start the access process, it will always be necessary to enter the code that the account's owner will receive.
Bottom line, there is not (nor should there ever be) a way to log into WhatsApp without the verification code. Otherwise, the company's millions of users would no longer be truly protected against intrusions.
How to activate a WhatsApp account: all methods
There are two official methods to log in to WhatsApp and verify your identity. We will review them below.
By SMS
The most common way is to receive the 6-number code by text message. To do this, it is essential that you deactivate any mode that prevents SMS reception, such as airplane mode. WhatsApp will ask you for this code whenever you try to log in after reinstalling its application or want to use it on a new device.
It is important to mention that it is not a requirement that the SIM card corresponding to the number you use in WhatsApp is inserted in the mobile you are trying to log in. In fact, it is possible to check WhatsApp as long as you have a phone capable of receiving SMS with the appropriate SIM card inserted inside.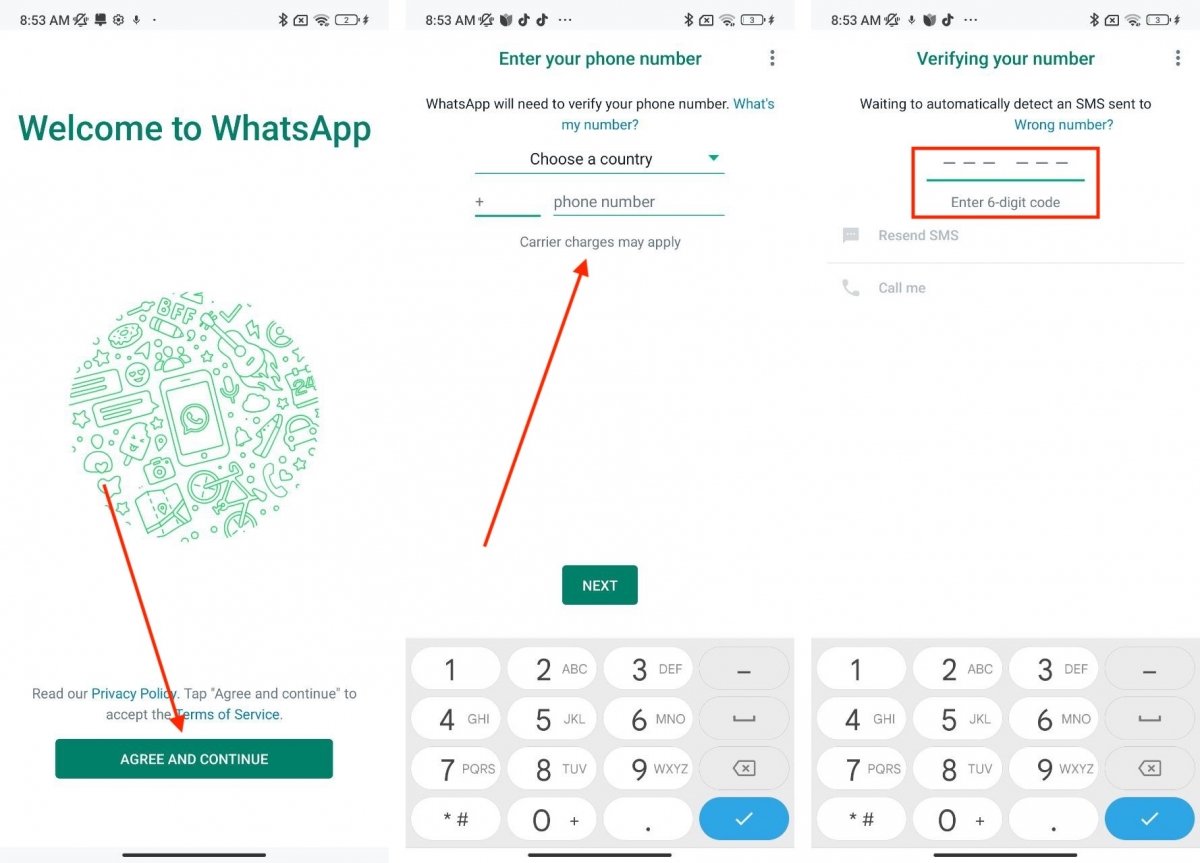 This is how to verify a number with the code sent via SMS
How to verify WhatsApp by SMS? Here are the steps:
Download and install WhatsApp on your smartphone.
Enter the phone number associated with your account. Please, remember that you must be able to receive SMS with the same device on which you have installed the application or with another one.
Wait to receive the code by SMS.
Write the code in WhatsApp.
Finalize your account setup.
This method is the most common when it comes to logging into WhatsApp and verifying the user's identity. As a result, it is sometimes used to defraud others and "hijack" their accounts. From Malavida, we recommend that you never send the verification code to anyone, and if you receive it unsolicited, ignore the request.
With a phone call
An alternative to receive the WhatsApp verification code is a phone call. This one can be useful in these cases:
If you are unable to receive the SMS for any reason.
When it is not possible to read the content of the messages due to physical limitations.
To set up a landline in WhatsApp.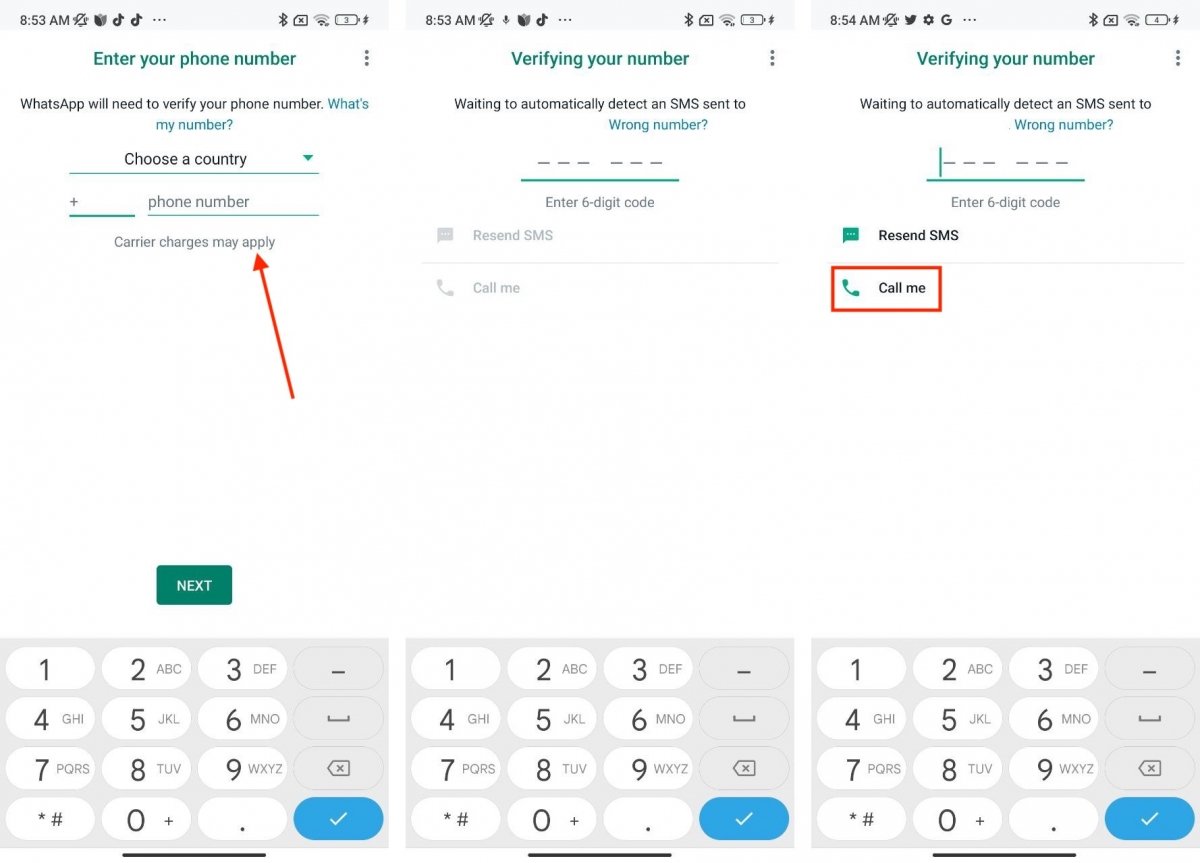 This is how to verify an account by requesting a call with the code
Now, how to verify WhatsApp with the phone call? This is how you do it:
After installing WhatsApp, enter your phone number.
By default, WhatsApp is likely to send you an SMS. A timer will appear on the screen and, when it ends, it will allow you to request a verification call. Select the Call me button to continue,
When you receive the call, pick up the receiver and listen carefully to the code. Do not worry if you do not get it the first time. The machine repeats it several times.
Write it down on a piece of paper or write it directly on WhatsApp.
Set up your account.
The verification code received through a call also consists of 6 digits. The WhatsApp call is usually made from abroad. Although it is not usual, we cannot assure you that your operator does not apply a special rate when receiving the WhatsApp call.
Can WhatsApp be activated by email?
No. WhatsApp only associates the phone number with your account. Therefore, the company does not know what your real email address is, and as a result, cannot use it to verify your identity.
In the support center, they make the issue very clear by stating the following: The verification code is needed to verify that the number you want to use with WhatsApp belongs to you. It is a requirement to check the phone number with the code that is received via SMS message or call. We do not send the code by email or to a different phone number than the one you wish to verify. There is no room for doubt.
Although the company is clear about it, some users comment that they have managed to verify their WhatsApp account by email. They have done it this way:
Obtaining the application and installing it on the phone.
Enabling airplane mode and turning on the wifi.
Typing the phone number in WhatsApp.
They claim that since airplane mode is enabled, WhatsApp will offer you the ability to verify your account by email.
Receiving the verification code by e-mail.
We have tried to follow these steps and we confirm that it has NOT worked in our case.