Signal is presented as a secure and private alternative to WhatsApp. But does the first one measure up to the second? Are privacy and security a drawback to being a full-featured messaging application? Throughout this analysis, we will discover how Signal and WhatsApp are similar and how they differ.
Signal and WhatsApp: similarities
The similarities between the two applications are striking. We can say that Signal has managed to imitate the simplicity of WhatsApp, focusing on communications between users. Both pursue the same goal: to help you connect with other people.
Interface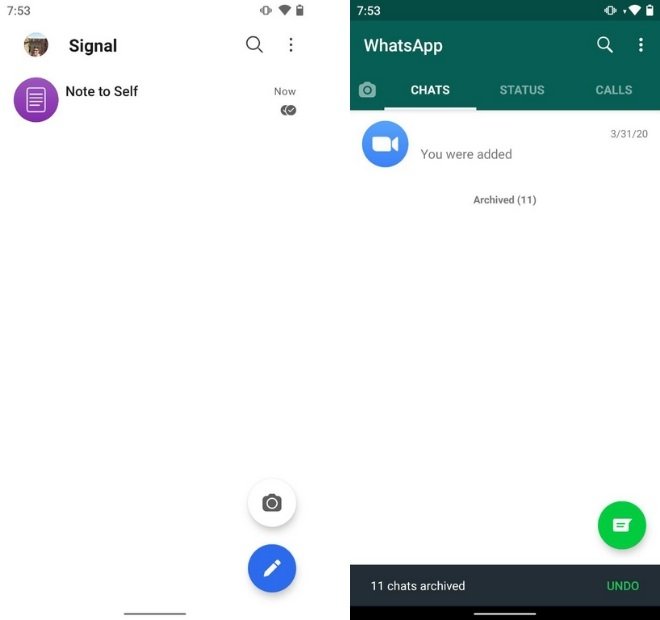 Signal and WhatsApp's interface
Let's start the comparison by focusing on the interface. In Android, both follow the patterns set by Google and use elements such as function buttons, located in the lower right corner. The main screen of the one and the other is nothing more than a simple list of conversations. From here, you can also access archived chats. It is important to mention that both applications have a search engine and that their access is located in the same place.
Supported functions and formats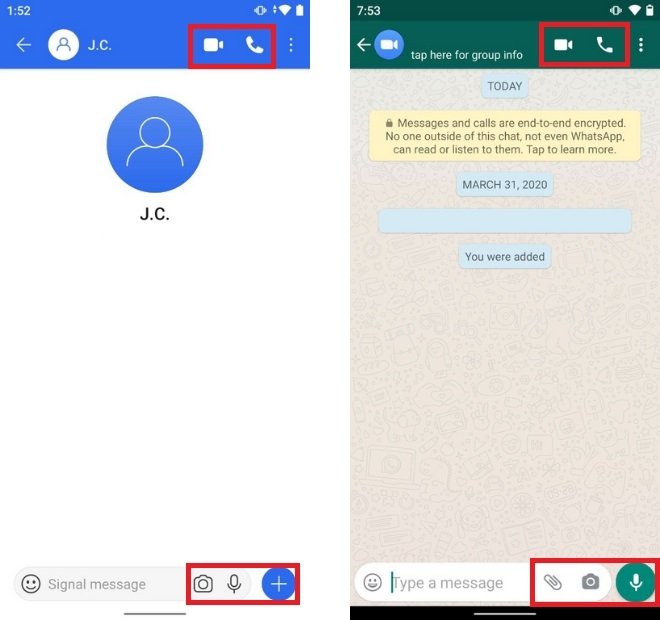 Functions in both applications
The interface remains very similar in chats, as do the included functions. It is also noteworthy the similarities in the location of the different shortcuts. At the top, you will find the calls and video calls. Below, a text field where you can compose your messages, and the corresponding buttons to attach other types of content. They also have self-destruction of messages, an option available in the chat options.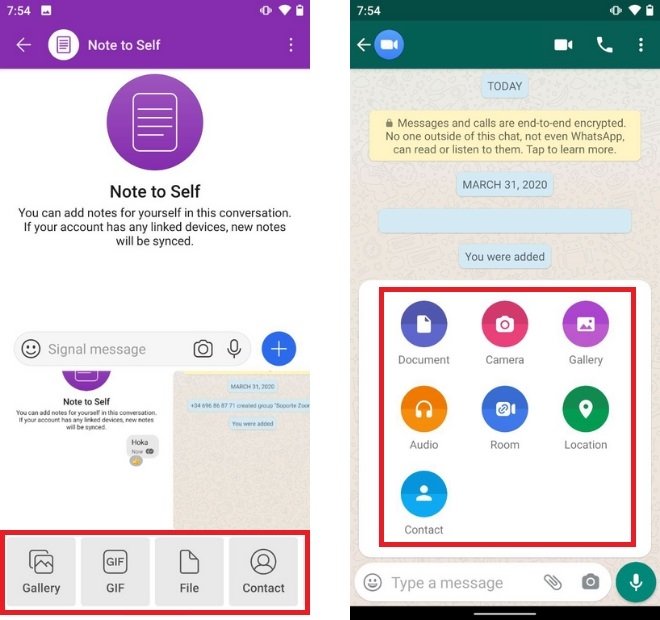 Accepted formats
Both Signal and WhatsApp support the same formats. It is possible to send, in addition to plain text, photos, videos, GIF animations, files, contacts, and locations. The only option that is not available in Signal is Room, the Facebook Messenger chat rooms that, for some time now, have been integrated with WhatsApp.
Settings panel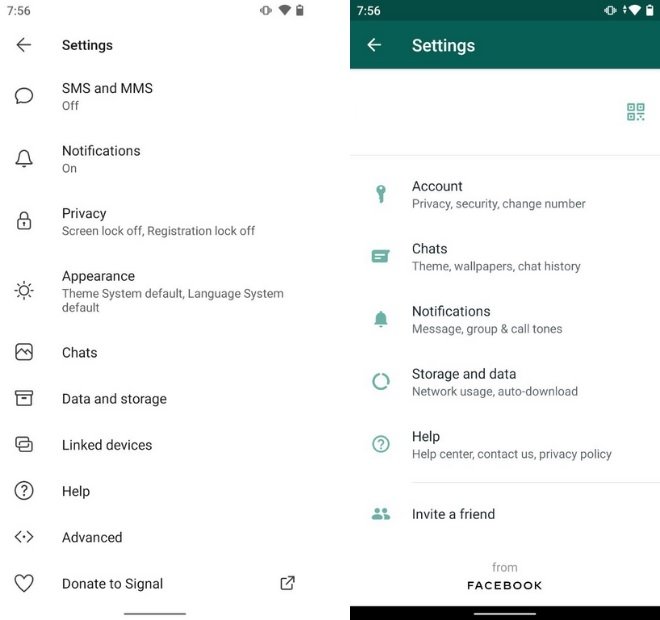 Similarities regarding the settings panels
Although they do not have the same layout, similar options can be found in the settings panel of both applications. There are specific sections to manage notifications, options to customize chats, and a section dedicated to storage usage. You will even find direct access to their respective support pages.
Security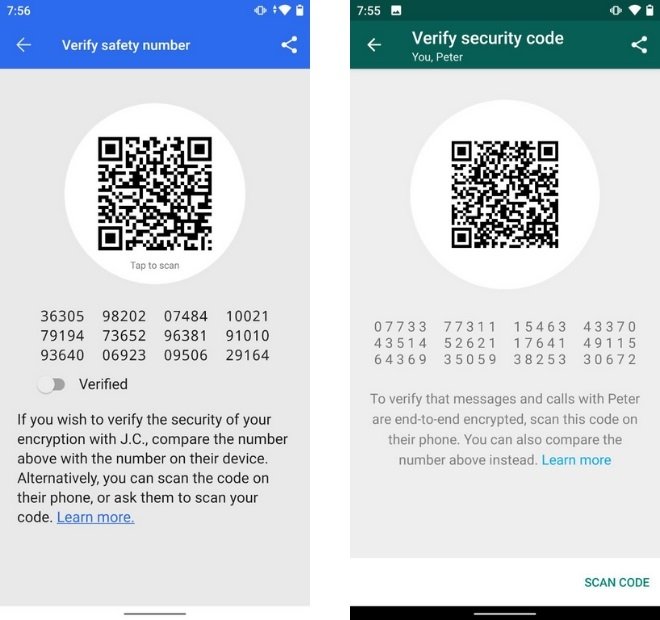 End-to-end encryption
Up to this point, you may have found it difficult to distinguish between the two applications. But if we focus on security, Signal and WhatsApp are two peas in a pod. Both use a point-to-point encryption system. Therefore, all content you transmit is protected during the sending and receiving process. If you want to see the encryption code used to chat with another user, you can do so in the chat information. As you can see, the screen where this information is displayed is virtually the same in both applications.
All these similarities between Signal and WhatsApp highlight that the former is a perfectly valid alternative to the latter. Both offer the same options, in a very similar interface. However, not everything is alike.
Signal and WhatsApp: differences
Leaving aside some minor differences, Signal and WhatsApp are mainly distinguished by something that is not visible to the naked eye.
Privacy
The feature that most distances Signal from WhatsApp is the privacy it offers. We have already mentioned that both offer an excellent degree of security. However, encrypting messages and other peer-to-peer content is not enough. WhatsApp tracks many of your movements and knows your position, the contacts you have, which groups you are in, how you use the application, and many other details. Such information is valuable to Facebook, WhatsApp's parent company, which uses it to maximally target advertising on its other services. Simplifying it as much as possible, we can say that WhatsApp knows everything about us, except the content of our messages.
Signal, on the other hand, is owned by a non-profit foundation. Therefore, it does not need to monitor all your activity. After all, their goal is not to make a financial return on their messaging platform but to offer a truly private alternative. The similarities between the two applications demonstrate that it is possible to offer a long list of features without compromising the privacy of users. In fact, privacy is the big difference between these two applications.
Some insignificant differences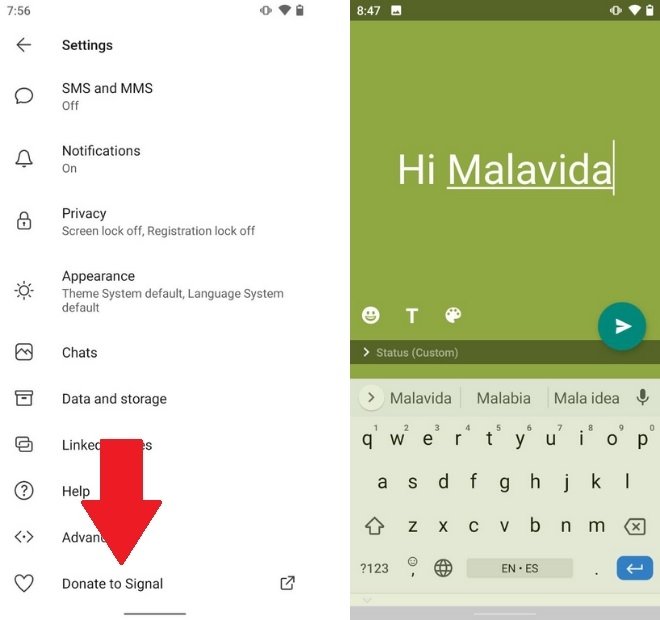 Signal donations and WhatsApp statuses
Between Signal and WhatsApp, there are also small and almost unnoticeable differences. For example, WhatsApp lets you create statuses, a type of audiovisual content that disappears in 24 hours. Signal does not offer this possibility. On the other hand, Signal supports donations from users. In this way, they can cover the costs of maintaining the service. There are also differences in the limit of users per group, being 1000 users in Signal and 256 in WhatsApp. Finally, Signal lets users send files and messages to themselves, a feature that is not available in its competitor. It is clear that these differences are very small and do not dispel the feeling that we are dealing with two applications that are practically the same.
Signal and WhatsApp: which is better
If we focus strictly on the available functions, we cannot award the victory to either of the two. But the major difference in the area of privacy makes Signal the winning application. After all, it has all the features of WhatsApp and with a significant privacy bonus at the same time. So, if you care about this issue and like everything you can already do on WhatsApp, Signal is an ideal app for you. Of course, you will have to convince the rest of your contacts to switch to it.