Instant messaging is unquestionably part of our lives. Although there are lots of messaging applications, WhatsApp and Telegram are two of the most used. Therefore, we will explain in this article what you can expect from each of them, what objectives they pursue, and what their key functions are.
How WhatsApp and Telegram are similar
At the interface level, there are many similarities between the two platforms. The most basic function of WhatsApp and Telegram is the sending of messages between two users. Therefore, the initial screen of both is a list of conversations, without unnecessary additions. They are sorted by showing the most recent ones at the top.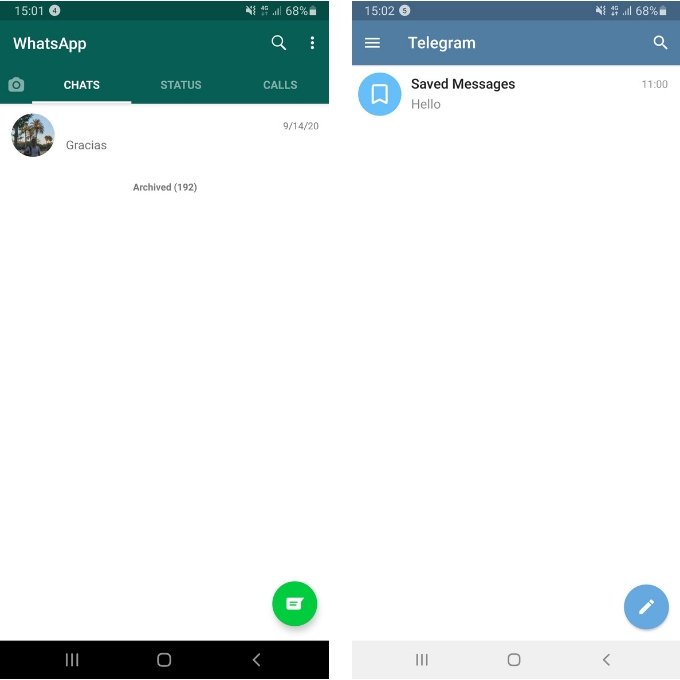 List of chats
When accessing any conversation, we can see that the options are very similar, although distributed differently. In WhatsApp, we have shortcuts to functions such as calls and video calls, while in Telegram, they are hidden in the upper options menu. The bottom part is also similar, with a text field and different options to send content.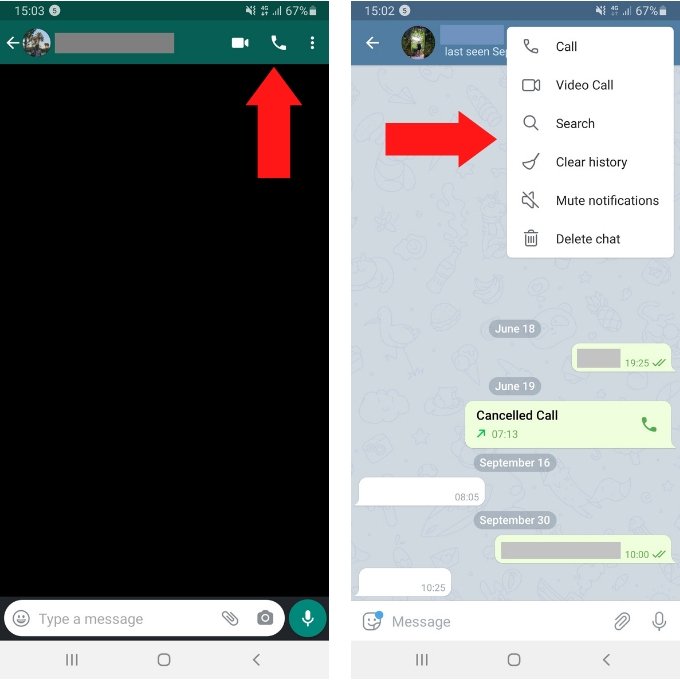 Chat options
The settings menu has similar options in both applications. Of course, they are not categorized in the same way. However, it is possible to modify the notifications and chat behavior, change the profile image, or the storage usage of both apps. In fact, both provide direct access to the most frequently asked questions and to the support page.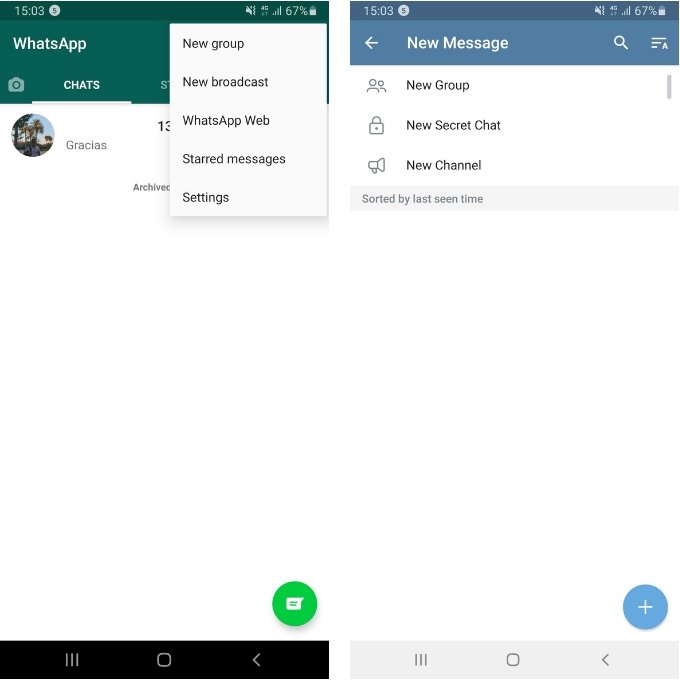 Start a new interaction
Back to the main screen, both WhatsApp and Telegram, offer the possibility to start a new conversation, create a group, a broadcast list, or a channel. In any case, initiating new interactions is very simple in both cases.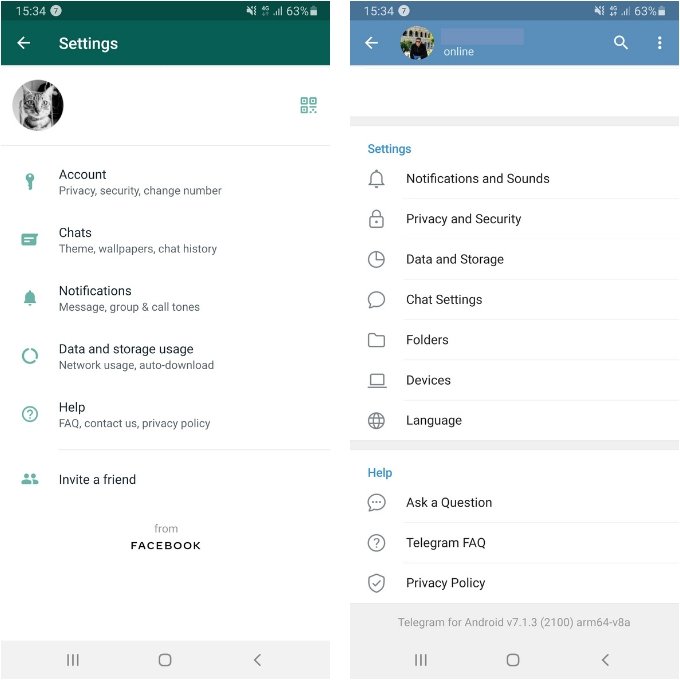 Comparing the settings menus
When it comes to security, both have end-to-end encrypted chats. WhatsApp, using the Open Whisper System encryption, has this feature enabled by default and cannot be disabled. For Telegram, with a 256-bit AES system, 2048-bit RSA, and Diffie-Hellman key exchange, it is necessary to go to the side menu and click on New Secret Chat. The two platforms share a fundamental feature in any instant messaging application aiming to protect users' privacy.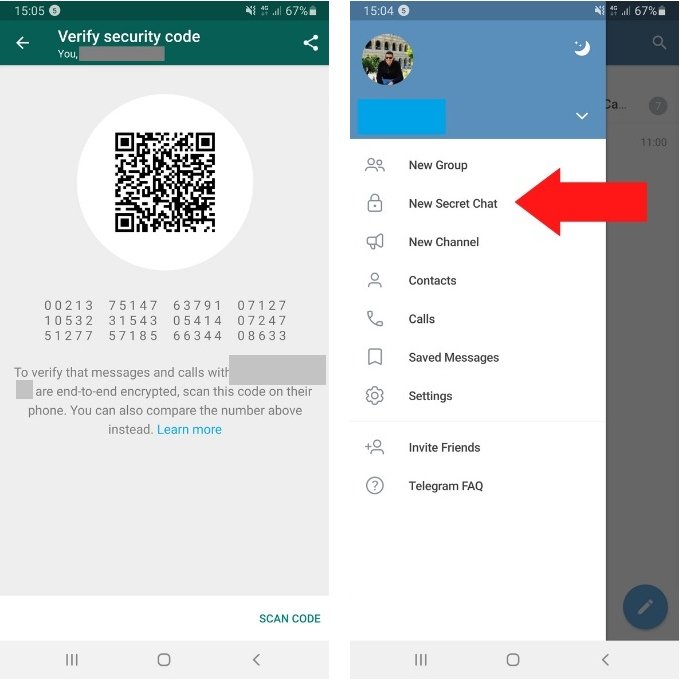 End-to-end encryption
In addition to sending text messages, you can also send all kinds of content. WhatsApp has already been upgraded to the Telegram level letting you send contacts, files, and documents, pictures, videos, or audio. Also, both let you record voice memos and capture videos and photos without leaving the application. The size limit for a document in WhatsApp is 100 MB, while in Telegram, it is 1.5 GB.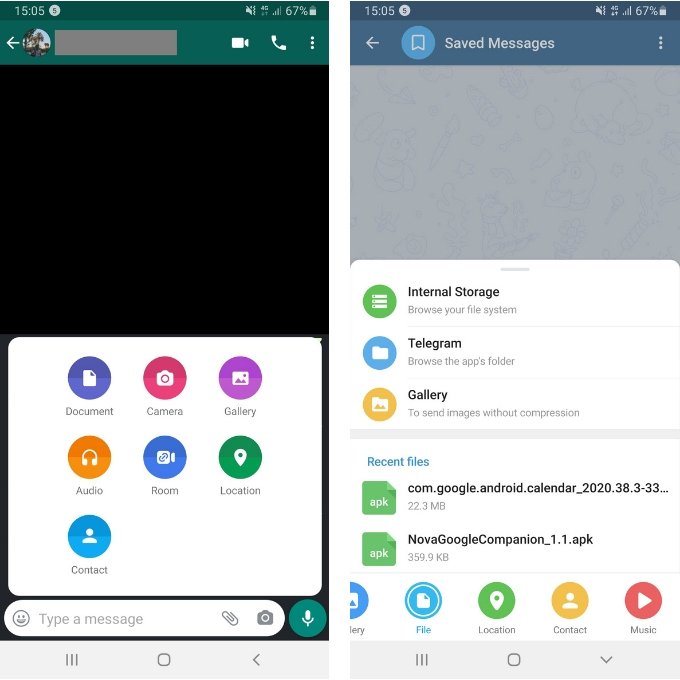 Sending files and multimedia
Regarding graphic elements, both have a complete collection of free downloadable stickers. They can be obtained from their respective app, without resorting to third party applications.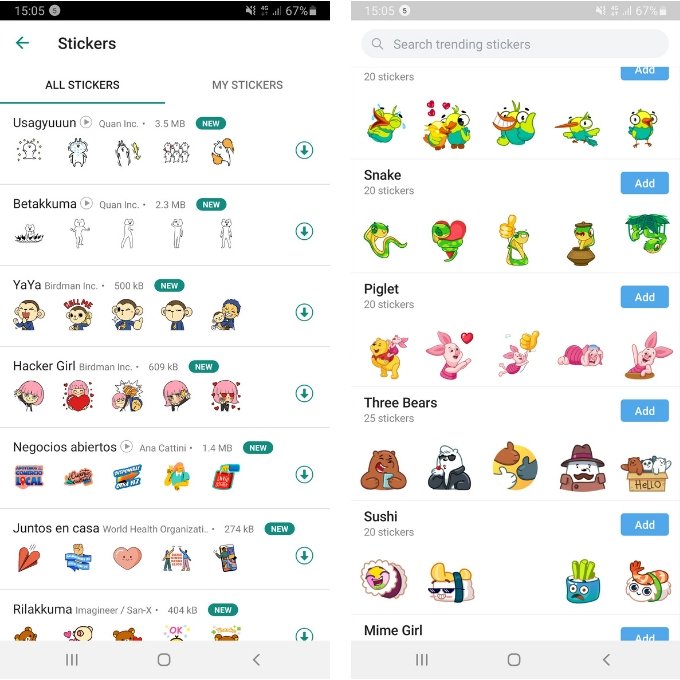 Stickers store
Finally, its distribution is done in the same way. Both, WhatsApp and Telegram are available at major application stores such as Google Play and the App Store. And of course, at Malavida, we offer you a secure download of the latest version of both applications.
How WhatsApp and Telegram are not alike
It is clear that when it comes to the basic use of WhatsApp and Telegram, there are no major differences. However, each has several unique characteristics that differentiate one from the other.
The main difference is the type of structure they use to operate. WhatsApp does not work in the cloud but Telegram does. Although both use a data connection to transmit content, in the case of Whatsapp, it is only hosted in the sending device and the receiver. Telegram, on the other hand, saves content in the cloud by default. This affects the user experience because, while WhatsApp is only accessible from one location and depends on a specific device, Telegram can be accessed from any computer, phone, or tablet with an Internet connection. Thus, the dilemma for the user lies between privacy and convenience.
Additionally, we find some unique features in both applications. For example, WhatsApp lets you create statuses with images, links, or videos. Like the Instagram stories, the statuses are ephemeral and disappear after 24 hours.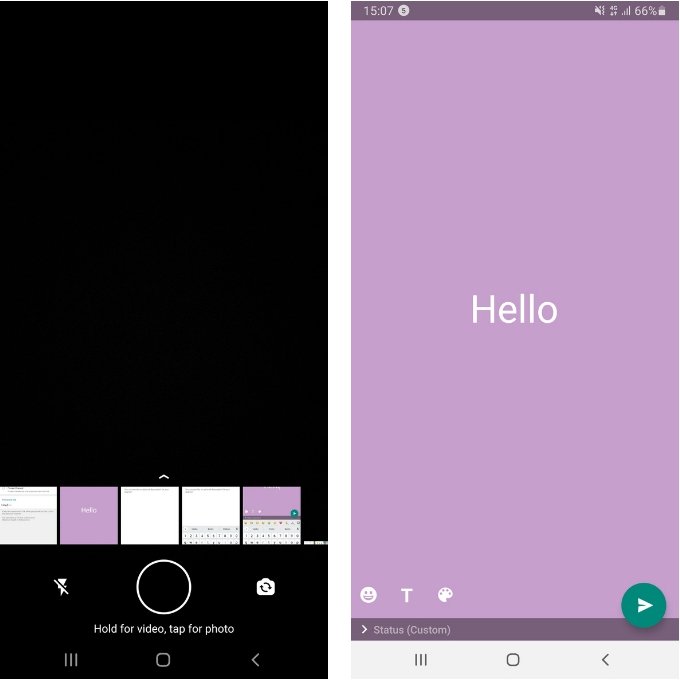 Creating a WhatsApp status
Also, Telegram supports the creation of channels, even used by government agencies to disseminate information. The closest thing WhatsApp offers to channels is the broadcast lists. However, the latter tool is limited and does not let users join voluntarily. As for the limits set for groups, Telegram supports a maximum of 100,000 users and WhatsApp only 256.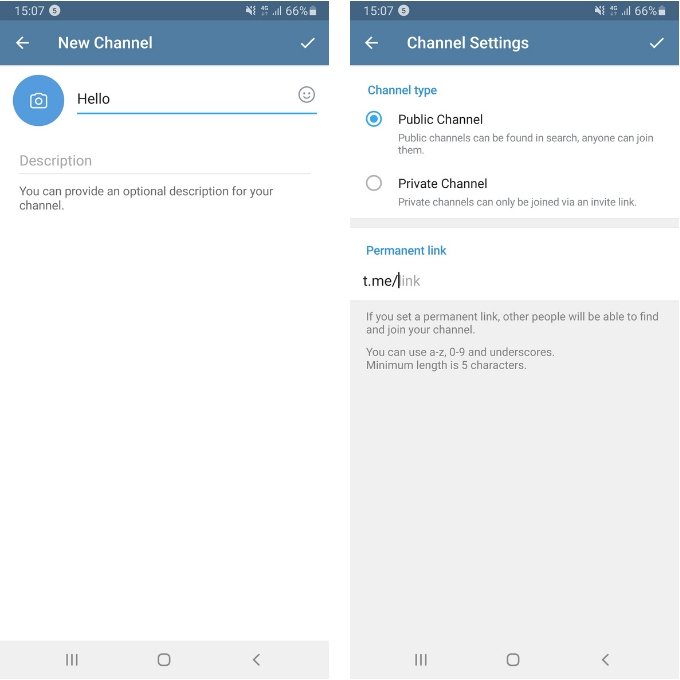 Creating a Telegram channel
Another important difference is that Telegram lets you log into multiple accounts simultaneously on the same device, and WhatsApp does not.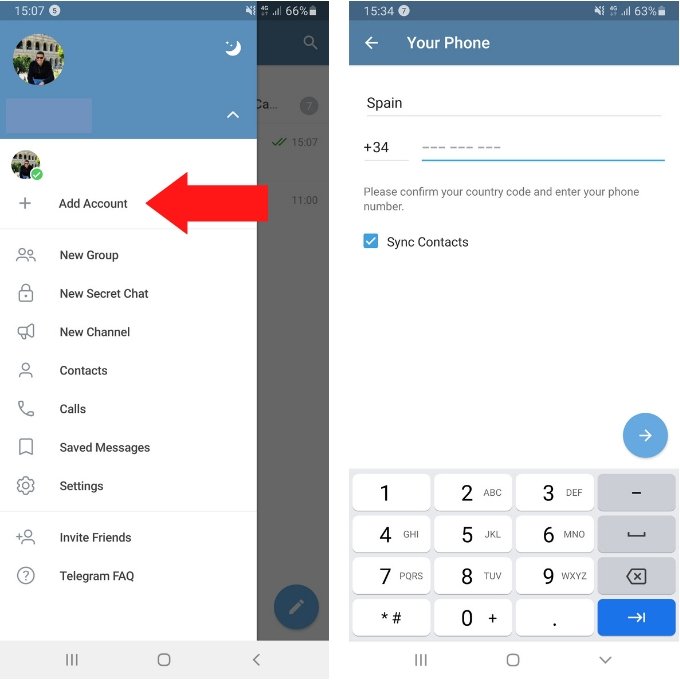 Adding a new account to Telegram
Finally, we must not forget that Telegram is an application with a completely open API. Therefore, official and unofficial clients are available on almost any platform. We can use the service on the iPhone, iPad, and Android. Also from the desktop, thanks to its applications for Windows and macOS. And, in fact, from any device using the web version, fully functional without depending on the phone. This is clearly one of Telegram's strengths over WhatsApp.
WhatsApp vs. Telegram: which
After this analysis, it is clear that both applications are excellent for instant messaging. However, WhatsApp is in fact, a more limited application, focused mainly on user-to-user interaction. Telegram, on the other hand, is an extremely versatile tool that lets you create not only personal chats but also advanced channels and groups. It is accessible from any device with an Internet connection. However, despite having the secret chat feature with end-to-end encryption, it sacrifices user privacy by default to provide advanced functionality.
In short, both platforms are forced to coexist on the devices of many users who use WhatsApp to contact their friends or family and Telegram to connect with media, organizations, and institutions.