WhatsApp is constantly being updated with new features. One of the most interesting is the disappearing messages. As a result, the oldest messages disappear, keeping the conversation cleaner and reducing the size of the backup copies. So, do you want to know all about WhatsApp temporary messages? Let us tell you all about it.
How to enable disappearing WhatsApp messages on Android
Firstly, here is how you can enable WhatsApp's temporary messages on your device. To get started, access a conversation and tap on the contact's name.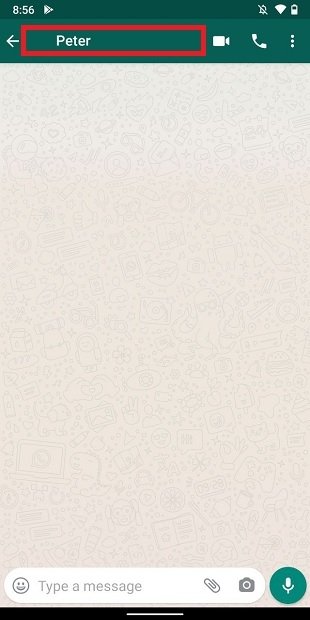 Open the chat's settings
Locate the Disappearing messages option and tap on it.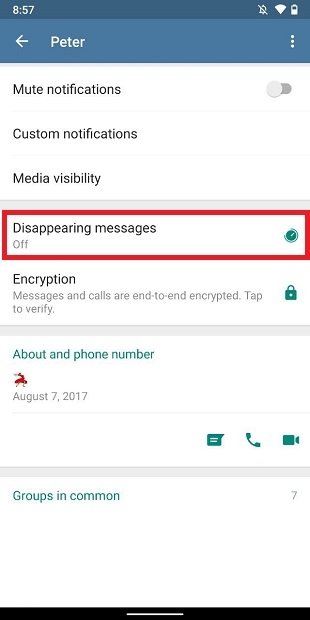 Disappearing messages options
Tap On to activate the temporary messages.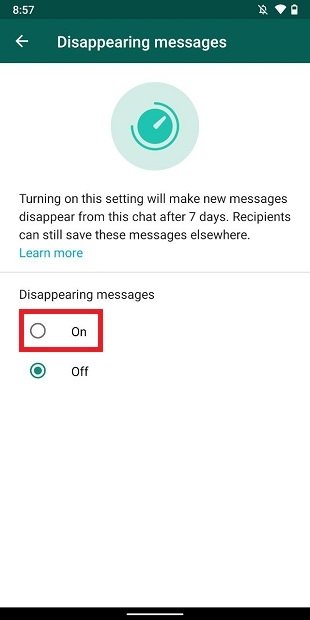 Enable disappearing messages
From now on, message deletion will have been activated. Those messages older than 7 days will automatically disappear. But what should you keep in mind regarding this option?
WhatsApp's disappearing messages: how they work
There are some aspects of how temporary messages work that you should be aware of.
The expiration time cannot be customized. There is no way to set a deletion time shorter or longer than 7 days.
Temporary messages are included in the backups. Yes, if you create a daily backup, all messages will still be saved. However, if more than 7 days have passed since the message was sent by the time you retrieve the copy, WhatsApp will restore it and immediately delete it.
This function can be activated by either party. Even if you do not want to activate the temporary messages, you will have to live with them if the other contact specifies so.
Temporary messages are available in groups. This option is activated and works in the same way in both individual and group conversations.
Temporary messages can be saved in different ways. The fact that a message disappears from a chat does not mean that it could not have been captured using other methods. For example, they can be forwarded to other conversations, it is possible to capture the phone's screen or a third party could take a picture of the screen.
In short, disappearing messages aim to organize chats better, avoiding the accumulation of attachments and messages. In no case is this a real privacy measure, as it is very easy to store the information of a conversation, even with this function activated.