WhatsApp voice notes or audios are an excellent way to communicate with other users. Simply tap the record button and start talking. The steps to download and save WhatsApp audios are very simple. If you have ever done it from your cellphone, you will have noticed that the extension used by the application to store this content is OPUS. Given the above, you may be wondering how to open or play WhatsApp audio files on your cellphone. This is a guide that answers that question in several ways. Here are some of the most recommended methods to listen to an OPUS document on your Android phone.
Open a WhatsApp OPUS audio with file explorer
The first thing we advise you to do is to check if the file explorer of your cellphone is compatible with OPUS files. For example, if your device has Google Files installed, all you have to do is locate the file in the corresponding folder and tap on it.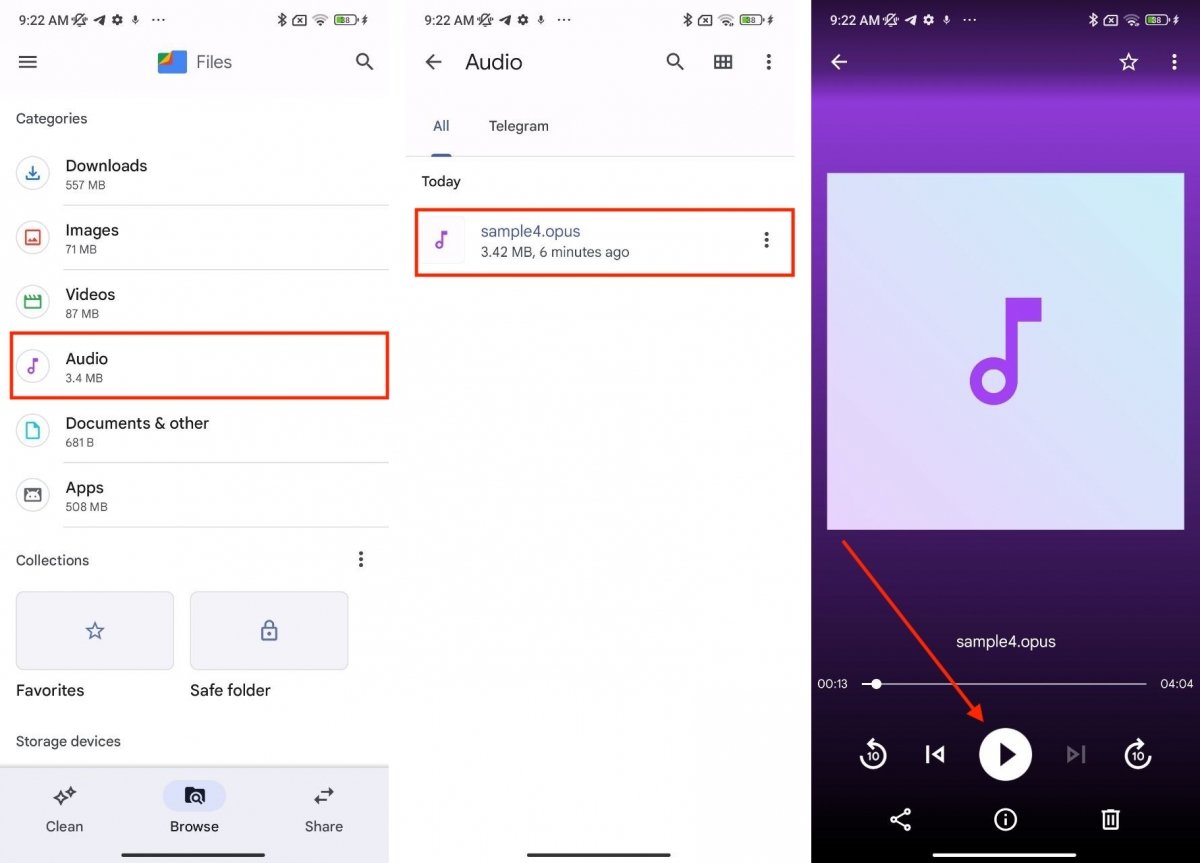 The file explorer is your main ally when it comes to opening an OPUS file
Opening an OPUS file on Android with a supported browser, such as Google Files, is this simple:
Browse through the folders to find the OPUS file or select Audio from the main page.
Tap on the WhatsApp voice memo.
Start playback by tapping Play.
This method is the simplest of all that we can propose. Fortunately, for those for whom it has not worked, there are some alternatives that we will now detail.
Open OPUS with VLC Player
VLC Player is the most versatile player you can download to your phone. We can safely say that it can handle anything, even OPUS files. After downloading and installing it on your cellphone, simply follow the instructions below.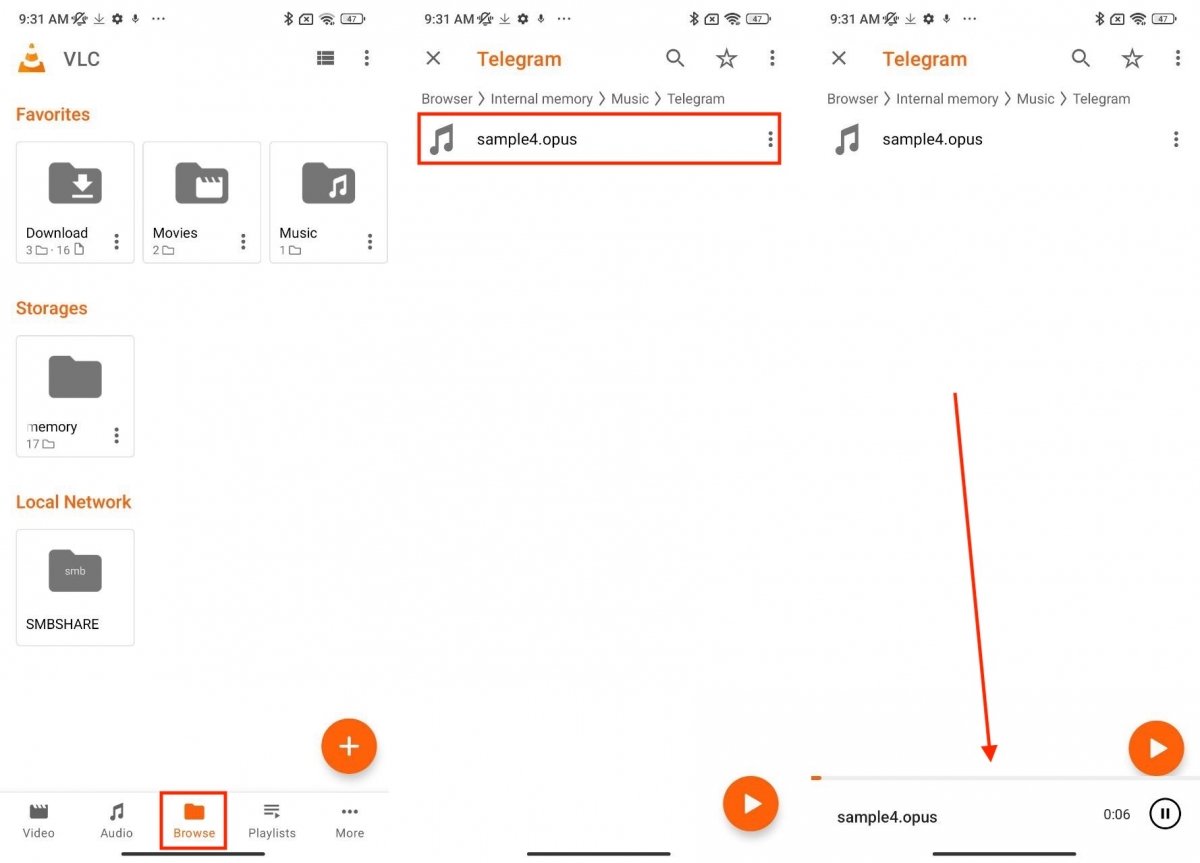 Playing an OPUS file with VLC allows you to open WhatsApp voice notes
This is how you can open audio in OPUS with VLC Player:
Tap Browse to browse through the folders on your device.
Tap on the OPUS file.
Playback will start automatically.
Alternatively, you have the option to browse all OPUS files on your device in the Audio section of VLC.
How to listen to an OPUS file without installing applications
If the methods we have mentioned so far have not worked for you or you simply prefer not to install any application, we recommend that you use an online OPUS file playback service. This way, you will not need to download any additional applications on your cellphone.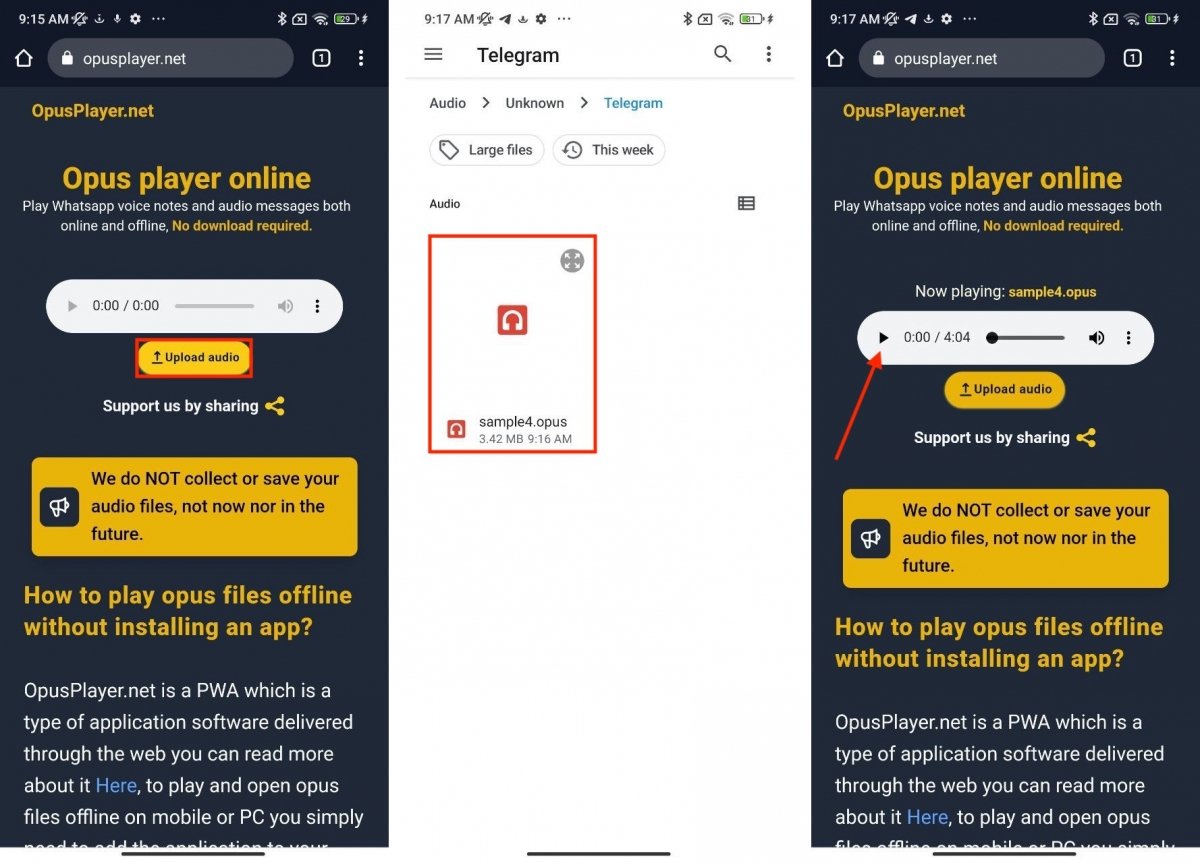 OpusPlayer is a fantastic web application to listen to OPUS files
Of course, you will need your browser to follow these guidelines:
Open your browser and access OpusPlayer.net.
Tap on the Upload audio
Select the OPUS file from the file explorer.
Tap the Play button to start playback.
OpusPlayer.net is a service developed as a progressive web application. Therefore, it is possible to add it to the home screen as if it were a native app. If you do it with the Add to Home screen option in Chrome, it will run on full screen. It is a free service that ensures that it does not collect user information and is only intended for the playback of audio files. In addition to OPUS, other formats such as M4A, OGA, OGG, or WAV can be played.
Convert OPUS file to MP3 to open it on Android
Finally, we come to our last proposal. It consists of converting an OPUS file to MP3 to increase its compatibility. To do this, install the OPUS to MP3 Converter application. You have a link on this page to get it for free.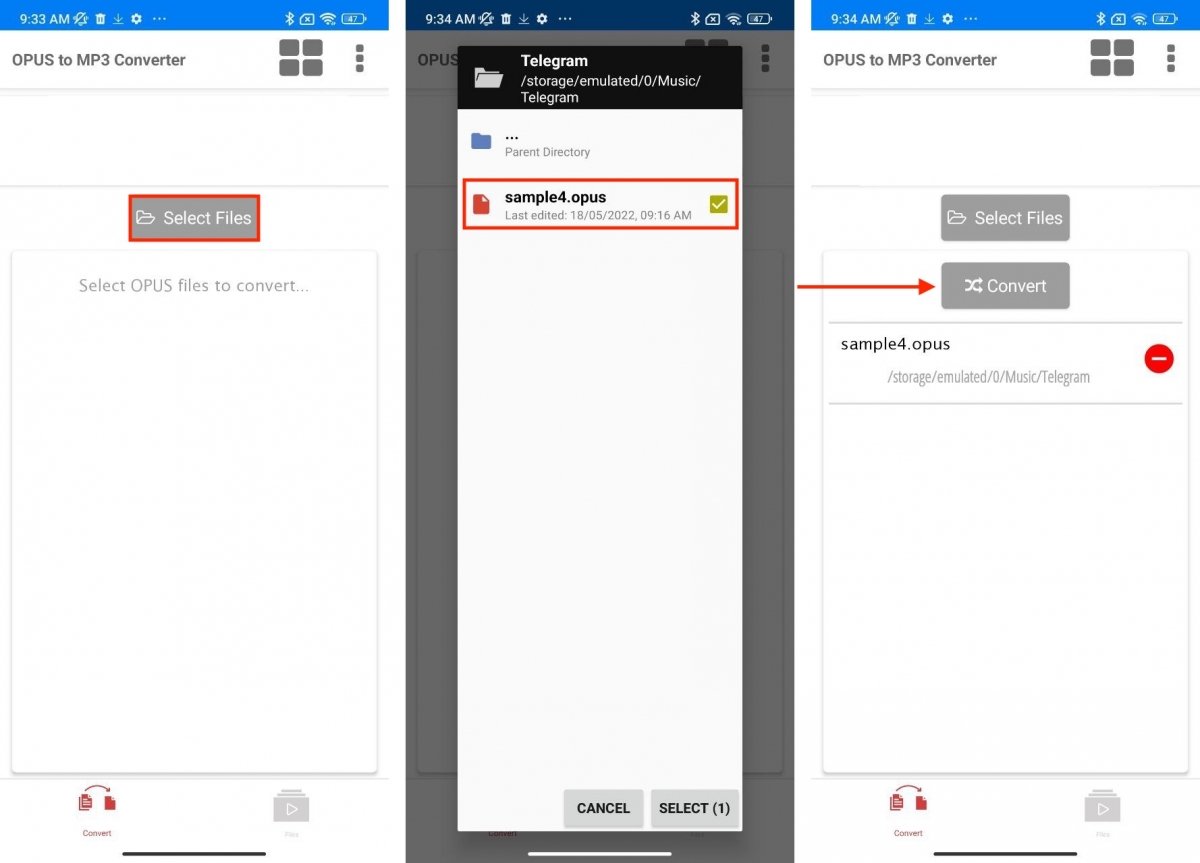 Converting an OPUS to MP3 is a great way to play it
When you have the application on your mobile, convert an OPUS to MP3 by doing this:
Tap on Select Files.
In the explorer, select one or more OPUS files. When finished, tap Select.
Tap Convert to start the conversion.
The resulting MP3 file will be stored in the Audio folder of the internal memory of the device. Once you have run the conversion, you will be able to play the voice memo on a large number of media players, both on Android and on your PC.
Now that you know the different ways to open or convert these OPUS files, there will be no audio file or voice memo that you cannot listen to.