WhatsApp does not allow you to put calls on hold in the same way you do with traditional phone calls. What does this mean? It means that if we are in the middle of a WhatsApp call, we will be able to receive another call, and we will receive an audible signal as a new communication is coming in.
When we look at the screen, we will see that we are receiving a second call, showing the name of the contact who is calling us and two options; Decline and End & Accept: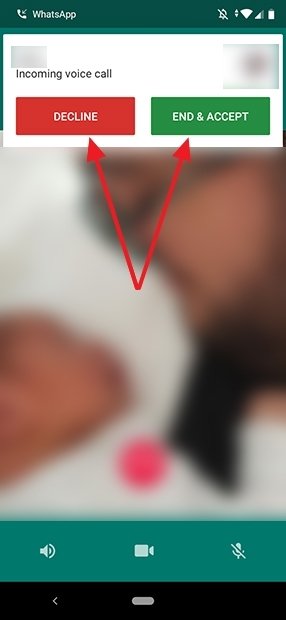 Incoming call on WhatsApp
At this point we have several possible options:
If we do nothing, we will continue with the first call, while the second call will continue to ring for the caller.
If we click on Decline, we will continue with the first call and cut off the communication with the incoming call.
If we press End & Accept, we will cut off the first call and accept the incoming call.
As you can see, and as we said at the beginning of this article, this means that the current call cannot be put on hold. The incoming call will enter a "waiting" process if we decide to do nothing with it, but that is all.
It is unclear if the hold feature will ever come to WhatsApp, although it is expected to be implemented in the future. What is known is that so far, those responsible for the application have not commented on it. For now, this is as close as the app can get to having a hold option, so we are going to have to keep waiting.