It is very difficult for a smartphone application to be the undisputed champion of its sector, but if there is one that knows how to do it, it is WhatsApp. The messaging app owned by Meta is a must-have on any Android smartphone thanks to how easy it makes communicating with everyone. The application has been adding functions over time to make the experience more accessible, and one of them is the possibility of adding contacts through a QR code. In this article, we will tell you more about this functionality and will also explain how you can use it on your Android smartphone.
How to add a person to WhatsApp via QR
QR codes have been with us for a long time, and over time they have been gaining importance due to how convenient they are for sharing information. As we said before, WhatsApp lets us add contacts through these codes, and doing it is really simple. As you will see just below, we will not have to follow too many steps to generate the QR code for one of our contacts and to scan it with our device.
How to generate a QR code to save a contact in WhatsApp
We can generate a QR code to let somebody else add us if we have WhatsApp updated to the latest version. To do so, follow the steps below:
Open WhatsApp and tap on the three vertical dots at the top right of the screen.
In the drop-down menu, tap the Settings button.
Our name will appear at the top of the screen, and just to the right, we will see the QR code symbol. Tap on it.
Our generated QR code will be displayed. Anyone will be able to scan it through their smartphone camera, but we can also share it through other means.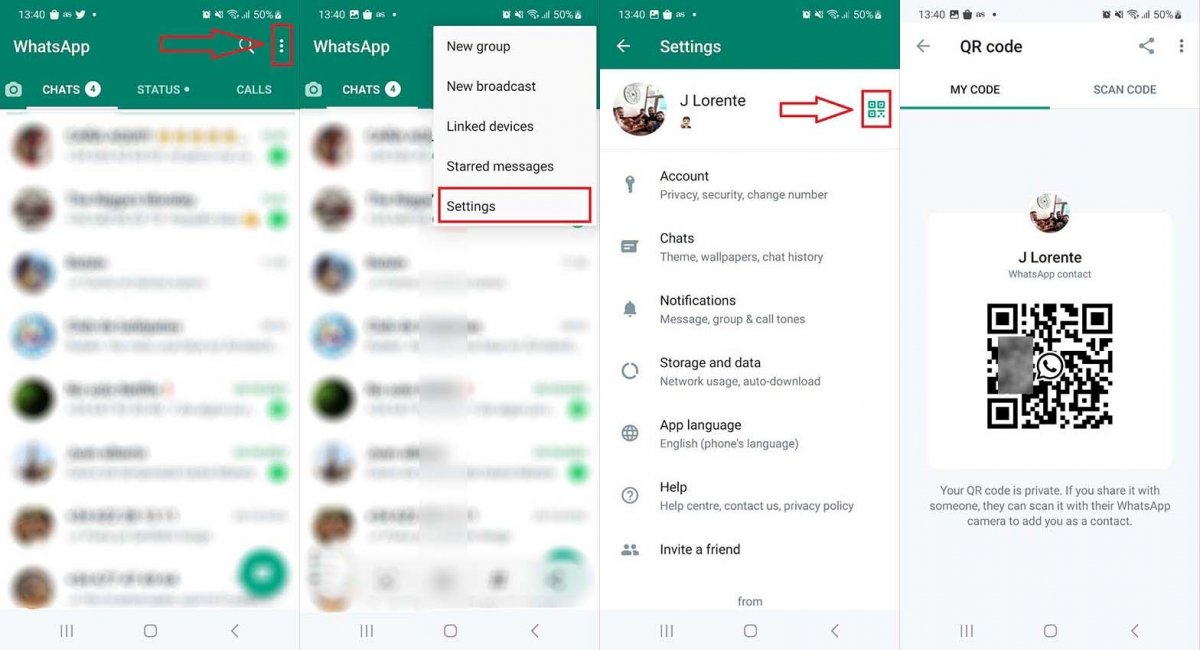 Steps to generate a QR code in WhatsApp
How to scan a WhatsApp QR code
As you have seen above, generating a QR code takes only a few seconds of our time. Fortunately, scanning these codes is also very straightforward. As you will see, the process is not too different from the previous one. We will have to follow these steps:
On the main WhatsApp screen, tap on the button with the three vertical dots.
When the drop-down menu appears, tap on Settings.
As in the previous section, tap on the QR code icon at the top of the screen.
Access the scan code tab.
Our smartphone's camera will activate, and we will only have to point to the QR code of the person we want to add.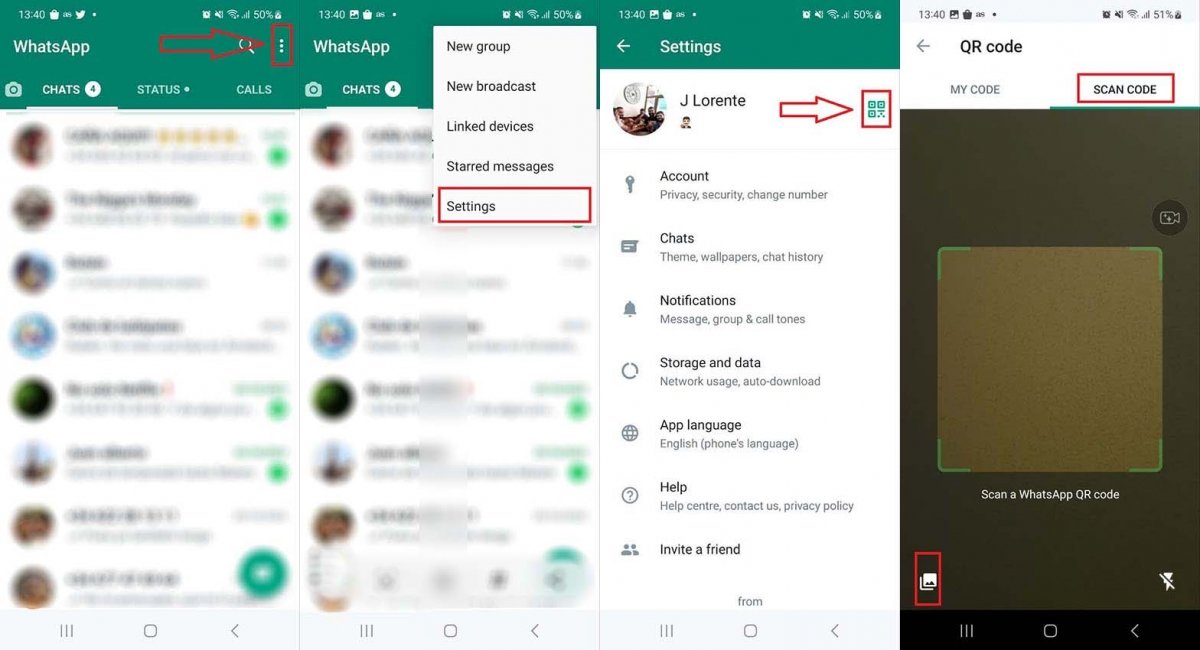 This is how you can add someone to WhatsApp through a QR
If the code has been sent to us in another way (for example, through another application such as Telegram), we can also scan it on this screen. To do this, we must tap on the image icon at the bottom right of the interface.