Before you start creating stickers for WhatsApp, you should be clear about some things:
Each sticker is an image with a transparent background.
Stickers must have the exact dimensions of 512 x 512 pixels.
Each sticker must be less than 100 KB in size.
Those who create colorful and cartoonish stickers use professional graphic design tools, but most of us simple users do not know to create them from scratch.
Now, do you think you really can create your own stickers for the world's most famous messaging app? Of course, you can, and you have two ways to do it: either by creating custom stickers with the photos in your gallery or by using AI through the Google keyboard.
How to create stickers with photos from your device
To create stickers using photos you have on your device, you have to download and install an application called Sticker Maker.
When you first open it, this is what you will see: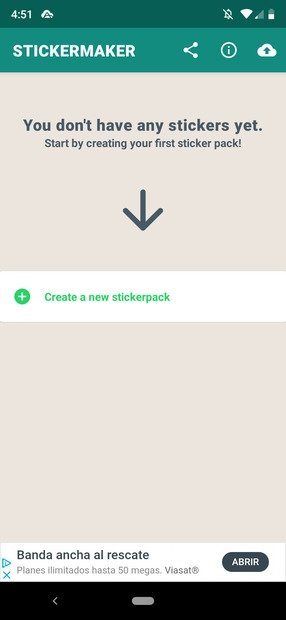 Sticker Maker's main interface
If we tap on the cross, we can create a new package of stickers: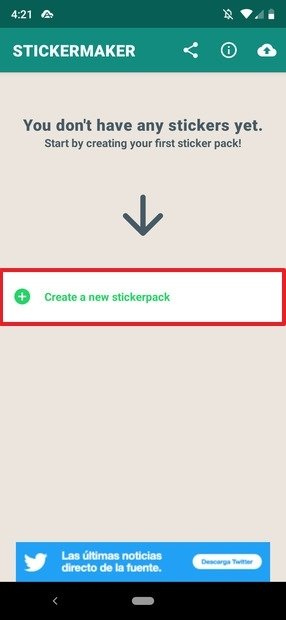 Button to create packs
After taping, a screen will appear asking for a name for the pack and the author. Fill in both fields and tap on Create: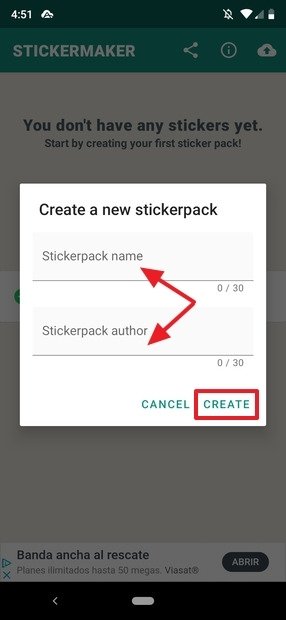 Creating the pack
Now, we will have created the package. To start editing, tap on it: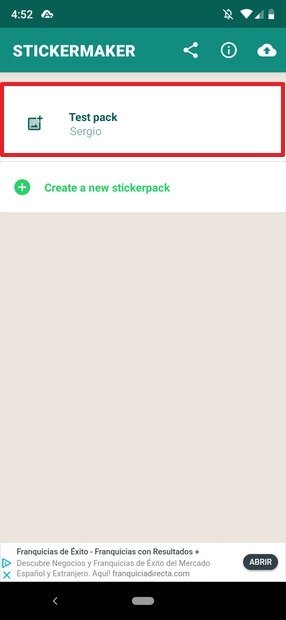 Pack created
An overview of the whole pack will be displayed. The first image should correspond to the one that will serve to identify the whole package: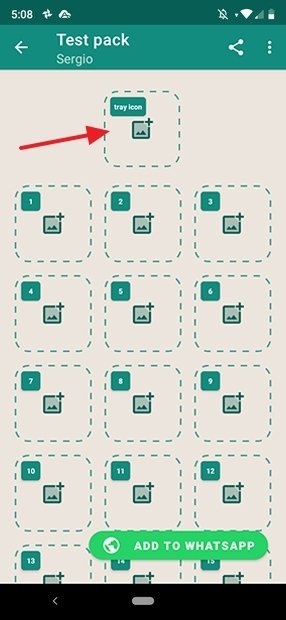 The pack's front sticker
If we tap on it, three options will be displayed: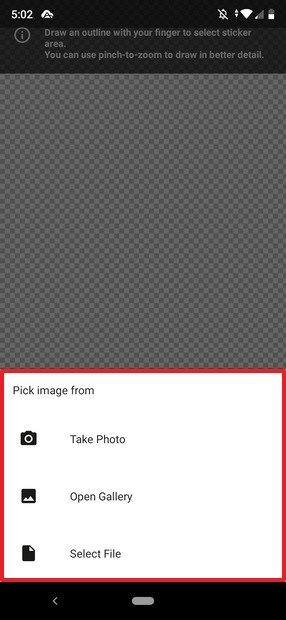 Options to create a sticker
Take Photo will open the camera, Open Gallery will let us select a photo from the gallery and Select File will open the file browser to search for an image. When we have chosen what we want, tap on it and we will see how it looks on the screen. Then, we can manipulate the image with the controls at the bottom to customize it: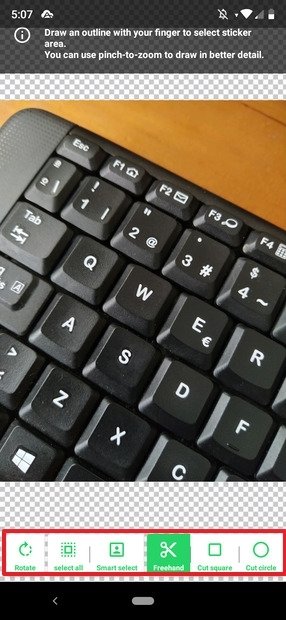 Tools to edit the sticker
Once we are done, we will see this on the screen: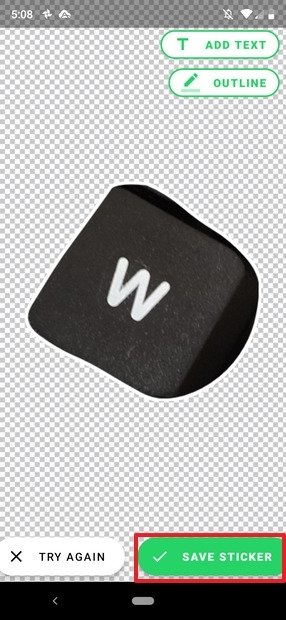 Sticker created
If we tap on Save Sticker, it will be set as the header image: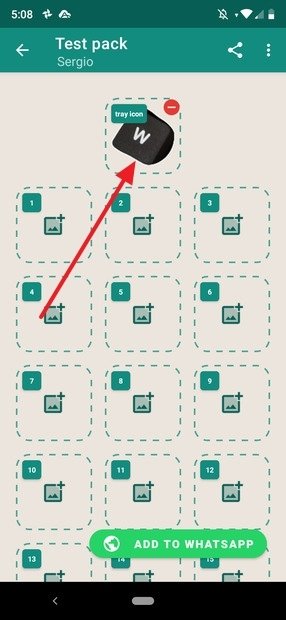 The pack's iconic sticker
Now, if we tap on any of the image thumbnails, we can start creating custom stickers: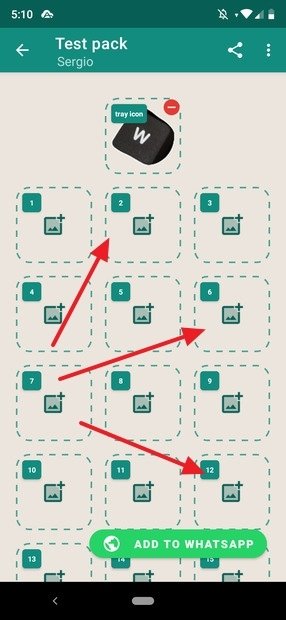 Slots for the stickers
The process is exactly the same as in the previous one. When we tap on one of them, we will have again the three options that appeared before us to create the header image, and the process of opening and manipulating the image is the same too. Now, create as many as you need and tap Add to WhatsApp once you are done: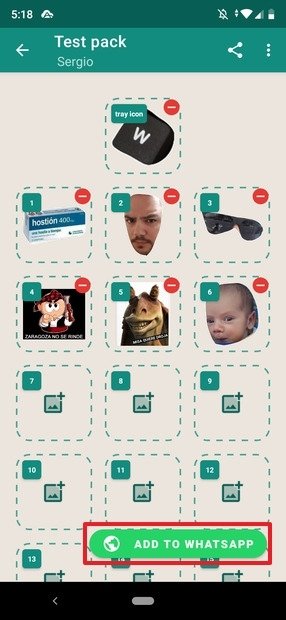 Stickers pack created
Keep in mind that you can add up to 30 stickers per package thanks to this app.
How to create stickers with Gboard
Gboard lets you create custom stickers using your face as a base. To do this, first, install it and activate it if you do not have it on your phone.
If you already have it, and you use it regularly, then open any application that involves using the keyboard to enter text (any text is fine).
As soon as the keyboard is displayed, tap on the sticker icon: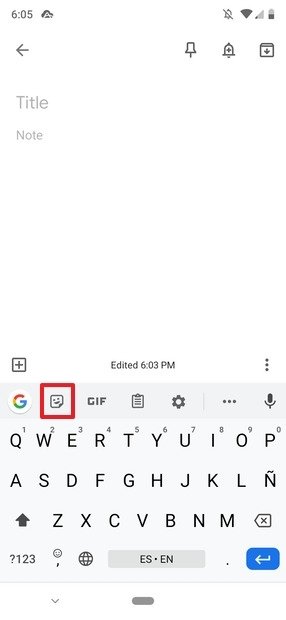 Sticker button in GBoard
A menu will open with lots of stickers pre-installed on the Google keyboard. Scroll to the right, until you reach the gear icon. Tap on it: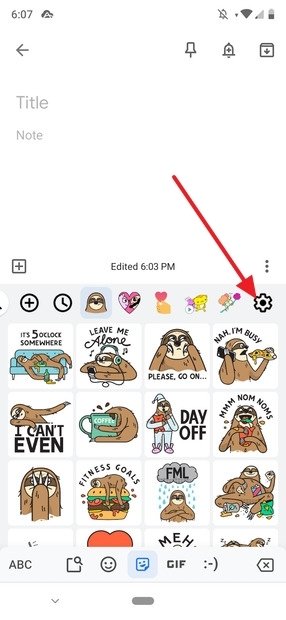 Sticker settings button in GBoard
When you open it, you will see a screen with two tabs. By default, Favorite is opened, although in this case you, should tap on Browse: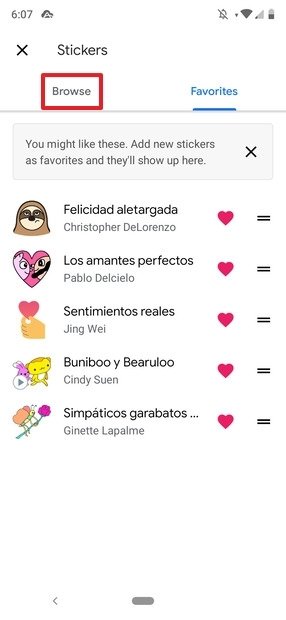 Sticker settings
In this tab, tap on Create: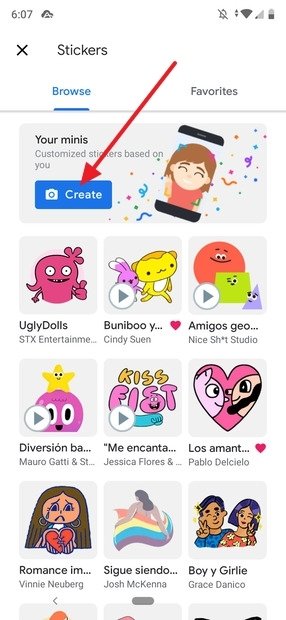 Button to create customized stickers
The front camera of your phone will open, with a frame where you have to fit your face: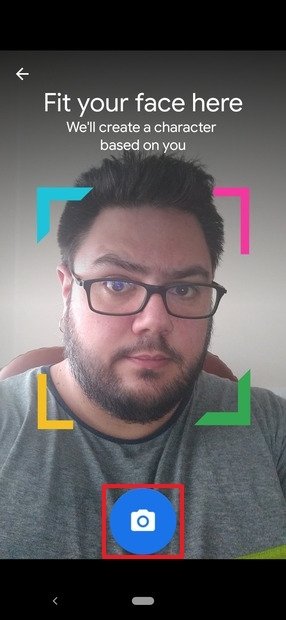 Camera to create customized stickers
When you are done, tap on the camera button to take a picture. Now, the application will start working, and when it is finished, it will let you know the ideas it has for you. If you tap on Show me, the app will show you all the sticker packs it has created: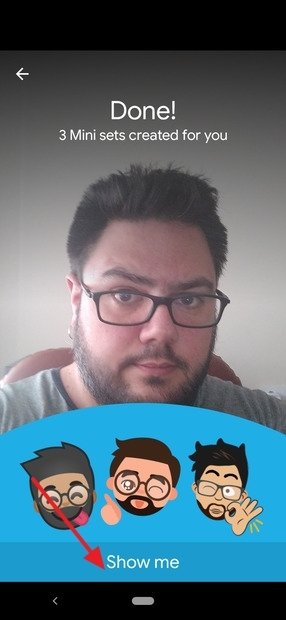 Creation finished
Every single one of these stickers is based on your face and is perfectly customizable. Just tap on Customize to access the editor: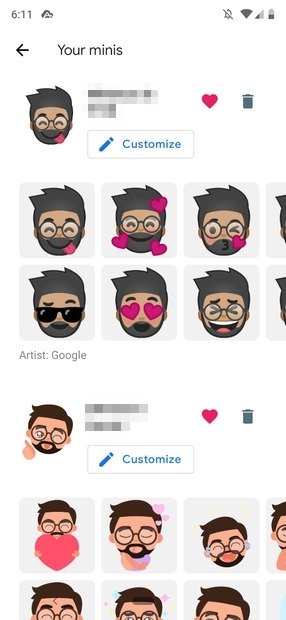 Customized sticker galleries
These are some samples from the custom sticker editor: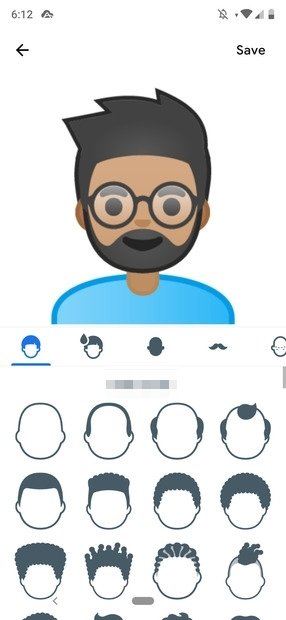 Sticker editor
If you go back to the Gboard sticker tab now, you should be able to access all your custom stickers without any problem: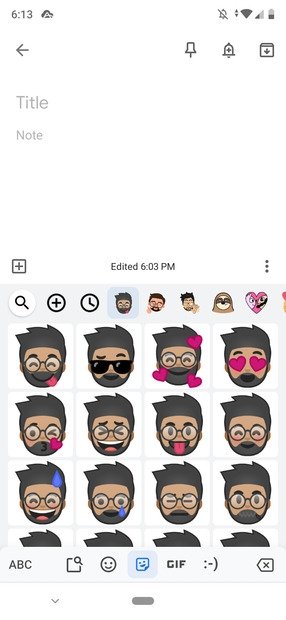 Customized stickers in GBoard
As you can see, the process is quite simple, but it is necessary to follow the steps carefully. With this guide, you should have no problems.
How to create stickers with Sticker.ly
This application is quite special, as it lets you download good quality stickers already created while offering the possibility to create your own.
When you open the app, you will first see this: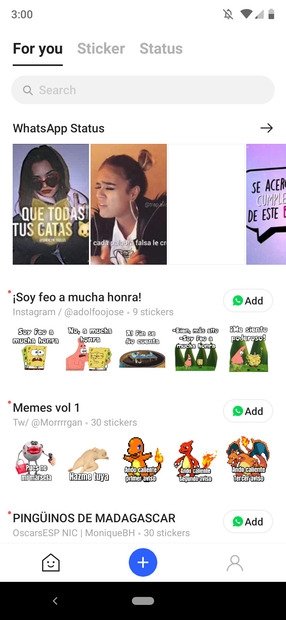 Sticker.ly's main interface
In this main screen, you will find images and videos for your WhatsApp status, as well as sticker packages that you can add to your collection by tapping on the Add button (as highlighted in the image). If you want to create your own collection, you will have to tap on the cross icon: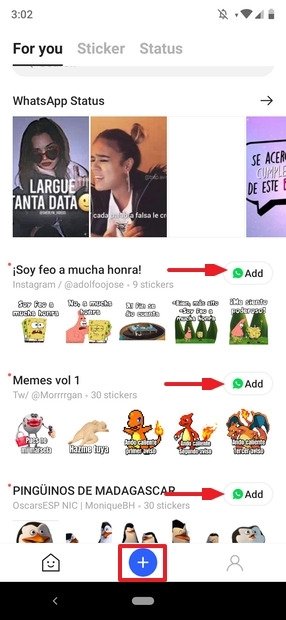 Button to create stickers
After that, the image gallery will be displayed: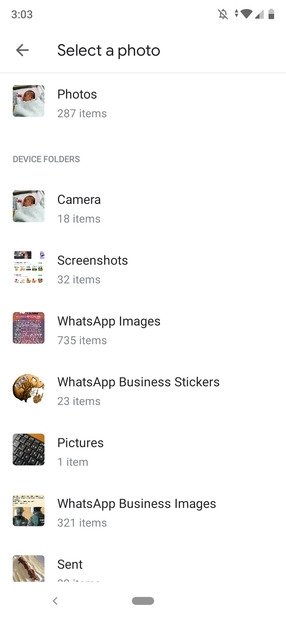 Photo gallery
Here, we will search for the picture we want to turn into a sticker. Once we have found it, we must tap on it. Now, we will have to cut (or not, we can leave the image as it is by taping on Next) the background of the photo before creating the sticker. The best way to do this is by taping on Auto: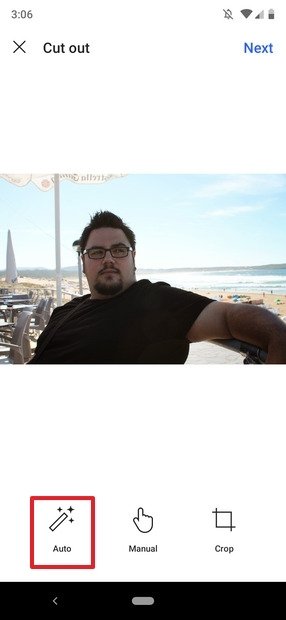 Picture from the gallery to turn into a sticker
The sticker will automatically be cut out. We can manually adjust the cut area and even add text if we want. When we are done, tap on Next: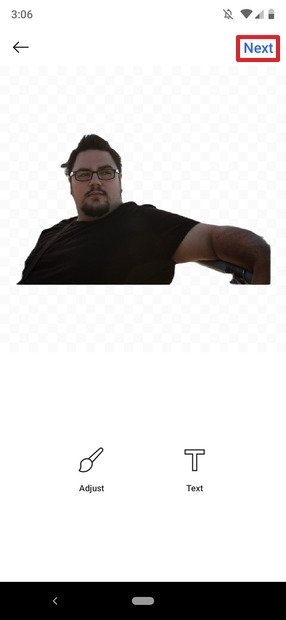 Automatically remove the background
The next thing to do is add labels to our sticker, and tap on Save to save the changes: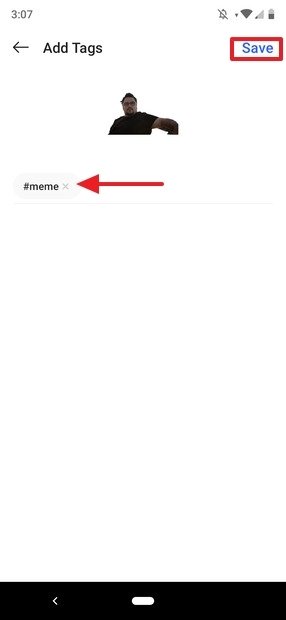 Sticker tags
Then, we will have to create a pack to save it. To do so, tap on New Pack: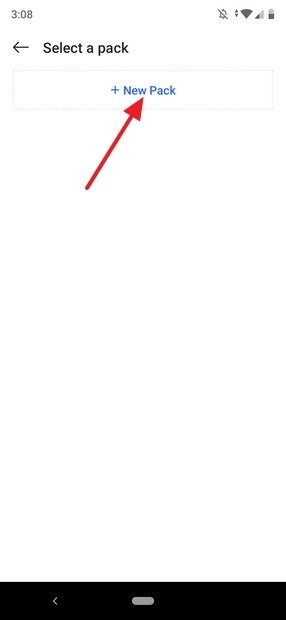 Create a new sticker pack
Type in a name for the pack and the creator and tap on Create. We can also enable or disable other Sticker.ly users to find our creations by taping on Allow Search: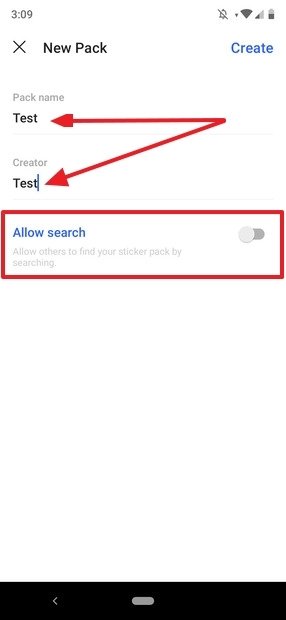 Name of the pack, of the pack's creator and community search options
Now, the pack is created: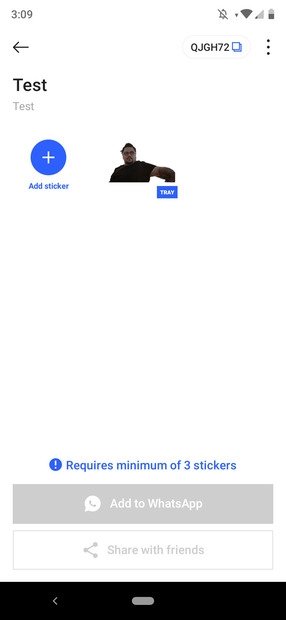 New pack created
To add it to WhatsApp, you will need to create a minimum of 3 stickers, something that will be a piece of cake if you follow the steps we have given you.