Although sometimes new features arrive slowly, WhatsApp is an application that is constantly being updated. As this is a platform used by millions of people, the company behind it has two app versions: the beta one, with the latest functionalities, and a public one, which is more stable. What is the reason for all this? How can we test the most advanced version of WhatsApp? Let us answer these questions.
What is WhatsApp's beta version?
The beta version of WhatsApp is a variant that incorporates the app's newest features before the stable application. In other words, it is a parallel app that implements the developer changes beforehand. Why is it done this way?
Imagine for a moment that the people responsible for the app add a new feature, and it includes a serious bug that disables the use of the platform. If this happens on the stable version, that is, the one used by millions of users, the failure becomes a catastrophe. Thanks to the beta version, the developers can add new features while verifying that they behave well and offer a good experience. When the features are ready, they make it to the stable version.
How to sign up for the WhatsApp beta to become a beta tester
WhatsApp also lets any user become a beta tester. This will allow you to test the new features of the application before anyone else.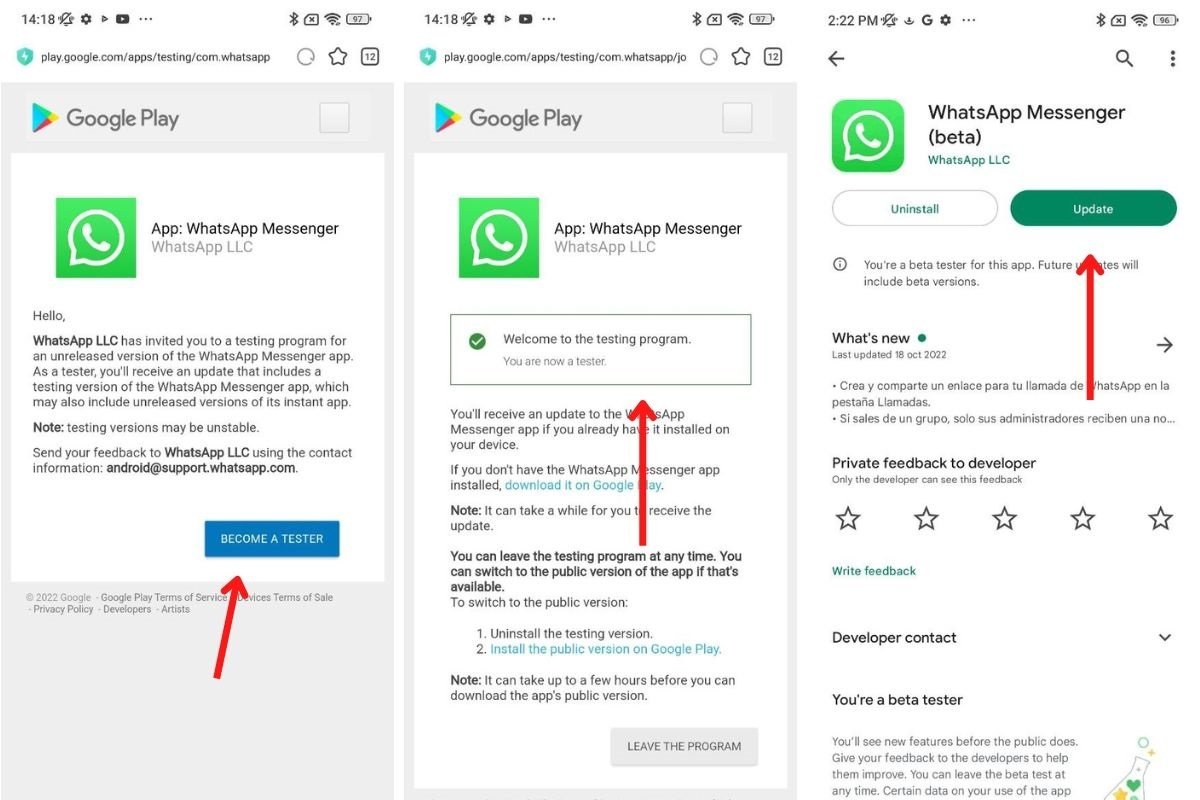 How to join and download the WhatsApp beta from Google Play
This is how you can sign up for the WhatsApp beta:
Open the WhatsApp Beta link from the Play Store in the browser.
Tap on Become a tester.
Open the Google Play Store app.
Use the search engine to locate WhatsApp.
Make sure that the Beta label appears in the application name.
Install the beta version on your smartphone with the Update
The WhatsApp beta program has a limit of users. Sometimes it may be full and you may not be able to access it.
Where to download the WhatsApp Beta APK
The second procedure we suggest to download the WhatsApp Beta APK is to do it from a trusted repository.
How to download WhatsApp beta from Malavida
Follow these steps to do so:
Go to the WhatsApp Beta review on Malavida.
Scroll to the Download button and tap on it.
Tap on Download
Install the APK to replace WhatsApp stable version.
Now you have WhatsApp Beta on your device even though the official program is complete.