Instagram is one of the most popular social networks. There are several ways to reach more people on this social media, but undoubtedly, one of the most common ways is to run periodic giveaways to increase your visibility. The great thing about giveaways is that they can be done by anyone, as they are not limited to a specific budget or set of account characteristics. We will tell you in this article all about giveaways on Instagram and how you can easily do them yourself.
How to create giveaways on Instagram
As we have said before, Instagram is a social network that usually lends itself to giveaways of all kinds, as they are an excellent way to gain followers. Making sweepstakes is a simple process, although to be able to carry them out, it will be necessary that we plan everything correctly to choose the gift. The best thing to do is to divide this planning into a series of steps that we will not have to skip. Below, you can see the steps you need to follow to create sweepstakes on Instagram correctly:
The first and most important thing to do before making a sweepstake is to define its objective. There is no point in doing sweepstakes if you are unclear about what you want to achieve with them. First, you must choose if you want to gain new followers for your account or to help launch a new product in your store, for example.
The second is quite straightforward: choose wisely the prize you will give in your giveaway. The prize will make people participate in our sweepstakes, so you must pick something attractive that will improve the chances of participation.
The next thing you will have to do is choose how people will participate in the sweepstake. On Instagram, you can use the usual sweepstakes mechanics: liking a post or commenting by mentioning two people.
Once you have completed the above steps, it is time to design and publish the sweepstake. You should choose an engaging post, and you can even post small hints days before to inform that you are about to run a sweepstake to keep your audience tuned in to your posts.
Best sweepstakes apps for Instagram
Once you have made the sweepstakes, you will have to perform it, and for this, unfortunately, Instagram does not give us any native tools. However, we have many applications we can turn to for this, although not all of them are reliable. We must be careful with those applications that ask us to log in to Instagram to perform the sweepstakes, as it could be an application that wants to steal our data, something to avoid at all costs.
Since we know how important it is to maintain the integrity of your Instagram accounts, we bring you three apps that you can use to conduct the giveaway. Either Rafi, Giveaway Picker, or Giveaway Plus for Instagram are three of the best apps we can use to run the giveaway. The three have an identical functioning since they will only ask for the URL of the sweepstake post to access all the people who have participated in it. The three applications let us make free sweepstakes without having to pay anything, so if you plan to make more than one sweepstake, you can use the three to avoid any fees.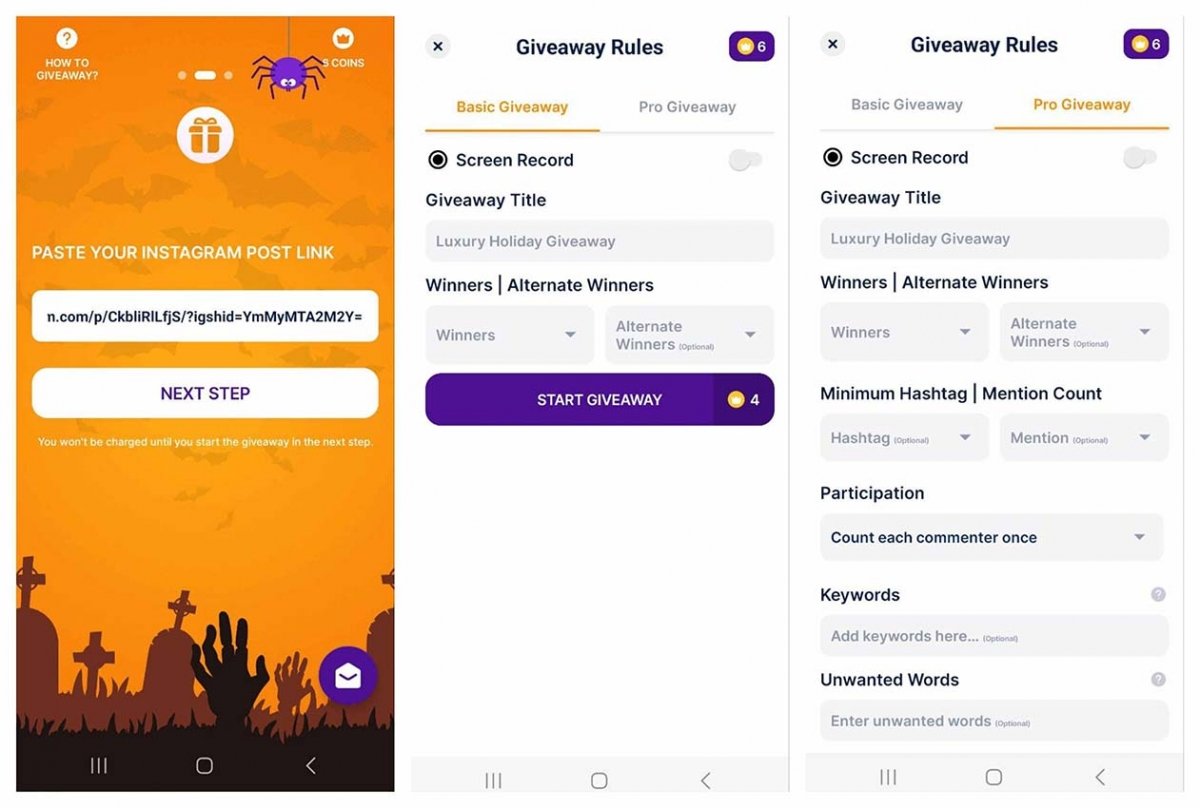 With Rafi we can choose a basic or advanced prize draw
How to choose the winner of an Instagram sweepstakes
These three applications will give you the result of the winner or winners according to the prizes you are willing to give in the draw. Once you have this information, you will have to make another publication to announce who has won the sweepstakes. Although we also recommend that you communicate with the winners individually to ensure that they can receive the prize correctly. The good thing about the three applications mentioned above is that they will also give us the names of the "runner-ups". These are people that, in case the winner or winners do not answer, will be chosen to take the prize in their place.