Instagram is part of the giant conglomerate of Facebook services. The company of Mark Zuckerberg has a business model based on advertising. Its platform stands out for its ability to segment ads so that they reach only those accounts that are potentially suitable. This is made possible by capturing and analyzing user data. On the other hand, the Facebook ad network is affordable and lets you reach a large number of people for a small fee. If your business needs to start an advertising campaign on Instagram, this article explains how you can do it.
The first thing to note is that the advertising displayed on Facebook, and consequently on Instagram is content-based. Therefore, to create your ad, you must upload a photograph, a video, or a story. Of course, you can also use pre-loaded media. What are the steps to start promoting an advertisement?
If you have not done so before, mark your account as a professional profile. To do this, open the application settings and tap on Account.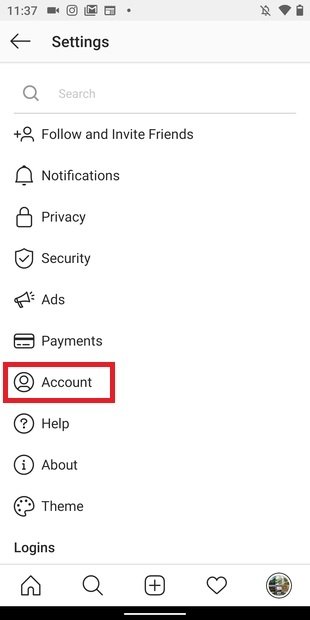 Account settings sections
On the next screen, go to the bottom of the list and tap on Switch to Professional Account.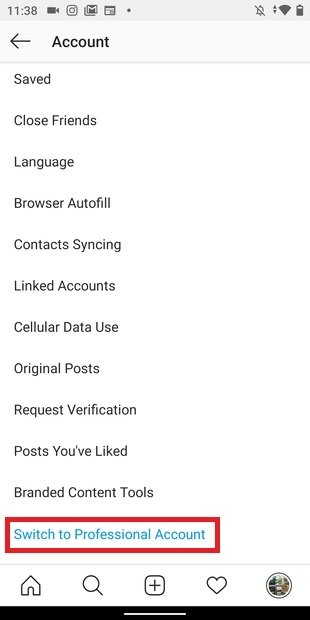 Switch to a professional account
Now, describe your activity. Use Creator if you are a content creator. On the other hand, use Business if you are the owner of a local company or business.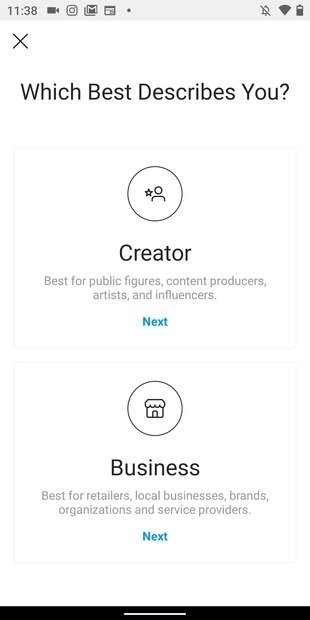 Select the type of professional profile
Then, tap on Continue.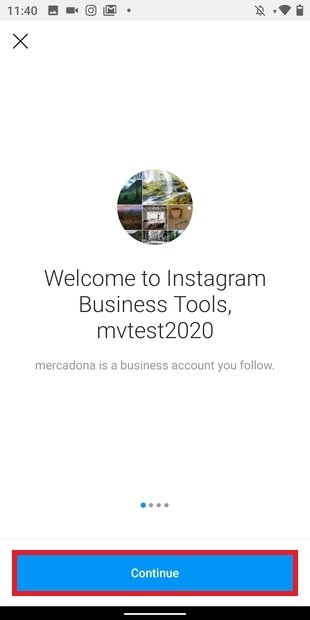 Start configuring your professional account
Select a category for your business and tap Next.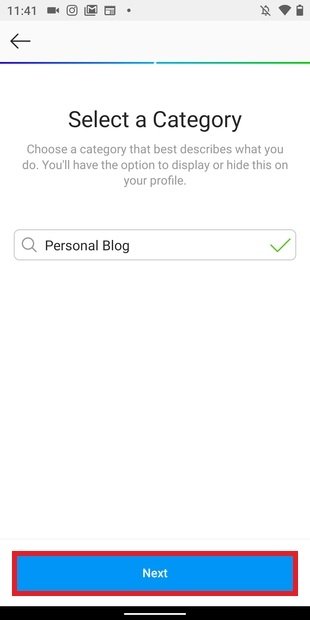 Business category on Instagram
Enter your business contact details.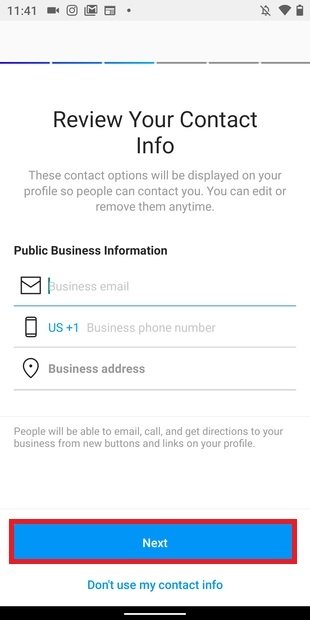 Enter the business contact details
Link your Facebook page, if you have one.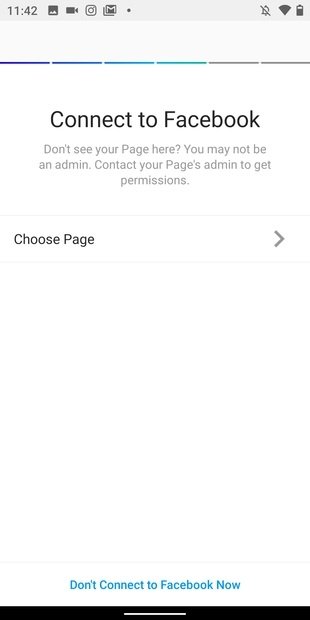 Associate your Facebook page
Once this is done, you have a professional profile on Instagram. Now, upload the content you want to promote, locate it, and tap on the Promote button. You need to know that you must have a linked Facebook account to continue.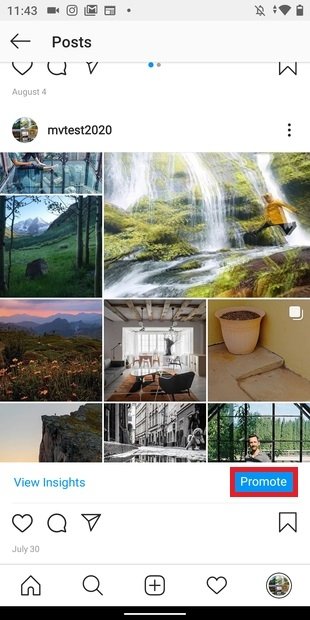 Start promoting a publication
To start promoting the post, indicate where you want to lead users. You can choose between your profile, your website, or direct messages.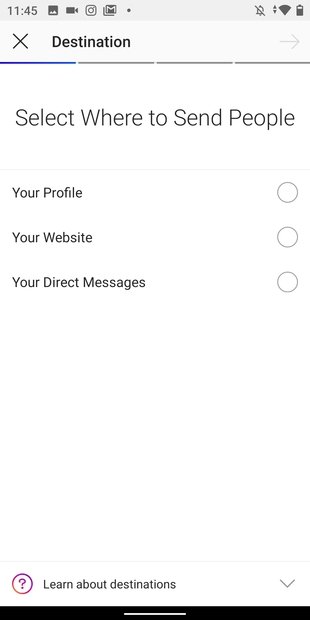 Select a destination
Now, you must create an audience profile using the Create Your Own option. This way, you can target your advertising and segment it by age, geographic region, gender, or interests. If you think it is better to let Instagram choose the audience, select the Automatic option.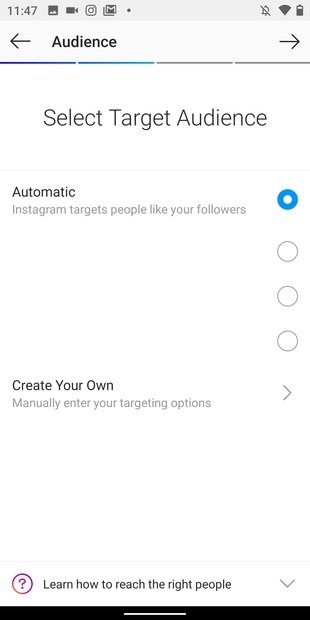 Create a segmentation profile
The last step is to decide the budget. To do this, specify a daily amount to be spent with the first slider. With the second one, you can determine how many days your promotion will last. At the top of the screen is an estimate of how many users your promotion will reach and how much it will cost.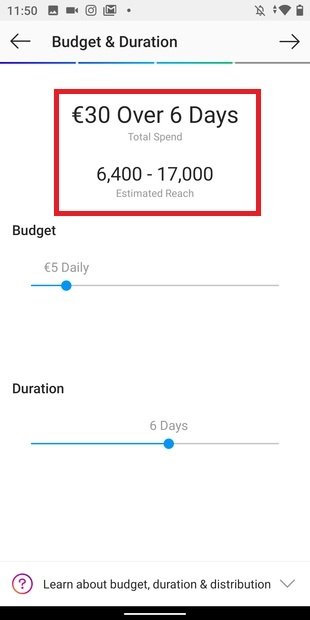 Info about total audience estimates
Now, everything is ready. We recommend you to review all the data entered. Set a payment method by tapping on Payment and use the Create Promotion button to confirm.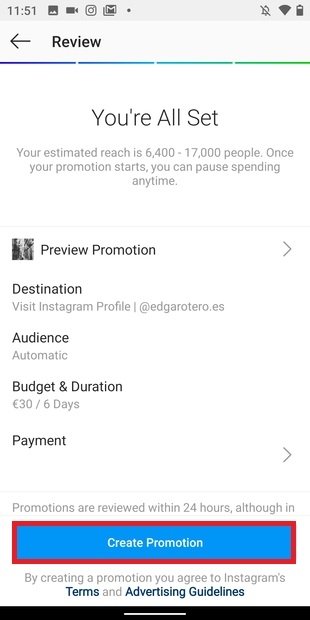 Send the promotion to revision
The promotion may take some time to be activated. In any case, Instagram will notify you just as soon as it is approved and activated. As you have seen, thanks to the Facebook Ads platform, it is easy to reach a big number of people without spending lots of money or time.