Instagram is one of the most popular social networks of the moment. A big part of its success has been caused by the large number of features that, for some years, do not stop coming to its application and web version. If you want to get started on Instagram, this article shows you how.
The first step is to create a profile. As you may have realized, you need an email or a phone number. Tap on Create New Account to get started. If you already have an account, you can use Log In to log in.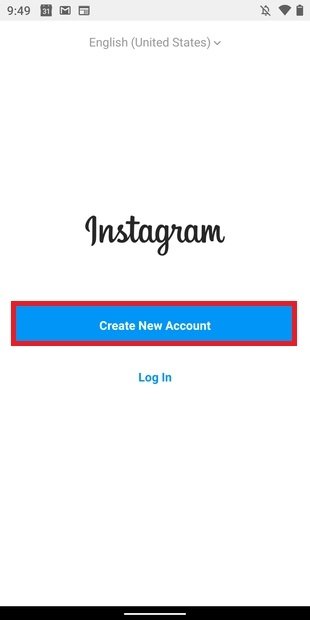 Create a new Instagram account
Enter your details and then tap Next to continue.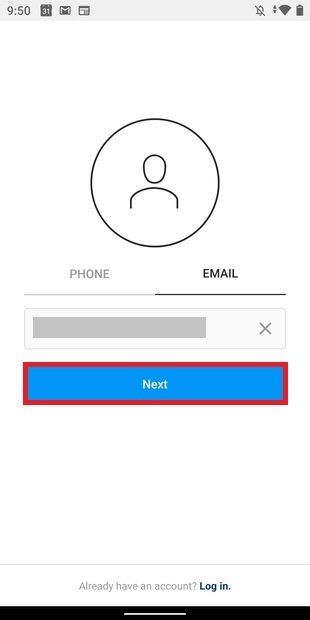 Enter your email or phone number
Instagram will send you a code via SMS or email. Type it in the text field and tap Next.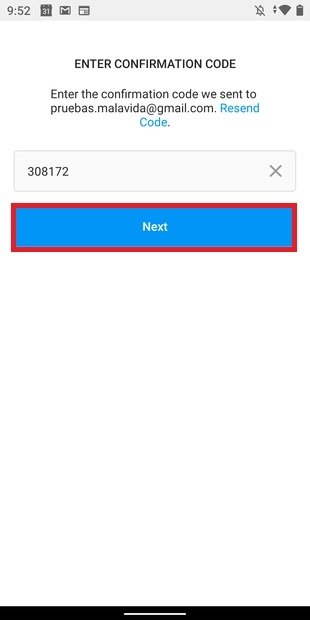 Verification code
It is time to enter your full name and create a new password. Once this is done, choose from the Continue and Sync Contacts options, which synchronizes the contacts in your address book with your Instagram account. This is ideal for easily finding your family and friends within the social network. If you do not want to do so, use Continue Without Syncing Contacts to reject such action.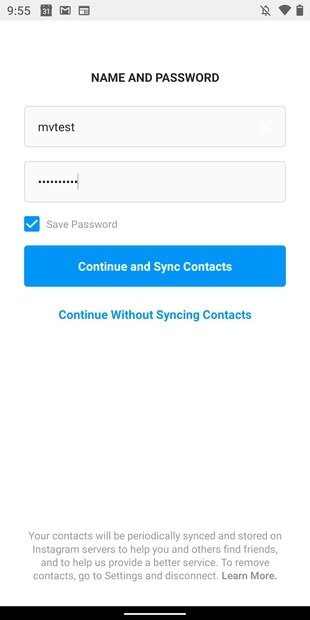 Name and password
Now, specify your date of birth and tap Next to continue.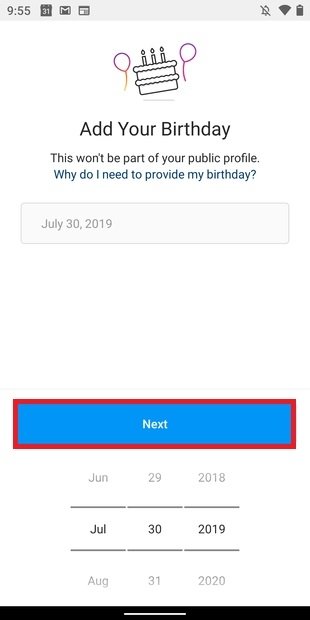 Enter your date of birth
On the next screen, you can link your Instagram account with Facebook. If you do not wish to do so, tap on Skip.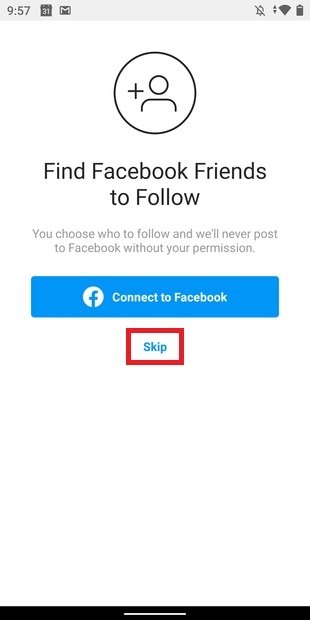 Sync with your Facebook account
It is time to upload your profile picture. You can do this by tapping on Add a Photo. If you are not ready yet, you can skip this step using the Skip button.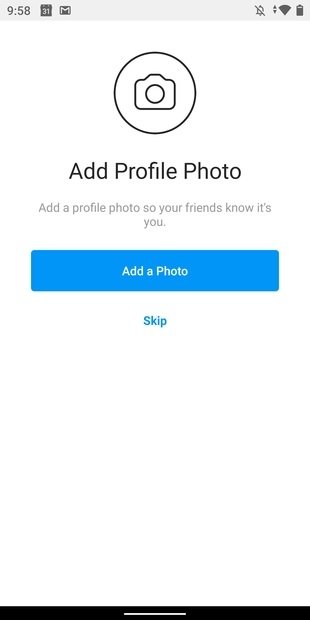 Upload a profile pic
Finally, Instagram will suggest some popular accounts you can start following. To follow them, just tap on Follow. To continue, use the arrow in the upper right corner.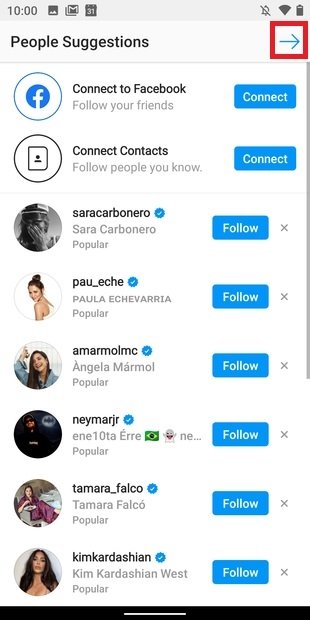 Suggested accounts to follow
Congratulations! You are now part of Instagram. What are the main functions you should know? For example, the lower menu consists of five sections. The first one, represented by a house, brings us to the home page. Here, you can check what is commonly called feed. This is the place where the contents of the accounts you are following will appear.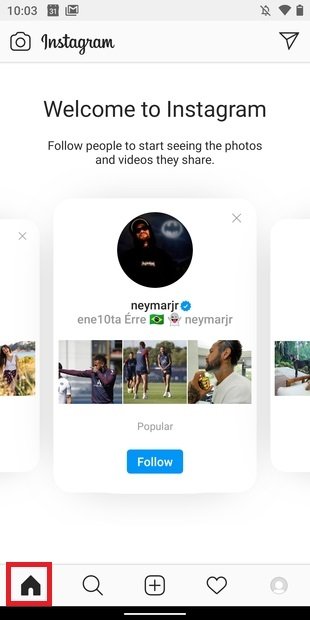 Instagram's main page
In the following section, you can search for profiles and view content recommended by the social network itself. This section is dynamic and will change as you use Instagram.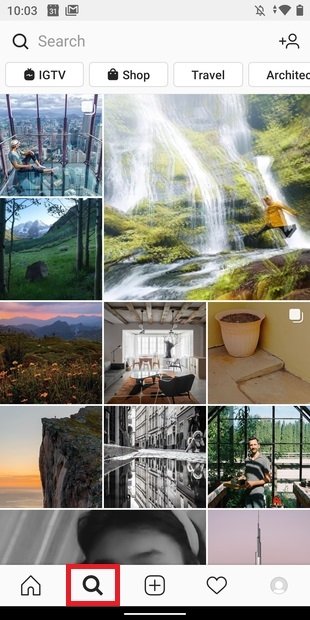 Explore section
The activity area shows all the interactions related to your profile. In this way, you can consult comments, mentions, the "likes" received, and other reactions.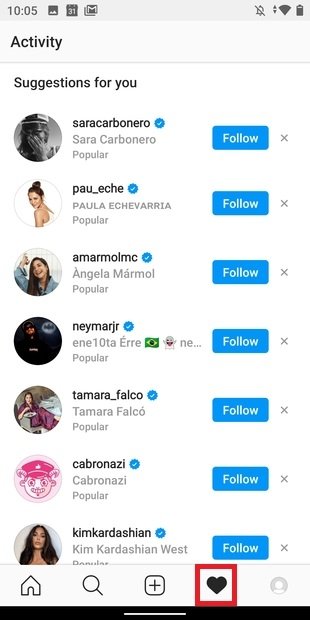 Account activity section
On the far right of the menu, you will see your profile picture. Here, you can consult your followers, see the content uploaded by you, and the photos where you have been tagged.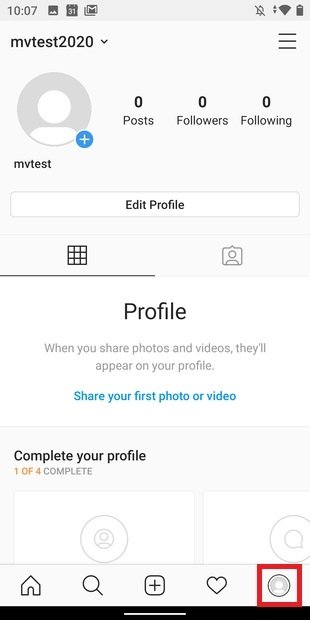 User profile sections
This section is of great importance because it is the gateway to all other application settings and options. You can open the side menu by tapping on the three horizontal lines.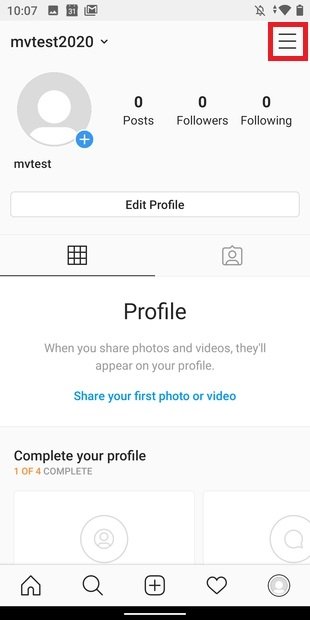 Side options menu
Once the right side menu is revealed, you will find the posts you saved, a summary of your activity, the archive of posted stories, and other useful options. From here, you also access the general settings menu. Use Settings to access.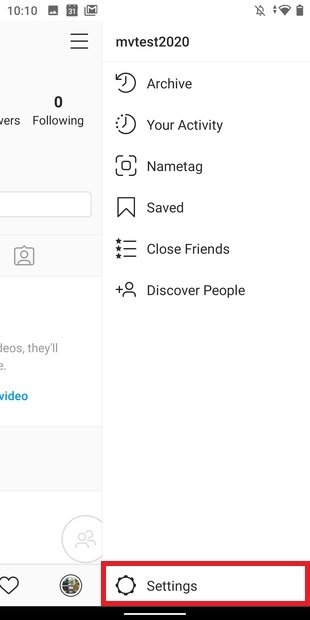 Instagram's side menu
What about the central button on the lower menu? We have not forgotten it. Thanks to it, you will have access to the image and video upload process.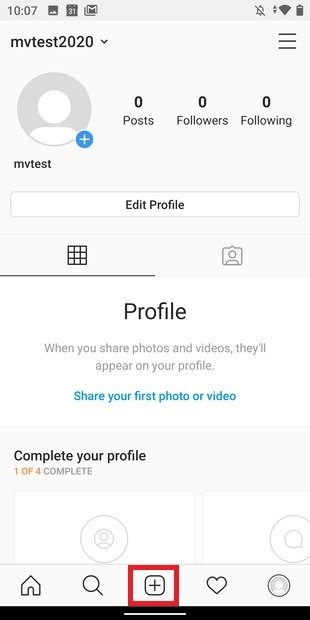 Central button to upload photos
Now, we invite you to return to your home screen. If you have started following some interesting accounts, you will be able to check that the content they upload already appears in your feed. Instagram has a vertical operation. Therefore, to discover more images, you must slide your finger over the screen from bottom to top.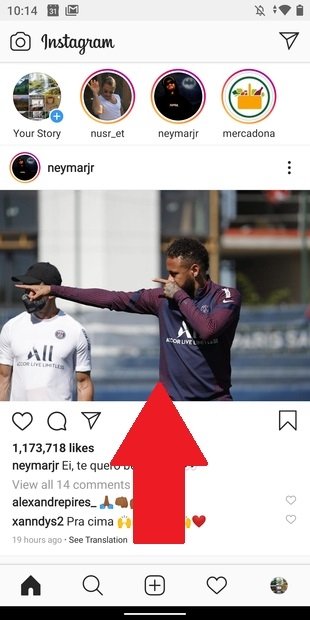 Swipe the feed upwards
The main actions you can perform on a photo are varied. You can indicate that you like it, thanks to the heart icon, add a comment or include it in your story. Also, if something catches your eye, save it by tapping on the bookmark icon on the right.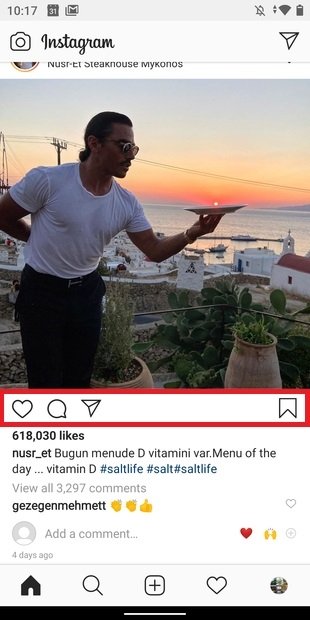 Actions on a photo
After this review, you have acquired a basic understanding of how to use Instagram. Now, is the time to make the most out of it. We invite you to read the rest of the guides that we have posted in Malavida to become an expert in one of the most popular social networks of the moment.